Station Imports Brings In the Best from New Zealand
It seems appropriate to include the wines from two notable New Zealand producers in this issue as many writers have pointed out similarities in Oregon and New Zealand Pinot Noir.
Rippon Vineyard is celebrating 100 years on the land and 30 years of wine growing in 2012. In 1912, Sir Percy Sargood, part of a successful Australiasian merchant family, purchased Wanaka Station in a remote area of New Zealand. Here, he and his wife Lucy pioneered irrigation and bred quality stock. In 1913, they planted 8,000 fruit trees to establish Wanaka Orchards, demonstrating that the country was ideally suited for fruit growing.
Rolfe Mills, Sir Percy's grandson, had a vision that the Wanaka soil would sustain quality wine grape production. In 1982, he planted the first commercial vines in Central Otago, establishing Rippon Vineyard.
Today, thirty years after its planting, Sir Percy's great-grandson, Nick Mills, is celebrating his tenth year on the farm as Rippon Vineyard's winemaker. With Nick as the fourth generation on the land, it shows a continuity of direction and focus.
Earlier this year, over 200 people gathered in Wanaka Station homestead's old gardens - now Wanaka Station Park - to celebrate this centenary year. Rippon Vineyard is marking this event by rereleasing the 2003 Rippon Pinot Noir, Nick's first vintage as winemaker on his family's vineyard. Nick is pictured below in his compost pile, part of the biodynamic farming program at Rippon.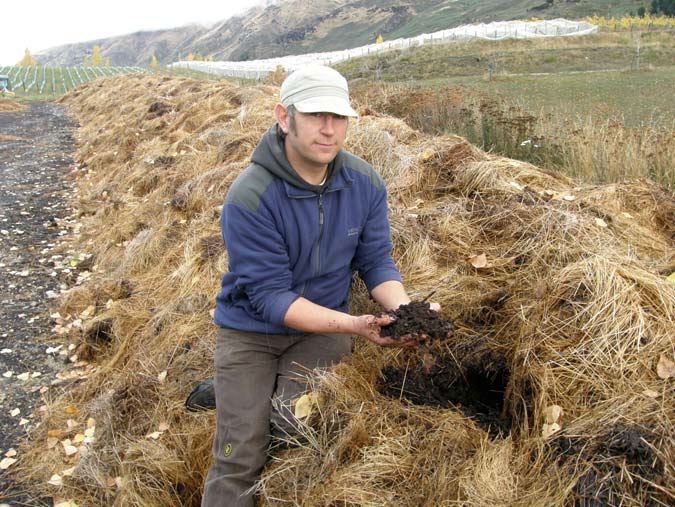 Quartz Reef is located in Cromwell, Central Otago, where Austrian born winemaker Rudi Bauer farms 37 acres of vineyards at Bendigo Station. Bauer, who has degrees in viticulture and winemaking, arrived in New Zealand in 1985, joining New Zealand's oldest winery, Mission Estate as an assistant winemaker. He subsequently worked in wineries in California and Oregon, but longed to return to New Zealand.
In 1989, he became Rippon Vineyard's first certified winemaker. He left Rippon and New Zealand in 1992 for a vintage in Burgundy, returning to craft wine at Giessen Wines in Canterbury for four years. In 1996, he founded Quartz Reef. Bauer was named New Zealand Winemaker of the year in 1999 and 2010 and in 2000 he helped found the first Central Otago Pinot Noir Celebration. Quartz Reef was a featured winery at the 2012 International Pinot Noir Celebration in McMinnville, Oregon.
The Quartz Reef Estate Vineyard at Bendigo Station is underlain with the largest quartz reef deposit in New Zealand. The vineyard is farmed biodynamically, and Quartz Reef Estate Vineyard achieved Demeter® farming certification in November 2011.
Two Pinot Noirs are offered from Quartz Reef: a Central Otago blend of two vineyards and a more expensive Bendio Estate Vineyard Pinot Noir. Pinot Gris and Methode Traditionelle sparkling wine round out the lineup.
Andy and Penny Loving of Station Imports adopted New Zealand as their second home in 1998 and have become fully invested in the country and its life style. Station Imports in Colorado Springs, Colorado (www.stationimports.com) has brought 12 cases of this special rerelease 2003 Rippon Pinot Noir into the United States ($99), and also has the wines reviewed below available. Penny and Andy are pictured at the 2009 World of Pinot Noir in Shell Beach, California.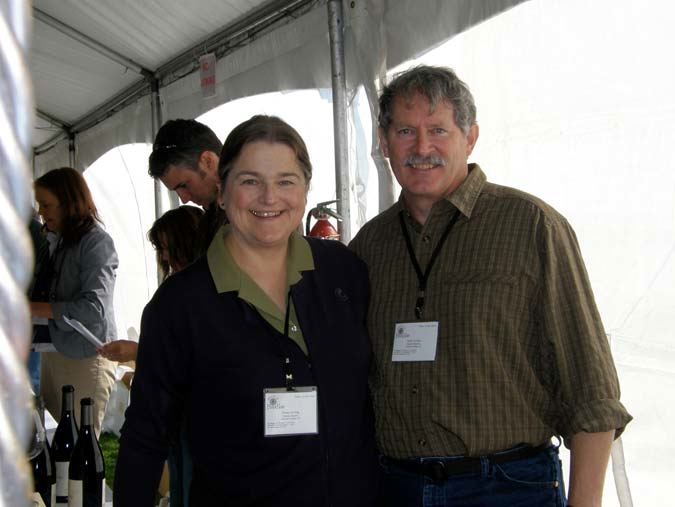 The Rippon wines are fermented with resident yeast. They are aged 10 months in 25%-30% new to 4-year-old French oak barrels. After malolactic fermentation, the wines are racked into barrel and spend a second winter in neutral barrels. They are bottled without fining or filtering. Nick recommends cellaring and decanting the wines. Aging potential is 10+ years.
2009 Rippon Vineyard Mature Vine Lake Wanaka Central Otago New Zealand Pinot Noir
13.0% alc., pH 3.67, TA 0.60, 1,325 cases, 140 cases imported, $58.25, Diam closure. Vines planted 1986-1991. Clones 5, 6, 2/10, 10/5, 13, Linc, 667 and 777. Parcels fermented separately. 25% whole cluster. Aged 15 months in 30% new to 4-year-old French oak barrels. Unfined and unfiltered. · Moderately light reddish color in the glass. Expressive nose immediately upon opening with aromas of alpine strawberries, red cherries, and baking spices. A complete wine with a satisfying core of fresh red fruits, well-mannered tannins and an impressively long finish flush with cherries and nervy acidity. A classy wine that is quite enjoyable now, but has the balance to age beautifully.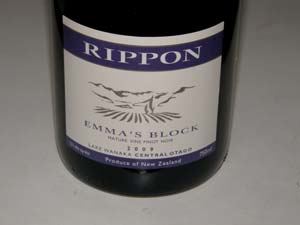 2009 Rippon Vineyard Emma's Block Lake Wanaka Central Otago New Zealand Pinot Noir
13.0% alc., pH 3.60, TA 0.62, 107 cases, 14 cases imported, $80.25, Diam closure. From a vineyard parcel with an eastward facing aspect located on the lakefront with clay reefs running through schist gravels. Named after the great-great-great-grandmother of the current generation of the Mills family through which the name Rippon entered the family. Clones 5, 6, 13 and Linc. 22% whole cluster. 21 days skin contact. Aged 17 months in 25% new to 4-year-old French oak barrels. Unfined and unfiltered. · Moderately light, slightly hazy, ruby red color in the glass. The nose is alive and expressive with scents of fully ripened dark red cherries and red berries. A charming wine that is light on its feet, with ambrosial red cherry flavor, supple tannins, and a good cut of acidity on the cherry-driven finish. This feminine wine shows deft balance between richness of flavor, acidity and tannin and is a pleasure to drink.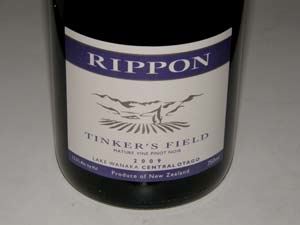 2009 Rippon Vineyard Tinker's Field Lake Wanaka Central Otago New Zealand Pinot Noir
13.6% alc., pH 3.67, TA 0.60, 105 cases, 14 cases imported, $99. From a unique parcel within Rippon Vineyard that contains the oldest vines on the property. Named after Rippon's founder, Rolfe Mills, known as "Tink" to his friends. Clones 5, 6, 2/10, 10/5,13 and Linc. 35% whole cluster. Aged 15 months in 42% new to 4-year-old French oak barrels. Unfined and unfiltered. · Moderately light, slightly hazy, ruby red color in the glass. A savory wine with aromas of dark red and blue fruits, exotic spices, earth, compost, and stem. A little more structured and intensely fruited than the Emma's Block Pinot Noir, with layers of flavors including cherry, cranberry, blueberry, spice, sandalwood and the faintest oak. The acidity is crisp and well-integrated and the fine-grain tannins are ripe and sturdy. The finish is remarkable in length, like a 3-hour movie you don't want to end. The most backward of the three 2009 Rippon Pinot Noirs, but still enough precocious tease to attract your attention.
The Quartz Reef wines are vinified separately according to clone. A small percentage of whole cluster is retained with the rest de-stemmed. A 5 to 7-day cold soak precedes indigenous fermentation. Up to 12 days of post maceration is performed to ensure optimum tannin extraction. Aging is in 30% new French oak barrels. Malolactic fermentation is natural and the wines undergo egg white fining before bottling. Cellaring potential is 6 to 10 years.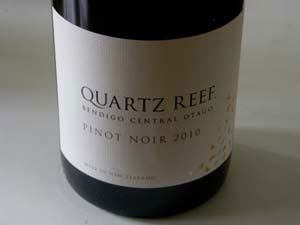 2010 Quartz Reef Bendigo Central Otago Pinot Noir
14.0% alc., pH 3.67, TA 0.51, $36.25, screwcap. Clones 10/5, 5, 115, 777 and Abel. Yields 1.8 tons per acre. · Moderately dark reddish-purple color in the glass. Well-scented with bright aromas of dark berry jam, spice and subtle oak. Juicy flavors of blackberries and kirsch with complimentary oak in the background. Structurally sound and very soft on the palate. Picks up interest and intensity over time in the glass. Very good.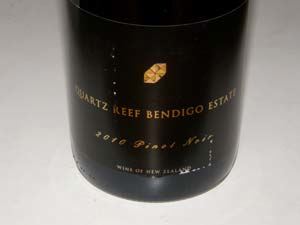 2010 Quartz Reef Bendigo Estate Vineyard Central Otago New Zealand Pinot Noir
14.5% alc., pH 3.66, TA 0.55, $96, screwcap. Aged in 15% new and 85% one-year-old French oak barrels. · Moderately dark reddish-purple color in the glass. This is an enthralling wine with lovely aromas of dark red and black berries and a hint of oak vanillin. The striking middleweight fruit enters with aplomb and fans out nicely on the mid palate, finishing with generosity. Very soft and polished, even velvety in the mouth. Commendable oak and tannin integration, and appealing earth and mineral imbued notes add to the pleasure.