Maggy Hawk: Anderson Valley's Rugged and Remote Outpost of Exceptional Pinot Noir
"Adversity often brings greatness to Pinot Noir, the most difficult of grapes to master"
This 58.7-acre estate is hidden away in the Anderson Valley's deep end among coastal redwoods at elevations rising from 300 to 500 feet. For those familiar with the Valley, the vineyard is located west of the Rock Shop on Highway 128. A remote, fog-cloaked, and wind-swept setting, the site is unique for its complex array of steep slopes and facings and well-drained, porous, decomposed sandstone soil. Maggy Hawk winemaker, Elizabeth Grant-Douglas, revers the property, calling it her "favorite place on earth," and "heavenly."
Maggy Hawk Vineyard has no neighbor issues to affect farming of the vineyard. No intensive viticulture techniques are required as the vines are largely self-regulating and typically produce yields of less than two tons per acre of beautiful fruit. That's not to say that there are no challenges in farming this site. Dramatic winds are common, and vines struggle throughout the season, threatened by early rains and frost, and ripening so slowly that the vineyard demands patience.
Maggy Hawk Vineyard was planted in 2000 to 23.55 acres of distinct blocks with a variety of clones including Pommard, Wädenswil 2A, and Dijon 115, 667 and 777, principally on rootstocks 3309C and 101-14. The vine spacing is 8' x 5' to 9' x 5', with 978-1102 plants per acre on a VSP trellis with bilateral cordon. The vineyard manager, Dennis Winchester lives on the property.
Maggy Hawk is the name of Barbara Banke's favorite, winning thoroughbred horse. Banke was a lawyer and wine connoisseur when she met Jess Jackson and played a major role in the growth of Jackson Family Wines. She assumed the reigns of Jackson Family Wines when Mr. Jackson passed away in 2011. She established the Maggy Hawk label with the inaugural release in 2007. Before that, grapes from the Maggy Hawk Vineyard had become an important component of the La Crema Anderson Valley bottling beginning in 2003.
In 2006, there was a bumper crop of more than three tons per acre from the vineyard and two La Crema Maggy Hawk Pinot Noirs were vinified (No. 5 Block and Blend) by the La Crema winemaker at the time, Melissa Stackhouse. The following year the Maggy Hawk label debuted and three wines were produced by winemaker Elizabeth Grant-Douglas (also the winemaker at La Crema, pictured below), each named after a horse born to the mare Maggy Hawk: Jolie, Afleet, and Stormin'. Afleet was a Preakness and Belmont Stakes winner. With the 2009 vintage, four wines were produced, each named after the horses born to the mare including Jolie, Afleet, and Unforgettable, and to her sire - Hawkster. The wines are all made from predominantly single clones from a specific block within the vineyard.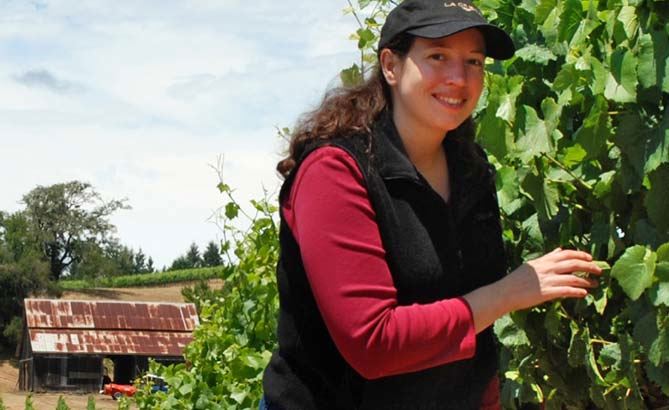 Grapes were harvested October 5, 6, and 7, 2009, following a relatively cool, even growing season. Yields were 1.85 tons per acre for Unforgettable block, 2.21 tons per acre for Afleet block, 2.30 tons per acre for Jolie block, and 2.44 tons per acre for Hawkster block. The wines received a 5-day cold soak followed by fermentations driven by indigenous and proprietary yeasts. The wines were aged in 23%-35% new French oak barrels for 15 months.
The 2007 Maggy Hawk Pinot Noirs were stunning wines, reviewed in January 2012 in the PinotFile (www.princeofpinot.com/article/1169/). At the time, my comment was, "The trio of 2007 Maggy Hawk Pinot Noirs are vinous treasures of uncommon pedigree much like their namesakes. They are truly special connoisseur's wines that defy appropriate description.....possessing a somewhereness that sets them apart." The 2009 Maggy Hawk wines were first offered for tasting at the Anderson Valley Pinot Noir Festival where I again was quite taken by their uniqueness. A mailing list signup was offered at that Festival. Visit the website at www.maggyhawkwines.com to join the mailing list (info@maggyhawkwines.com). The complete website will launch in January.