Stars Aligned for Sea Smoke in 2010
2010 was a very cool vintage in the Sta. Rita Hills, but as winemaker Don Schroeder said, "It played out really well in our vineyard. The yields were 1.8 tons per acre, which is close to our sweet spot, and though there were a couple of heat spells, the temperatures never really got above the mid-90s. At the same time, we had less lingering fog in 2010, so even though it was overall a cool growing season, we received more sunshine."
Sea Smoke ended up harvesting its grapes earlier than normal in 2010 and Schroeder was quite excited about the vintage. "Everything came in perfectly. When we tasted through the fermentations right after dryness, we commented that we could have put the wines in bottle right then. They were full, soft and incredibly aromatic."
Sea Smoke Estate Vineyard, 105 acres planted to ten clones of Pinot Noir in 26 unique blocks, is located on south-facing hillside bluffs at 300 to 700 feet above sea level in the Santa Rita Hills AVA. It benefits from the shallow clay soils and a moderating microclimate featuring the eponymous "sea smoke" marine fog layer that regularly travels up the Santa Ynez River canyon.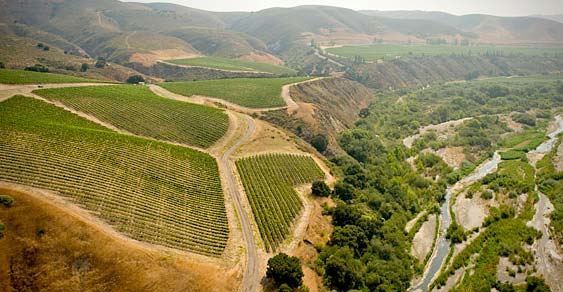 The style of Sea Smoke Pinot Noir has evolved over the years. With the completion of a good-size winery in Lompoc in 2009, ever-smaller lots can be vinified separately to preserve the character and complexity of different block and clonal combinations. In 2010, the winery undertook approximately 50 Pinot Noir fermentations, keeping them separate for almost a year of aging, at which point each barrel was graded and evaluated for as many as ten stylistic hallmarks. This meticulous approach, along with a dedicated effort to moderate extraction, slightly reduce alcohol levels, and finessed new oak ratios during barreling has led to a more welcoming style upon release without sacrificing age ability. The reference to Sea Smoke Pinot Noir as a "female bodybuilder" of a wine that was used by one writer in the past can be put to rest.
For the estate-grown Pinot Noir, the following winemaking regimen was employed. Clusters were sorted in the vineyard and then gently de-stemmed following an evening in the winery's cold room. All "jack stems" were removed on the sorting table. Musts were cold soaked in open-top fermenters for 1 to 4 days, then inoculated with cultured yeasts to begin slow fermentation. Each tank was manually punched down one to three times a day, with a total maceration time of 16 to 28 days. Upon completion of primary fermentation and maceration, all free run wine was transferred to tank for settling. Pressing was carried out at extremely low pressure to avoid extracting bitterness from the seeds. After settling overnight, both free run and press wines were racked to barrels and aged 16 months. About 20 different types of barrels were used and each year the best cooper, clone and block combinations are continually being refined.
The estate-grown Chardonnay was vinified as follows. Chilled grapes were softly pressed and gently pumped into a stainless steel tank for cold settling. Once the heavy solids were removed, the juice was racked to both French oak barrels and stainless steel fermenter, then inoculated for primary fermentation. Following primary fermentation, the wine was inoculated for malolactic fermentation and barrels were periodically stirred to enhance depth and mouth feel. Some wine was aged in large-format 600-liter demi-muids. The wine was aged 16 months in 55% new French oak barrels before bottling.
The 2010 Sea Smoke wines are extraordinary, the best I have ever sampled from this winery. Of the two wines reviewed here, the 2010 Southing Pinot Noir features a complex and elegant expression of Sea Smoke Vineyard Pinot Noir, while the 2010 Ten Pinot Noir possesses more power and extraction. Both wines display the prominent acidity that typifies Sta. Rita Hills wines. The Pinot Noirs are quite approachable now, especially with decanting, and the impeccable balance predicts a long life in the cellar. Five wines were produced in 2010, three of which are reviewed here. Omitted are the 2010 Sea Smoke Botella Pinot Noir and the 2010 Sea Smoke Gratis Chardonnay.
Sea Smoke wines are sold almost exclusively through a mailing list and are highly allocated. Visit the website at www.seasmoke.com to join the list. No tasting room is available. The wine is not open to the public for tours, and vineyard visits are not available due to legal restrictions on public access.

2010 Sea Smoke Southing Sta. Rita Hills Pinot Noir
14.42% alc., pH 3.36, 0.7, $59 (Magnums $124). Released Octobers 2012. Exclusively Sea Smoke Estate Vineyard. Aged 16 months in 55% new French oak barrels. · Medium dark purple color in the glass. Well-endowed with seductive aromas of spice plum and dark red rose petals. Clearly a special wine that is very charming now. Discreetly concentrated flavors of plum, boysenberry and black cherry with a whisper of spice and vanilla, finishing with an intensely aromatic black cherry flourish. Beautifully composed with balanced tannins and welcoming acidity. A complete wine. Still impressive the following day from a previously opened and recorked bottle.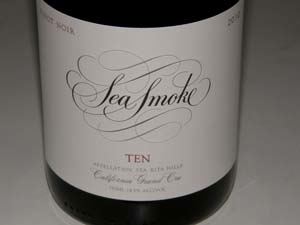 2010 Sea Smoke Ten Sta. Rita Hills Pinot Noir
14.65% alc., pH 3.38, TA 0.69, $82. Released October 2012. Ten clones (113, 115, 459, 667, 777, 09, 16, Pommard 5, 2A, and Mt. Eden selection) exclusively from Sea Smoke Estate Vineyard. Aged 16 months in 65% new French oak barrels. · Dark purple color in the glass. Very muted nose, opening very grudgingly to reveal aromas of fresh dark berry preserves. Similar in flavor to the Southing but showing more intensity, featuring dark red and black berries and cherries with an echo of oak. Rather unexpressive now but the potential is obvious. Very polished with well-managed ripe tannins and bright acidity. Spectacular the following day from a previously opened and recorked bottle, displaying flamboyant aromas of spicy berries, a creamy texture and a long, powerful finish. Cellar this sumptuous wine for several years.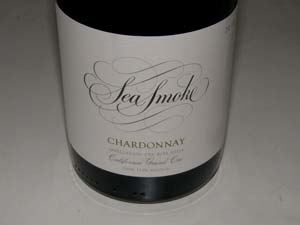 2010 Sea Smoke Sta. Rita Hills Chardonnay
14.6% alc., pH 3.37, TA 0.68, $59. Released October 2012. Exclusively Sea Smoke Estate Vineyard. Predominantly Wente clone with smaller amounts of Dijon clones 76, 95 and 96. Aged 16 months in 55% new French oak barrels. · Light straw color and clear in the glass. A majestic, full-on California style Chardonnay. Aromas of lemon curd, butter brickle, and roasted nuts. Richly flavored with notes of citrus, baked pear, and toasty oak complimented by clean, crisp acidity. Sta. Rita Hills is not just Pinot Noir country, for its Chardonnays typically offer incredibly lush, chewy, hi-tone fruit backed by generous, defining acidity. For those who relish this style of Chardonnay, it doesn't get any better.