More Sips of Pinot
Arista Winery
These small lot wines are the result of the farming approach of noted vineyardist Ulises Valdez and the uncompromising winemaking of Leslie Sisneros. The Mononi and Toboni vineyard bottlings demonstrate the power of terroir since the two sites at the intersection of Olivet Road and River Road are separated by only a few hundred yards yet yield distinctly different wines. Beginning January 1, 2013, the new winemaker at Arista will be Matt Courtney, who has spent the past seven years at Marcassin Winery. The change was needed to have a winemaker who could devote their full-time energies to Arista. Leslie has her own label, Ispiri Wines.
Aubert Wines
The fall offerings included a quartet of single vineyard Pinot Noirs from Ritchie, Reuling, UV and UV-SL vineyards. Aubert produces a decadent, lush, high-alcohol, fruit-driven style of Pinot Noir. I wrote about the winery in a previous issue (www.princeofpinot.com/article/837/). The wines are very well made for this style. Aubert's vineyard manager is Ulises Valdez. A tasting salon opened at 333 Silverado Trail in Calistoga in September 2012, after extensive remodeling of the former August Briggs winery. Aubert customers are able to visit the winery and taste both new releases and library wines by appointment. A Sonoma Coast appellation Chardonnay was also released in 2012, the first appellation-designated Aubert offering.
2010 Aubert UV Vineyard Sonoma Coast Pinot Noir
15.3% alc., $80. · Medium reddish-purple color in the glass. The nose highlights blackberry and black plum fruit with a noticeable oak contribution. Soft and smooth with generous flavors of blackberries and black plum sauce accented with hints of oak spice and vanilla. Good fruit-driven length on the finish that leaves a little heat in its wake. Good.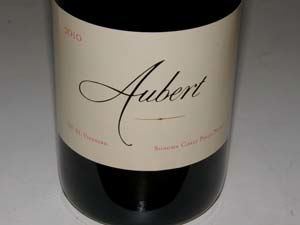 2010 Aubert UV-SL Vineyard Sonoma Coast Pinot Noir
15.0% alc., $80. · Moderately dark reddish-purple color in the glass. Aromas of smoky oak, tea leaf, oil and faint black fruit jam. Oak-infused flavors of dark berries, plum and cassis. Meaty with plenty of dry tannin, finishing juicy with good acidity. A man's Pinot with full-on extraction displaying more oak at presence than I prefer. Wellcrafted in its style. Good.
Benziger Family Winery
Known for certified-sustainable, organically grown and Biodynamic® wines, Benziger Family Winery became the first Demeter-certified Biodynamic® vineyard in Sonoma County in 2000. The 25-acre Sonoma Coast de Coelo (day-chay-low) Estate (22 acres of vines) is a cool, windswept site, five miles from the Pacific Ocean, which is on the edge of where Pinot Noir can be grown successfully. De Coelo is divided into two distinctive blocks: Quintus and Terra Neuma. The vineyard team works overtime here to ensure that the vineyard capitalizes on every ray of sun.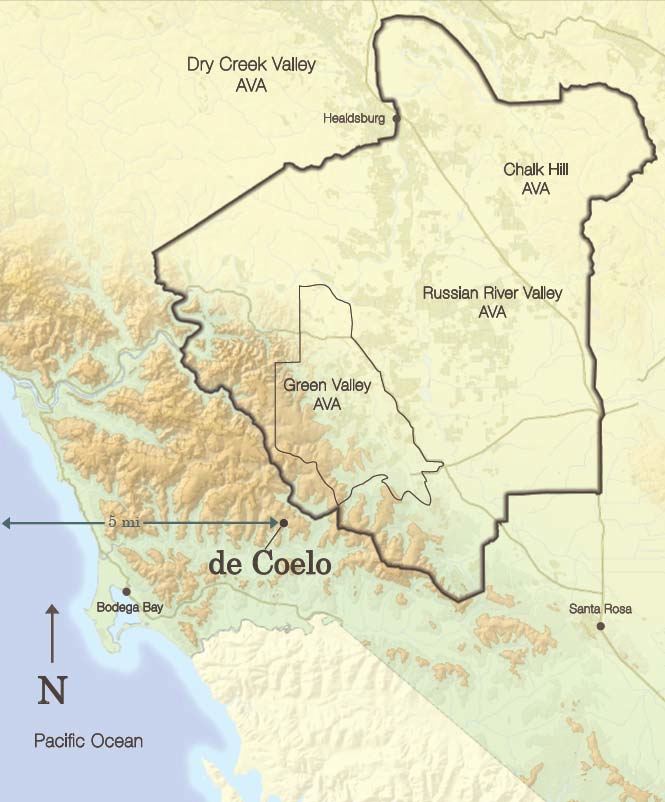 2010 Signaterra Bella Luna Vineyard Russian River Valley Pinot Noir
14.5% alc., pH 3.56, TA 0.62, 629 cases, $50. Released September 2012. Demeter Certified Biodynamic® vineyard. Dijon clones 115, 667 and 777. Yields 2.52 tons per acre. Native yeast fermentation and spontaneous malolactic fermentation. Aged 18 months in 35% new French oak barrels. Unfiltered. · Moderate reddish-purple color in the glass. Aromas of Bing cherries and espresso oak. Discretely concentrated core of dark cherry fruit with accents of clove, nutmeg and cola. Admirable restraint and appealingly delicate, with a lovely fruit core, but displaying too much of an oak topcoat at present. This wine will appeal to those who like plenty of oak with their Pinot Noir. Good.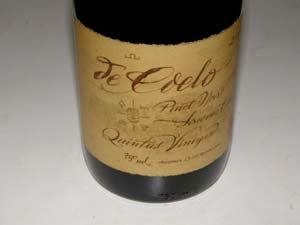 2010 de Coelo Quintus Vineyard Sonoma Coast Pinot Noir
13.0% alc., pH 3.48, TA 0.63, 177 cases, $75. From a Freestone-Occidental very cool site that is Demeter Certified Biodynamic®. "de Coelo" translates to "that which is of heaven." Clones are 667, 777 and Swan. 25% whole cluster. Fermented with native yeast. Aged 16 months in French oak barrels. Unfiltered. · Moderately light reddish-purple color in the glass. Alluring scents of earth, dark red cherries and berries, spice and oak. This wine tastes of the soil as well as dark cherry and red plum flavors, complimented by oak, finishing with refreshing acidity and a flourish of cherry. A lighter weight vintage for this wine. Better the following day from a previously opened and re-corked bottle indicating cellaring is advisable. Very good.
2010 de Coelo Tierra Neuma Vineyard Sonoma Coast Pinot Noir
14.1% alc., pH 3.48, TA 0.63, 177 cases, $75. Demeter Certified Biodynamic® vineyard. 25% whole clusters. Fermented with natural yeast, unfiltered. · Medium reddish-purple color in the glass. Aromas of oak-infused cherries, espresso and Christmas spices. Driven by fresh and uplifting acidity, this wine features dark red fruits that have an earthy underpinning. A little more body, tannins and finish than Quintus, with more oak topcoat. More appealing the following day from a previously opened and re-corked bottle. Very good.
Calera Wine Co.
The wines in this vintage have daunting tannins and I found it very difficult to get my arms around them. This is one of the least approachable vintages for Calera in recent memory. It should take years for them to soften and recant, and although there is enough fruit to stay the course, the wines will always be tannic. I found it challenging to pick out vineyard terroir at this stage, only finding Reed distinctive. These are definitely not wines for drinking tonight, even with decanting. I found them impenetrable the following day as well from previously opened and re-corked bottles.
Flowers Vineyard & Winery
This winery has had a long and successful journey that began with the purchase of 321 acres in the northern true Sonoma Coast in Cazadero in 1990 by Walt and Joan Flowers. The site was named Camp Meeting Ridge after the Pomo Indians who camped in the area in the summer. A gravity-flow winery was added in 1997, and an additional 327 acres, named Flowers Ranch, was added the same year. Today, neighboring vineyards include Hirsch, Marcassin, Hellenthal, Blue Slide Ridge, Failla and Pahlmeyer. There have been a number of talented winemakers at Flowers who have gone to distinguish themselves at other wineries. Since 2008, the winemaker has been Darrin Low. The viticulturist, Larry Bradley, has been at Flowers since the early 1990s. Production is about 27,000 cases a year of Pinot Noir and Chardonnay, 85% of which is estate grown. In 2009, Huneeus Vintners bought substantial interest in Flowers and Walt and Joan Flowers retired from their project. The 2010 vintage saw the inaugural production of block-designated Pinot Noirs.
Fogline Vineyards
A small producer of Pinot Noir, Zinfandel, Syrah and Chardonnay launched in 2009. The estate Vineyard is on Sonoma Mountain situated at 900 feet directly above Gap's Crown Vineyard in the Sonoma Coast AVA. The property sits above the fog line, allowing additional exposure to the sun throughout the growing season. Temperature inversion results in warmer nights and cooler days than vineyards at lower elevations. This allows fruit to ripen while lessening the need to leave the fruit hanging for extended periods. Being above the fog line, also helps keep fungus and mold at bay.
The winery is a partnership between Brent Bessire and Evan Pontoriero. Brent learned the wine business from Gary Farrell and time spent at Mauritson Family Winery. Evan has had a successful career in film, but devoted his spare time to learning about wine, eventually becoming a hobby winemaker. He developed a friendship with Brent after the two met at a number of wine events. The first vines were planted on Sonoma Mountain in 2007 and the winery's first wine was produced in 2009 from purchased grapes. The wines are available direct and from fine dining establishments in California.
2010 Fogline Vineyards Sonoma Coast Pinot Noir
13.7% alc., pH 3.35, TA 0.67, 80 cases, $42. Released fall 2011. Sourced from the Sun Chase Vineyard on the western slope of Sonoma Mountain at 1200 to 1400 feet elevation in the Petaluma Gap. Clones 667 and 777. · Moderately dark reddish-purple color in the glass. Complex nose offering many scents that come and go including black cherries, plum sauce, strawberries, pipe smoke, dark chocolate, herbs, dusty earth and a floral note. Middleweight cherry-driven flavor with a hint of spice, dried herbs, tobacco and even peach. Elegant, with soft tannins and respectable acidity, finishing with a citrusy cherry flavor. An interesting chameleon of a wine, but a bit strange in its combination of aromas and flavors. Good.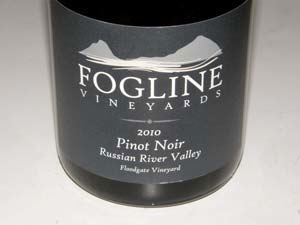 2010 Fogline Vineyards Floodgate Vineyard Russian River Valley Pinot Noir
14.5% alc., pH 3.40, TA 0.65, 135 cases, $38. Vineyard is located in Middle Reach of Russian River Valley. Clones 115, 666, 777 and Pommard. · Medium reddish-purple color in the glass. Smooth, spicy and sexy, with seductive aromas of dusty, dark cherries, graham and toast. A cherry bombast that is luscious yet refined and silky with complimentary hints of spice and cola. Nicely balanced with supple tannins and good staying power on the finish. The pedigree of this established vineyard shows through. A high-collared, impressive offering.
Gary Farrell Vineyards & Winery
The wines in the 2009 vintage were crafted by former Gary Farrell winemaker Susan Reed. She was trained by Gary Farrell when he was still consulting at the winery and her style reflects his. All three of these wines are sourced from top notch vineyards.
2009 Gary Farrell Stiling Vineyard Russian River Valley Pinot Noir
14.2% alc., pH 3.42, TA 0.65, 287 cases, $50. Vineyard owners, Don (now deceased) and Barbara Stiling converted a 48-acre apple ranch to vineyards in 1988. The site has well-drained Goldridge soils. Field selection of Swan clone. · Light reddishpurple color in the glass. Shy scent of red cherries, red berries, candy jar and herbs. Elegant array of red fruits with a slight confected bent, finishing with lengthy flavors of cherry cola and herbs. The tannins are restrained and a very soft mouth feel adds to the appeal. I liked it more over time in the glass. Very good.
2009 Gary Farrell Hallberg Vineyard Dijon Clones Russian River Valley Pinot Noir
14.1% alc., pH 3.42, TA 0.67, 307 cases, $60. Released February 1, 2012. 100-acre vineyard named for its previous owners, Don and Marcia Hallberg. Now meticulously farmed by owner Kirk Lokka, a Sonoma-Cutrer alumnus. Dijon clones. · Moderate reddish-purple hue in the glass. Shy, but pleasant aromas of dark red and black cherries and berries, picking up more intensity over time in the glass. Very soft and silky in the mouth, with flavors of earthkissed dark red and purple fruits, finishing with exuberant cherries and raspberries and a good cut of acidity. Not fully expressive now, but still leaves a nice impression. Very good.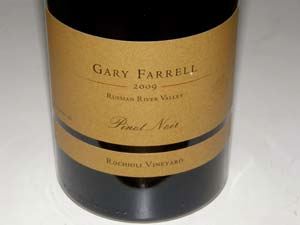 2009 Gary Farrell Rochioli Vineyard Russian River Valley Pinot Noir
14.0% alc., pH 3.48, TA 0.61, 406 cases, $65. Released November 1, 2011. Sourced from blocks planted in 1974, 1995 and 2000. Some of the fruit came from cuttings taken from the original "mother" block planted in 1968. Pommard clone. · Moderately light reddish-purple color in the glass. Needs some swirling in the glass to open up. Attractive perfume of well-ripened black cherries and baking spice. Middleweight flavors of cherry cola, spice and subtle oak caressed by gossamer tannins, finishing with uplifting acidity. Beautifully crafted. Not very expressive now, but one senses this could become extraordinary with several years in the cellar. Always the best Pinot Noir in the Gary Farrell stable.
Heart & Hands Wine Company
Located on the eastern shore of Cayuga Lake, Heart & Hands produces less than 1500 cases of Pinot Noir, Pinot Noir Blanc, Brut Rosé and Riesling. I got to know proprietor and winemaker Tom Higgins several years ago on a trip to the Finger Lakes. He had his first serious winemaking experience at Calera Wine Company, subsequently returning to New York to work for Thirsty Owl Wine Company and Atwater Estate Vineyards while preparing to launch Heart & Hands. In 2008, he and his spouse, Susan, completed their winery building and tasting room and his dreams of owning a winery came to fruition. Tom also provides winemaking and vineyard consulting services throughout the Finger Lakes. An estate vineyard is now producing and seven clones of Pinot Noir were harvested in 2012.
The Finger Lakes region is a challenge to viticulturists and winemakers due to the very cool climate, but Tom has achieved remarkable success with Pinot Noir. All three vineyard-designated Pinot Noirs reviewed here are different and worthy of a vineyard designation. Visit www.heartandhandswine.com.
I was curious about how Tom managed to pick at low Brix and yet vinify his Pinot Noirs with 100% whole cluster. Here was his response. "Lower alcohol by volume (ABV) seems to be the norm here. I am always confused by the relationship between Brix and ABV when I talk to colleagues at tech symposia and can only presume it has a great deal to do with the glucose to fructose relationship. We normally pick our Pinot Noir somewhere between 22º and 25º Brix and for us, this translates into a 12.5% to 13.2% ABV. In 2010, fruit came in between 23.6º and 24.4º Brix. After we get above 20º, I toss out the refractometer and just go on the taste of the fruit and the numbers on the acidity. Also, I am looking for anywhere from 1" to 2" of lignification on the stems as a sign that the vines are beginning to pull their juices downward and set themselves up for winter. We have always had the 100% whole cluster program in place (the Barrel Reserve is our best representation of the blend of the single vineyards within the whole cluster framework and the "standard" Pinot Noir is typically 50/50)."
"Many of my colleagues here warned me of the vegetal sensations they had contended with in years past with their Pinot Noir program, but after my stint at Calera and sampling plenty of examples of whole cluster wines from the similar cool climate of Burgundy, I was hard headed about what I believed could be done in the Finger Lakes. Ironically, I heard that more than 50% of the producers of Pinot Noir in the Finger Lakes in 2012 were going to be incorporating some level of stem inclusion in their Pinot Noir programs."
"The vegetal sensations are noticeable earlier in the fermentation process, but once things start cooking (our fermentation temperatures are usually between 82 and 92 degrees), those flavors have a tendency to blow off. I believe the softer oak treatment (with Francois Frères barrels) also reduces the impact and does not have the doubling down effect of those greener type flavor compounds that I would have encountered had I gone with an American oak program."
"We have been working with the Cornell extension for a few yeas to better understand our stem program and how this and clones relates to color and tannin preservation. While the 2010 version has been published, the 2012 version is still in the process of being run in their labs and is much more extensive."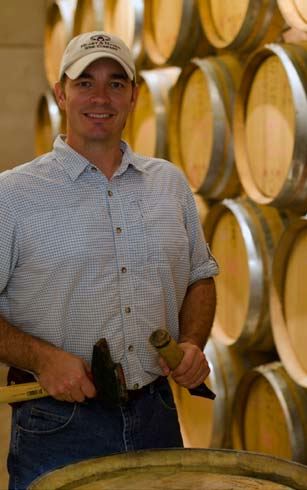 La Rochelle Winery
The vineyard sources change from year to year for this Livermore, California producer, but the wines have been consistently excellent. Founded by Steven Kent Mirassou, who acquired the label from the family in 2005, the winery focuses on small lots of Pinot Noir sourced from multiple appellations in California and Oregon. The winemaker, Tom Stutz, has a master's degree in viticulture from University of California at Davis. His Pinot Noir winemaking experience has included time at Domaine Chandon in Napa Valley, Hanzell Vineyards in Sonoma County and Mirassou Vineyards in San Jose. Some wines are sold exclusively to members of the winery's Pinot Noir Program. Visit www.lrwine.com for information.
The wines are produced as follows. After de-stemming and crushing, the fruit is fermented in 1.5-ton open-top fermenters. Primary and malolactic fermentation are induced. Aging is carried out for an extended time in 100% French oak.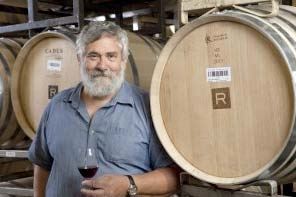 Pisoni Vineyards & Winery
2010 Pisoni Estate Santa Lucia Highlands Chardonnay
14.2% alc., $65. Unfiltered. · Light straw color with a faint haze in the glass. Lovely aromas of pear, lemon and lychee. Dry with spritely acidity, featuring flavors of lemon, baked pear, lychee, brown butter and dark caramel. Appealing restraint. Very good.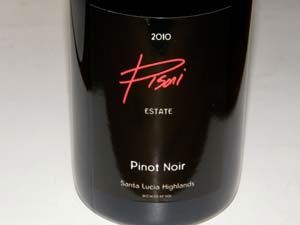 2010 Pisoni Estate Santa Lucia Highlands Pinot Noir
14.3% alc., 580 cases, $55. Unfiltered. · Deep, dark purple color in the glass. Scent of dark berry preserves with a complimentary hint of smoky oak and vanillin. Delicious core of vibrant blackberry and black plum flavors with undertones of smoke, tar, vanilla, and earth. Full-bodied with masculine tannins, yet soft and quite approachable now. Offers grip, breed and length. A man's Pinot that never disappoints and one of California's most cherished iconic wines year in and year out.
Windy Oaks Estate Vineyards & Winery
These wines are from the 15-acre Schultze Family Vineyard located in Corralitos in the Santa Cruz Mountains AVA at 900 feet above Monterey Bay. The vineyard is farmed and the wines are vinified on site by the Schultze family. Since their beginnings in 1999, the winery has been a consistent performer with dedication to every detail of production: 100% gravity during harvest, crush, press and bottling. About half of the fermentation bins are done with indigenous yeast. All wines are unfiltered and unfined. The winery's website has been updated and is now very informative (www.windyoaksestate.com).
Wren Hop Vineyards
A small family winery run by partners James McDonough and his father, James McDonough, Sr.. The winemaker is Russell Bevan and Chris Walden of Hambrecht Vineyard Management is the vineyard manager and Virginia Lambrix is the viticulturist. Very appealing website and wine labels offering a first-class impression. The 2009 vintage wines were highly rated by the Wine Advocate. I found the wines in this vintage to be very bold expressions of Pinot Noir, rich and dense with very ripe fruit, and plenty of oak detailing. They may not be to my preference stylistically, but it is tough to argue dogma. It's a little like complaining of a lover that he or she is too beautiful.
2010 Wren Hop Vineyards Stolen Crown Russian River Valley Pinot Noir
14.6% alc., pH 3.73, 75 cases, $62. Clones 667, 777 and 115. Aged 14 months in 100% new French oak barrels. · Dark reddish-purple color in the glass. Aromas of black grape juice, blackberry jam, cooked fruit and oak. Full-bodied, rich and dense with dark berry fruit, prodigious tannins including some oak tannins, notes of oak-driven dark caramel and anise in the background, finishing with a bit of heat. Decent.
2010 Wren Hop Vineyards Shriveled Hand Sonoma Coast Pinot Noir
14.8% alc., pH 3.95, 50 cases, $62. Grapes sourced from Sun Chase Vineyard in the Petaluma Gap. Clone 777. Aged 14 months in 100% new French oak barrels. · Dark purple color in the glass. Aromas of dark mocha java with little fruit evident. Bigboned, with generous amounts of coffee-scented, sweet black cherry fruit wrapped in firm tannins. Promising fruit core which is buried in oak at present. Give this wine time in the cellar. Good.
2010 Wren Hop Vineyards The Fire Messenger Sonoma Coast Pinot Noir
14.6% alc., pH 3.80, 100 cases, $62. Grapes sourced from Wren Hop and Gap's Crown vineyards. Swan clone. Aged 11 months in 100% new French oak barrels. · Moderate reddish-purple color in the glass. Appealing scents of black cherries, black raspberries and spice. A full mouth of luxurious black fruits with accents of cola and dark chocolate. This wine displays much better acidity and good integration of oak, and has a very seductive soft, velvety mouth feel. Very good for its style.