2012 Pinot Noir All-Americans
The end of the year approaches, and I am pleased to present my annual tradition of naming my favorite Pinot Noir performers. This year I tasted more Pinot Noir from California and Oregon than ever before, and there were so many exceptional wines, my task was particularly challenging. Picking the best in any lineup of wines is always controversial, so this issue always stirs up the pot. Some of your favorite wines or producers may not be included since tasting every American Pinot Noir release is an impossible task. For the Pinot Noir wines that were left out of the awards this year, the words of Mark Twain ring true. "It's better to deserve honor and not have them, then to have them and not deserve them."
There are a number of steps I take to arrive at the wines that are truly special and deserved of the title "All- American." The honored wines have all been tasted in private at my home in a quiet setting in the late morning and over the course of the following day or two. The wines come directly from my home cellar at about 63ºF and are all tasted in identical Riedel Vinum Burgundy or Riedel Oregon Pinot Noir stemware. I usually taste 6 to 10 wines a day, giving each wine the attention it deserves. I make several passes as I taste each wine carefully over the time needed for the wine to open up. Occasionally I will decant a wine if the winemaker recommends it or if I think this will benefit the evaluation.
I do not taste the wines blind, but strive for integrity, consistency and objectivity. I take my responsibility seriously. There are three reasons that I do not taste blind. First, I prefer to evaluate wines in the same manner as the consumer experiences them. Second, I believe an essential part of judging wine is to know what you are drinking. Third, I often have all the production information at hand, and that assists me in further understanding the wine. The more background information I have, the more I am likely to discover in the wine.
British wine writer, Jamie Goode, whom I respect immensely for his lucid writing about wine (Authentic Wine: Toward Natural and Sustainable Winemaking, The Science of Wine: From Vine to Glass, and the blog wineanorak.com), supports my methodology. He says the following. "When we are tasting blind, there is a limit to what we can say about the wine that is in front of us. Seeing the label influences our perception of the wine; it brings our knowledge about wine into play. But it also helps us understand the liquid in the glass better. We can put into context the flavors we are experiencing. This is important: it is more than just bias; it is making sense of the sensation, which allows us to reach a more robust conclusion."
I tend to focus on current drink ability, since most consumers prefer to drink their wines relatively young. I most appreciate wines that are at or close to their best the days I taste them. That said, credence is given to age ability, particularly in the context of balance. I often re-taste wines later in the day with food at dinner to replicate the consumer's drinking experience, or over the next day or two from an opened and re-corked (but not gassed) bottle. The latter gives me insight into the quality, balance and age ability of the wine.
I do not award scores to wines since evaluating wines in such a manner implies scientific precision, rather I prefer to give an unpretentious, concise, and descriptive review to reveal the style and quality of the wine that the reader can easily understand and appreciate. I am convinced that arriving at an apropos description of a wine is not only more challenging than awarding a score, but is the fairest way to evaluate a wine. The Pinot Geek icon is used to designate wines of exceptional merit and these are the only ones considered for All- American honors. The Value icon is used to indicate wines of good or better quality that are value priced ($35 or less) and wines in this category are also awarded All-American honors. Rarely, a wine can receive both designations: nineteen wines from California and Oregon were in that category in 2012.
Chardonnays are reviewed less often. They are often submitted for review because they are a natural partner with Pinot Noir and many wineries produce both varietals. The Golden Geek icon indicates exceptional quality and the Golden Value icon reflects quality at a value price. Rarely a Chardonnay is awarded both designations: only one wine reviewed in 2012.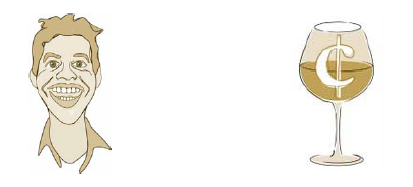 It is a daunting task to single out wines from the vast array of styles of Pinot Noir currently crafted in California and Oregon. I attempt to separate my personal Pinot Noir stylistic preferences from the objective assessment of the wines. I try to reward wines for their excellence regardless of style. It boils down to distinguishing between appreciating and liking. As writer Jake Lorenzo has noted (Wine Business Monthly, June 2012), "If the style is not one of my favorites, I hope I have the experience and generosity to appreciate what the winemaker set out to accomplish."
Pinot Noir is the chameleon among wines making its critical evaluation particularly challenging. Pinot Noir can vary from bottle to bottle, day to day, and week to week. Winemaker Daniel Baron's (Twomey) remarks about wines is very poignant regarding Pinot Noir. "You have to remember this when you think about judging wines. They're alive and changing moment to moment; they have good days and bad; they show well in a particular glass or with particular food. Judging wine at any particular moment in life is like giving a kid a letter grade based on his behavior in the supermarket."
Aromatics, flavor nuances, texture, balance and finishing persistence all come in to play in finding those special wines that stand out. Often it is not an objective feature, but the emotion that the wine elicits that sets it apart. There are many technically sound wines today, but All-Americans have a powerful charisma. It is a truth that it is not what is said or written about a special wine, but what is emoted that truly defines a wines greatness. Veronique Drouhin-Boss, the winemaker at Domaine Drouhin Oregon, has said it best. "There are plenty of good wines in the world that give you pleasure. A great wine gives you emotion." Remington Norman (Grand Cru) notes, "The impact of great wine is as much emotional as sensorial and, in any case, at the topmost level one runs out of distinctive superlatives."
The 2012 All-Americans were judged on merit, independent of price, vintage and region of origin. I have no monetary arrangement with any winegrower or winery, but do accept advertising on my website from retailers. I do accept wines for review, but about a third of the wines I sample are bought directly from a winery or through customary retail channels. I do not receive or demand compensation from wineries to review their wines. There are a significant number of California and Oregon Pinot Noirs that are never sent to the major publications for review for various reasons such as a disdain for numerical scores, and many of these wines are purchased by me and reviewed in the PinotFile. There are many Pinot Noirs that I sample casually at wineries (including barrel samples), social dinners, Pinot Noir festivals, competitive wine judging events, wine tastings and wine dinners, but I do not include these wines in the All-American selection process. Only finished, bottled wines that are formally tasted in controlled, and therefore comparable, circumstances are eligible for All-American consideration.
The vast majority of Pinot Noir wines tasted in 2012 were from the 2009 and 2010 vintages. In the 2009 vintage, alcohol percentages for California Pinot Noir ranged from 12.8% to 15.8% with a mean of 14.0% and for Oregon Pinot Noir ranged from 12.5% to 15.7% with a mean of 13.9%. In the 2010 vintage, alcohol percentages for California Pinot Noir ranged from 12.8% to 15.8% with a mean of 14.2%, and for Oregon Pinot Noir ranged from 12.4% to 14.1% with a mean of 13.3%. Keep in mind that the alcohol percentages are not always "honest" since a 1% reporting leeway is permissible with wines above 14.0% alcohol, so the actual percentage may be higher. I attempted to use technical sheet figures when available as they are more accurate than labels that are often prepared months before bottling.
The stylistic superiority of high alcohol versus low alcohol continues to be debated, but the inimitability of either style of wine will in the end be decided by the consumer. I personally prefer modest alcohol levels because these wines are often more balanced, easier to drink, more compatible with food, allow you to drink two glasses without getting sideways, and confer the health benefits associated with taking in moderate amounts of alcohol. See graph below for comparison.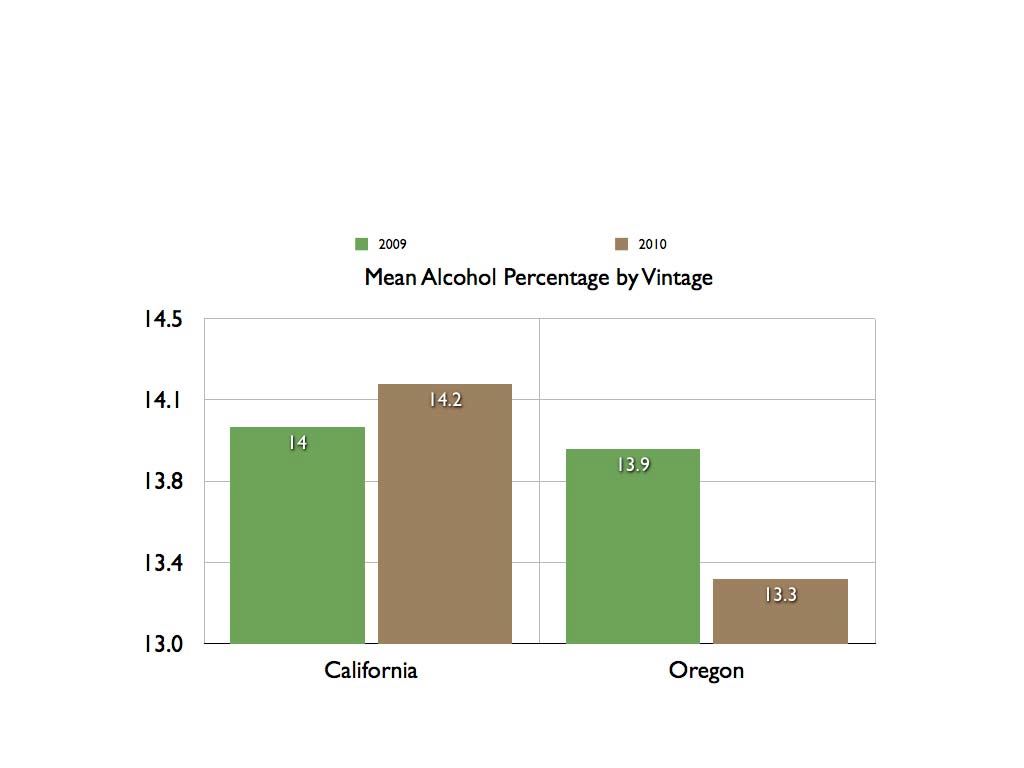 In the 2009 vintage, the pH for California Pinot Noir ranged from 3.34 to 3.82 and for Oregon Pinot Noir 3.31 to 3.90, and in the 2010 vintage, the range for California Pinot Noir was 3.35 to 3.90 and for Oregon Pinot Noir was 3.10 to 3.87.
Of the wines reviewed in 2012, the price for 2009 California Pinot Noir ranged from $10 to $110 with a mean of $50, and for 2010 from $10 to $80 with a mean of $43; for Oregon Pinot Noir the range was $20 to $100 in 2009 with a mean of $43, and $15 to $95 in 2010 with a mean of $42. The price range and average price for reviewed Pinot Noir in California and Oregon is roughly the same. Prices that appear in my tasting notes are either the winery retail price or the retail price paid by the Prince.
Collecting and drinking quality Pinot Noir can be a rich man's game if only trophy wines are sought after. There are a number of cult level Pinot Noir wines from California and Oregon that are priced near or above $100. Generally, the quality of life in Pinot Noir begins at $20, but expect to pay at least twice this for quality wines. Fortunately, there are many satisfying Pinot Noirs on the market that are priced below $35. The 2012 Value Pinot Noir All-Americans represent the best $35 and under North American Pinot Noirs I sampled this year. Value Pinot Noirs generally do not match up in quality of fruit, aromatic sophistication, flavor nuances, and age ability compared to the more expensive prestige bottlings. You get what you pay for.
The 113 California Pinot Noirs awarded the Pinot Geek designation in 2012 had a price range of $14 to $85. The 55 Oregon Pinot Noirs awarded the Pinot Geek designation in 2012 had a price range of $28 to $95. The 10 Chardonnays given the Golden Geek designation ranged in price from $26 to $70. There are somewhat fewer awards for Oregon Pinot Noirs than California Pinot Noirs. That is simply because I am based in California, travel more often to California wine regions, there are more Pinot Noir producers in California than Oregon, and more samples are submitted to me for review from California. This in no way represents a reflection of comparative quality of Pinot Noir between the two states. I am a huge fan of wines from both California and Oregon.
I wish to emphasize that I do not take my reviews as gospel. There have been numerous instances when I have raved about a wine only to find others less than impressed or vice versa. There is no scientific calibration for taste. I preach that you use my tasting notes as a guide, but trust your own palate. Focus more on the producer than on any one specific wine.
The number of corked wines I experience has remained constant and continues to be an annoyance. There are at least 5% of wines that are either corked or do not appear to be corked but are just not right. Bottle variation is definitely a challenging problem in wine evaluation. James Cabbini of CUBE Communications said, "Bottle variation is the wine industry's elephant in the room." Fortunately, I often have two bottles available to review and only report the review of the stellar bottle. Cork continues to be the predominant closure of premium California and Oregon Pinot Noir wines. The number of flawed commercial wines is extremely low.
The awarded wines to follow are listed in alphabetical order or from lowest to highest price in the case of value-priced wines. Many of the wines are still available from the winery or through retailers or the secondary marketplace. Even though some wines are offered only to mailing list members, they may still be available, and it is always worthwhile to make a phone inquiry. In today's economy, top level Pinot Noir has been a more difficult sell, and even highly allocated wines of the past have become more available. If you cannot obtain a certain All-American wine, keep in mind that there will always be another vintage and the best producers make quality wine consistently in each vintage. The wine may not be the same song, but it will be the same composer. Membership in winery wine clubs or participation in a winery's mailing list are both good ways to insure that you obtain highly coveted Pinot Noirs from a popular producer.
One final disclosure. There are a number of wineries who produced multiple wines deserving of All- American recognition (Alysian, Brewer-Clifton, Cristom, Drew, Donum Estate, Kosta Browne, Maggy Hawk, Paul Lato, Winderlea, to name a few), but I chose to spread the love, and considering that some wineries only produce one or two Pinot Noirs, I considered it equitable to only give an All-American award to one wine per winery.
To seek out any of the awarded wines, contact the winery first, then the retail marketplace through any of the popular wine search engines (wine-searcher.com, vinquire.com, vinopedia.com, wineaccess.com, or winezap.com). If you still need assistance in locating a wine, contact me and I will do what I can to help you.