2012 Chardonnay All-Americans
2011 Anam Cara Cellars Nicholas Estate Chehalem Mountains Chardonnay
13.5% alc., $26, screwcap. Inaugural Chardonnay from Anam Cara. Estate Dijon clone grapes. Fermented 70% in neutral oak and 30% in stainless steel. · Light straw color in the glass. A ravishing wine with bright aromas of white peach, passion fruit, lemon curd, apple cider and fir tree. Delicious, fresh, crisp and lively, with flavors of nectarine, baked apple, lemon, and a little nuttiness and minerality. The oak is kept under wraps, the texture is seamless, and the finish is long and refreshing. One of the best Oregon Chardonnays I have had in my recent memory.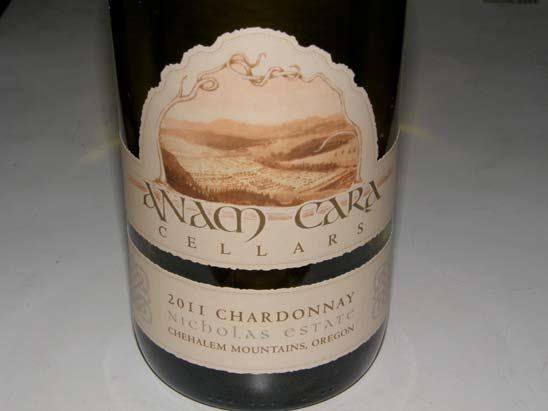 2010 Briceland Vineyards Lolonis Vineyard Mendocino County Chardonnay
Table wine, $21. Vinified from certified organically grown grapes. · Pale straw color in the glass. Fresh aromas of rocky stream, lemon curd and buttered brioche. Slightly creamy on the palate with restrained but satisfying flavors of pears, white peach and citrus complimented by subtle oak. Flows off the back of the palate like a silk sheet in retreat. Beautifully crafted.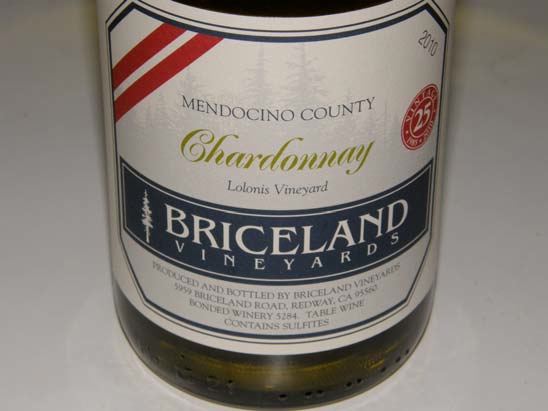 2009 DuMOL isobel Russian River Valley Chardonnay
14.3% alc., 1,174 cases, $60. Sourced from old-vine Charles Heintz Vineyard in the Green Valley. Aged 18 months sur lie. · Light golden straw color in the glass. Aromas of quince, lychee, baked apple, flint, and subtle oak-driven scents of buttered popcorn and toffee. Delicious flavors of apple pan dowdy, honey, citrus and toffee with a slight tropical fruit riff offered in a discreet and charming style. Impressive finishing show for a Chardonnay. Still great two days later from a previously opened and re-corked bottle. I had a second bottle at a restaurant a week later with lunch and it was even better accompanied by a persimmon-studied very lightly dressed salad. I have had more great Chardonnay drinking experiences from Charles Heintz Vineyard than any other vineyard in California.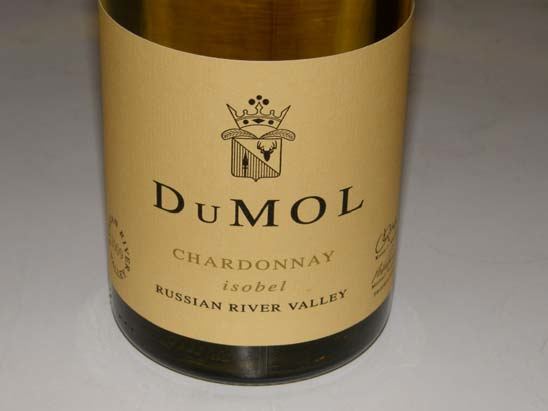 2010 Flowers Camp Meeting Ridge Sonoma Coast Chardonnay
13.5% alc., $70. An estate vineyard situated at 1200 to 1400 feet elevation, planted to Hyde, Old Wente and Dijon 95 clones. Yields of 1.25 tons per acre. Barrel fermented in 64% new French oak barrels for 14 months. · Moderate straw color in the glass. Alluring aromas of baked pear, roasted nuts, crème brûlée and milk chocolate. Plenty of flavor intensity including juicy lemon and apple with hints of buttered brioche and sweet oak. An exceptional wine with very slight dry tannins, lively acidity, and an appealing lemon drop finish.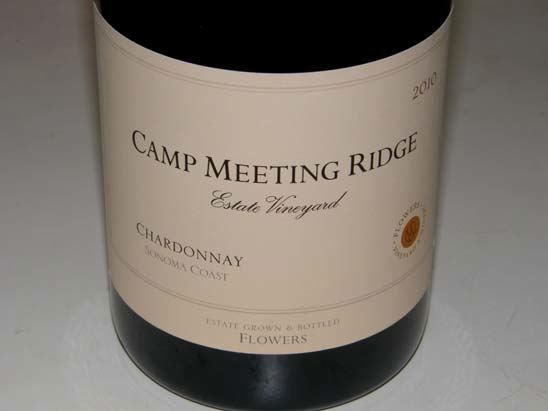 2010 Fogdog Sonoma Coast Chardonnay
13.5% alc., pH 3.38, TA 0.75, 1,470 cases, $35. Sourced from independent growers (67%) and Freestone estate vineyards (33%). Aged 8 months in 20% new and 7% two to three-year old French oak barrels. · Light yellow in color and slightly cloudy. Uplifting aromas of lemon curd, pomelo and baked apple. Delicious flavors of lemon tart, white pear and subtle oak with bright acidity driving the wine. Finishes soft and creamy. A very classy wine at this price point.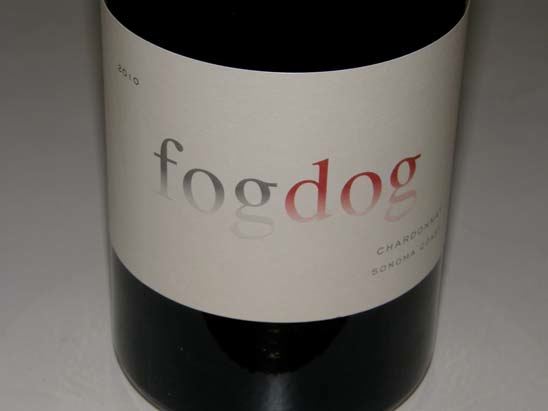 2010 La Follette Sangiacomo Vineyard Sonoma Coast Chardonnay
14.2% alc., pH 3.57, TA 0.63, 560 cases, $38. From the cold climate Petaluma Gap. Planted in 1998, the Roberts Road block is rooted in the alluvial soils of Copeland Creek with tracks of gravel. Predominantly Old Wente selection. Made in a Burgundian reductive style with native yeasts. Aged 10 months sur lie with gentle stirring of the barrels. · Light straw color in the glass. Complex perfume of lemon curd, petrichor, Asian pear, ripe pineapple, roasted hazelnuts, and subtle oak. Delicious flavors of baked pear, citrus, and green apple, with perfectly integrated and supportive oak. Juicy and spirited, making you reach for another sip. La Follette is a master of Chardonnay.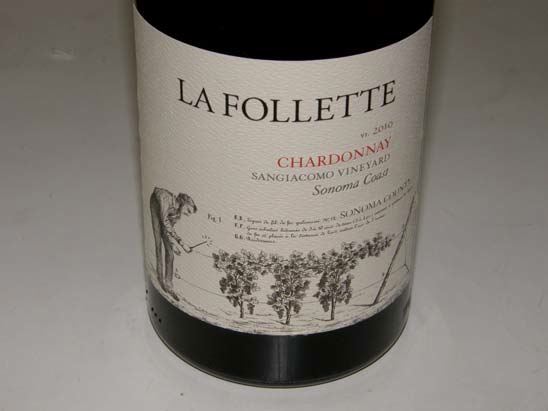 2010 Lucia Santa Lucia Highlands Chardonnay
14.1% alc., $40. Sourced from three small blocks at Pisoni Vineyards and vinified by Jeff Pisoni. Few wine connoisseurs are aware of the tiny amount of Chardonnay on the Pisoni property that was originally planted in 1982. · Light straw color in the glass. Aromas and flavors of baked pear, crème brûlée, pineapple and lemony citrus. A moderately rich style made with full malolactic barrel fermentation and barrel aging sur lie. Fresh, satisfying and thoroughly user friendly, displaying perfect integration of oak and overall impeccable balance. One of my favorite California Chardonnays and a great value.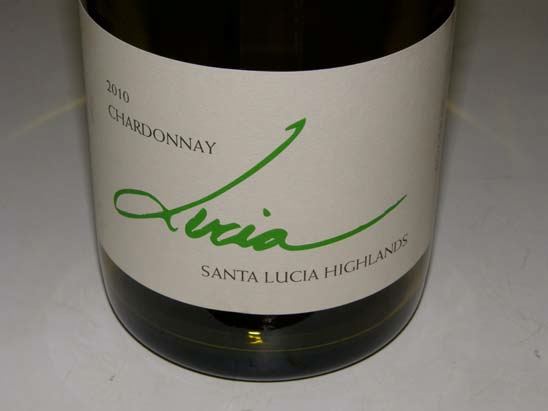 2010 Patz & Hall Hudson Vineyard Napa Carneros Chardonnay
14.2% alc., 454 cases, $55. Hudson Vineyard was founded in the 1980s by Lee Hudson and is considered one of the grand cru sites in Carneros. Sourced from a 4-acre block that is planted to the Hudson- Wente selection. Whole cluster pressed, indigenous fermentations, aged sur lie with weekly stirring, 100% malolactic fermentation in barrel, aged in 60% new French oak barrels, and bottled without filtration. · Light straw color in the glass. The wine draws you in with appealing aromas of honey, lemon curd, roasted almonds and toasty oak. Moderately rich on the attack with luscious flavors of baked pear, lemon peel, and toffee, finishing soft and comforting with a refreshing brightness due to harmonious citrus-driven acidity. Choose any superlative you want. A masterpiece and one of the greatest California Chardonnays I have tasted this year.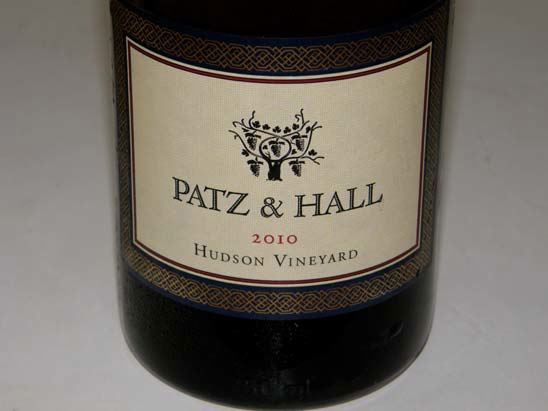 2008 Rudd Bacigalupi Vineyard Russian River Valley Chardonnay
14.6% alc., $75. This Oakville Estate winery is the only winery to produce a wine from the original 65-year-old Paris Tasting Block at Bacigalupi Vineyard. It is the only Rudd wine made from purchased fruit. This release is the ninth vintage. Each year the fruit production of this vineyard decreases due to the age of the vines. Barrel-fermented with 100% MLF. · Light straw color with mild haze (unfiltered). Invigorating aromas of lemon curd, baked pear, oak, and a hint of butter and grapefruit. Delicious flavors of white peach, pear, and complimentary toasty oak with an undertone of minerality and a riff of lemon on the lengthy finish. The creamy texture adds appeal. A spectacular offering made from vines of great historical significance that will please any Chardonnay connoisseur.
Note: Beginning with the 2009 vintage, this wine is bottled under the Edge Hill label by Rudd. Edge Hill was considered one of the finest wine estates in Napa Valley until it ceased production in 1907. Inspired by this legacy, Leslie Rudd has directed a restoration of this historic property and now handcrafts a limited production of select wines using exceptional grapes from heritage vineyard sites. The website is www.edgehill.com.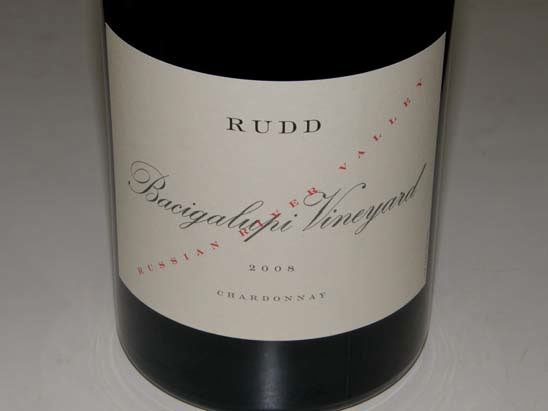 2010 Sea Smoke Sta. Rita Hills Chardonnay
14.6% alc., pH 3.37, TA 0.68, $59. Released October 2012. Exclusively Sea Smoke Estate Vineyard. Predominantly Wente clone with smaller amounts of Dijon clones 76, 95 and 96. Aged 16 months in 55% new French oak barrels. · Light straw color and clear in the glass. A majestic, full-on California style Chardonnay. Aromas of lemon curd, butter brickle, and roasted nuts. Richly flavored with notes of citrus, baked pear, and toasty oak complimented by clean, crisp acidity. Sta. Rita Hills is not just Pinot Noir country, for its Chardonnays typically offer incredibly lush, chewy, hi-tone fruit backed by generous, defining acidity. For those who relish this style of Chardonnay, it doesn't get any better.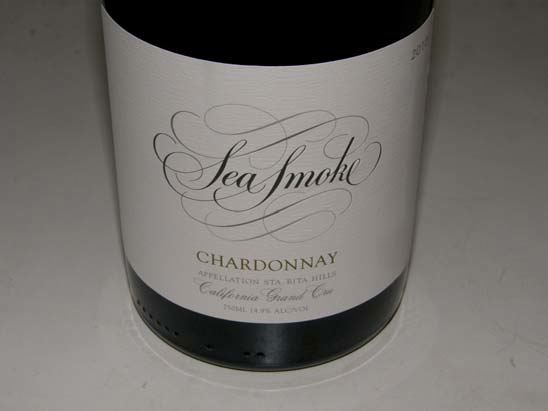 2010 Ulises Valdez U.V. El Diablo Vineyard Russian River Valley Chardonnay
14.7% alc., $50. Barrel fermented, 100% MLF. · Light straw color with slight haze (unfiltered) in the glass. Aromatically pleasing with notes of yeast, buttered popcorn, white peach and citrus peel. Very tasty core of baked pear, apple, pie crust and tropical fruit flavors with complimentary oak. Crisp and lively with a hint of tannin and a dry finish. A dead wringer for one of Aubert's top Chardonnays. From Valdez Family Winery.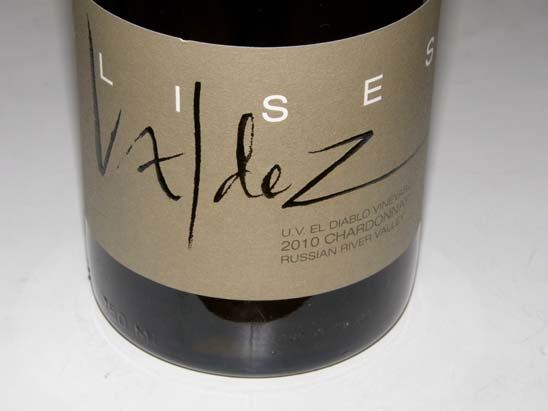 Also worthy:
2011 Scribe Carneros Chardonnay $38
2010 Olivia Brion Heron Lake Vineyard Wild Horse Valley Chardonnay $40
2010 Patz & Hall Hyde Vineyard Carneros Chardonnay $55
2010 Sonoma-Loeb Envoy Russian River Valley Chardonnay $40
2009 Hirsch Vineyards Sonoma Coast Chardonnay $75
2009 La Follette Manchester Ridge Vineyard Mendocino Ridge Chardonnay $48
2007 Peirson Meyer Charles Heintz Vineyard Sonoma Coast Pinot Noir $55
Good values:
2011 Briceland Vineyards Humboldt County Chardonnay $21
2011 Crossbarn by Paul Hobbs Sonoma Coast Chardonnay $25
2010 Hahn Estate SLH Santa Lucia Highlands Chardonnay $25
2010 Envolve Carneros Chardonnay $25
2010 J. Lohr Arroyo Vista Vineyard Series Arroyo Seco Chardonnay $25
2010 Gundlach Bundschu Estate Vineyard Sonoma Coast Chardonnay $27
2010 Stoller Family Estate Reserve Dundee Hills Willamette Valley Chardonnay $28
2010 Patz & Hall Sonoma Coast Chardonnay $35