Joseph Swan Vineyards Trenton Estate Pinot Noir Mini-Vertical
The legacy of winemaker Joseph (Joe) Swan has been well chronicled in the pages of the PinotFile (Volume 5, Issues 25 and 28, Volume 6, Issue 17). At the age of 45, in 1967, while employed as a pilot for Western Airlines, Swan bought a dilapidated 13-acre Zinfandel vineyard, barn and house on Laguna Road in the Russian River Valley near Forestville. The house had once been a general store and post office for the tiny town of Trenton that is no longer in existence. Today, this area of the Russian River Valley is referred to as the Santa Rosa Plains, an unofficial subdivision of the Russian River Valley AVA between the Laguna Ridges area to the West and the city of Santa Rosa to the East. The Santa Rosa Plains is only a few miles south of Westside Road and the Middle Reach subdivision of the Russian River Valley, but the climate here is distinctly cooler, foggier and wetter.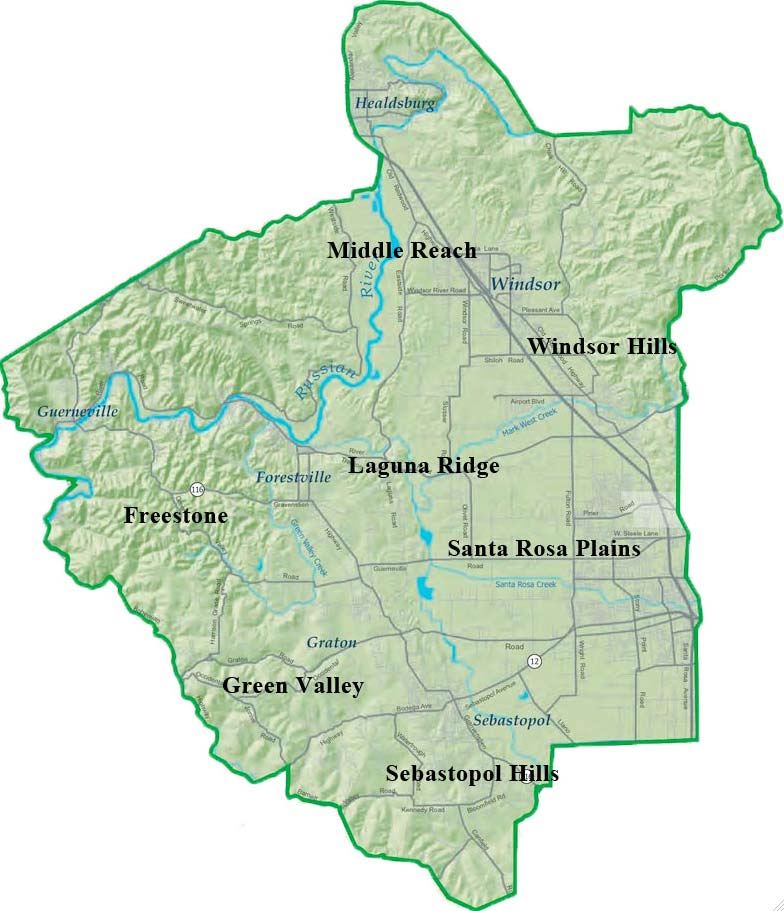 Swan searched Northern California for years before determining that the property he settled on was appropriate for fine wine grape growing. He retired from the airlines in 1968 and made Zinfandel from his property that year. The following year he began a replanting of the vineyard on the property, replacing the Zinfandel with Pinot Noir, Chardonnay and Cabernet Sauvignon. It was Joe's friend, Andre Tchelistcheff, who advised him to plant Burgundy varieties on this cool site. This coincided with Joe Rochioli's plantings of the famous East Block of Pinot Noir at Rochioli Vineyard and only five years after Charles Bacigalupi planted Pinot Noir on Westside Road near Rochioli Vineyard at the former Goddard Ranch. According to John Haeger (Pacific Pinot Noir 2008, p. 213), and confirmed by Rod Berglund, the budwood for the Pinot Noir plantings at Swan's vineyard most probably came from Mount Eden (via France, Paul Masson, and then Martin Ray) through the Experimental Station in Oakville. Some nursery selections were also planted but later abandoned. Swan marked the most redeeming vines in his vineyard and grafted the nursery selections over from wood he deemed the best. The resulting vine mix was later named the "Swan clone" by Francis Mahoney, the founder of Carneros Creek Winery. An additional block of Pinot Noir was planted just south of the original planting in 1974.
Swan produced some very good and age worthy Pinot Noir from his plantings. The low-vigor soil at the site, Goldridge in type, has proven to be ideally suited for Pinot Noir and Swan's vines prospered. The first vintage of Joseph Swan Pinot Noir was 1973, crafted with consultation from the legendary André Tchelistcheff who was a friend of Swan's. Swan's early Pinot Noirs, along with those of Davis Bynum, Dehlinger (who made his first vintage at Swan's in 1975), and Rochioli, established the credibility of Russian River Valley Pinot Noir. Cuttings from Swan's vines were eagerly sought after and became widely distributed to other vineyards as the Swan clone or Swan selection.
Swan was a Burgundian at heart and traveled to France every year seeking to improve his winemaking skills. His companion was frequently wine importer Kermit Lynch who was fluent in French and translated for him. Swan experimented with whole cluster fermentation, manual punch downs, and the use of new French oak barrels, techniques that were unusual for California winemakers in the early 1970s. Anything he saw or heard about in Burgundy, he would try at home. Swan passed away from cancer in 1989, but his legacy will include the popularization of the traditional, Burgundian winemaking methods in California that often eschewed the teachings of UC Davis (Swan was no fan of the teachings of Davis's Viticulture and Enology Department), his search for better clonal material, and his openness to new ideas. He was married four times, had at least seven kids, and died without leaving a will.
Over the years, Swan periodically added new vines to his estate vineyard, including Dijon clones which he obtained from a French vigneron before the clones became available in the United States. After Swan's passing, his son-in-law, Rod Berglund took over. Rod married Swan's daughter, Lynn (her mother, June, was Swan's fourth spouse), in 1986, and helped Swan with his last harvest in 1987. He has overseen the replanting of the estate vineyard, now named Trenton Estate Vineyard. In 1996, a 3.5-acre block planted to Pinot Noir, Chardonnay, and Cabernet Sauvignon, was removed and replaced with budwood from other estate Pinot Noir vines, plus Dijon clones 113, 114, 115, 667 and 777. Today, there are twelve different clones in the 13-acre Joseph Swan Trenton Estate Vineyard (8 acres of Pinot Noir), including DRC suitcase clones given to Joe as a gift by an unnamed individual many years ago. In addition, Berglund has modernized the trellis system, changing from Swan's version of head training to a bi-lateral vertical curtain system. This resulted in a reduction and softening of the tannins in the resulting wines. Farming is organic.
The Joseph Swan Trenton Estate Vineyard Pinot Noir is the winery's flagship bottling and has been produced annually since 1973 (but not designated as "Trenton Estate" on the label before the 1997 vintage). This wine was sourced entirely from the original 1969 and 1974 plantings until 2002, when some of the young vine fruit was included. Every vintage has come from the some piece of ground.
The Trenton Estate Vineyard Pinot Noirs typically are rich, tannic and rustic initially, not unlike many Burgundy wines. After several years, they become much more approachable, turning earthy, savory, and nuanced, still with significant structure, and never only about fruit. The wines will easily age more than ten years, as shown by this vertical tasting. A number of tasters have noted some volatile acidity in the aromatics of some wines contributing to their "character," and I found this in the 2003 vintage.
In 2011, a vertical tasting of all 23 released vintages of Joseph Swan Trenton Estate Vineyard Pinot Noir (1973-2009) was organized in Northern California by Steve and Lisa Rigisich and attended by Rod Berglund: www.wineberserkers.com/forum/viewtopic.php?t=44845&p=604290. In 2006, I attended a tasting of eight Joseph Swan Pinot Noirs from the 1970s and 1980s (PinotFile, Volume 5, Issue 43). The wines displayed remarkable retention of fruit flavors with pleasing secondary characters and bouquet. All wines were drinkable with varying degrees of pleasure. The Trenton Estate Vineyard wines have a common thread, according to Berglund, in that they have a readily definable character unique to the site (so-called "Trenton spice"), and the site produces wines that are not only age worthy, but actually benefit from aging.
Berglund's winemaking regimen and evolution over the years is described in the Joseph Swan Vineyards Newsletter at www.swanwinery.com (Part Two, red wines, June 2011 Newsletter). The wines in the vertical tasting described here included 20%-25% whole cluster, were fermented with indigenous yeast to over 21 days, and aged at least 15 months in at least 66% new French oak barrels. The wines were not racked until blending for bottling.
The Joseph Swan Vineyards Newsletter has been published three times each year since 2010. A Chardonnay and Syrah are also produced from Trenton Estate Vineyard. The tasting room is at 2916 Laguna Road with the entrance on Trenton Road and is open Saturdays and Sundays from 11:00 to 4:30 (other days by appointment). Rod and Lynn are usually behind the counter at the tasting bar.
The Joseph Swan Vineyards label is one of the most timeless and iconic in the wine industry.
Note: Shortly after this article was published, Rod Berglund published an extensive, detailed history of Joseph Swan, his wines, and in particular Trenton Estate Vineyard wines. It is in the winery's February 2013 newsletter at www.swanwinery.com/0213_newsletter.php.