Sips of Oregon Pinot Noir
One of my New Year's resolutions is not to over hype any one vintage for California or Oregon Pinot Noir. I made a big deal about the 2010 Oregon vintage and I still believe that it is a stellar vintage that produced many outstanding wines, despite the challenges the weather provided. However, I have found some Pinot Noir wines from that vintage of late that are pleasant, but seemingly unripe and somewhat dilute. These wines speak to tart red fruit and the austere style of Pinot Noir that appeals to some, but will disappoint those looking for a rush of fruit on the palate.
Antica Terra
I am a big fan of this winery and the wines crafted by Maggie Harrison, and buy the wines every year. The 2010 Botanica bottling from Shea Vineyard was one of my 2012 Pinot Noir All-Americans. I expected big things from the estate Pinot Noir, Antikythera, as well, but found it to be curiously unfulfilling at this early stage. It was made in very small quantities because of the vintage challenges, and is now sold out, so I may not be spot on in my evaluation of this one bottle. Time will tell. The Antica Terra wines are sold through a mailing list, with additional limited retail distribution of the Antica Terra Willamette Valley bottling. Maggie is also crafting some interesting wines including a sparkler and a white Rhone, and many surprises are in store down the road. Visit www.anticaterra.com. Listen to a recent conversation with Maggie on Grape Radio, "Life with Maggie - Part 2": www.graperadio.com/archives/2012/08/17/life-with-maggie-part-2/.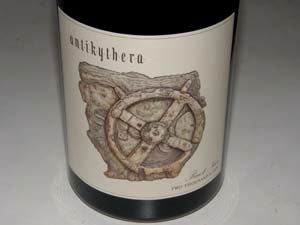 2010 Antica Terra Antikythera Eola-Amity Hills Pinot Noir
13.1% alc., $100. Released November 1, 2012. · Moderately light reddish-purple color in the glass. Aromas of dark red cherries and berries, bramble, stem, rose petal and toasty new oak. Light and soft on the palate featuring red fruit flavors with a slight green, herbal undertone. Seamless, with gossamer tannins and a very long, slightly tart red cherry finish. Tasted later in the day, the wine still had a slight vegetal and floral tone. I suspect this wine needs more time for full expression and to fully integrate the oak. Not sure how it will turn out. Good.
Bethel Heights
Planted between 1977 and 1979, Bethel Heights Vineyard was one of the first vineyards in the Eola-Amity Hills region. The initial wines were released in 1984. Bethel Heights now turns out approximately 10,000 cases yearly, most of which comes from the 49-acre Bethel Heights Vineyard and the more recently planted nearby Justice Vineyard. The winery produces several Pinot Noirs including block-designated bottles which are very special. Founded by twin brothers Ted and Terry Casteel and their wives Pat Dudley and Marilyn Webb, the winery now is largely in the hands of the second generation, cousins Mimi (viticulture) and Ben (winemaking) Casteel. The winery tasting room is open year round, but the hours vary seasonal. Visit www.bethelheights.com. I tasted the entire 2010 lineup of Pinot Noirs at the winery last summer (Volume 9, Issue 11). The 2010 Bethel Heights Pinot Noirs reviewed here have impressive color, aromatic expression, fruit intensity, and finishing length, and are among the most notable of the 2010 wines I have tasted from Oregon.
Big Table Farm
A collaborative effort between artist Clare Carver and her winemaker spouse Brian Marcy. The pair moved to Oregon from Napa, bought a 100-year-old farmhouse and property in Gaston, and started a winery in 2006 producing wines from purchased grapes. Marcy has an impressive resume, having winemaking experience at Turley Wine Cellars, Neyers Vineyards, Blankiet Estate and Marcassin, all in California. Along with producing wine, the couple have established a working farm where they raise poultry, pigs, cows and egg-laying chickens. The wines are sold through a mailing list and a small tasting room at their home. Visit the very informative and well-designed website at www.bigtablefarm.com. Original art by Clare appears on every label each year and the hand lettered and pressed labels are affixed to each bottle one at a time.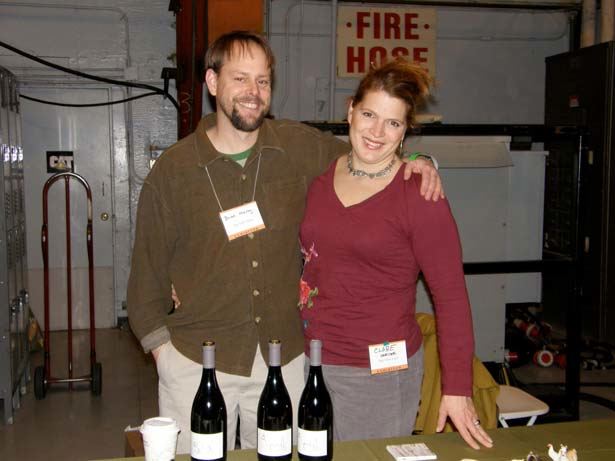 Brittan Vineyards
Robert Brittan is a former renowned winemaker from California who moved to the Willamette Valley in 2004 and bought a 128-acre forested tract near McMinnville. He replanted 18 acres of vineyards on the property, retaining some Swan clone plantings, and established an additional 3.5 acres of Pinot Noir in 2008. His first vintage was 2006. Two Pinot Noirs are offered: a Basalt cuvée and a Gestalt cuvée, the difference being the type of soils the vines are grown in. The wines are sold through a mailing list with some retail distribution. Visit www.brittanvineyards.com. Brittan is also the consulting winemaker for a number of Willamette Valley wineries including Winderlea.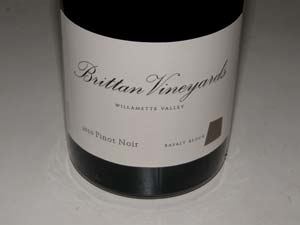 2010 Brittan Vineyards Basalt Block Willamette Valley Pinot Noir
13.5% alc., $50. Sourced from parts the vineyard with the heaviest concentration of broken sub-marine basalt, resulting in low yielding vines that produce intense flavors. Primarily Pommard, blended with 667, 777 and 115. Aged 9 months in 25% new French oak. · Moderately dark reddish-purple color in the glass. Aromas of dark red berries including cranberries, vitamins, and seasoned oak. Dark red raspberry, red plum and red cherry flavors are featured underlain with soft tannins. Finishes with a rush of sour cherry fruit and grapefruit-driven acidity. Not particularly pleasing on its own, but acid can be your friend at the dinner table, and this wine should work nicely with a salad dressed with vinaigrette, deep-fried foods or fish dishes with creamy sauces. Good.
Brooks Winery
Founder and winemaker of Brooks Wines, Portland native Jimi Brooks, passed away in 2004, and his winery was bequeathed to his young son, Pascal, who was 16 years of age in 2012 and is the youngest owner of a winery in the U.S.. Jimi's sister, Janie Brooks, leads winery operations. In 2006, Chris Williams became the winemaker and continues Jimi's wish to produce affordable Pinot Noir and Riesling wines. About 8,000 cases of wine are produced annually at a winery built over 40 years ago by Oregon wine pioneers Don and Carolyn Byard. Organic and biodynamic farming practices are paramount at Brooks which owns a 20-acre vineyard in the Eola-Amity Hills, formerly the property of the Byards. Tasting, which had only been available by appointment, is now offered Tuesday through Sunday at 9360 SE Eola Hills Road in Amity. Visit www.brookswines.com.
HillCrest Vineyard
The site of the first plantings of Pinot Noir in Oregon in 1961 by Richard Sommer who founded this winery. It is Oregon's oldest estate winery. Dyson DeMara took the reigns of the vineyard and winery in 2003 and today produces a variety of wines from estate and bought fruit, available for tasting and purchasing in the winery's tasting room only. Dyson likes to say, "Good wine tastes like a grape, but great wines taste like a place." Read the full history of this winery in Volume 8, Issue 39 of the PinotFile. Visit www.hillcrestvineyard.com.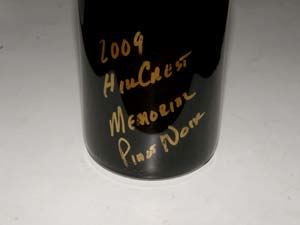 2009 HillCrest Vineyard Memorial Estate Umpqua Valley Pinot Noir
(unlabeled, inquire about availability). From old, non-irrigated, lowyielding vines. · Medium reddish-purple color in the glass. A very distinctive wine with appealing aromas of black cherries, spice, sarsaparilla, chocolate mint, and smoke. Striking fruit core of ripe dark cherries, black raspberries, cherry cola, dark chocolate, spearmint, spice and sassafras with good tannin support and a generous fruit-filled finish. Definitely speaks of place and is nothing like any Pinot Noir from the Willamette Valley or anywhere else in Oregon for that matter. Drink or hold.
Johan Vineyards
This estate consists of 85 acres of vineyards in the heart of the Willamette Valley in the Van Duzer corridor. Norwegian Dag Johan Sundby, a descendent of a long line of soil tillers, came to the Willamette Valley in 2004. Dan Rinke has been the viticulturist and winemaker at Johan since 2007. His background includes stints at Domaine Alfred and Rhys Vineyards in California. The winery offers Chardonnay, Pinot Gris, Vin Gris and Pinot Noir. Visit www.johanvineyards.com.
2009 Johan Vineyards Estate Willamette Valley Pinot Noir
12.5% alc., pH 3.86, TA 0.55, 1,083 cases, $28. Native yeast fermentations, 42% whole cluster. Aged 11 months in 32% new French oak barrels. · Medium reddish-purple color in the glass. Aromas of wild berries, bramble, lilac with a subtle green (stem) and medicinal note. Earthy dark red cherries and blueberries are featured in a middleweight style with a green, vegetal underpinning. Whole cluster just didn't work in this savory wine. Decent.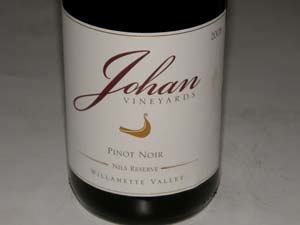 2008 Johan Vineyards Estate Nils Reserve Willamette Valley Pinot Noir
12.8% alc., pH 3.77, TA 0.56, 330 cases, $45. A barrel selection of clones 114, 115, 667 and 777. Native yeast fermentations, 50% whole cluster, aged 18 months in 40% new French oak barrels. · Moderately dark reddish-purple color in the glass. Very shy initially, opening nicely over time in the glass to revealing uplifting aromas of very ripe dark plum and berry with notes of brown spice and exotic woods. Impressive mid-palate presence of dark plum and berries with a hint of spice, balanced nicely by firm tannins and citrus-driven acidity. Well composed and still young, I would hold for a few more years. Very good.
2009 Johan Vineyards Estate Reserve Willamette Valley Chardonnay
12.5% alc., pH 3.36, TA 0.59, 142 cases, $33. Released November 2011. A winemaker selection of a blend of Dijon clones 76 and 95. Fermented with native yeasts in 50% new French oak with lees stirring, and aged 18 months where it underwent 100% MLF. The wine was bottle aged an additional 7 months before release. Minimal sulfite additions. Unfiltered. · Pale straw color in the glass with slight cloudiness (bottled with lees). Attractive scent of lemon custard and buttered brioche. Fresh and frisky, with delicious flavors of lemon, pear, apple, pineapple and yeasty goodness, silky textured, finishing with a good cut of acidity. One of the more impressive Oregon Chardonnays I have sampled.
Raptor Ridge Winery
A specialist in Pinot Noir and Pinot Gris located in a modern winery facility and tasting room in Newberg, Oregon adjacent the 18-acre estate vineyard. Owner and winemaker Scott Shull founded the winery in 1995, which is named appropriately after the birds of prey that share the property. Wines are crafted from the Estate Tuscowallame Vineyard and other well-known Willamette Valley winegrowers. Scott and Annie Shull donate 10 cents for every bottle sold to Salud The Oregon Wine Auction which supports vineyard worker health care in Oregon. The tasting room, with scenic views of Mount Hood, Adams and St. Helen's is open seasonally and by appointment. The wines are available on the website at www.raptoridge.com and through limited retail distribution. The Raptor Ridge Pinot Noirs are typically richly flavored but the 2010 vintage wines show light color, more elegance, modesty and restraint. Back in 2002, Scott Shull said what still rings true today: "Focus on flavor, mouthfeel, and aromas in Pinot Noir and let color fall where it may."