Dubakella: Great Pinot from an Unexpected Place
"This wine represents the beginning of a profound journey into the discovery of an unknown terroir."

Andy Carini produces Dubakella wines, including a Pinot Noir, from a vineyard in Hayfork, California, located about half way between the cities of Redding and Eureka in Trinity County. Hayfork is about smack in the middle of the best northern coastal Pinot Noir growing regions of California and the Willamette Valley of Oregon. The vineyard is in uncharted winegrowing territory, but seems a natural fit for Pinot Noir. Carini exclaims, "As my years working with this vineyard pass, and we fine tune our farming to the site, the wines are proving that this is a place for great Pinot Noir, perhaps one of the very best places in the state for it."

Carini began working with his vineyard, originally planted in 1998, just before harvest in 2004. 7 acres of Pinot Noir, clones 115 and Pommard, and 2 acres of Pinot Gris are farmed organically. At 2,500 feet on a south facing slope overlooking Hayfork Valley, the soils are rocky loam with trace veins of limestone throughout. The climate is Burgundian, with a short, intense growing season with only two months of the year sure to be free of frost (July and August). Summer day to night time temperature swings of 50 degrees are the norm with highs up to the high 90s and lows in the 40s.
Carini has never been much of a Pinot Noir drinker (although the Dubakella Pinot Noirs are changing his mind) and more a "Cabernet and Merlot guy." He produces Cabernet Sauvignon and Merlot under the Carini label. The Dubakella label is derived from the tallest mountain visible from Carini's winery in Hayfork. It is a Wintu (a local Native American tribe) word for "black rock."

Intensive viticulture focus is practiced here. Each vine is touched by human hands over fifteen times from pruning to harvest. Yields are controlled, and ripening expedited by severe pruning and dropping of fruit at several key times throughout the season. The canopy is carefully managed by thinning and positioning canes and by light leaf removal near the fruit zone.
Carini's winemaking style is hands off. The only additions are yeast and minimal sulfur dioxide. There is no watering down, acidification, spinning cone, copper, color boosters, fining or filtration. 90% of the grapes are typically destemmed followed by a cold maceration. After inoculation, fermentations last 10 to 14 days. Aging is carried out for an extended time in 100% French oak barrels at which time the wine is bottled directly off its lees. The wine is then aged in bottle for six to twelve months before release.
The 2005 vintage was the first to express the true potential of this site and region. I tasted this wine on a few occasions previously and thought enough of it to include it in an annual All-American awards issue. It is still available from the winery. The current release is the 2007 vintage, the product of a perfect growing season that allowed the fruit to ripen to perfection. Both vintages were tasted recently and included here.
Visit the website at www.dubakella.com to order wine. 530-628-5258.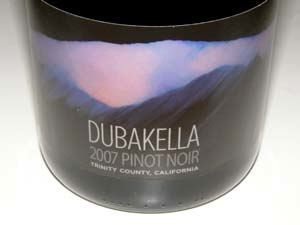 2005 Dubakella Trinity County Pinot Noir
13.9% alc., $30. · Medium reddish-purple color in the glass. Still fresh with lively aromas of black cherries, black raspberries, currants, saddle leather and shoebox. Delicious dark stone fruit and berry flavor with accents of tea leaf, dark chocolate, cola, and the faintest oak. Silk and satin on the palate with well-balanced dry tannins and a memorable finish. Drinking majestically now, but will last several more years. A superb, winery-aged Pinot Noir for $30 - how often have you seen that?

2007 Dubakella Trinity County Pinot Noir
14.9% alc., 400 cases, $30. Aged 46 months in 100% French oak barrels before bottling unfined and unfiltered. Aged over one year in bottle. · Medium reddish-purple hue in the glass. Hard to take your nose out of the glass. Enticing aromas of perfectly ripe black raspberries and strawberries. Redolent of a bowl of crushed berry fruits that are sinfully delicious. A little spicy, a little savory, a little mineralinfused: very unique and unlike any other California Pinot Noir. Crisp and juicy, with complimentary tannins, and a very long and satisfying finish. A connoisseur's Pinot that can be enjoyed now, but has the impeccable balance to age for many years.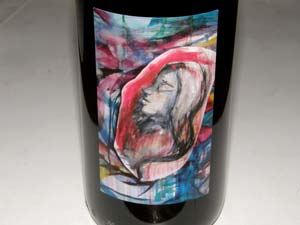 NV Dubakella "Six and Eleven" Red Wine
14.3% alc., $20. Grenache from the Rogue Valley of Oregon (68%) and Pinot Noir from Trinity County, California (32%) featuring two vintages that were five years apart (2006 and 2011). · Moderately dark reddish-purple color in the glass. Deep, focused aromas of plum, blackberry, confected black cherries, dark chocolate, spice and rose petals. Juicy and spicy with a middleweight core of tasty dark berry and dark stone fruit flavors backed by modest tannins. Certainly not an everyday combination, but a freakish combination that works. Good.