Second Generation Pinot Noir Winemakers Carve Out Their Own Success: Masút & Coattails

The first wave of successful vintners of Pinot Noir in California and Oregon that achieved notoriety over the last thirty years are now giving way to the second generation of winemakers. Two prime examples are Masút Vineyard and Winery in Mendocino County of California and Coattails Winery in the Willamette Valley of Oregon.
Masút Vineyard and Winery
Ben and Jake Fetzer, the sons of Bobby and Sheila Fetzer grew up on a vineyard, the Home Ranch developed by their grandparents Barney and Kathleen Fetzer who had eleven children. Barney and Kathleen bought their 720-acre ranch in Redwood Valley, Mendocino County and produced their first red wine in 1968. Ben was born in 1979 and Jacob in 1981. They spent considerable time at the winery's crush pad and began working in the vineyards when they were in the fifth grade. By the eight grade, they were making wine from a blend of Cabernet Sauvignon and Sangiovese, largely based on the guidance from their father.
The Fetzer family sold the winery to Brown-Forman Corporation in 1992 but Bobby Fetzer had a vision of pioneering a new region for Pinot Noir. He bought a 1,500-acre ranch adjacent Home Ranch and named it Masút, meaning "dark, rich earth." Bobby and his sons planted the 33-acre Masút vineyard in 1997. Initially, grapes were sold to DeLoach and Paul Hobbs. Bobby Fetzer passed away in a river rafting accident in 2006, and Ben and Jake decided to launch their own project dedicated to his memory. They converted a barn Bobby built into a winery for small production of Pinot Noir in 2008, and started the Masút Vineyard and Winery in 2009 with the assistance and blessings of their mother.
Masút focuses on estate grown Pinot Noir from their certified organic Masút Vineyard located west of, and outside of, the Redwood Valley AVA. A petition has been submitted by Ben, Jake and local winegrowers for a new AVA known as Eagle Peak, Mendocino County (named after the most prominent peak in this mountainous region). The 22.6-acre vineyard is located on a hillside planted to Dijon clones 113, 115, 777. A separate vineyard (not in the estate blend) is planted to 8 acres of Sangiovese and a small amount of Pinot Noir UCD 23 (Mariafeld). The soil is fast-draining, and the site has desirable sun exposure and marine influenced winds. Located along a gap in the coastal mountains at the headwaters of the Russian River, cool, moist air flows from the Pacific Ocean during summer nights.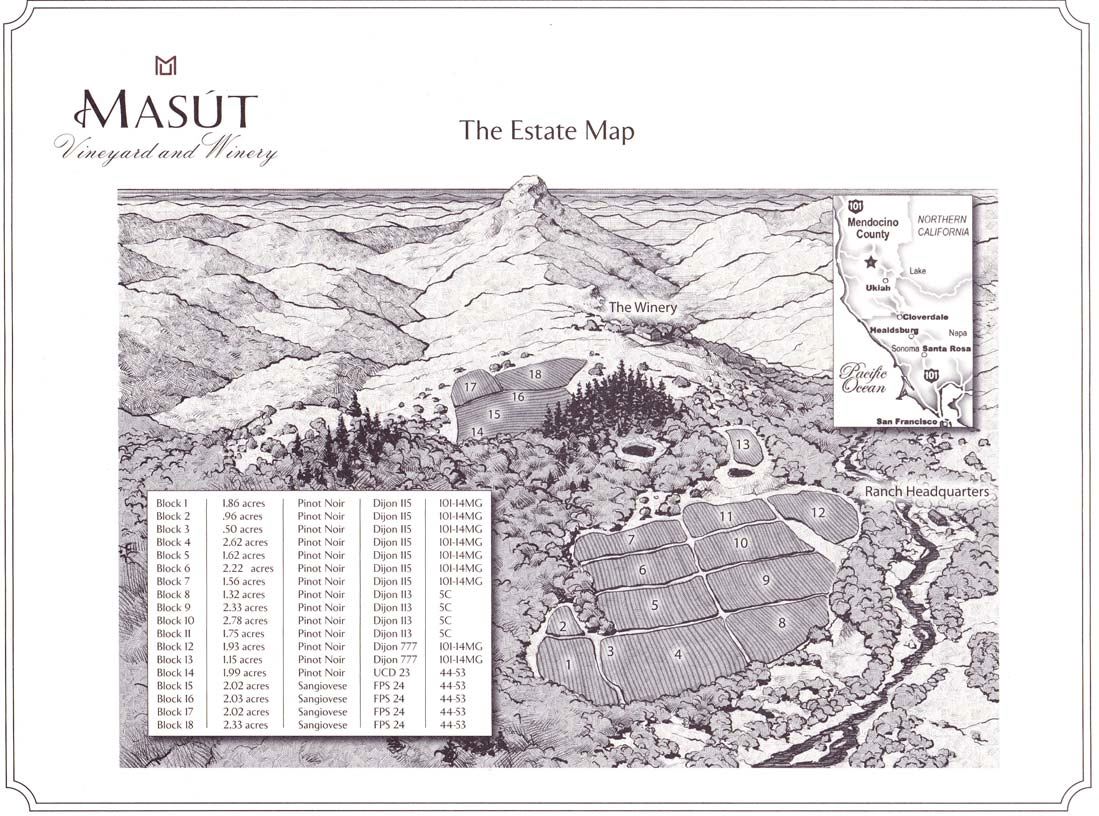 All farming is done by hand including pruning, thinning, canopy management and harvesting. After harvesting at night, the cool grapes only need to travel a mile to the estate winery. The winery is constructed from old, recycled redwood and contains modern processing equipment including a delicate whole berry destemmer, small lot stainless steel tanks, and a stainless basket press.
The winemaking regimen is a result of what the two brothers have learned from their father, many hours of study and sleepless nights, and other industry friends including Greg La Follette who helped them get Masút started. Destemmed fruit goes into small, open top fermenters. Hand punch downs are employed during fermentation and the wine is pressed off into French oak barrels (35% new for the Estate Pinot Noir). Primary fermentations, many involving natural yeasts, and malolactic fermentation finish in barrel where the wines age sur lie for 10 to 14 months. The wines are racked once, just before bottling.
The inaugural bottling of Masút Pinot Noir was produced from the 2009 vintage and was poured at the World of Pinot Noir where I first encountered the wine. The first two vintages showed tremendous promise as the brothers refined their winemaking techniques and in 2011, their third vintage, they have nailed it. Along with the flagship Estate Vineyard Pinot Noir, they have identified several blocks in the winery that they decided to bottle separately. Each block-designated Pinot Noir is made from a single clone, aged in 100% new French oak from Cadus, and intended to reveal the uniquely different terroir within the hillside vineyard. I found the wines consistently enjoyable and the block-designate bottlings definitely unique and apart from each other. A day or two later after opening, the wines were beginning to show more oak imprint and I would recommend early rather than later consumption. All the 2011 wines were released January 15, 2013.
Ultimately, the Fetzer brothers plant to build the Masút brand to 3,000 cases. The wines are available through the winery's online store at www.masut.com. Private tours and tasting are available by appointment. Look for them at this year's World of Pinot Noir Friday Focus Tasting in Shell Beach, California, March 1-2.
Coattails Winery
Jared and Mike D. (Mikey) Etzel, the two sons of Beaux Frères' winemaker and co-owner Mike Etzel, produce small lots of Pinot Noir from select vineyards in the Willamette Valley under the Coattails (age worthy) and Horsetail (early drinking) labels at the Beaux Frères winery. The first vintage was 2007.
Mikey and Jared are the family's second generation of winemakers and grew up at the winery. They recall riding their dirt bikes around the property and sitting as a sidekick on tractors. They began working in the vineyards at a young age for a small allowance, with father Mike tendering their work with their abilities. Their summers were spent spreading compost, pruning and doing trellis work. It wasn't until they graduated from high school and spent time in Europe that they decided to commit to the winemaking field.
Both Mikey and Jared completed the Oregon State University Enology and Viticulture Program. Mikey Etzel previously worked in the vineyards at WillaKenzie Estate Winery and is now the vineyard manager at Brick House Vineyards. Jared Etzel lives in St. Helena, California, and works with Denis and May-Britt Malbec who are the winemaking consultants to Kapcsandy, Blankiet and Capture wineries. Jared and his brother are developing a very small project producing Cabernet Sauvignon from a vineyard on Mt. Veeder in the Napa Valley. The first vintage in 2010 will be called Lis Chu Vineyard by the Etzel Brothers. Jared Etzel will also be the new winemaker for a yet unnamed Dundee Hills Winery being established by Robert Roy, the co-owner of Beaux Frères. The photo below, courtesy of www.avalonwine.com, shows Nathan (the oldest brother and studying electrical engineering), Jared and Mikey from left to right.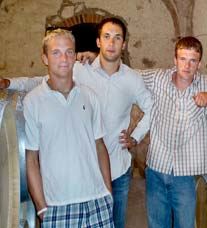 The Etzel brothers' wines are available through a mailing list and the winery's online store at www.coattailswine.com., and at www.avalonwine.com.
2010 Horsetail Willamette Valley Pinot Noir
13.8% alc., 150 cases, $28. Sourced from Zena Crown, Broadley and Sunny Mountain vineyards. 100% destemmed. Aged in 60% new Francois Frères and Taransaud French oak barrels for 14 months. · Moderately light reddish-purple color in the glass. Aromas of cherry, oak, biscuit (yeasty), stem and coffee becoming more pronounced the following day from a previously opened and re-corked bottle. Soft in the mouth with vibrant acidity, featuring cherry and raspberry fruit with a hint of tarry, coffee-scented oak in the background. A racy wine for early drinking. Decent.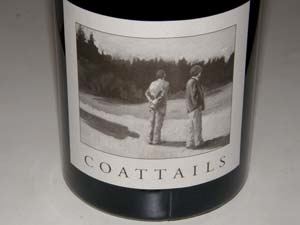 2010 Coattails Willamette Valley Pinot Noir
14.0% alc., 90 cases, $74. Sourced from Sunny Mountain Vineyard in the southern Willamette Valley owned and farmed by Steve price. A co-fermented blend of 85% Pommard and 15% Mariafeld. 100% destemmed. Aged in 80% new Francois Frères and Taransaud French oak barrels for 15 months. No chemical adjustments, racking, fining or filtering. · Moderately dark reddish-purple color in the glass. Rather shy but pleasing aromas of black cherries, spice and dried rose petals. Delicious black cherry and plum fruit front and center that is on the big, riper side for this cool Oregon vintage, reflecting the warmer vineyard site. Displays the spice that Francois Frères oak is known for. Soft in the mouth with supple tannins and well-integrated oak and acidity. A charming Pinot that is very enticing. Very good.