Pinot Briefs —Newsletter 9.19

Vaportini Dangerous One of the worse devices imaginable for achieving intoxication is the Vaportini, a simple device available online for $35 that heats alcohol and allows it to be inhaled through a straw producing a quick and intense high. The device bypasses the digestive system and goes directly into the bloodstream through the lungs, leading to possible dangerous levels of intoxication if abused. Laboratory rats have been shown to be more susceptible to alcohol addiction through inhalation, but there have no human studies on the effects of inhaling alcohol.
Avoid Buying Too Much of One Wine Harvard psychologist Daniel Gilbert wrote about his research in the journal Science this month. According to a Los Angeles Times article (January 26, 2013), Gilbert's research found that people at all stages of life tend to believe they won't change much in the future. He calls it the "end of history illusion," and it invariably causes people to underestimate how much they will change in the future. It is why people make decisions they later regret such as buying cases of expensive California Cabernet Sauvignon or Bordeaux, realizing several years later that their tastes have changed and they now prefer California Pinot Noir or Burgundy. Many wine lovers I know have made this transition and regret the stockpile of wine in their cellars that they have lost a longing for.
Eighteen Tasting Rooms Now in Sonoma Plaza Sonoma Plaza is a National Historic Landmark and the spot where the California State flag was first raised in 1842. It is home to many tasting rooms for wineries offering Pinot Noir: Adobe Road Winery, Bryter Estates, Envolve, Erik K. James Vineyards, Ledson, R2 Wine Co., Sojourn Cellars, Walt, and Westwood.
Bill Price Buys Gap's Crown Vineyards The proprietor of Classic Wines, LLC, and Price Family Vineyards, LLC, Bill Price, along with Richard Magnuson of GI Partners, announced the sale of the 138-acre Gap's Crown Vineyard in the Petaluma Wind Gap region of the Sonoma Coast AVA. Planted to 106 acres of Pinot Noir and 32 acres of Chardonnay, the vineyard has been a source of grapes for over 20 wineries including Patz & Hall, Paul Hobbs Winery, and Kosta Browne Winery. The vineyard was sold to Gap's Crown LLC, which Bill Price recently formed. Price will continue to sell fruit from the vineyard to several producers including Kosta Browne who will lease 37 acres allowing Kosta Browne to launch an estate vineyard program. Grapes from Gap's Crown have been the backbone of Kosta Browne's heralded Sonoma Coast Pinot Noir. Price is chairperson of Kosta Browne Winery and Gary Farrell Winery (both owned by Price's company Vincraft) and through Classic Wines has ownership in Kistler Vineyards, Buccella, Three Sticks and Price Chanin Vineyards. Classic Wines LLC and Price Family Vineyards LLC also own and manage several vineyards including Durell Vineyard.
Woman of the Vine Grand Tasting Women of the Vine was founded by author Deborah Brenner and is the first of its kind collaboration of award-winning women winemakers and sustainable family grape growers. A tasting of wines from acclaimed women winemakers and owners will be held at The Westin Verasa Napa in Napa Valley on Friday, March 8 from 5:00 to 7:30 PM. Some well-known Pinot Noir producers participating include Amelia Ceja of Ceja Vineyards, Kathleen Inman of Inman Family Vineyards, Leslie Mead Renaud of Foley Estates, Theresa Heredia of Gary Farrell Winery, Chrissy Whitman of Wild Horse, and Barbara Ignatowski of Garnet. For information go to www.westinnapa.com/somms-soiree.
Grower of Year Award to Steve McIntyre The California Association of Winegrape Growers (CAWG) presented its 2013 Grower of the Year Award to Steve McIntyre, a long time winegrower in Monterey County.In 1987, McIntyre bought an 80-acre estate in the center of the Santa Lucia Highlands and established the McIntyre Estate Vineyard. The land, originally planted by the McFarland family in 1973, has some of the Highland's oldest Pinot Noir and Chardonnay vines. In 1992, Steve and wife Kimberly started Monterey Pacific, Inc., a viticulture management and development company which has grown to become the fifth largest vineyard management company in the United States at over 10,000 acres. McIntyre is a recognized leader of sustainability and was one of the initial founders of the Central Coast Vineyard Team's Sustainability in Pracitce (SIP) program. McIntyre wines, crafted along with winemaker Byron Kosuge, debuted with the 2005 vintage.
Family Winemaker's Only Southern California Tasting The only tasting by Family Winemakers of California will be at the Del Mar Fairgrounds on Saturday, March 9 (trade and consumer tasting) and Sunday, March 10 (trade only tasting). 170 member wineries will present over 700 wines from California's small, family owned wineries. Visit www.familywinemakers.org for more information and tickets.
French Wine Society Immersion Trips The French Wine Society, a United States-based non profit organization dedicated to French wine education, is announcing week-long immersion study trips to some of the top wine regions in France. Each trips offers an intensive, professional-level educational program on the ground in the wine region coupled with certification through the FWS's industry-endorsed Masters-Level program for the region upon successful completion of the final exam. The trips are led by internationally renowned experts who live in the visited region including Jean-Pierre Renard for Burgundy. The trips include extensive high caliber wine tastings at some of the best estates of each region. The trips are nearly inclusive with prices ranging from US $3,495 to US $3,895 per person, double occupancy, with each trip limited to 18 guests. Trips to Burgundy are scheduled June 9-15 (sold out) and October 20-26, 2013. For more information, contact jcamus@frenchwinesociety.org or visit the FWS website at www.frenchwinesociety.org.
Oregon Wine "Bible" Oregon Wine Press (OWP) has published the inaugural Oregon Wine Almanac, a sixty page publication that includes a review of the 2012 harvest, a listing of top Oregon producers of 2012, a review of top Oregon wine stories of 2012, a feature on the Wine Persons of the Year (Ken and Karen Wright), a full listing of all Oregon wineries, a listing of restaurants in Oregon that are 2013 Superior Cellar Award Winners, wine country lodging, festivals and more. OWP editor Hilary Berg noted that this is the first time a wine publication has listed all bonded and licensed wineries in Oregon. OWP is published 12 times a year with a subscription price of just $20 per year in the United States. Visit www.oregonwinepress.com.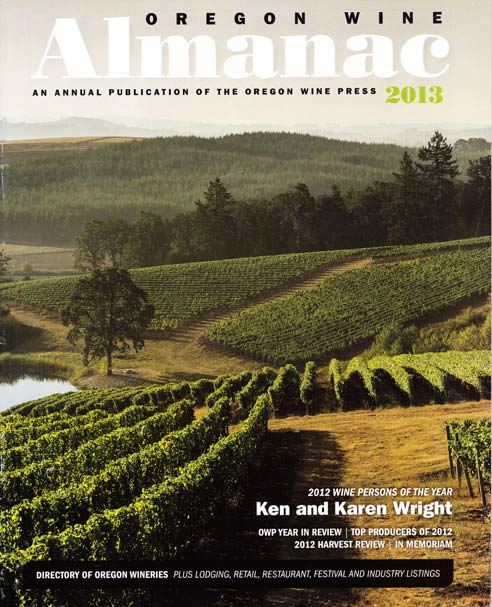 Willamette Valley by the Glass Newsletter Willamette Valley wineries are launching an email newsletter full of special event news, roadshow tasting invitations, wine country activity ideas, winegrowing updates, and general love for Oregon wine. Visit www.williamettewineries.com to sign up for three or four emails per year. The initial newsletter reports that Pinot in the Windy City will take place on March 7. More than 60 Willamette Valley wineries will be bringing their Pinot Noir to City Winery Chicago.
Pinot Noir Still Hot Symphony IRI Group (SIG.), a market research firm based in Chicago, Ill., reported that for the 52 weeks ending in November, Pinot Noir was the fastest growing varietal in the $20 plus category in sales (reported in Wines & Vines, January 2013).
Garagiste Festival The Garagiste Festival is dedicated to the undiscovered and under-recognized artisan 'garagiste' producers. Founded by fellow garagistes Stewart McLennan and Douglas Minnick, the festival is produced by Garagiste Events, a non-profit dedicated to furthering the education of future winemakers and those training for employment within the wine industry. The Garagiste Festival is a supporter of the Cal Poly Wine & Viticulture program. The "Southern Exposure" event will celebrate the artisan winemakers of the Santa Ynez Valley and will be held February 16 at Veterans Memorial Hall in Solvang. Participating wineries that produce Pinot Noir include a-non-ah-mus, Autonom, Center of Effort, Deovlet, El Rey, J. Wilkes, Kessler-Haak, La Fenetre, Luminesce, Native 9, Ryan Cochrane Wines, Seagrape, Storm Wines, and Transcendence.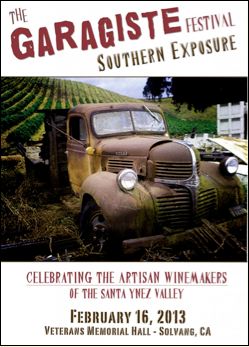 2013 San Francisco Chronicle Wine CompetitionThe results are in and here are the Red Sweepstakes (the Pinot Noir winner), Best of Class and Double Gold medal winners for Pinot Noir in each of the price categories.
Red Sweepstakes: 2010 Terlato Family Vineyards Russian River Valley $60
Best of Class: Up to $19.99 - 2010 Cupcake Central Coast $13.99, 2011 A by Acacia California $14; $20 to $24.99 - 2011 Chamisal Vineyards Edna Valley $24; $25-$29.99 - 2011 Balletto Vineyards & Winery Estate Russian River Valley $29; $30-$34.99 - 2010 Tolusa Winery Estate Edna Valley $30; $35-$39.99 - 2011 Darms Lane Dutton Ranch Russian River Valley $39; $40-$49.99 - 2009 Enkidue Tina Maria Russian River Valley $42, 2009 La Fond Arita Hills Vnyd Sta. Rita Hills $45; $50 and over - 2010 Terlato Family Vineyards Russian River Valley $60.
Double Gold: Up to $19.99 - 2011 Diamond Collection Monterey $18, 2011 Kenwood Vineyards Russian River Valley $18, 2009 Oreana Winery Central Coast $18, 2011 Sea Glass Santa Barbara County $12; $20 to $24.99 - 2011 Goyette Sonoma County $23.99, 2011 Peacock Cellars Central Coast $24; $25 to $29.99 - 2011 Hook & Ladder Winery Russian River Valley $25, 2010 Mercy Arroyo Seco $28; $30 to $34.99 - 2010 Crooked Vine Winery Del Arroyo Livermore Valley $30, 2010 Fritz Underground Winery Russian River Valley $30, 2010 James Family Cellars Stony Point Vineyard Sonoma Coast $34.99, 2008 Muccigrosso Vineyards Santa Cruz Mountains $34.99, 2010 Portalupi Russian River Valley $30; $35 to $39.99 - 2010 Gallo Signature Series Santa Lucia Highlands $35, 2009 Jane Seymour Wines Lucas & Lewellen Vineyard Santa Barbara County $36, 2010 Kitson Wines Donnelly Creek Vineyard Anderson Valley $38, 2011 Von Holt Wines Hummingbird Hill Vineyard Sonoma Coast $39; $40 to $49.99 - 2010 Bailiwick Foray Russian River Valley $40, 2009 Cartograph Floodgate Vineyard Russian River Valley $40, 2010 Deerfield Ranch Sonoma Coast $48, 2009 La Rochelle Winery Sleepy Hollow Vineyard Santa Lucia Highlands $48, 2010 Portalupi Migliore Russian River Valley $48; $50 and over - 2009 Russian River Vineyards Estate Grown Russian River Valley $55, 2010 Toulouse Vineyards Estate Anderson Valley $55, 2010 Trojak Knier Winery Antinori Family Estate Napa Valley $50, 2008 Truckee River Winery Garys' Vineyard Santa Lucia Highlands $55, 2010 Woodenhead "Wet Kiss" Russian River Valley $52.