In Pursuit of Balance: A Discriminating Goal
"I look for seamlessness in wine. It is achieved when no element is out of proportion"
Ted Lemon, Littorai

The goal of a number of successful vintners of California Chardonnay and Pinot Noir today is to achieve balance in their wines naturally, through viticultural practices that lead to vine balance, and winemaking craftsmanship that involves such skills as fermentation regimes, oak treatment and blending regimes. The definition of the descriptive term, balance, seems self-evident, but it is an abstract term not easily recognizable or measurable in wine. As winemaker Steve Doerner has noted, "Balance to me is easier to describe what it is not."
Balance is offered as a high accolade whenever the quality of wine is discussed. It represents a subjective perception of harmony between all of a wine's components that produce aromas, flavors and haptic characteristics of taste, including acid, sugar, alcohol, tannin, fruit extract, oak and texture, with no one element dominant. With over 300 chemical constituents in wine, it is impossible to analytically arrive at a determination of balance. We are left with our personal taste to ascertain balance and therefore quality in a wine. It is a personal aesthetic that is hard to describe, but we know it when we experience it. In the words of winemaker Ted Elliott, "If a wine tastes great, yet you can't describe it, it's in balance."
An organization, In Pursuit of Balance (IPOB), was launched three years ago to promote dialogue about the importance and the challenges of achieving balance in California Chardonnay and Pinot Noir. Founded by American sommelier Rajat Parr, Wine Director for the Michael Mina restaurant group and owner of Sandhi Wines, and Jasmine Hirsch of Hirsch Vineyards, the organization's stated intent is to support wineries who are striving to produced balanced Pinot Noir and Chardonnay in California. The implied goal is to offer an alternative to the strong voice and ubiquitous presence in the marketplace in recent years of California wines of prodigious size (often referred to as butterball Chardonnays and Parkeresque Pinot Noirs).
The wineries in IPOB are poised to show a different style of California wine, an "Ode to Burgundy," if you will, that is not proclaimed to be superior to other styles (although this is easily inferred), but aimed at receiving recognition of another option. The emphasis is on food-friendly wines that are site-driven. The idea is to avoid leaving grapes to hang to reach extreme ripeness. This invariably leads to an escalation of alcohol percentage and wines that are manipulated out of necessity, resulting in a loss of all expression of site.
One can argue that wines do not have to be site specific to be good and the average consumer doesn't really give a damn whether the wine reflects a defined terroir. However, the consumers of the types of ultrapremium wines offered by producers included in IPOB do care, much like the flock of Burghounds who seek out wines from Burgundy that truly reflect their origins.
One can also assert that prodigious wines, although maybe relinquishing some vineyard and vintage character, can be in balance and not completely outliers. Ted Lemon has told me, "Both powerful and delicate wines can be balanced. Neither has cornered the market on wine balance." This contentious issue is often tied to alcohol percentage. Many powerful wines are high in alcohol, and some believe that a wine above 15% alcohol, for example, cannot be balanced. Allen Meadows has said as much. On the other hand, low alcohol is no guarantee of balance either. When I surveyed most of the wines offered for tasting at this event, most of which were from the admittedly cool 2010 and 2011 vintages, I found a majority of the Pinot Noirs had alcohol percentages in the 13.0 -13.8% range, with only two wines at 14.5% and 14.6% alcohol. The organizers of IPOB emphasize that alcohol levels are not the central issue, but clearly wines with low to moderate alcohol levels fit the IPOB paradigm best.
This discussion can be endless, but the overriding point among the wineries chosen to participate in IPOB is that balance and style are intertwined and the style of the wine will often dictate the possibility of balance.
In Pursuit of Balance recently held two events in San Francisco (February 4, 2013) at Bluxome Street Winery and in Los Angeles (February 6, 2013) at The London Hotel. Two seminars were offered, "Relevance and Purpose in California Chardonnay," and "Exploring Whole Cluster Fermentation in Pinot Noir." For the first time, consumers were invited to the seminars. The San Francisco seminars were videotaped and are available for viewing on the IPOB website (www.inpursuitofbalance.com). I recorded the audio from the two seminars in Los Angeles I attended with my trusty iPhone and they are posted here (turn up the volume for best clarity): "In Pursuit of Balance"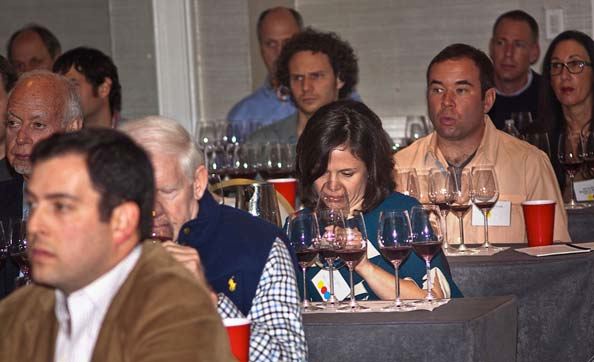 I found the IPOB seminars and tasting to be one of the best events of its kind I have ever attended. The seminars were interesting, informative and challenging. The tasting venue on the roof of the hotel was perfect, with wineries spread out, a modest number of attendees, a superb assortment of California Chardonnays and Pinot Noirs and easy access to winemakers. All the photos are courtesy of Bob Dickey, a Santa Barbara-based photographer whose website is www.winecountrypics.com.
Relevance and Purpose in California Chardonnay

Panelists: Rajat Parr, winemaker Sandhi Wines, Bob Varner, winemaker Varner and Neely Wines, Matt Licklider, proprietor LIOCO, and Gavin Chanin, winemaker Chanin Wine Company and comments by Anthony Filiberti, winemaker Anthill Farms and Knez Wines. Moderator: Jon Bonné, Wine Editor of San Francisco Chronicle.
The panel spoke of the current third wave of Chardonnay producers. The first early California style was modeled after Burgundy, the second was the popular "big and buttery or fat Elvis" style that evolved in the 1990s that was largely winemaker driven, and the third most current wave represented by site-conscious producers returning to a semblance of the early California style but drawing on modern viticulture and winemaking techniques.
The essential points made during the seminar and themes that the winemakers participating in In Pursuit of Balance share in their preferred vinification of California Chardonnay:
• A belief that Chardonnay is a profound vehicle for expressing terroir.
• A conscious attempt to choose sites that come through in the wines.
• Sourcing vineyards that are in marginal climates with meager soils resulting in low yields.
• Seek out old vine material, primarily old Wente, often sourcing vines that are 25 to 30 years old.
• Harvesting grapes earlier at lower sugar levels and embracing acidity.
• Modest use of new oak. "Oak is like salt on meat, it is used as a compliment to bring out the flavor of the meat, but without the taste of salt."
• Use of larger wood fermenting vessels such as puncheons to temper the effect of oak and add texture. Frequent or exclusive use of native yeasts.
• Aging wines on lees for added complexity.
The wines offered for tasting were all superb:
• 2010 Chanin Bien Nacido Vineyard Santa Maria Valley Chardonnay Fruity aromas and flavors, clearly California, yet with a bright crispness and refreshing citrus-imbued finish.
• 2011 LIOCO Hanzell Vineyard Sonoma Mountain Chardonnay From the oldest continuously producing Chardonnay vines in California. The site is too warm for Chardonnay by today's standards but it works. The most "Burgundian" wine in the lineup with tight citrus flavors and an appealing note of lees and minerality.
• 2011 Sandhi Sanford & Benedict Vineyard Sta. Rita Hills Chardonnay Parr pointed out the two soil types in the Sta. Rita Hills, noting that eventually the regions may be split in two. There are two main roads in the Sta. Rita Hills with the soils along Santa Rosa Road diatomaceous, clay and shale, while the soils along Highway 246 or sand with deposits of diatomaceous earth. The result is that wines from the Santa Rosa Road corridor like Sanford & Benedict have high acidity. The acidity (pH 2.90) is evident in this nervy wine with sharp focus.
• 2011 Varner Home Block Santa Cruz Mountains Chardonnay The most savory Chardonnay with floral and herbal topcoat to the lemon, lime and green apple flavors, leaning heavily on acidity.
• 2010 Knez Demuth Vineyard Anderson Valley Chardonnay Originally planted for sparkling wine at an elevation of 1700 feet, this very cool, marginal site was acquired by the Knez family when the owners, Chris and Lyn Demuth, decided to retire two years ago. The on site vineyard manager and winemaker is Anthony Filiberti who has converted the vineyard to organic and biodynamic farming resulting in a slow improvement in vine health. Wente clone. 12.9% alcohol. I have had a number of memorable Chardonnays from this vineyard in past, and this wine is no exception. Very classy, old Wente at its best offering an array of aromas and flavors without undue participation of oak. My favorite.
Exploring Whole Cluster Fermentation in
Pinot Noir
Panelists (left to right): Jim Clendenen, winemaker Au Bon Climat, Jamie Kutch, owner and winemaker Kutch Wines, Ehren Jordan owner and winemaker Failla Wines, and moderator, Jordan McKay, writer.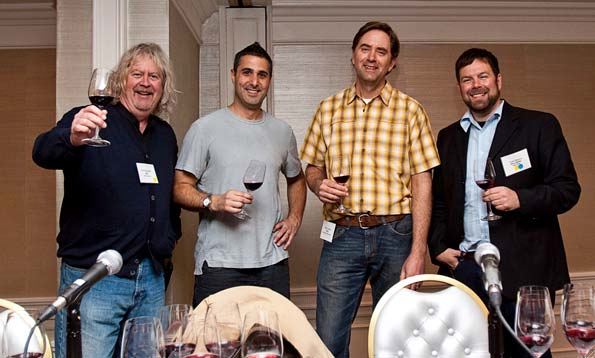 Wine production has its trends, and a trend receiving considerable notoriety currently is whole cluster fermentation. Whole cluster fermentation refers to the fermentation of intact clusters of grapes as they are picked from the vine with no intervention of machine processing, leaving all berries and stems intact. Traditionally, red winemaking begins with de-stemming to remove the grapes from the rachis (the part of the stem which holds the grapes) using a mechanical crusher/de-stemmer. The stems are often removed in Pinot Noir winemaking before fermentation since the stems have a high tannin content, and when unripe, they can contribute green aromas and flavors due to extraction of 2-methoxy-3-isopropylpyrazine which is reminiscent of green bell peppers. With Pinot Noir, even if the clusters are de-stemmed, the grapes are usually not crushed, and are put into fermenting bins at least partially as whole berries to elevate the aromatic profile through partial carbonic maceration (fermentation within the grape coincident with fermentation of the juice which seeps out of the grape). With whole cluster fermentation, this carbonic maceration is even more exaggerated since the berries enter the fermentation bin whole.
The Burgundians have practiced stem inclusion in Pinot Noir for centuries, as historically they had no de-stemmers. Today, there are notable domaines that are still advocates of whole cluster fermentation including Domaine Dujac and Domaine de la Romanee-Conti, but many Burgundians now de-stem. De-stemming Pinot Noir grapes in California has been controversial over the last fifteen years since its use fell out of favor with the arrival of modern de-stemmers.
The essential points brought out in the seminar about whole cluster fermentation of Pinot Noir are summarized here. The seminar did not dwell extensively on the downside of whole cluster fermentation since all the panelists were champions of this technique, but they did point out many of the potential pitfalls.
• Many of the greatest, most compelling, and seductive Pinot Noir wines are made with this technique.
• Whole clusters add an extra dimension to the structure, texture (soft), and desirable spice, floral, and forest floor, as well as undesirable herbaceous, vegetal, and bell pepper aromas in a wine. Unique sensuality is also a benefit.
• Whole clusters help manage heat and extraction in fermentation and prolong fermentation.
• Although it is thought that whole cluster adds more tannin to a wine, whole cluster wines tend to be softer than de-stemmed wine because of the increase in pH and partial carbonic maceration.
• Whole cluster adds aromatic freshness to aged Pinot Noir.
• Whole cluster in significant amounts can increase the pH, decrease the TA, and depending on the vineyard, vintage and ripeness, lead the winemaker to acidulate the wine. Radical pH shifts can occur which can make the wine unstable. It is preferable to use whole clusters from cooler sites where sugar ripeness and physiological ripeness occur in tandem and coincide with stem lignification so large shifts in pH due to green stems is avoided. In warm sites, sugar rises quickly and the grapes are often picked before the stems ripen - these vineyards are not good candidates for whole cluster fermentation.
• Wet vintages may be undesirable compared to dry vintages and Kutch felt that this distinction was more important in the decision to use whole cluster than whether the stems are neon green or lignified.
• Farming is critical including obtaining low yields which allow canes and stems to mature in tune with the fruit.
• Pinot Noir fermented with whole cluster may be more unapproachable early, but brings age ability over the long term.
• Pinot Noir winemakers do not have a set percentage of whole cluster inclusion for every wine. Rather for those who wish to employ it, the percentage will vary with the vineyard, vintage and clone.
• Many winemakers determine stem ripeness and decide to include stems by tasting stems as well as studying the appearance of the stem and rachis.
• The use of whole cluster helps prevent harsh seed tannin from being released since the grape remains encapsulated longer.
Each winemaker provided two wines for tasting:
• 2005 Au Bon Climat Bien Nacido Vineyard Historical Vineyard Collection Santa Maria Valley Pinot Noir 50% whole cluster. Very ripe, dark berry and plum flavored. Not particularly notable.
• 2009 Au Bon Climat Talley Rosemary Arroyo Grande Valley Pinot Noir 100% whole cluster. A flat-out great wine of immense appeal with hi-tone cherry fruit and plenty of spice in the aromatics, textural interest, and a complete lack of astringency. A poster child for whole cluster.
• 2010 Failla Whistler Vineyard Sonoma Coast Pinot Noir 60% whole cluster. A striking wine texturally with a very soft, baby's bottom feel. Crisp, juicy fruit with a hint of spice. Aromatically alive.
• 2006 Failla Peay Vineyard Sonoma Coast Pinot Noir 60% whole cluster. Floral and vegetal on the nose with confected, floral flavor. Not particularly appealing.
• 2012 Kutch McDougall Ranch Sonoma Coast Pinot Noir 100% de-stemmed, barrel sample, unfinished MLF. Vineyard planted in shallow soils, 1.5 miles from coastline, 900 feet, near Hirsch Vineyard, neutral barrels. Striking fruit intensity and vibrancy, but simple.
• 2012 Kutch McDougall Ranch Sonoma Coast Pinot Noir 100% whole cluster, barrel sample, unfinished MLF. In 2011, Kutch vinified the wine from this vineyard with 80% whole cluster. In 2012, he was "all in" with whole cluster from all vineyard sources with 56 out of a total of 58 tons of fruit fermented 100% whole cluster. Less fruity, more savory, slight green character, noticeable but lacy tannins, texturally softer and overall more appealing.
Twenty-eight wineries participated in this year's IPOB event. Originally, in 2011, the wines were chosen for IPOB by Parr and Hirsch who looked for wines aligned stylistically in their show of food friendliness and balance. This year, Parr stepped aside (he still participates in the tasting but does not vote) and formed a committee consisting of Failla winemaker Ehren Jordan, wine writer Wolfgang Weber, and San Francisco Chronicle Wine Editor Jon Bonné. The committee tasted the submitted wines blind and arrived at twenty-eight recommended participants for 2013. The list is below with some wines that made a special impression on me (I did not taste wines from every producer).
Anthill Farms Winery, Co-owners and winemakers Webster Marquez and David Low, www.anthillfarms.com.
Arnot-Roberts, Co-owners Nathan Roberts and Duncan Meyers, www.arnotroberts.com.
Bluxome Street Winery, Winemaker Webster Marquez and General Manager Jennifer Velasquez, www.blusomewinery.com.
Calera Wine Company, Owner and winemaker Josh Jensen and National Sales Manager Marta Rich, www.calerawine.com.
Ceritas, Owner and winemaker John Raytek, Owner Phoebe Bass, www.ceritaswines.com.
Chanin Wine Company, Owner and winemaker Gavin Chanin (below), www.ChaninWine.com.
2011 Chanin Los Alamos Vineyard Santa Barbara County Pinot Noir
2011 Chanin Bien Nacido Vineyard Santa Maria Valley Pinot Noir (50% whole cluster)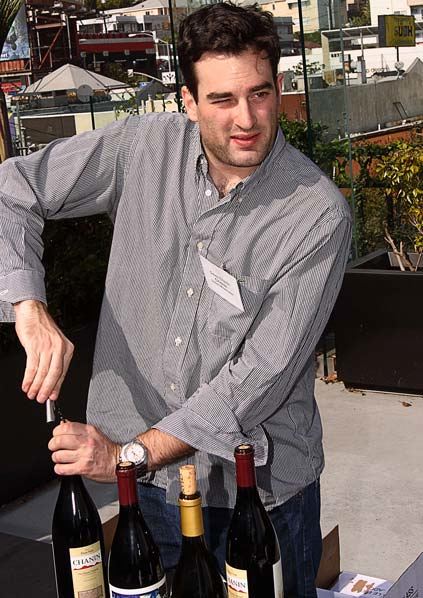 Cobb Wines, Owner and winemaker Ross Cobb, www.cobbwines.com.
2008 Cobb Emmaline Ann Vineyard Sonoma Coast Pinot Noir
2008 Cobb Joy Road Vineyard Sonoma Coast Pinot Noir
Copain Wines, Owner and winemaker Wells Guthrie, General Manager Tony McClung, www.copainwines.com.
Drew Family Cellars, Owner and winemaker Jason Drew, www.drewwines.com.
2011 Drew Morning Dew Vineyard Anderson Valley Pinot Noir (50% whole cluster)
2011 Weir Vineyard Yorkville Highlands Pinot Noir
2010 Drew Talfryn & Calder Anderson Valley Pinot Noir
Failla, Owner and winemaker Ehren Jordan, www.faillawines.com.
2011 Failla Sonoma Coast Pinot Noir
2011 Failla Keefer Ranch Green Valley of Russian River Valley Pinot Noir
Hirsch Vineyards, Owner David Hirsch, Winemaker Ross Cobb, Sales Jasmine Hirsch
2010 Hirsch San Andreas Fault Estate Sonoma Coast Pinot Noir
Knez Winery, Owner Peter Knez, Winemaker Anthony Filiberti, www.knezwinery.com
2010 Knez Demuth Vineyard Anderson Valley Pinot Noir
Kutch Wines, Owner and winemaker Jamie Kutch, Owner Kristen Green, www.kutchwines.com.
2011 Kutch Sonoma Coast Pinot Noir (25% whole cluster)
2011 Kutch McDougall Ranch Sonoma Coast Pinot Noir (80% whole cluster)
La Rue Wines, Owner and winemaker Katy Wilson, www.laruewines.com.
2008 La Rue Sonoma Coast Pinot Noir
2009 La Rue Sonoma Coast Pinot Noir
LIOCO, Owner and winemaker Kevin O'Connor, Owner Matt Licklider, www.liocowine.com.
2011 LIOCO Hanzell Vineyard Sonoma Valley Chardonnay
Littorai, Owner and winemaker Ted Lemon, Owner Heidi Lemon, Assistant winemaker John Wilson, www.littorai.com.
2010 Littorai The Haven Sonoma Coast Pinot Noir
Mount Eden Vineyards, Owner and winemaker Jeffrey Patterson, Owner Ellie Patterson, www.mounteden.com.
2010 Mount Eden Estate Bottled Santa Cruz Mountains Pinot Noir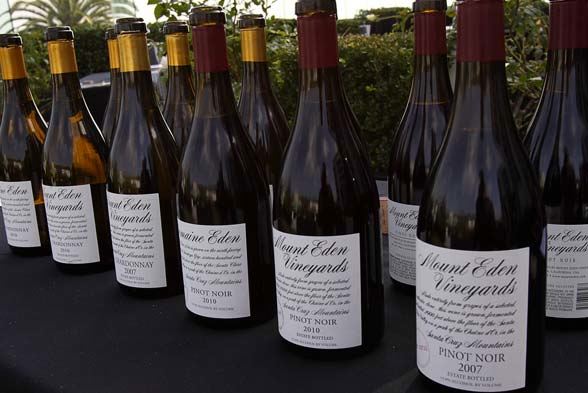 Native9, Owner James Ontiveros, www.native9wine.com.
2009 Native9 Rancho Ontiveros Vineyard Santa Maria Valley Pinot Noir (100% whole cluster)
2010 Native9 Rancho Ontiveros Vineyard Santa Maria Valley Pinot Noir (80% whole cluster)
The Ojai Vineyard, Owner and winemaker Adam Tolmach, www.ojaivineyard.com.
Peay Vineyards, Owners Andy and Nick Peay, www.peayvineyards.com.
Red Car, Winemaker Carroll Kemp, General Manager Peter Willmert, www.redcarwine.com.
2011 Red Car Estate Fort Ross-Seaview Pinot Noir
2011 Red Car Heaven & Earth Sonoma Coast Pinot Noir
2011 Red Car Sonoma Coast Pinot Noir
Sandhi Wines, Winemaker Rajat Parr, Sales Director Stephen Janes, www.sandhiwines.com.
2011 Sandhi Rita's Crown Sta. Rita Hills Chardonnay
2011 Sandhi Sanford & Benedict Sta. Rita Hills Pinot Noir (40% whole cluster)
Soliste, Proprietors Claude Koeberle and Donald Plumley, www.soliste.com.
2009 Soliste Sonatera Vineyard Sonoma Coast Pinot Noir
2010 Soliste Nouveau Monde Sonoma Coast Pinot Noir
2010 Soliste L'Age D'Or Russian River Valley Chardonnay
Twomey, Winemaker Ben Cane, www.twomeycellars.com.
2010 Twomey Sonoma Coast Pinot Noir
2010 Twomey Anderson Valley Pinot Noir
2010 Twomey Bien Nacido Vineyard Santa Maria Valley Pinot Noir
Tyler Winery, Owner and winemaker Justin Willett, www.tylerwinery.com.
Varner, Owners Bob and Jim Varner, www.varnerwine.com.
2009 Neely Hidden Block Santa Cruz Mountains Pinot Noir
2009 Neely Picnic Block Santa Cruz Mountains Pinot Noir
2009 Neely Upper Picnic Santa Cruz Mountains Pinot Noir
Wind Gap, Owner and winemaker Pax Mahle, Sales Director Susan LaRossa, www.windgapwines.com.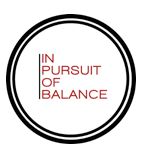 My parting comment is that I really like the style of wine that IPOB champions. However, I am not a slave to any one iron clad Pinot Mystique. We should embrace all styles of Pinot Noir, finding purpose and charm in them all, without insisting that Pinot Noir adamantly adhere to traditional roles.