Latest Gems from the Russian River Valley
The river flows, it flows to the sea
Wherever that river goes that's where I want to be
Ballad of Easy Rider, Byrds
The Russia River Valley and River are named for Russian explorers who settled at Fort Ross, just north of Jenner, where the Russian River empties into the Pacific Ocean. The Pomo Indians were the original inhabitants of the Sonoma Coast and the Russian River Valley, and named the Russian River Shabakai or "long snake," for its many twists and turns. The Russians adopted their own name for the river, Slavianka, or "pretty Russian girl." By 1867, the Russians had left North America entirely, leaving behind the anglicized names Russian River Valley and Russian River as their legacy.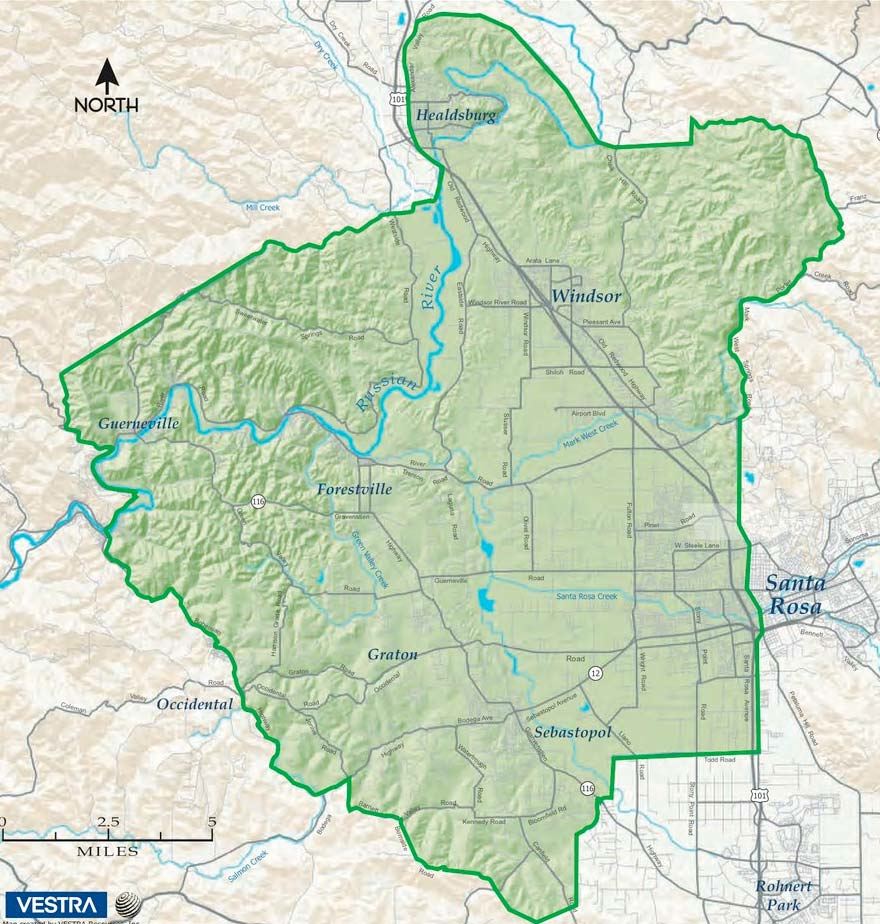 The Russian River is 105 miles in length, snaking its way from its origins in the coastal mountains near the town of Willits in Mendocino County, progressing through the Alexander Valley, before reaching the Russian River Valley. Just below the town of Healdsburg, the river takes a turn to head west toward the Pacific Ocean. This area is called the Middle Reach of the Valley, a sweet spot for Pinot Noir, and the birthplace of modern Pinot Noir viticulture in the valley.
The defining feature of the Russian River Valley is a single three-letter word: fog. Fog from the Pacific Ocean is the most important single influence on viticulture here and it defines the boundaries of the Russian River Valley appellation which was established in 1983. The fog enters the valley during the growing season from the Southwest through the Petaluma Gap between Pt Reyes and Bodega Bay, with a smaller incursion traveling inward along the Russian River from its exit into the ocean at Jenner on the Sonoma Coast. Plenty of daytime warmth (the Russian River Valley is a Region III climatically on the UC Davis scale) gives way to cool nights and mornings caused by the fog. The result is slowed ripening and extended hang time for grapes. The winegrowers here like to say that they turn fog into Pinot Noir.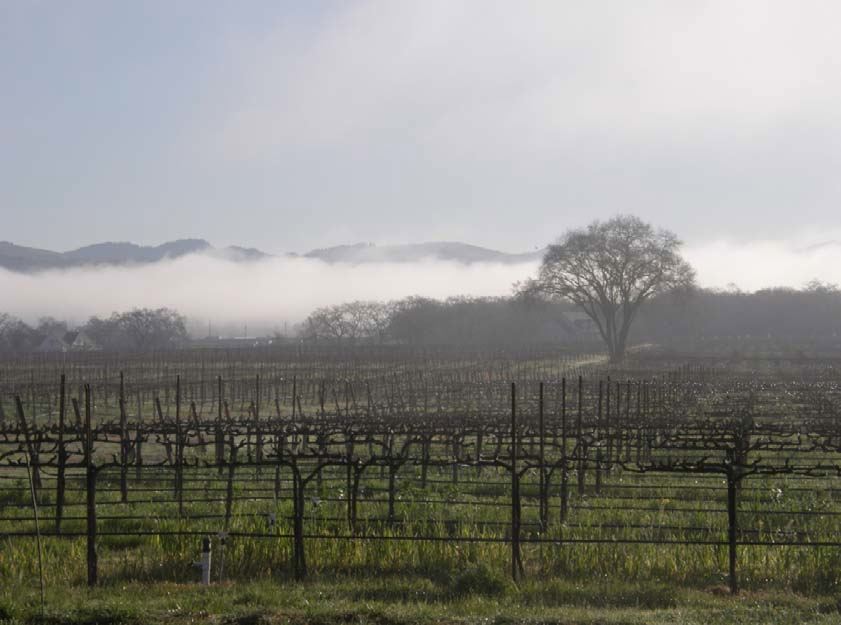 I recently tasted a number of excellent Chardonnay and Pinot Noir wines from the Russian River Valley from the 2010 and 2011 vintages. There is plenty to be thankful for. A few additional wines are included from other regions where a producer also sources outside the Russian River Valley.
Coterie Cellars is an urban winery in the San Francisco Bay area. Owner and winemaker Kyler Loudon has studied viticulture and enology at UC Davis. Kyle and his spouse and business partner Shala, were originally part of a coterie of winery workers for two highly regarded wineries in the San Francisco Bay area. They began making wines under the guidance of these and other winemakers while establishing relationships with quality vineyards. The winery is located just south of downtown San Jose. Grapes are sourced from prestigious vineyards in the Russian River Valley and Santa Lucia Highlands. The letterpress labels feature a simple grape cluster and six grape berries as a node to the Gang of Six, with whom they made some of their earliest wines before Coterie Cellars was founded in 2007.
The wines are sold through a mailing list and online through the winery's website store at www.coteriecellars.com. I found the wines well crafted in a fruit-driven style. The wines are generally juicy with modest tannins and good acidity that is more evident in some bottlings. There is a noticeable oak presence in all wines which benefited from opening and re-tasting the next day. The 2010 wines were released July 8, 2012.
DuMOL is proudly marking seventeen years with the release of the 2010 vintage wines. Winemaker and viticulturist Andy Smith (pictured below), who marked his fourteenth vintage at DuMOL with these releases, describes the wines as follows: "There's a great deal of fruit richness and density on offer in all of these wines, but that's not the vintage's calling card. It's the incredible freshness, vibrancy and liveliness they show that really drives the year's signature." Andy notes that 2010 was a record cool growing season in the Russian River Valley and a year where considerable attention had to be paid to the vineyards from day one. He gushed about this vintage: "From my perspective, 2010 is our greatest vintage across all vineyards, all varieties and all wines."
If you are a mailing list customer of DuMOL, you know of the full-color booklet that is published and distributed with each vintage release, carefully and exhaustively composed by Andy with extensive, colorful descriptions of the vintage and detailed information including cellar and tasting notes on each of the individual wines. There is nothing comparable offered by any other California winery.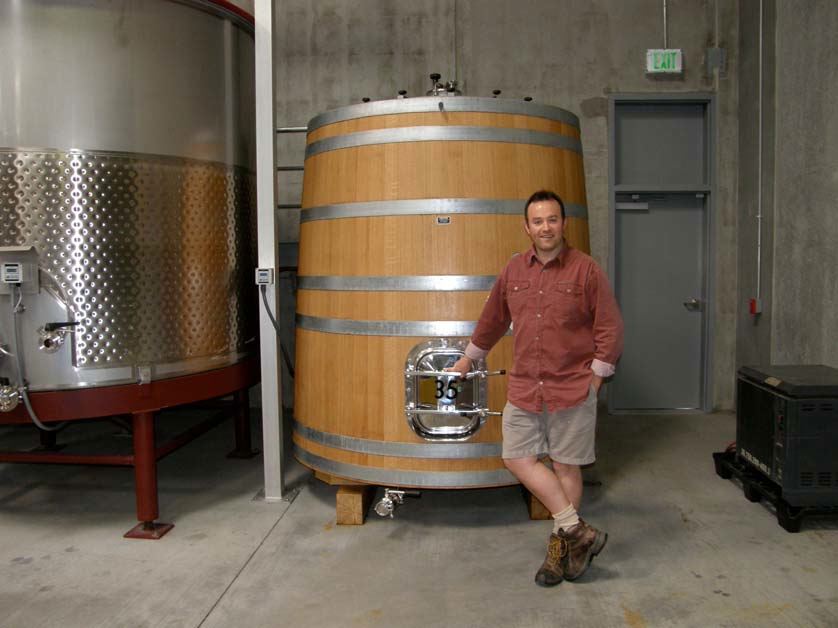 DuMOL wines are allocated through a mailing list with very limited retail distribution. The wines are all vinified with native yeast and malolactic fermentation and bottled unfiltered. The Chardonnays are all barrel fermented after whole cluster pressing. Harvest Brix for Pinot Noirs ranged from 23.9º to 24.6º and for Chardonnay 22.8º to 23.8º. All the wines are quite aromatic, especially over time in the glass, finish with clarity and purpose, and most importantly, are very food friendly. The best drinking window for these wines is 2013-2020 for Pinot Noir and 2013-2017 for Chardonnay. Visit the website at www.dumol.com.
The 2010 and 2011 vintages of George Wine Company Pinot Noir are sold out. George prefers all lower case on his website and label so it is in reality, george wine company, but he often calls his winery george pinot noir just to keep you alert. Quantities were very limited. No winery in California has more presence on well-regarded restaurant wine lists in the United States than george. Think of Restaurant Guy Savoy, STK and Joel Rubicon in Las Vegas, CUT in Beverly Hills, Gordon Ramsey in West Hollywood, Angelini Osteria in Los Angeles, and Tocqueville, Le Cirque and Jean Georges in New York. See the full list on the website. George Pinot Noir is quite the cult wine and I have been a fan from the beginning. George is one of the few wineries in which I have tasted every wine in every vintage (dating to 2003).
George is basically a one-man show with George Levkoff performing every step of winemaking from sorting to hand numbering every bottle, managing marketing and sales personally and often delivering wine as well. The wines are highly allocated to an eager mailing list with past customers given priority at www.georgewine.com. Some of the 2010 wines were revisited recently and the 2011 vintage wines are reviewed for the first time. 2011 was the coolest summer in memory in the Russian River Valley. George harvested his grapes in late September before the unseasonable premature rains came in early October. He is a disciple of Burt Williams and his wines reflect that homage.
Ten Acre Winery offers limited production cool-climate Pinot Noir and Chardonnay from the Russian River Valley and Sonoma Coast. Owners Scott and Lynn Adams acquired their first estate vineyard in 1995, and established Bella Vineyards & Wine Caves specializing in limited production Zinfandel and Rhone wines in 1999. Since 2002, they have lived with their daughters on a 10-acre vineyard in the Middle Reach of the Russian River Valley, just two miles from the vineyards of Rochioli who has been an inspiration for Ten Acre. The vineyard manager for the sites they work with is noted viticulturist Charlie Chenoweth and the winemaker is Pinot Noir and Chardonnay specialist Michael Zardo. He has a degree in enology from Fresno State University, and spent seven years as an assistant winemaker at Pisoni Vineyards & Winery.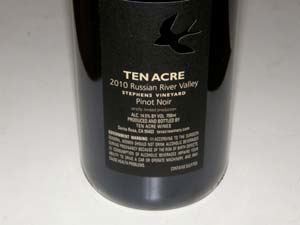 2010 Ten Acre Earl Stephens Vineyard Russian River Valley Pinot Noir
14.5% alc., pH 3.82, TA 0.55, 190 cases, $55. Clones 115, 667, 777 and Pommard from a vineyard planted in 1999 in Goldridge soil. The wine was aged 12 months in 40% new French oak barrels. · Moderately dark reddish-purple color in the glass. A cherry-fruited nose draws you into the glass. Delicious Bing cherry core with complimentary riffs of cola, sassafras and spice. The oak is well integrated, and the copious fruit is tempered nicely by enough ripe fruit tannin to create a mouth-coating experience. Quintessential Russian River Valley Pinot Noir. Very good.
2010 Ten Acre Green Acre Hills Sangiacomo Sonoma Coast Chardonnay
14.3% alc., pH 3.55, 250 cases, $48. Sourced from a vineyard planted in 1991 at a cool, coastal influenced mountain location. Yields 1.5 to 2 tons per acre. Aged 11 months sur lie with barrel stirring in 40% new and 60% neutral French oak barrels, 100% MLF. · Light straw color and clear in the glass. Fresh aromas of lemon zest, baked pear, kiwi, graham and almonds. Very tasty and complex with flavors of lemon tart, pear, toffee, toast and cocoa powder. Slightly creamy with noticeable body and admirable balance. A pleasing wine that can be drunk now and over the next four years. Very good.
2009 Woodenhead Buena Tierra Vineyard Original Planting Russian River Valley Pinot Noir
13.4% alc., $53. From old vines planted on Eastside Road across the Russian River from Rochioli Vineyard. · Moderate reddish-purple color in the glass. Nicely perfumed with aromas of Bing cherries, baking spices and a dusting of oak. Very soft and seamless in the mouth, with modest, lacy tannins, offering flavors of cherry pie filling and spice with a hint of sandalwood in the background. Elegant, yet with noticeable finishing power. Very good.