Pinot Briefs —Newsletter 6.38
Mendo Wine The Mendocino Winegrowers Association presents Mendocino Wine by the Bay on September 15, from 12-5 PM at the Embarcadero Hyatt Regency in San Francisco. 45 wineries, 200 wines, and food from some of San Francisco's best restaurants. Proceeds will benefit Friends of the Children San Francisco and CUESA. Tickets are $35 in advance, $45 at the door. Information - 707- 468-9886.
TCA The Los Angeles Times reported a few months ago a technique for rescuing wines tainted by TCA. Take a square-foot of Saran Wrap, wad it up, and stuff it into a large glass pitcher. Pour the wine over the wrap into the pitcher, swirl it around for 10 minutes. The polyethylene in the Saran Wrap will absorb the TCA and supposedly return the wine to its more natural and palatable condition.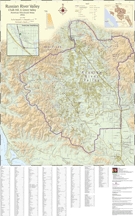 Pinot Country Maps The Map Store in Windsor, California has published seven maps of the AVAs of Sonoma County under the direction of the Sonoma County Winegrape Commission. These poster-sized maps are very detailed and show the location of Sonoma's towns, wineries and even vineyards. I recently purchased the Russian River Valley AVA map (which includes Chalk Hill and Green Valley). I had always wanted a map showing the specific locations of the vineyards that are referenced in the wine literature and displayed prominently on wine labels. I had mine mounted on poster board and the total came to about $85 ($30 for the map only). The Map Store website (www.TheMapStore.com) will be launching a free WineMap service on the website supplying detailed information on wineries in the near future.
Wine Beer This new product from small breweries is brewed like beer but made with fruity tastes and aromas like wine, barrel aged, and usually with alcohol levels between 10% and 15%. Russian River Brewing produces Supplication, a brown ale aged for a year in Pinot Noir oak barrels with sour cherries. Delaware's Dogfish Head Craft Brewery has a wine beer called Red & White which is brewed with orange peel and Pinot Noir juice. The wine beers are intended to be drunk warmer than beer.
Reconditioned Burgundy John Kapon (Acker Merrill Condit) writing in Vintage Tastings points out that wines from Domaine Romanee-Conti could be reconditioned at the winery up until 1996. Aubert de Villiene regrets doing this because he found that although reconditioned wines can be great, they never achieve the heights of a well-stored original bottling. These reconditioned "Direct from the Chateau" bottles sometimes demand even more on the secondary market because of their 'provenance', yet most of them are less complex wines because they have been reconditioned. One note: curiously, Domaine Romanee-Conti does not have a website.
Offspring of Pinot Noir The University of Minnesota grape breeding program has released a hardy descendent of Pinot Noir, Marquette, which is able to withstand temperatures as low as minus 36°F. As reported in Wines & Vines (May 2007), the release comes at an opportune time for there is increasing interest in viticulture and wine country tourism in colder Northern America regions such as Vermont, Missouri, Iowa, Colorado and North and South Dakota. It is expected to gradually replace Frontenac which can withstand temperatures as low as minus 33°F, but is high in acid, low in tannin and produces a respectable red wine at best.