WesMar: Palate-Pleasing Pinot
WesMar is a small garagiste-styled winery in the Russian River Valley that produces "faat" Pinots (sublime combinations of fruit, alcohol, acidity and tannin). The label is modeled after the original Williams Selyem winery. This is not surprising since co-owner Denise Mary Selyem is the daughter of Ed Selyem and both her and her partner and husband Kirk Wesley Hubbard, worked at Williams Selyem for several years before the winery was sold in 1997. Together they craft their wines in a small industrial space in a former apple processing plant on Gravenstein Highway in Sebastopol. They are a two person, 50/50 operation, sharing all winemaking and winery management duties. There are no employees, consultants or brokers.
You might be asking yourself, "Why haven't I heard of WesMar Pinot Noir or seen startling scores in the major wine trade magazines?" The answer is that Kirk and Denise (pictured below at Olivet Lane Vineyard) are a modest couple who shun the limelight. They do not submit their wines for comparative judging to anyone. The truth is, they don't need to either, because the qualities of the wines speak for themselves. After seven vintages (they started in 2000), they finally did their first winemaker dinner recently at Clint Eastwood's Tehama Golf Club in Monterey. The pair want to focus all of their energies on winemaking and not on marketing.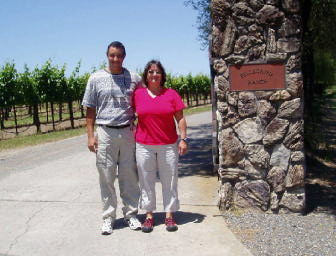 Kirk and Denise do love contact with their consumers. They are very personable and warmly receive visitors by appointment to their modest 1,500 square foot winery. They run a truly honest and unadulterated winery. I kidded them about selling their wines directly on their website, but they will hear nothing of it, preferring to deal with their customers on a more personal level.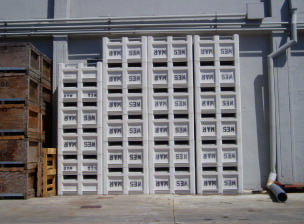 There are two distinctive hallmarks of WesMar (pronounced "Wes-Mare") Pinot Noir. First, there is consistency from one vintage to the next and one bottle after another, regardless of the vineyard source. I can honestly say I have been drinking WesMar Pinot Noir for six years and have never had a bad bottle. Second, their several bottlings from each vintage are all unique. As Denise says, "People tend to gravitate toward that which is familiar. This may be even more true with wines. We all want to replicate the success we have had with a particular vineyard or vintage. To counter this phenomenon, we strive to make wines that all have individual personalities but offer very similar levels of richness. " Denise refers to these distinct terroir-driven differences as "WesMarrior."
Every knowledgeable winemaker knows the "recipe" for making Pinot Noir. It is the decisions and artistry along the way that make a difference. I have spoken at length with Denise about WesMar's winemaking regimen, and I am convinced the intoxicating aromatics, irrepressible flavors and attractive textures achieved in WesMar Pinot Noirs are from intuition, experience, a deft touch and hands-on, labor-intensive commitment every step of the way. Pressing is carried out with an old incarnated bladder press once used for apples. Fermentations are in five ton, double-wall, rectangular open top stainless steel milk shipping containers to maximize surface area with reference to height and width (see photo below). All punch downs are by hand. Portable glycol heaters maintain complete temperature control. The entire process is gravity flow.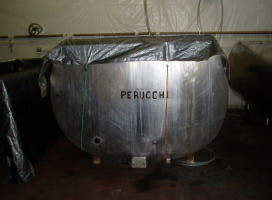 Denise and Kirk begin by securing the best fruit that is available. They pick the fruit earlier than many producers because they feel the feminine aspects of Pinot Noir are best expressed at lower sugar levels (Brix). The time of harvesting grapes is critical for there is no formula for correcting a harvesting mistake that will be evident later in the wine. De-stemming varies depending on the vineyard and vintage. Usually, at least 33% whole cluster is utilized, with occasional larger amounts when the vintage is fruit forward, but never above 50%. Denise and Kirk like the nuances and age ability that whole cluster provides, but they feel that too much whole cluster can detract from early drink ability that most consumers demand. No cold soak is employed and inoculation of the must with yeast is comparatively early, 24-36 hours depending on how cold the grapes are when they arrive at the winery. Fermentation is short by Pinot Noir industry standards, from 7-10 days. If grapes are picked over several days, the incoming grapes are never added to the existing must, but rather fermented separately. Aging is carried out in Francois Freres oak barrels. Fining and filtering are unnecessary because the wines are lovingly tendered in small lots and constantly monitored for stability. No flavor nuances are ever squandered by manipulation or intervention.
Denise has an aromatic fetish and happily smells her wines for an extended time ("devouring the nose" as she puts it). The ultimate compliment for a Pinot Noir, she says, "Is an aroma that dances in the glass." Asked to describe the WesMar Pinot Noirs, she touts, "Aromatic, fruit-forward, not overly ripe, with balanced acidity, complimentary fruit tannins and subtle oak impressions, while still displaying richness of flavors, finishing with a cloying mouth feel and flavors that linger long after the wine has left the mouth." In other words, as the WesMar tagline says, "Palate Pleasing Pinot Noir."
Kirk and Denise recently purchased a modest farmhouse on ten acres just outside the town of Sebastopol. Like many properties in the area, it was a previous apple orchard. In time, they plan to plant Pinot Noir and produce an estate bottling.
Each year, the WesMar Pinot Noirs are released on Valentine's Day. At this time I taste through the previous year's vintage, an interval that allows for adequate evolution of the wines. My experience has been that the WesMar Pinot Noirs will age perfectly fine for at least six years and even longer in magnum format. At the winemaker dinner mentioned above, a 5 liter bottle of 1998 Olivet Lane Vineyard Pinot Noir was opened and the wine was "lively, young and vivacious."
The current offering includes three vineyard designate and two appellation Pinot Noirs from the 2006 vintage. (There also is an excellent Russian River Valley Zinfandel that their dog, Zinny, loves to drink.) The Pinot Noirs include, 2006 WesMar Salzgeber Vineyard Russian River Valley Pinot Noir (157 cases, $45), 2006 WesMar Balletto Vineyard Sonoma Coast Pinot Noir (291 cases, $40), 2006 WesMar Oehlman Vineyard Russian River Valley Pinot Noir (261 cases, $37), 2006 WesMar Sonoma Coast Pinot Noir (355 cases, $35), and 2006 WesMar Russian River Valley Pinot Noir (322 cases, $35). Denise told me that the 2006 vintage is a "feminine" vintage and "lighter on its feet." An extended harvest produced fruit-forward Pinot Noirs with medium tannins that reflect a woman's stalwart qualities.
The 2005 growing season had high spring rain totals causing a late bud bloom. As harvest approached, temperatures were below normal. WesMar fruit was picked ten to fourteen days later than normal. The resulting wines were fruit-forward and lush and the complexities are just now beginning to show. I tasted through the lineup over the course of two days (the opened bottles were re-corked and tasted the next day. The wines showed beautifully both days. There were a lot of options in this lineup. Each wine was distinctive and there was something to like in each one. All were well-crafted, nicely balanced and none of the wines disappointed.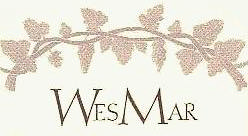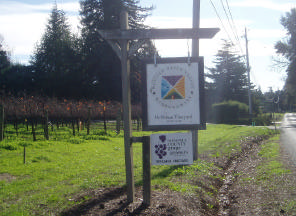 Wes Mar Winery
mailing address is P.O Box 810, Forestville, CA 95436. Tasting is available by appointment by calling 707-829-8824. The website is
www.wesmarwinery.com
. The wines are sold through a mailing list with very little retail availability. There is distribution to many fine restaurants including Sona in Los Angeles, Mr Stox in Anaheim, and Cyrus in Healdsburg (all in California), as well as restaurants in Alaska, Hawaii, Louisiana, New York and Texas. Magnums are available for all of the 2006 Pinot Noirs and are priced at just twice the cost of a single bottle.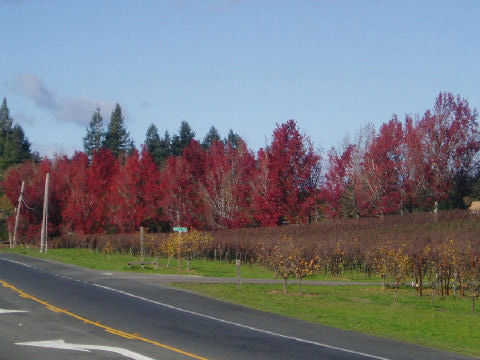 Russian River Valley in Fall along Gravenstein Highway (116)