Etude: Inspired Wines of the Carneros
Etude is a pioneering winery in the Napa Carneros region started by noted winemaker Tony Soter in 1980. The initial release was a Napa Valley Cabernet Sauvignon, but Soter quickly moved into Carneros Pinot Noir (first release was in 1982), Napa Valley Pinot Blanc, Napa Valley Merlot, Carneros Pinot Gris, Vin Gris of Pinot Noir, and a Brut Rosé sparkling wine.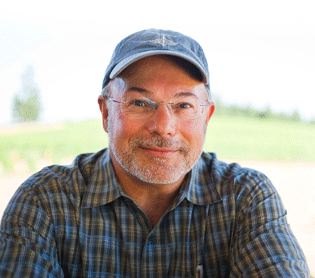 The winery was initially an underfunded proprietary side project that Soter indulged in while he worked his day job as a consulting winemaker to several of Napa's most high profile wineries including Araujo Estate, Dalle Valle, Niebaum-Coppola, Shafer, Spottswood and Viader. Soter owned no vineyards, but developed contracts with growers that allowed him to farm his blocks to his own strict specifications. He was one of the first consultants in the Napa Valley to buy grapes by the acre in contrast to the common practice of the time of buying grapes by the ton.
It was an encounter in Soter's cellar with Madame Lalou Bize-Leroy in 1980 that led Soter to name his new wine company Etude. Lalou was assessing Tony's first Pinot Noir, and her comments implied that Tony needed to improve his winemaking approach. Etude was an appropriate name since it is derived from the French word, étude, meaning "study, and in music to a composition designed to improve the technique of the player." Soter would say in 2004 (Wine & Spirits), "Pinot Noir is the best and most transparent wine vehicle with which to 'study' the craft and this has been a life long and humbling pursuit....I like to say I was in pursuit of the wisdom of ancestors I never had."
Soter's wines quickly attracted considerable attention from the wine press and Pinot Noir aficionados. He was fanatical about quality and typically he sold off anonymously more than 20% of the wine he produced in bulk. By 1999, Soter was able to end his consulting career to concentrate full time on Etude and develop estate vineyards. He eventually returned to his roots (he is a Portland native) to establish a second Pinot Noir project in the Willamette Valley of Oregon.
Etude was sold to Fosters Wine Estates in 2001, and the corporation provided the capital to build a new winery, refurbish vineyards, and expand production. Soter made his last wines at Etude in 2002, and moved to Oregon permanently to devote himself to Soter vineyards in the Yamhill-Carlton District at Mineral Springs Ranch. He still consults at Etude, assisting Jon Priest who joined Etude as winemaker in 2005.
Until 2004, Etude Pinot Noir was sourced from selected Carneros sites and drew its character from clay-heavy soils that created high extract and a firm tannic structure. The wines since then have been produced exclusively from Etude's Estate Vineyard located in the northwestern corner of the Carneros appellation in the Sonoma Carneros region. Although most of the soils in Carneros are clay-based, the Etude Estate Vineyard is planted in rocky, volcanic soils that are extremely well-drained. Above ground, the extreme western location close to the Pacific Ocean leaves the vines exposed to the cool and windy weather that Carneros is known for. The vineyard is planted to twenty Pinot Noir clones.
One of Soter's pet projects was the resurrection of "heirloom clones" of Pinot Noir. The heirloom clones are rare suitcase Pinot Noir clones planted in small vineyard test blocks. He compiled a library of rare vine material from growers' vineyards and experimental plots. Because many of these selections did not produce consistently large crops and the bunches were small and irregularly shaped, they were not considered economically viable and often ignored by growers.
The first vintage of Etude Heirloom Pinot Noir was 1995, consisting of 95 cases, and was the first unfiltered wine produced at Etude. The wine in the early years was a blend from several vineyard sources, varied each year, and was aged in about 60% new French oak. The best barrels were chosen and held for aging of up to 18 months.
Heirloom Pinot Noir was initially a case of marketing trumping reality because the wines were not always composed of "heirloom clones." Despite this, the wines were of superior quality, offering an unusual expression of Pinot Noir unlike any other Pinot Noir made in California at the time.
In 2005, Etude dedicated a 7-acre block of the Estate Vineyard to ten different selections of heirloom Pinot Noir to serve as a library as well as a source for Heirloom Pinot Noir, insuring that all the fruit was estate in origin.
I have tasted a number of partial verticals of Etude Carneros Pinot Noir and Etude Heirloom Pinot Noir. In 2005, I tasted Etude Carneros Pinot Noir from 1992 to 2003 (Volume 5, Issue 10). In 2009 (Volume 7, Issue 12), I tasted the 2003 to 2006 vintages of Etude Carneros Pinot Noir. In this issue I re-tasted some older vintages and brought the vertical up to the current 2010 release. Also in 2009 (Volume 7, Issue 12), I reviewed nine vintages of Etude Heirloom Pinot Noir (1996-2005 absent 1999) as well as recent vintages of the limited release Etude Deer Camp and Etude Temblor Pinot Noirs. In this issue, I have revisited several vintages of the Etude Heirloom Pinot Noir. Vertical tastings are valuable for they allow the taster to examine a winery's large body of work and with this experience comes a true appreciation of the talent and devotion winemakers offer to the wine enthusiast despite vintage variations.
The Etude Heirloom Pinot Noir is darkly colored, concentrated and powerful, with a modestly muscular tannic structure, and features dark fruits with an earthy, savory tone. The wine is definitely not a mainstream Pinot Noir. The wine's best drinking window is five to eight years. The Etude Carneros Pinot Noir is a consistent performer that ages well. Earthy, with firm but balanced tannins, this wine is like a jacket you always reach for: comfortable, nicely fitted and you feel good in it. Although ready to go upon release, the Etude Carneros Pinot Noir will hold for at least ten years in exceptional vintages. Etude Pinot Noirs are benchmarks for the Carneros appellation.
The Etude Carneros Pinot Noir is sold on the website and is in widespread retail distribution (often discounted). The Etude Heirloom Pinot Noir is a limited release sold through a mailing list and at the winery. Special single vineyard Pinot Noirs are offered as well. The tasting room at 1250 Cuttings Wharf Road in Carneros, just off Highway 121, is open daily from 10:00 to 4:30 with premium and reserve tasting and wine and food pairing (by reservation) offered Friday through Sunday. Visit the website at www.etudewines.com.