the Gardener: Got Organic Grapes?
The husband and wife winemaking team of Chris Condos and Suzanne Hagins produces a line of red and white varietals from organic grapes exclusively at their Horse & Plow winery in Santa Rosa. The 2011 releases under Suzanne's label, "the Gardener," really caught my attention.
There are many outstanding wineries with husband and wife winemaking teams so it would appear to be a formula for success despite the adage that spouses should not work together. Examples are WesMar Winery (Denise Selyem and Kirk Hubbard ), Teutonic Wine Co. (Barnaby and Olga Tuttle), Castoro Cellars (Niels and Bimmer Udsen), Ampelos Cellars (Peter and Rebecca Work), and Marcassin (Helen Turley and John Wetlaufer).
Suzanne developed an interest in wine while working in fine restaurants in Charleston, South Carolina. She worked her first harvest in Pommard at Comte Armand and moved to California in 2000 to pursue a career in winemaking. After working at De Loach, David Bruce and Goldeneye wineries, she started a small Pinot Noir brand, Lutea. Seven years later, she launched the Gardener label with Horse & Plow.
I first met Suzanne several years ago when she was making superb wines for B Vineyards & Habitat in Sebastopol, and I enjoyed several of her Pinot Noirs under the Lutea label over the years as well.
Chris Condos attended University of California at Davis before beginning his career at Pine Ridge Winery. He launched Vinum Cellars in Oakville in 1997, and has been the consulting winemaker for Kathryn Kennedy since 1998. Together with Suzanne, Horse and Plow was launched in 2008.
The special Pinot Noir reviewed here is sourced from a 1-acre block of the Scintilla Vineyard in Sonoma Carneros that Suzanne has worked with since 2005. The vineyard is farmed by Robert Sinskey Vineyards, a leader in organic and biodynamic viticulture.
The wines are produced with native yeasts and malolactic fermentations, extended lees contact, exceptional cooperage and minimal handling. Deft winemaking and a gentle hand are evident in these superb wines. Chris and Suzanne feel that in addition to the environmental benefits of organic farming, the resulting wines show more varietal character and sense of place, and I agree.
Current production for Horse & Plow Winery is 2500 cases annually. The labels are custom designed by family members, Florance Condos and Alan Crockett. Tours and tasting is by appointment at the winery in Santa Rosa. The wines are available through the website store at www.horseandplow.com. The website is one of the best designed and tasteful wine websites I have ever visited.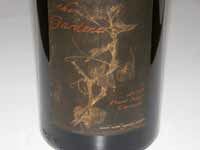 2011 the Gardener Carneros Pinot Noir
13.7% alc., pH 3.52, TA 0.62, 200 cases, $35. Scintilla Vineyard, clone 667. Vineyard Certified Organic by CCOF. Harvested at 23.5 Brix. 20% whole cluster. Aged 10 months in 25% new French oak barrels. Unfined and unfiltered. · Moderately light reddish-purple color in the glass. The aromas jump out of the glass with remarkable clarity, displaying notes of fresh black cherries and spice. Delicious core of perfectly ripened and well-spiced cherries and plums. The wine is impeccably balanced with supple tannins, and features a remarkably long, cherry driven finish. My notes are filled with superlatives. This wine is like the girl you could never have but always wanted.

2011 the Gardener Don Miguel Vineyard Russian River Valley Chardonnay
13.5% alc., pH 3.40,TA 0.64, 200 cases, $30. Made from organic grapes grown in Goldridge soil. See clone. Vineyard is Certified Organic by CCOF and farmed by Marimar Torres. Harvested at 22.0 Brix. 50% MLF. Aged 9 months sur-lee in 30% new French oak barrels. · Pale straw color and clear in the glass. Lovely aromas of lemon, pear, banana and almond. A transparent wine, unencumbered by oak, offering flavors of citrus and pear with a hint of roasted nuts in the background. Bright and very agreeable, light on its feet, with a lively acid backbone, and a tight, lemony finish. Very good.