Bravium: Relish the Acidity
Bravium, Latin for "reward, price or gift," is a winery featuring traditional, minimalistic winemaking by proprietor Derek Rohlffs. Rohilffs is a graduate of University of California at Santa Barbara in Environmental Studies and completed his winemaking course work at University of California at Davis. He has made wine since 2000 and traveled to the wine regions of France, Italy and Australia to hone his craft. Derek told me he has been inspired by the work of Kevin Harvey and Jeff Brinkman at Rhys Vineyards and Jeff has been a significant influence on his winemaking.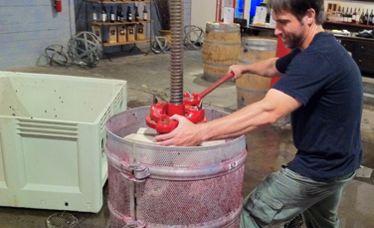 Bravium features vineyard-designated and appellation-designated Pinot Noir and Chardonnay. The winery is located on Treasure Island in the middle of San Francisco Bay. Vineyard sources include Signal Ridge Vineyard in the Mendocino Ridge AVA, the Beau Terroir Vineyard in Napa Carneros and other vineyards in Sonoma Carneros.
Production is small (96 to 448 cases per wine) and the wines are sold direct to mailing list members and through select retail outlets with some restaurant placements.
A portion of the profits from the sale of Bravium wines supports Sip & Give, Bravium's charitable giving campaign. Sip & Give features a roster of worthy charities that are funded by the public's votes (visit the webiste at www.bravium.com for more details). Simply put, Derek makes wine, you drink the wine, and together, you both sip and give. Derek is also a Member of the Cherokee Nation and Bravium is a registered TERO business.
Tasting is available at Treasure Island Wines, 995 9th Street, Treasure Island. Open Saturdays and Sundays from 1:00 to 5:00.
This was the first time I came across Bravium Pinot Noir and I was very impressed by the consistently high quality of each Pinot Noir bottling. The wines show deft integration of oak, judicious use of whole cluster fermentation, pleasant aromatics, flavor without weight, and bright acidity for refreshing drinking. Derek definitely has something going here and I would recommend the Pinot Noirs without reservations.