Kasuari Pinot Noir
One of the real joys in life is browsing a wine store filled with a cache of Pinot Noirs, handling the bottles, reading the labels and purchasing a wine that lacks a recognizable name but seems to hold promise. Anticipation follows and if you are lucky, a big smile breaks out on your face when you take that first sip. This happened to me recently when I came across Kasuari Pinot Noir.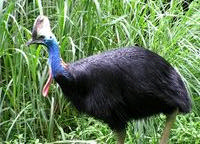 Kasuari is a rare and dangerous flightless bird that inhabits Indonesia, New Guinea and Australia. It belongs to the family of birds known as Cassowaries from the Indonesian name Kasuari. The third largest bird in the world, it has the capability of killing humans, but fortunately prefers to eat snails, snakes, frogs and fruit.
I asked Michael Peters, who along with Drake Johnson (both pictured below) founded this label in 2004, why he chose this name. His response was, "Kasuari is a rare bird, perfection and paradise all in one… .i.e. do it well and enjoy it more!" Now if you can figure that out let me know. Michael has been crafting wine for fifteen years and this label is the result of him "simply chasing his dream to make great wines and enjoy them with every one!" His cousin, Randy Peters, farms the Peters Vineyard located in south Sebastopol, the site of a former apple orchard. The soil is loamy goldridge type and the clone is Pommard.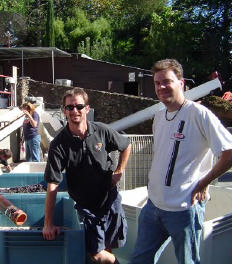 2006 Kasuari Peters Vineyard Sonoma Coast Pinot Noir
14.1% alc., 48 cases, $30. Aged 15 months in 50% new French oak barrels. Unfined and unfiltered. · The nose is shy but sexy featuring red fruits and roseate aromas. Delicious strawberry and cherry fruit are carried on a light and elegant frame. The lingering strawberry-scented finish is flamboyant and vivid with just the right amount of acidic tang. No tannins in sight. This is what Pinot Noir should be, but so often isn't. If you like strawberries, this is your wine. I'm buying more of this one for drinking now.
Kasuari wines (they also produce a Rosé, Zinfandel and Cab) are available on the website at www.kasuariwine.com. The phone is 707-322-7055.