Oregon Pinot Noir Doctors
John O. Bergström, M.D.: Bergström Wines
Medical School: Oregon Health & Science University School of Medicine
Residency: Oregon Health & Science University Hospital
Board Certification: Obstetrics & Gynecology
Dr. Bergström grew up in a small agricultural and logging village in northern Sweden and as a young teenager immigrated to Oregon where he ultimately became a physician and surgeon. He wanted to start a business that would become a legacy for his children and pay tribute to his Swedish agricultural upbringing. After moving the family to Dundee from Portland where he practiced, he planted the Bergström Vineyard on a 13-acre, south facing slope. In 1999, Dr. Bergström's son, Josh, returned to Oregon after a postgraduate program in viticulture and enology in Burgundy and founded the Bergström label with his father.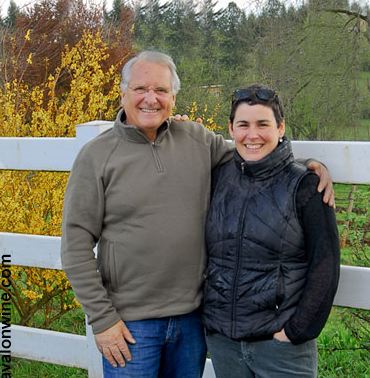 In 2001, Kendall Bergström and her husband Paul de Lancellotti joined the business. A new winery was built at the top of Calkins Lane in the Chehalem Mountains and the de Lancellotti Estate Vineyard was planted. Bergström Wines now farms five estate vineyards totaling 84 acres, all of which are biodynamically farmed (Bergstöm, de Lancellotti, Le Pré Du Col, Winery Block and Gregory Ranch). Pinot Noir is also sourced from Shea and Temperance Hill vineyards. Production is 9,000 cases annually of Pinot Noir (nine bottlings) and Chardonnay.
Josh Bergström is currently general manager, winemaker and vineyard manager, and his wife Caroline manages the sales team. Visit the website at www.bergstromwines.com.
2010 Bergström Cumberland Reserve Willamette Valley Pinot Noir
13.5% alc., $42. The winery's flagship blend. Primarily sourced from de Lancellotti, Shea and Bergström vineyards. · Moderately light reddish-purple color in the glass. Aromas of black cherries, spiced dark berry jam, and mocha java. Fresh and juicy, modest in weight, featuring a core of dark red and black cherries and berries with a noticeable topcoat of oak. About the same the following day from a previously opened and re-corked bottle. Decent.
2010 Bergström Bergström Vineyard Dundee Hills AVA Oregon Pinot Noir
13.5% alc., $80. Yields were less than 0.9 tons per acre in this vintage. This 13-acre site was planted in 1999 and is certified Biodynamic®. · Medium reddish-purple color in the glass. Very shy fruit on the nose with primarily oak-driven aromas. Bright cherry core wrapped in supple tannins finishing with flourish of oak. Juicy and vivid with a good cut of citrus peel acidity in the background. The charming fruit is somewhat buried in oak at present. About the same the following day from a previously opened and re-corked bottle. Good.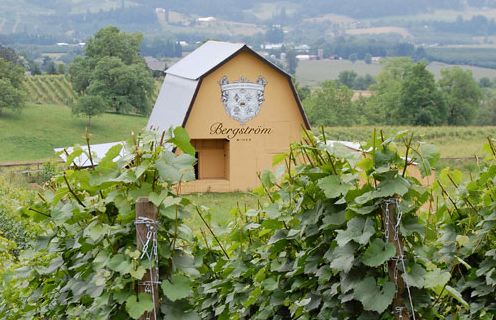 Joe Campbell, M.D., D.C.: Elk Cove Vineyards
Undergraduate: Harvard University (Magna Cum Laude in History of Science)
Medical School: Stanford University 1967
Dr. Campbell told me that he and his spouse Pat became interested in wine while he was at Stanford University and on weekends they visited tasting rooms nearby and in the Santa Cruz Mountains. After medical school, he practiced for two years on a Sioux Indian Reservation in South Dakota. In 1971, they visited Oregon. Pat had grown up on orchards in the Hood River so she was familiar with farm life. He started working in internal medicine in Portland and emergency medicine on the Oregon Coast, earning enough to buy property in the Willamette Valley.
He founded Elk Cove Vineyards in 1974 in Gaston (Yamhill-Carlton AVA) which today is one of Oregon's oldest wine producers. He planted his first ten acres of Coury selection Pinot Noir and Chardonnay (later grafted over to Pinot Gris), began making wine in an old barn, and released his first wine in 1977. This was the first commercial wine produced in the Yamhill-Carlton District. Single vineyard Pinot Noir has been offered since 1979. A new winery was built on the property in 1981 and vineyard properties were gradually added over the years. Today, the winery farms over 220 acres of vineyards on four separate sites in the Willamette Valley (Estate, Windhill, Mount Richmond and Five Mountain). Another 150 acres of vines are scheduled to be planted over the next several years.
Dr. Campbell made wine for over twenty years while still practicing medicine. He has five offspring, with Adam Godlee Campbell now the winemaker and his youngest daughter managing the winery photography and website. He recalls that in the early years of the winery his two oldest sons worked in the vineyards when they were ten years old, something that wouldn't be allowed today. Dr. Campbell made wine with his son Adam in 1997 and 1998, and in 1999 Adam took over the winemaking duties. He still works at age 73 years as a family practitioner in Portland (Pearl Health Center) and in emergency medicine on the Oregon Coast. He has volunteered with Medical Teams International following disasters in New Orleans, Sri Lanka and Sol Sudan and supports a small medical clinic in Arequipa, Peru.
When asked about his winemaking training, Dr. Campbell told me he had no mentor. He spent a harvest in Burgundy and read everything he could get his hands on. "I attribute my success to hard physical work growing up and a background in chemistry that made the chemistry of winemaking simple." He was quoted in a Stanford University publication (Bench & Bedside) as saying, "There's a lot of science in winemaking. Of course, there's nothing more complex than the human body. But I do think the complexity of wine is attractive to many physicians."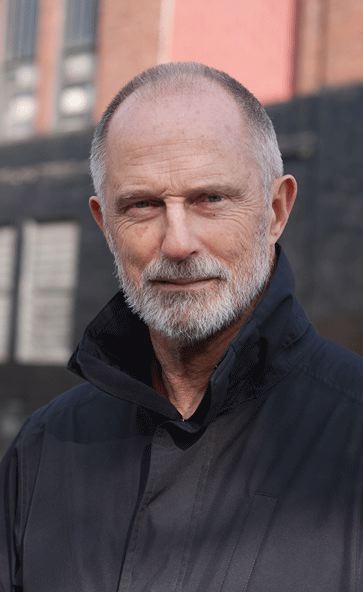 Elk Cove Vineyards was the fifteenth largest producer in Oregon in 2011 (43,800 cases) and was the Northwest Palate Magazine 2007 Northwest Winery of the Year. The winery focuses on Pinot Noir, Pinot Gris and Pinot Blanc. Visit the website at www.elkcove.com.

2010 Elk Cove Vineyards Willamette Valley Pinot Noir
12.5% alc., pH 3.55, 7,227 cases, $29. A blend from several vineyards including Pommard and Dijon clones. Vine age 9 to 37 years, yield 1.6 tons per acre. · Medium reddish-purple color in the glass. Aromas of fresh, dark red cherries, raspberries and strawberries leap from the glass. The rich flavors echo the nose, with a well-balanced backbone of acidity and tannin, and a strong, firm finish. A showy wine with surprising richness for this vintage and the low alcohol level. One of Oregon's consistently solid value-priced Pinot Noirs. Produced in quantity and widely available. Good (+).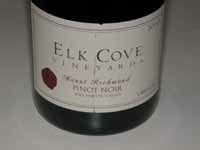 2010 Elk Cove Vineyards Mount Richmond Willamette Valley Pinot Noir
13.5% alc., $48. Vineyard was planted in 1996 with cuttings from Roosevelt Vineyard. Willakenzie soils. · Moderately dark reddish-purple color in the glass. Great nose! Lovely aromas of black cherry fill the glass like fresh cherries just off the tree. Aromas of spice and candied cinnamon apple add interest. A cherry bombast on the palate that is flat out delicious. A sensational wine that is moderately rich but strikingly flavorful and composed in a seamless fashion with modest fine-grain tannins and complimentary oak in the background. Plenty of Pinot singing in this great wine.
Mauricio Collada, Jr., M.D.: Cubanisimo Vineyards
Undergraduate: University of Miami
Medical School: University of South Florida College of Medicine 1977
Residency: University of South Carolina Medical Center, General Surgery and Medical Center Louisiana New Orleans LSU, Neurosurgery
Board Certification: Neurosurgery
Born in Havana, Cuba in the 1950s, Dr. Collada came to the United States with his family in 1962, a few years after Fidel Castro's communist revolution. He developed an interest in wine while attending college and began making wine at home from mangoes and bananas. His passion for wine continued through medical school. He moved to Salem, Oregon, in 1983 to begin his neurosurgical practice, and developed a special interest in Pinot Noir.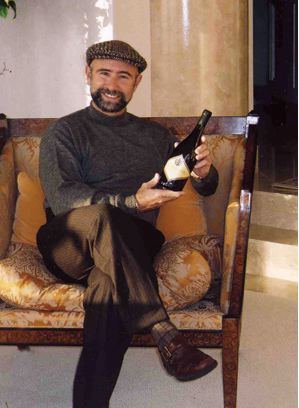 In 1986, Dr. Collada bought a 21-acre parcel in the Eola-Amity Hills, and five years later planted 8 acres of Pommard Pinot Noir on a southeast facing hillside. In 2001, he planted two more acres of Pinot Noir (115 and 777) and in 2007, two acres of Pinot Gris. Initially, he sold grapes to King Estate, Evesham Wood and Erath and through his dealings with Erath got to know the winemaker at Erath, Rob Stuart, who was a mentor. In 2003, he started holding back 50% of his production to produce his own wines under the Cubanisimo Vineyards label. Cubanisimo means "very Cuban." When his winery contracts expired in 2005, he began to keep all of his production and constructed a wine tasting facility.
Cubanisimo wines are currently produced at Rob Stuart's winery in McMinnville, with plans to move wine production to the estate in the future. Currently Dr. Collada produces 800 cases of estate Pinot Noir and 1,000 cases of Pinot Noir that blend estate grapes with grapes sourced from other vineyards. Production also includes 150 cases of Rosado de Pinot Noir from estate fruit and a small amount of Pinot Gris. His spouse, Debra, is a nurse who participates in harvest, bottling, manages the tasting room and distribution, and coordinates events. Visit the website at www.cubanisimovineyards.com.
2010 Cubanisimo Rumba Willamette Valley Pinot Noir
12.8% alc., $21, screwcap. · Light reddish color in the glass. Aromas of red fruits and briar lead to crisp red cherry flavor with oak-driven notes of spice and tar. A very delicate wine with prominent tannins that dominate the demure fruit. A summer sipper that would benefit from ice. Decent.
2011 Cubanisimo Estate Willamette Valley Pinot Noir
12.8% alc., $30. · Light reddish-purple color in the glass. Aromas and flavors of cherries, raspberries, savory herbs and spice underpinned with notes of tarry oak. Balanced tannins and lively acidity make for refreshing drinking. Good.
Michael Dragutsky, M.D. & David Sloas, M.D.: Cornerstone/Stepping Stone Cellars
Medical School: Texas A&M College of Medicine 1982
Residency: Baptist Memorial Hospital Memphis TN, Internal Medicine 1985
Fellowship: University of Tennessee, Gastroenterology 1987
Board Certification: Gastroenterology
Shortly after beginning medical practice, several of Dr. Dragutsky's medical colleagues who were active in local wine groups invited Dr. Dragutsky to participate in some of their wine events. His first truly memorable wine was a bottle of 1982 Dom Perignon which he tasted at a New Year's Celebration.
Dr. Sloas was a fellow gastroenterologist who Dr. Dragutsky was sharing call with in 1991 when Dr. Sloas had lunch with noted vintner Randy Dunn in Napa. Dunn mentioned that he was going to have 5 extra tons of grapes that year. Dr. Sloas called Dr. Dragutsky immediately and they bought Dunn's overage of Howell Mountain juice. Dr. Dragutsky was just learning the basics of wine at the time, so he had to make a quick study of both wine and the wine business. Joined by Managing Partner Craig Camp, winemaker Jeff Keene and a group of Memphis-based partners led by Hal Lewis and John Carrier, Cornerstone/Stepping Stone Cellars was founded. Today, the winery produces Cabernet Sauvignon Cabernet Franc, Syrah and Sauvignon Blanc from the Napa Valley under the Stepping Stone and Cornerstone labels.
Craig Camp enlisted noted Oregon winemaker Tony Rynders to produce Pinot Noir from the Willamette Valley beginning with the 2008 vintage under the Cornerstone Cellars label and Drs. Sloas and Dragutsky and their investor partners joined in founding the new Oregon winery. Cornerstone now produces both Pinot Noir and Chardonnay from the Willamette Valley. Dr. Dragutsky is pictured below on right with winemaker Jeff Keene.
Current production in Napa and Oregon totals over 10,000 cases. Visit the website at www.cornerstonecellars.com.
Dr. Dragutsky practices gastroenterology full time in Memphis, TN and is one of the founding members of Gastro One, currently the twelfth largest gastroenterology group in the United States. He is also owner of Phoenix Unequaled Home Entertainment, a nationally recognized residential systems integration company. He spends at least 15 hours a week interacting with Craig Camp and staff in Napa, managing the financials, and promoting Cornerstone Cellars.
I asked Dr. Dragutsky why he thought physicians were attracted to wine and the wine business. He said the following. "Medicine is a very socially interactive profession where personal interactions between the physician are of utmost importance. Likewise, wine is the epitome of a social experience. It is this commonality which I believe attracts physicians to wine. In addition, both fields require in depth knowledge and are intellectually challenging. It also confirms the adage that physicians are drawn to bad investments!"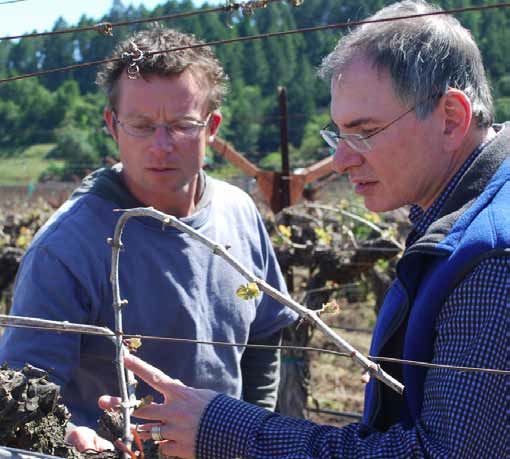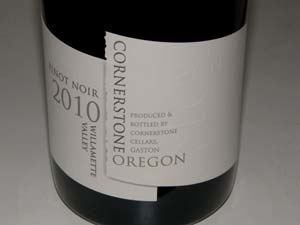 2010 Cornerstone Willamette Valley Pinot Noir
13.5% alc., 498 cases, $50. Sourced from all six Williamette Valley sub-AVAs with the majority (68%) from the Yamhill-Carlton District. Aged 15 months in 62% new French oak. · Medium reddish-purple color in the glass. Pleasant aromas of black cherries and dark berry compote with a hint of smoky oak. Not as expressive as it will be with more bottle age, yet showing enticing flavors of dark cherries and raspberries pulled into line with fine acidity and tannin. Finishes dry with a flourish of cherries. Nicely composed and balanced and a worthy cellar candidate. Very good.
2010 Stepping Stone Willamette Valley Pinot Noir
13.5% alc., 137 cases, $30. The painting on the label is "Color of Life" by Oregon artist Janet Ekholm. Sourced from all six Willamette Valley sub-AVAs with the majority from Yamhill-Carlton and Eola-Amity Hills. Aged 13 months in 35% new French oak. · Medium reddish-purple color in the glass. Demure aromas of black cherries and toasty oak. Mid weight core of dark cherry fruit becoming more vibrant over time in the glass. Soft in the mouth with mild tannins and some length on the earthy, fruit-driven finish. A straightforward, accessible wine showing a tad more oak than I prefer but otherwise solid. Good. Reviewed November 24, 2012.
Kristian Ferry, M.D.: Spencer Butte Vineyard/Abbelone Vineyards
Undergraduate: General and Molecular Biology, University of California at Irvine
Medical School: Medical College of Wisconsin 1994
Residency: Baylor University, General Surgery and University of Miami, Surgical Oncology
Board Certification: General Surgery
Dr. Ferry is the only Society of Surgical Oncology-trained physician in Oregon outside of Portland. A surgeon at Oregon Medical Group in Eugene, he has received considerable praise for the Pinot Noir he crafts from the 5-acre Abbelone Vineyard located on the southeastern flank of Spencer Butte in Eugene, Lane County, Oregon (south Willamette Valley). He and his spouse Angela first established the vineyard in 2002. The vineyard is named in memory of Dr. Ferry's mother and is planted to Pommard, 115 and 777 clones.
Dr. Ferry is a respected viticulturist and winemaker who actively works in his vineyard throughout the season, performing eighty percent of the work himself. Come October, he crafts his Pinot Noir at Eugene Wine Cellars, perfecting his technique from winemaker Greg Sothras. His first vintage was a 2009 Pinot Noir. In 2011, Dr. Ferry added more acres of Pinot Noir and may include white varieties in the future. The website is currently under construction.
Dr. Ferry's vineyard started out as a "fun diversion," and a relief from the long hours he spends in hospitals and operating rooms, but he keeps expanding, now slowly equipping the basement of his villa overlooking the vineyard for winemaking. He attributes his interest in winegrowing and winemaking to an expression for his creative energy.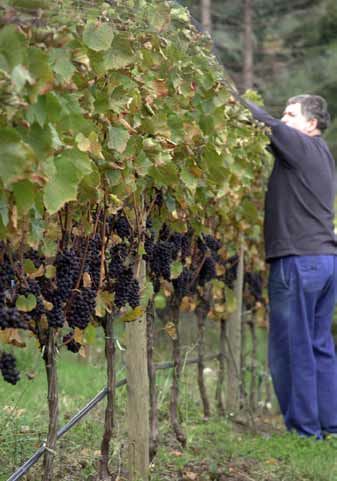 Robert J. Gross, M.D.: Cooper Mountain Vineyards
Medical School: Emory University 1966
Residency: University of Washington 1977
Board Certification: Psychiatry, Obstetrics & Gynecology
Dr. Gross was at the University of Washington doing his residency when he and a group of fellow residents started an amateur winemaking group. They rented some space in Pike Place Market before it was renovated and while it was still economically plausible, and began 'playing' around. After residency, some of the members of the group went to Eastern Washington to found a now shuttered winery called French Creek.
Dr. Gross was not interested in warm climate varieties and neither was his wife Corrine who grew up in Portland. They went south to Oregon to find a suitable location to plant Pinot Noir, and found a 100-acre horse farm in the Chehalem Mountains for sale where Corrine had grown up riding horses. In 1978, they bought the property and planted vineyards which would become the location for Cooper Mountain Vineyards which was established in 1987.
When I asked Dr. Gross "Why wine?", he answered that he already had the organic chemistry background. "Why the emphasis on organics and biodynamics?", he said that it was for his health.
Dr. Gross still practices in Portland and continues to oversee the winery operations and production. Cooper Mountain Vineyards has been a pioneer among Oregon wineries in practicing organic and biodynamic viticulture. Organic certification by Oregon Tilth came in 1995 and Biodynamic® certification by Demeter® followed in 1999. In 2002, Cooper Mountain Vineyards was the first winery in the United States to gain label approval for a no sulfite added wine and carry the USDA Organic seal. The winery's sulfite free Pinot Noir has developed a cult following. In addition, there are reserve bottlings and single vineyard options. Pinot Gris, Pinot Blanc and Chardonnay are also offered. The winemaker is Gilles De Domingo. Visit the website at www.coopermountainwine.com.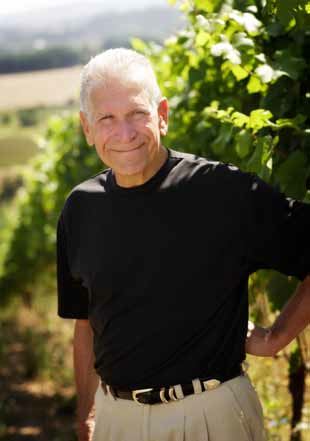 2009 Cooper Mountain Vineyard Mountain Terroir Willamette Valley Pinot Noir
13.5% alc., pH 3.65, TA 0.57, 290 cases, $45. Biodynamic® by Demeter®. · Moderately light reddish-purple color in the glass. Very shy nose with delicate aromas of blackberry jam. Mid weight flavors of plum reduction sauce and blackberries accented with tempered oak, balanced with firm tannins and finishing with notable power. Very tasty and offers a sensual, velvety mouth feel to boot. Very good.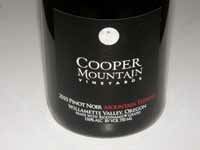 2010 Cooper Mountain Vineyard Mountain Terroir Willamette Valley Pinot Noir
13.0% alc., $50. Biodynamic® by Demeter®. · Moderately light reddishpurple color in the glass. This wine shows a heavy oak topcoat that is currently burying the luscious and markedly intense dark red fruit core. A middleweight wine with restrained tannins and balancing acidity, that will benefit from more time in bottle to fully integrate the oak. That said, this wine displays a remarkably fleshy fruit profile. Good.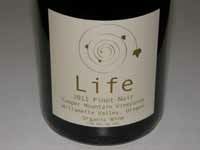 2011 Cooper Mountain Vineyards "Life" Willamette Valley Organic Wine
13.0% alc., $35. No sulfite added during winemaking. Certified organic by Oregon Tilth. Biodynamic® by Demeter®. · Moderately light reddish-purple color in the glass. Very fruity, upfront nose offering aromas of strawberry, cherry, red fruit punch and sandalwood. A Beaujolais styled wine, with pleasant flavors of red fruits including red plum and a subtle hint of savory herbs. Mild, but evident tannins, with a bright finish. Crafted for early drinking and an excellent wine for the table. Good.
Marvin Haussman, M.D.: Quailhurst Vineyard Estate
Medical School: New York University School of Medicine 1967
Residency: General Surgery at Mt. Sinai Hospital New York and Urological Surgery at U.C.L.A. Medical Center
Board Certification: Urology
Dr. Haussman, a native of New York, and his spouse Deborah, who was raised in the Northwest, established Quailhurst Vineyard Estate in 1997 in Sherwood, Oregon. The 35-acre estate was built in the 1930s and was renowned for its Japanese gardens and many varieties of roses. They renovated the property to grow wine grapes and to breed and train competition dressage horses.
The first Dijon clone Pinot Noir vines were planted in 1998 and the first Pinot Noir bottled from the 2001 vintage under the Quailhurst Vineyard Estate label. The vineyard produces about 15 tons of Pinot Noir grapes per year from which several estate Pinot Noirs and Pinot Noir ports are released. The website is www.quailhurst.com.
Dr. Haussman has over thirty years of experience in drug development and clinical care experience at various pharmaceutical companies including working with Bristol-Myers International, Mead-Johnson Pharmaceutical Co., and E.R. Squibb. He was the President and CEO of OXIS International until 2008 and Chairman of the Board of Axonyx from 1997 until its merger with Torrey Pines Therapeutics in 2006. This company has patent rights to two main classes of therapeutic compounds designed for the treatment of age related and disease related dementias, in particular Alzheimer's disease. Dr. Haussman cofounded Medco Research Inc., a pharmaceutical biotechnology company. He has served in executive positions most recently for Entia Biosciences, Inc., Genesis Biopharma, and Total Nutraceutical Solutions.
He has focused on formulating and marketing products composed primarily of organic natural mushroom compounds that contain bioactive nutrients for potential health benefits. His special interest in mushrooms has developed because it is believed that when metabolized with food, they provide many nutrients that are invaluable for the human immune system and for normal cellular function.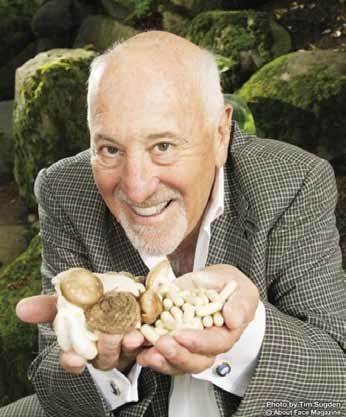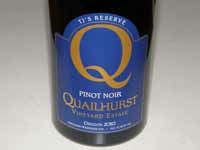 2010 Quailhurst Vineyard Estate TJ's Reserve Chehalem Mountains Willamette Valley Pinot Noir
13.2% alc., $60. · Moderately light reddish-purple color in the glass. Shy aromas of red fruit, oak and walnuts. Mid weight flavors of red fruits including sweet cherries and cranberries with complimentary oak in background. A feminine style with supple tannins, a good cut of acidity, and impressive cherry fruit on the finish. This wine grows on you the more time you spend with it. Very good.
Donald R. Olson, M.D., MBA: Torii Mor Winery
Medical School: University of Wisconsin Medical School 1961
Residency: University of Illinois 1966, Fellowship at Hospital Foch University Paris 1971
Board Certification: American Board of Neurosurgery
Dr. Olson founded Torii Mor Winery in the Dundee Hills of Oregon in 1993 as a tribute to his late son, Leif. Olson had been a lover of French Burgundy while a Clinical Professor of Neurosurgery at the Oregon Health Sciences University in Portland. The winery was initially a small project intended to showcase fruit from his vineyard that was planted in 1972, one of the oldest vineyards in the Willamette Valley. Situated at 800 feet, the vineyard is just under 15 acres and is planted to Pinot Noir. The winery released its first vintage in 1993.
The name Torri Mor comes from the Japanese, "Torii," referring to the beautiful gates often seen at the entrances of gardens, and, "Mor," is a Scandinavian word meaning earth and chosen as a homage to Olson's Scandinavian heritage. By joining these two languages, an image of a gate to the earth was created.
A LEED certified solar-array gravity flow winery opened on the property in 2007. The estate has a quaint Japanese theme and is unique among Oregon wineries. Burgundian Jacques Tardy became the winemaker in 2004. Dr. Olson continues his involvement in the winery as General Manager and CEO. He is at the winery on a daily basis, and very involved with the day-to-day activities of the winery. Current production is 15,000 cases, predominantly Pinot Noir, both appellation-designated and vineyard-designated. The Olson Estate Vineyard is the cornerstone of production, but fruit is sourced from other AVAs and the Umpqua Valley and Rogue Valley. Visit the website at www.toriimorwinery.com.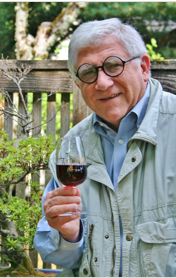 Dr. Olson has been an advocate of the health benefits of wine and given many presentations on the subject. At one time, federal regulators forced him to change the aphoristic "make glad the heart with wine" on his label because it represented an apparent "health statement."
In 2011, after a break from neurosurgery for ten years, Dr. Olson volunteered with Medical Teams International to perform battlefield surgery on freedom fighters in Libya.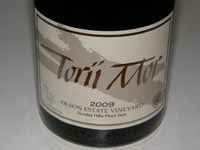 2009 Torii Mor Olson Estate Vineyard Dundee Hills Willamette Valley Pinot Noir
13.9% alc., 350 cases, $60. Pommard, Coury and 667 clones. Yields <2 tons per acre. Aged in 10% new, 18% 1 and 2-year-old, and the rest neutral French oak barrels. · Moderately light reddish-purple color in the glass. Aromas arrive over time in the glass, showing scents of black cherries, black plum, and a hint of oak. Medium weight flavors of black cherries, dark red berries, black tea, anise and oak backed by some drying tannins and lively acidity. The wine finishes with pleasing aromatic intensity. Very good.
2010 Torii Mor Oregon Pinot Noir
12.9% alc., $24, screwcap. · Light reddish-purple color in the glass. Delicate red fruit aromas with prominent smoky oak. Austere with flavors of tart red cherries, spice and a green note in the background. Very mild tannins and brisk acidity. The fruit appears under ripe and oak shows up with unwelcome dominance. Decent.
2010 Torii Mor Reserve Deux Verres Willamette Valley Pinot Noir
13.6% alc., 650 cases, $38. Deux Verres means "Two Glasses" in French. Sourced from six vineyards in the Dundee Hills and Chehalem Mountains. Aged 15 months in 20% new, 41% 1 and 2-year-old, and 33% neutral French oak barrels. · Moderately light reddish-purple color in the glass. Dark red fruits are featured on the nose and palate. Relatively modest in weight, but flavorful, featuring red cherry and cranberry tastes. Juicy, with mild tannins and a good cut of citrusy acidity. Good.
Madaiah Revana, M.D.: Revana and Alexana Wineries
Medical School: Mysore Medical College India (first in his class)
Internship: Coney Island Hospital
Residency: Thomas Jefferson University Hospital Philadelphia
Fellowship: Baylor University Medical Center
Board Certification: Cardiology and Internal Medicine
Dr. Revana grew up in rural India near Bangalore where his family had been farming for generations. This farming heritage led to his instinct for winegrowing. He was first introduced to wine by friends and became fascinated with Bordeaux's first growths while practicing cardiology in Houston, Texas. He traveled to the wine regions of Europe and the United States and became determined to establish a world class vineyard estate. In 1997, on a visit to the Napa Valley, he found a small parcel of prime vineyard land in St. Helena. In 1998, he hired vineyard manager Jim Barbour to plant and maintain the 9-acre vineyard. He started Revana Family Vineyard, and released the first vintage in 2001. Noted winemaker Heidi Barrett was the initial winemaker and today Thomas Brown directs the winemaking at Revana.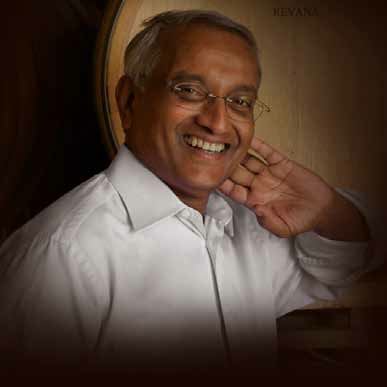 In time Dr. Revana developed a love for great Burgundy wines as well. After enlisting the assistance of winemaker Lynn Penner-Ash (Rex Hill from 1988 to 2002 and now Penner-Ash Wines), he acquired 80 acres in the Dundee Hills in 2005 and started Alexana Winery, named after his daughter, Alexandra Revana. 16 acres of Pinot Noir and Pinot Gris had already been established and an additional 39 acres of Pinot Noir, Riesling and Chardonnay was added. Today, the vineyard, which has an unusually complex diversity of soils and exposures, has grown to over 55 acres.
Lynn Penner-Ash became the winemaker for the new winery and is currently assisted by associate winemaker Brian Weil.
The first two Alexana estate wines, a Pinot Noir and Pinot Gris, and a Pinot Noir from Shea Vineyard, were released from the 2006 vintage. Production is now 5,000 cases annually. A tasting room in a LEED certified Gold three-story house is located on NE Worden Hill Road in Newberg. Visit the website at www.alexanawinery.com.
2010 Alexana Revana Vineyard Dundee Hills Willamette Valley Pinot Noir
13.1% alc., 1,654 cases, $42. A blend of eight clones. · Moderately light reddish-purple color in the glass. Lovely nose offering aromas of black cherries, black raspberries, and subtle oak spice, fading a bit over time in the glass. Modest but appealing richness featuring well-spiced black cherry and dark berry fruits with a hint of dried herbs in the background. A wine of attractive finesse with mild tannins and a fruit-filled finish. Balance is spot on. Very good.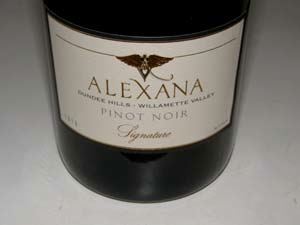 2010 Alexana Signature Dundee Hills Willamette Valley Pinot Noir
13.2% alc., 236 cases, $75. A barrel selection from estate fruit. · Moderately dark reddish-purple color in the glass. Shy nose picking up interest and intensity over time in the glass offering alluring aromas of dark red cherries and berries accented with nutmeg spice. Seamless and soft in the mouth, even creamy, with a full-bodied core of deep red cherry and berry fruits backed by well-integrated oak. Similar to the regular bottling in flavor but more stacked and packed. Remarkable phenolic ripeness and intensity at a relatively low alcohol percentage.
Earl VanVolkinburg, M.D.: Vitae Springs Vineyard
Medical School: Oregon Health and Science University School of Medicine
Residency: David Grant USAF Medical Center
Board Certification: Internal Medicine
Dr. VanVolkinburg is a practicing internist in Salem, Oregon, who developed an interest in wine while serving in the United States Air Force in the Mosel Valley in Germany from 1971 to 1974. He spent many hours working in vineyards and cellars. When he finished residency in 1977, he and his spouse Pam looked for a town that needed an internist and had suitable land for growing wine grapes. In 1977, he bought 18 acres south of Salem and planted 1 acre of mostly Riesling since that was the only grape he knew much about. More acreage has been added over time, and as one of the first families to plant a vineyard in the Willamette Valley, the Vitae Springs Vineyard has some of the oldest vines in the region.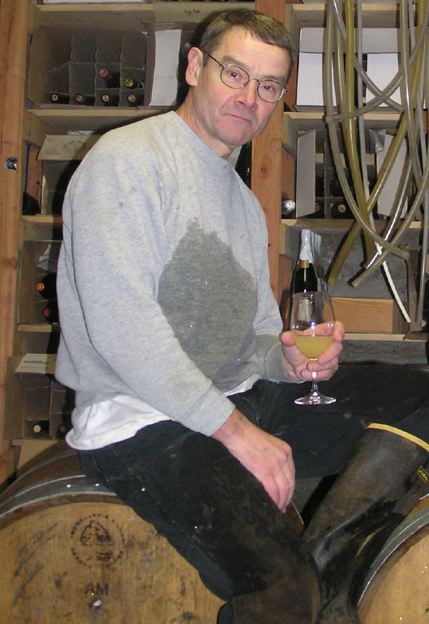 Today, Dr. VanVolkinburg's son Joel manages the 31 acres of vineyards (25 acres Pinot Noir, 5 acres Pinot Gris, 2.5 acres Riesling and a small amount of Grüner Veltliner) and most of the winemaking chores (Joe Dobbes, Jr., has been a winemaking consultant). Soils are both Jory and Nekia, and clones of Pinot Noir include 667, 777, 115 and Pommard.
Small lots of Pinot Noir, Riesling, Grüner Veltliner and Pinot Noir are produced under the Vitae Springs Vineyard label and some vineyard production is sourced by premium wine producers in the Willamette Valley such as St. Innocent. The 2011 Grüner Veltliner is the nation's first and oldest (30 years) estate grown and produced bottling of Grüner Veltliner. The family's two car garage doubles as a tasting room. Fewer than 1,000 cases of wine are produced each year. Visit the website at www.vitaesprings.com.
Dr. VanVolkinburg likes to quote Paul who wrote to Timothy in Timothy 5:23, "Stop drinking just water, but have a little wine for your stomach's sake and your infirmities."
Mark Wahle, M.D.: Wahle Vineyards & Cellars
Medical School: University of California at Davis 1993
Residency: Louisiana State School of Medicine
Board Certification: Emergency Medicine
Dr. Wahle and his parents established a 10-acre vineyard in Yamhill, Oregon, in 1974. This is now considered a "parent" vineyard along with Elk Cove Estate of the Yamhill-Carlton AVA. This became his school agricultural project and required considerable after school and weekend work to establish and maintain the vineyard. Most of the planting material was from the nursery of Charles Coury and included a large planting of the Coury "clone." When Dr. Wahle attended viticulture meetings with local grape growers, there was no viticulture and enology program available in Oregon for university level study. Dr. Wahle considered programs at Cornell, Geisenheim and Stellenboch, but ultimately found the University of California at Davis program the best fit. He attended the Viticulture and Enology program (Fermentation Science) as a Regents Scholar.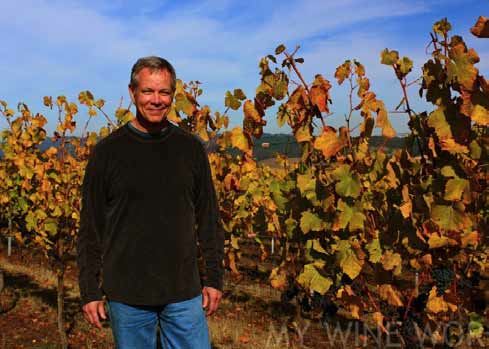 At Davis, the professors suggested caution in Oregon winegrowing attempts, yet they provided an education that prepared him for winemaking in any region of the world. Dr. Wahle gained practical winemaking experience at Chateau St. Jean in California, Chateau Benoit in Oregon and in an exchange program in the Rheinhessen region of Germany. Upon returning to Oregon he discovered that his family transition plan had stalled and this was a life-changing event for him. Unsure of what to do next, he took a break and backpacked with a friend throughout Central America. Experiences on this trip supported an interest in medicine. Growing up in a small farm town in Oregon, he did not have exposure to a medical career path. While attending Davis, many classmates were "pre-med," and they had encouraged him to take this path. He had essentially completed the "pre-med" curriculum with his earlier fermentation studies and needed only to add a zoology course.
Dr. Wahle chose to return to Davis for the medicine program. His Fermentation Science advisor was dismayed that he gave up winemaking, but he reassured her that he ultimately planned to be involved in both careers. He is now a practicing emergency medicine physician in Portland part of the week, and works at his vineyards and winery for the rest of the week. A second vineyard has been established in the Eola-Amity Hills AVA known as Holmes Hill Vineyard.
Current production at Wahle Vineyards is 1000+ cases of estate Pinot Noir at Carlton Winemakers Studio while a new winery is completed at the Holmes Hill Vineyard site. This includes production for James Moises, M.D., an emergency medicine colleague in New Orleans. Dr. Moises makes several visits a year to Oregon wine country to participate in grape growing and winemaking. Dr. Wahle also produces wine for Drs. Nicholas and Haydee Bazab, neuroscientists who also live in New Orleans. He has collaborated with them on studies related to the antioxidant properties of Pinot Noir.
Dr. Wahle told me the following. "While many see these two career paths as an unusual pairing, I simply remind them of the amazing content overlap that exists. Furthermore, I see the two fields as complimentary in practice. After a stretch of chaotic emergency medicine shifts, it is a relief to shift gears and return to outdoor work in the vineyard. Even with all the scientific advances in enology, there is still room for artistic expression during the winemaking process. After an exhausting harvest season, it also seems 'balancing' to return to the hospital to resume work in the fascinating and ever-changing field of medicine."
Wahle Vineyards & Cellars website is www.wvcellars.com.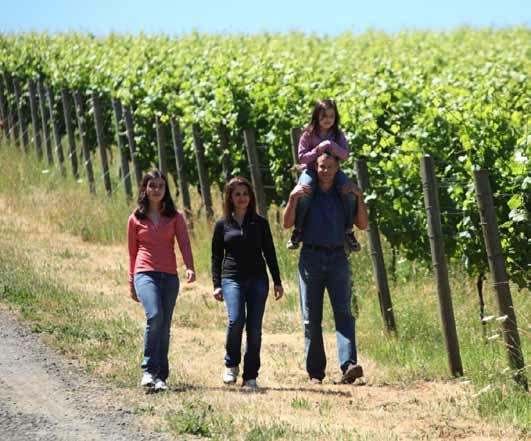 John Zelko, M.D., FACS: Z'IVO Wines
Medical School: University of Hawaii, Manoa, HI 1978
Residency: University of Colorado, Denver, CO 1983
Board Certification: General Surgery
Dr. Zelko comes from a family of doctors. His father was an ophthalmologist and his brother still is. He told me he could remember sitting at the kitchen table with a microscope putting Tennant Mark VIII intraocular lenses in pig's eyes. His father was always disappointed that he didn't follow his career path, but at least his brother did. Dr. Zelko moved to Oregon from Denver after he finished training in 1983. What drew him there was Ken Kasey's Sometimes a Great Notion, perhaps the greatest Oregon book ever written. He quickly met Rachel Starr who owned Great Wine Buys and became enamored of the local wines. He participated in wine tasting courses and brewed beer because at the time there were no microbrews, no one sold quality grapes to amateurs, and F.H. Steinbart Co. Homebrew Supply Shop was close by in Portland. When Rachel and friends started Starr Winery, he and his wife became night time and weekend cellar rats. Eventually they bought a ton or two of Pinot Noir from lesser known vineyards and made their first wine in Linton. This went on from 1992 to 1999 when Starr Winery moved to Newberg.
The Zelkos bought 40 acres in the Eola-Amity Hills from a radiologist who thought he could use his 401K money to plant a vineyard. When he was unsuccessful, they took the property in 1995 and started planting it in 1996. The Zelkos preferred the wines from what is now the Eola-Amity Hills AVA because they liked "the gutsy, earthy backbone and black fruit flavors." The site is situated at 150 to 400 feet with soils ranging from Yamhill to Woodburn.
Dr. Zelko was intrigued with the Dijon clones and thought that a blend of multiple clones would yield a more complex and age worthy wine distinctly different from the wines based solelyon Pommard and Wädenswil clones so prevalent in Oregon. He thought that a mixture of earlier ripening clones in a slightly warmer site would favor more years with adequate ripeness and that is what happened. The Z'IVO wines are big and bold, the use of native yeast fermentation has resulted in the complexity he preferred and the wines are maturing well.
Dr. Zelko has also made white varietals with purchased grapes and recently planted the "Gouges" clone of Pinot Blanc that Gary Andrus brought to Archery Summit when he made Viriton. 2011 was the first vintage.
The winery was initially named Zelko but had to be changed to Z'IVO Wines when Zelko Vodka presented him with a trademark challenge. A month of googling and research came up with a play on Dr. Zelko's name. His wife, Kathy the lawyer, suggested he put an apostrophe in there to make it fanciful and get it through trademark clearance. In Slovak, 'zivo' means vibrant or to be alive as well as Ivo's. So Z'IVO can be interpreted as Ivo's wines or wines that are vibrant and alive. Dr. Zelko likes to say Kathy is a wine "fan" and he is more of a "fanatic."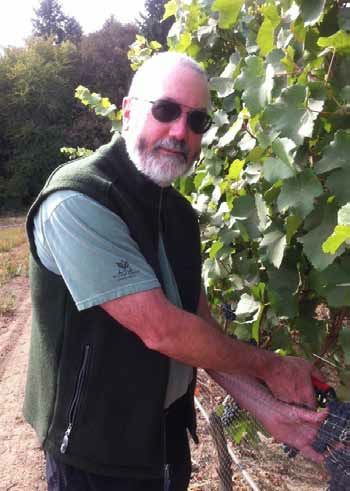 When asked why physicians like to get into grapes and wine Dr. Zelko told me the following. "We have a strong biochemistry background, some disposable income, and the desire to marry art, craft and science in a manner different from the practice of medicine. Grape growers, winemakers and all the farmers, chefs and people passionate about wine and the immediacy of a good life are great people to spend our free time with. Who knows better than us life's tragedies and sorrows and the need to share what is good."
Z'IVO Pinot Noir is produced entirely from the estate vineyard. Several aromatic white wines are also offered. The wines are handcrafted at Walnut City Wine Works in McMinnville, a small consortium of winemakers who grow their own grapes. The first vintage was 2000. Visit the website at www.zivowines.com.
Still more "Pinot Noir Doctors."
Douglas Ackerman, M.D.: Armstrong Vineyard
Dr. Ackerman graduated from Vanderbilt University School of Medicine in 1988, did his residency in urology at the Oregon Health and Science University and now practices in Clackamas, Oregon. Along with spouse Michelle, he bought and planted in 2007 16 acres of vineyard on the site of a former horse farm in the Ribbon Ridge AVA of the Willamette Valley. The vineyard is just below Ayres and Brick House on Lewis Rogers Lane. Clones are Pommard, Wädenswil, 114, 115, 667 and 777. Grapes were sold beginning with the inaugural 2010 vintage to Ayres, Seven of Hearts Winery and Vincent Wine Company.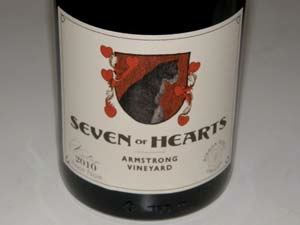 2010 Seven of Hearts Armstrong Vineyard Ribbon Ridge Willamette Valley Pinot Noir
13.5%alc., 98 cases, $35. Released March 15, 2012. Vineyard farmed by owners Dough and Michelle Ackerman. 50% Pommard and 50% 666 with 67% whole cluster fermentation. · Moderately light reddish-purple hue in the glass. Very bright and enticing aromas of fresh berries and rose petals. Big-boned core of purple and black berries and black plum with a subtle oak underpinning. The fruit is overshadowed by the prodigious tannins now, but there is enough fruit presence to grab your attention. More body and fruit than the Lia's. Needs more time in the cellar, but very promising. Very good (+).
Jack Bagdade, M.D.: Domaine Meriwether
Dr. Bagdade is a graduate of Cornell University Medical School and board certified in internal medicine, endocrinology and metabolism. He formed Pike & Western Wine Merchants at Pike Place Market in Seattle in 1975. He soon wanted to produce world class sparkling wines and by the 1990s had founded Domaine Meriwether. Dr. Bagdade recruited French winemaker Jean-Louis Denois who hailed from Cumieres, just north of Epernay in Champagne. Their first harvest together was 1998. In 2005, Dr. Bagdade returned to his medical calling and Ed Buzz Kawders step in to guide the winery and he enlisted winemaker Raymond Welsh to continue the vision of the winery. Today, the winery produces sparkling wines and still wines including Pinot Noir. The winery is located in Veneta, Oregon, outside of Eugene. The website is www.meriwtherwines.com.
Edward Koo, M.D.: Temperance Hill Vineyard
,
Dr. Koo is a graduate of the medical school at Duke University, a pathologist and neurologist, who is currently a professor at University of California at San Diego School of Medicine who conducts research in the cellular and molecular biology of Alzheimer's Disease and neurodegeneration. He is a popular teacher and renowned researcher with over 125 publications to his credit. Edward and Lin Shen Koo established Temperance Hill Vineyard in 1980 and 1981. It is 100 acres made up of about 20 different blocks on a 200-acre site in the west Eola Hills, just west of Salem, Oregon. 80% of the vineyard is planted to Pinot Noir with lesser amounts of Chardonnay, Gewüztraminer and Pinot Gris. Dai Crisp has managed the vineyard since 1999 in accordance with Oregon Tilth Organic Certification standards. Grapes are sold to twenty clients, including such notable wineries as Adelsheim, Bergström, Chehalem, Elk Cove, Evesham Wood, Lange, Panther Creek and St. Innocent.
Henry Pollack, M.D.: Noble Pig Winery
Noble Pig Winery was founded in 2008 by winemaker Cathy Pollack and her physician spouse, Henry Pollack, M.D.. The couple spent most of their life in Southern California where Henry had a successful obstetrics and gynecoloogy practice until health problems cut his career short. They moved to Davis, California, where Cathy enrolled in the school's Viticulture and Enology Program. During her schooling, Dr. Pollack was diagnosed with Parkinson's Disease. The Pollacks found a home in the McMinnville AVA where they bought 88 acres and planted their first 4 acres of Pinot Noir in 2010 (Pommard, 777 and 115). They plan to source grapes initially and gradually increase production to 5,000 cases. The website is www.noblepigwinery.com.