Woodenhead: Real Wines Made with Dinosaur Methodology
My reverence for the wines of Burt Williams and Ed Selyem have led me to pursue many spinoffs started by those who worked at the original Williams Selyem winery, including Brogan Cellars, Cobb Wines, Papapietro Perry and WesMar, all of which have achieved distinction on their own with Pinot Noir. Woodenhead's Nikolai Stez owes his inspiration to Williams Selyem as well, having worked seventeen harvests as an assistant winemaker to Burt Williams and learned from the master.
Stez grew up in the Russian River Valley and was drawn to wine at an early age. He began making wine while still in college and obtained formal winemaking education through the Horticulture and Viticulture program at Santa Rosa Junior College and classes at University of California Davis extension.
With the sale of Williams Selyem Winery in 1997, Stez moved on and started his own label, Woodenhead. The name, "Woodenhead," was given to him by an old girlfriend who thought that he was very stubborn (which he is). His current domestic partner, Zina Bower, handles the marketing and business side of Woodenhead while working as business manager at Diamond Creek Vineyards in Napa Valley. The photo below shows Zina and Nikolai at the Pigs & Pinot event in Healdsburg at which their wine, the 2007 Woodenhead Buena Tierra Vineyard Original Planting Russian River Valley Pinot Noir, won the Pinot Cup over fifty other entrants.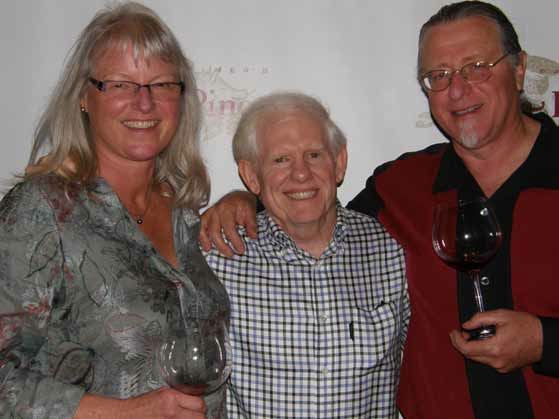 Woodenhead Pinot Noir is "Burgundian done in the California style." Winemaking is by gravity flow, hand punch downs are employed, a gentle basket press is used, and aging is extended in French oak barrels. Stez uses the fermenting containers crafted from stainless steel milk tanks like those originally employed at Williams Selyem. These bins have the perfect configuration for fermenting Pinot Noir. The photo below shows several of the fermenting bins on a pad at the Woodenhead winery.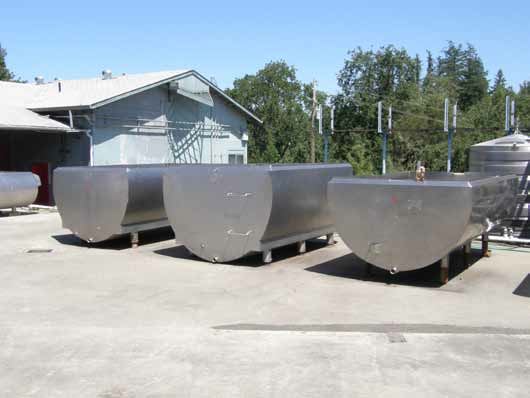 Stez employs inoculated yeast (Williams Selyem) and malolactic cultures, uses no enzymes, occasional acid adjustments, and very low sulfur levels. The Pinot Noirs are typically aged for 18 months and an additional 6 months in bottle before release. This explains why the wines reviewed below are from the 2009 and 2010 vintages. All wines are unfined and unfiltered.
Through his many years in the Russian River Valley, Stez has acquired a number of winegrower contacts and has been able to source fruit from some outstanding vineyards. When one looks back on the success of Williams Selyem, one key factor that stands out was the quality of vineyards from which the wines were made. You simply cannot make great wine unless you have exceptional grapes. The Woodenhead Pinot Noirs are proof of that tenant.
One of Stez's notable Russian River Valley vineyard sources is Buena Tierra Vineyard Original Plantings from which the the last vintage, 2010, will be released in the fall of 2013. The vineyard was originally planted in 1978 by Henry Trione and the grapes were initially sold to Korbel. Trione does not know what clone was planted, but the vines are upright growing, pinot droit in type. Currently owned and farmed by Joseph R, Miller, this vineyard is located 1.5 miles southeast of Rochioli Vineyard in the low hills of the Laguna Ridge where the Russian River turns to head west to the Pacific Ocean. The well-drained sandy clay loam soil, cooling morning and evening fog, and bright sunshine during the day is ideal for Pinot Noir and Chardonnay. The old diseased original vines were pulled out after the 2010 vintage and replaced with Dijon clone 943 to supplement the 115, 667 and Pommard clones that are also planted there.
Stez also sources Pinot Noir from Ritchie Vineyard, specifically 9 rows of Pommard clone planted 30 to 35 years ago known as the Cinder Cone Block adjacent the oldest and most famous Chardonnay vines in this venerable vineyard. Other vineyard sources have included Wiley Vineyard and Morning Dew Ranch in Anderson Valley, and Fruitland Ranch in Humboldt County.
The 2009 Woodenhead Buena Tierra Vineyard Original Planting won Best of Class at this year's Sonoma County Harvest Fair and the 2010 Woodenhead "Wet Kiss" Russian River Valley Pinot Noir won Double Gold in the 2013 San Francisco Chronicle Wine Competition.
The Woodenhead tasting room, previously voted Best in Sonoma County by readers of the Bohemian newspaper, is located at 5700 River Road in Santa Rosa. It is open Thursday through Monday from 10:30 to 4:30. The winery, located at the end of a winding road high above Westside Road, is not open to the public because of local laws. This is unfortunate, because it is a treasure trove of Williams Selyem memorabilia. Pictured below are a bottle of 1982 Pinot Noir sporting the original name of the Williams Selyem winery, Hacienda Del Rio, and photos of bottles of Hacienda Del Rio Pinot Noir and Zinfandel as well as an extensive collection of Williams Selyem wines adjacent Woodenhead library wines.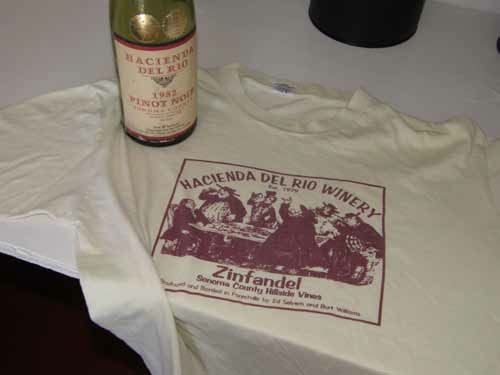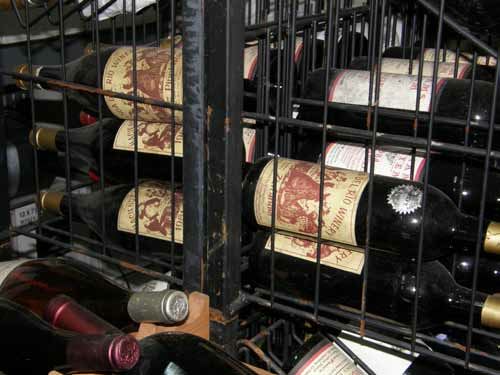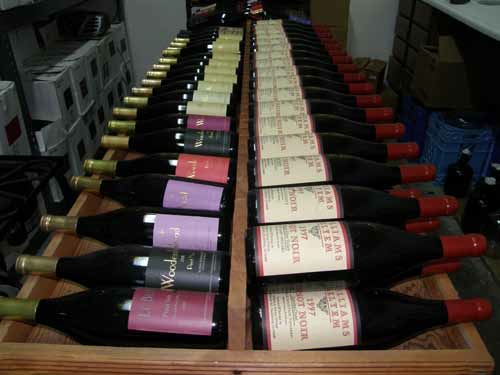 Woodenhead wines are sold through the website store at www.woodenheadwine.com. In addition to Pinot Noir, there are several Zinfandels offered as well as magnums of Zinfandel and Pinot Noir. A delightful refreshing white wine, a 2011 Russian River Valley French Colombard, is very unique and highly recommended at $20 (286 cases). Finally, a 2009 Méthode Champenoise Sparkling Wine from the Russian River Valley, also composed of French Colombard grapes, is a superb example of the genre ($46, 212 cases). Wine club members receive a 15% discount and 'Just In Case' Club members get a 20% discount on wine purchases. To read Stez's full disclosure on his winemaking philosophy and his so-called "dinosaur methodology," visit www.woodenheadwine.com/nicks-notes/.