Sojourn Cellars
"Life is but a sojourn. Enjoy the best of it."
Plato
Proprietors Craig and Ellen Haserot and proprietor and winemaker Erich Bradley produce small lots of handcrafted artisanal wines from exceptional vineyards throughout Sonoma and Napa counties. The pair met on the tennis courts of Sonoma and formed Sojourn Cellars in 2001, releasing their first Pinot Noir in 2004. The brand has been highly successful, earning considerable praise from the wine press (see "Sojourn Cellars: Pull Up a Lawn Chair," in the PinotFile, Volume 8, Issue 14, 2010). Today, they produce Pinot Noir, Chardonnay and Cabernet Sauvignon wines that are largely sold on allocation to mailing list members and a select group of restaurants and retailers.
Haserot is the exuberant one, the "face" of the winery, heading up sales and marketing (pictured below). Bradley, more reserved but with a charming smile, studied winemaking at University of California at Davis and Santa Rosa Junior College and was mentored by winemaker Dick Arrowood. He is also the owner and winemaker of Audelssa Estate Winery in Glen Ellen, a small producer of Bordeaux and Rhone inspired wines, where he has received well-deserved praise from Robert Parker ("Everything I have tasted has been enormously impressive"). The Sojourn wines are also crafted at Audellssa.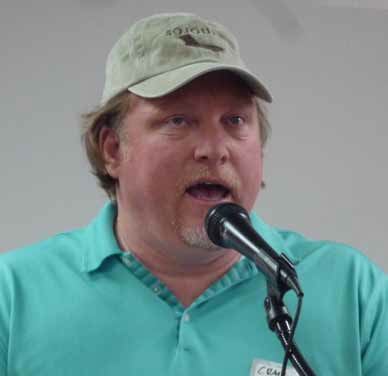 Winemaking is minimalistic using whole berry native fermentations in small open-top fermenters, with hand punch downs, basket pressing, and no pumping. The Pinot Noirs are unfined and unfiltered.
Personal tastings are available by appointment daily in downtown Sonoma at the Sojourn Cellars Tasting Salon. Visit the website for further information and to sign up for the mailing list: www.sojourncellars.com.
2011 was a very challenging vintage for vintners and I know in talking to many of them that they struggled to craft wines that were up to their usual standards. That makes all the following 2011 Sojourn Pinot Noirs all the more impressive, for the lineup is exceedingly impressive across every bottling. The wines are relatively light in weight, very approachable, with soft tannins and are surprisingly good. I have found few other wineries in California that have been able to equal the quality of the 2011 vintage wines reviewed here. My hat goes off to Erich and Craig. I wouldn't want to play these guys in tennis, because they are a talented and determined pair.