Hirsch Vineyards: Redemption after a Nightmarish Vintage
I last wrote about the seismic Pinots from Hirsch Vineyards in February 2012 when I reviewed the marvelous 2009 vintage wines. The 2010 vintage was an unprecedented challenge. David Hirsch notes on his website,"2010 was a creature unto itself, not comparable to other years in our experience."
The winter was rainy with moderate temperatures, beginning with heavy rains and winds from January 17 to 23. Total rainfall for the year was over 100 inches. This sounds like a lot, but heavy rainfall is customary for this outpost in Cazadero in the Fort Ross-Seaview AVA on the far west Sonoma Coast. What distinguished 2010 were the long periods of cool weather during the spring and summer, with overcast skies, fog and biting winds. The result was an uneven crop set and extensive millerandage ("hens and chicks") making farming for balance a challenge.
Two inches of rain preceded harvest. The pick began September 21, with sugars at 21.5º Brix and lower. After the first five days of harvest, the weather shot up into the 90 degree range and the remaining fruit became ripe all at once requiring a rush to pick the remaining 82 tons of fruit. The heat spike was followed by cooling and the balance of the harvest dragged on until October 12 when the last of the Chardonnay was picked. Hirsch described the final pick: "Tiny to large berries, green to plum colored skins, bunches with four berries to fruits with 400, tiny and tight packed bunches and large, gangly open bunches. You name it, 2010 produced it."
Surprisingly, the wines turned out to have balance, depth and expression of site with plenty of credit going to winemaker Ross Cobb and his crew. Most likely the maturity, soils, and topography were able to handle mother nature. I believe you will find plenty to like in the 2010 vintage wines reviewed below. 2011 turned out to be a much more welcome vintage with moderate weather throughout the growing season and verasion and Hirsch believes it produced some of the finest wines from this site to date.
Hirsch Vineyards wines are sold primarily through a mailing list and direct purchase on the website at www.hirschvineyards.com. Because of limited production in 2010, the special bottlings are allocated to mailing list members. The entry-level wine, "The Bohan-Dillon," and occasionally other releases, are available through retail distribution. East Ridge section of Hirsch Vineyards is shown in the photos below.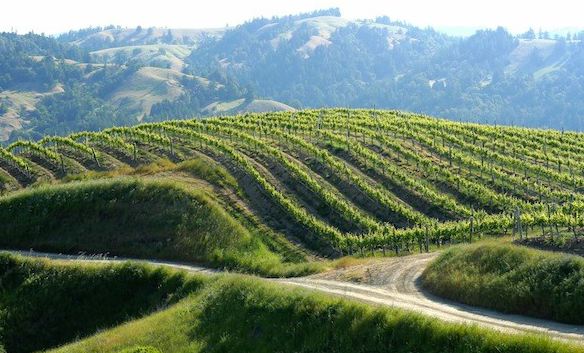 Visitors (up to six) are welcome by advance appointment for private tours with priority given to active members of the Hirsch mailing list. The vineyards are quite remote, about two to three hours from San Francisco and ninety minutes from Santa Rosa and Healdsburg. Private tastings are occasionally held in the Healdsburg area.