Anderson Valley Pinot Noir Festival
It is always a joy to attend the three day, annual Anderson Valley Pinot Noir Festival sponsored by the Anderson Valley Winegrowers Association. This year's 16th annual event was held on May 17-19, with the featured Grand Tasting in the big tent at Goldeneye Winery in Philo. There is something special about this sold-out event because of its casual, unpretentious, country fair feel, the cheerful welcome from the organizers and participants, and the superb, world-class Anderson Valley Pinot Noirs. Many wineries along Highway 128 had open houses with food, music and special Pinot Noir tastings on Sunday, May 19.
There were several new goings on in the Anderson Valley which on the surface never seems to change. A new winery, Angel Camp, had the grand opening of their private tasting room on the Festival weekend. Located 0.5 miles past Navarro's tasting room, they poured their inaugural Pinot Noir and Vin Gris of Pinot Noir. Baxter Winery had the grand opening of a new tasting room in downtown Philo. Black Kite Cellars offered a vertical tasting of Kite's Rest Pinot Noirs at their secluded vineyard near Philo on Sunday. Champ de Reves, located at the old Edmeades property, was open for the first time with a joyous open house. The Madrones, a property with accommodations and four separate tasting rooms (Drew, Bink, Knez and Signal Ridge), a curiosity shop, and a restaurant to be open soon, is located adjacent Goldeneye Winery and has been featured in a number of national magazines. A new wine room at the Boonville Hotel hosted Waits-Mast Family Cellars. Londer Vineyards had their last open house including a huge Pinot Festival wine sale. Maggy Hawk, one of my favorite Anderson Valley Pinot Noirs, finally has a website at www.maggyhawk.com. Get on the mailing list.
Hollywood descended on Anderson Valley in early April 2013, to film a movie called Need for Speed. A street racer who was framed by a wealthy business associate and sent to prison, joins a cross country race with revenge in his mind. The flick stars Dominic Cooper, Aaron Paul and Dakota Johnson. Ford Mustang is cast in a hero car role.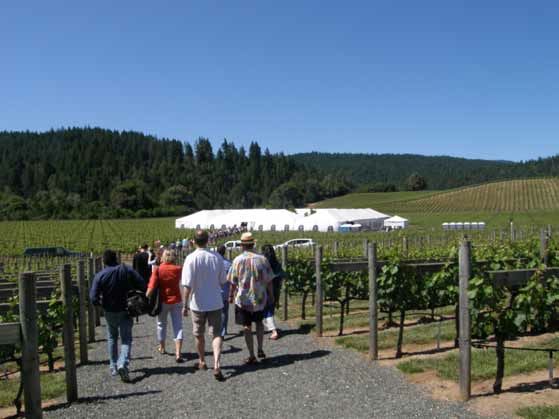 Almost all the 29 winery members of the Anderson Valley Winegrowers Association participated in Open House Sunday. Many members of the Anderson Valley Winegrowers Association and other wineries located outside the Valley but produce Anderson Valley Pinot Noir also participated, including Bruliam Wines, Cakebread Cellars, Copain Wines, Couloir Wines, Expression Vineyards, Frati Horn Wines, Fulcrum Wines, Ici/La-Bas, La Crema, Littorai Wines, MacPhail Family Wines, Maggy Hawk/Windracer, Onward Wines, Saintsbury, Twomey Cellars, Waits-Mast Family Cellars, Williams Selyem, and Witching Stick.
Excerpts from the Technical Conference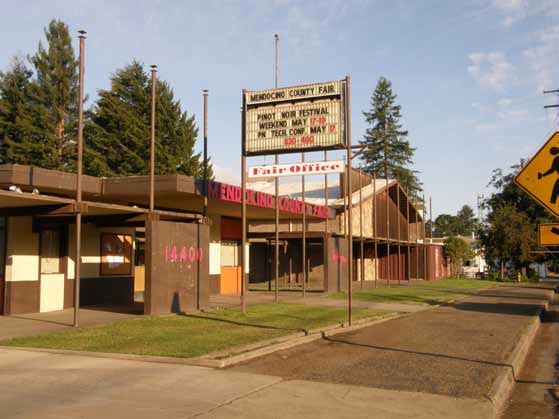 Glenn McGourty, viticulture and plant science adviser for UCCE Davis gave a report on the state of Pinot Noir and viticulture in Mendocino County. He noted that planting of new Pinot Noir vineyards had slowed possibly due to tight availability of vines from nurseries. His talk is summarized in the following slides.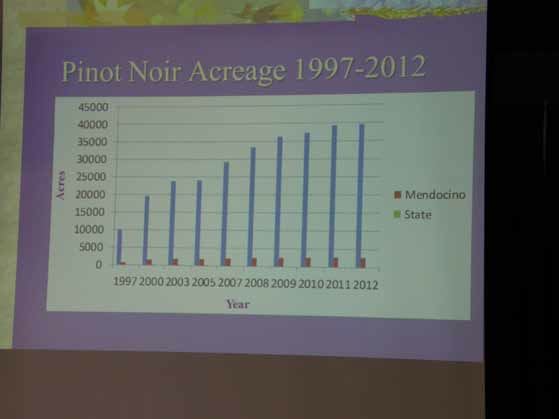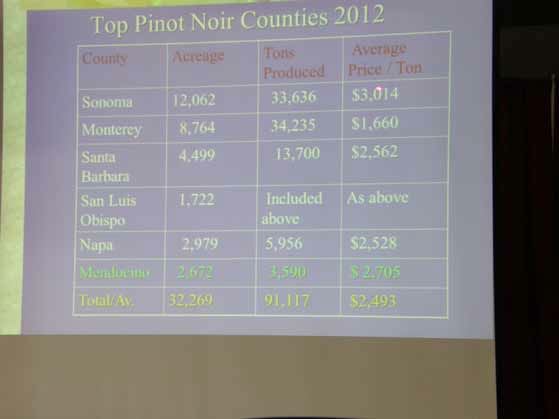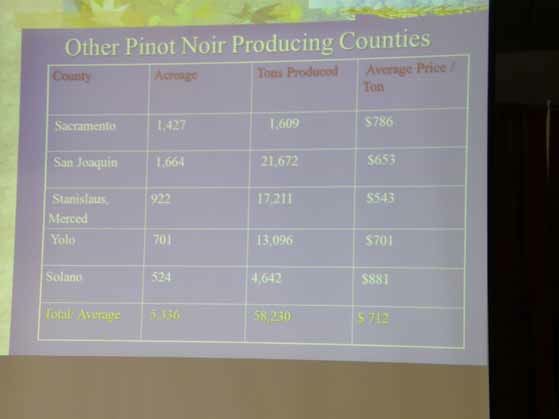 The high production tonnage in the San Joaquin Valley is due to cropping Pinot Noir at a very high 10 tons per acre.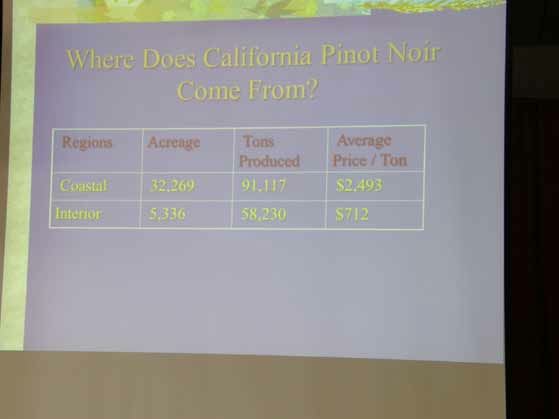 A tasting of the latest fad in Pinot Noir, Pinot Noir Blanc, featured wines from Angle Camp Vineyard, Balo Vineyards, and Alta Winery in Napa. Pinot Noir Blanc is a white wine made from Pinot Noir by pressing the grapes after harvest but avoiding significant skin contact with the juice. The pulp and juice of the Pinot Noir grape are clear (white) and the resulting wine is the essence of Pinot Noir grape juice. The wine is white gold or golden copper in color and can be lean and crisp or full bodied and highly flavorful, depending on how the juice is handled. In either case, Pinot Noir Blanc features primarily white wine flavors: Pinot Noir without the Noir. It is a curiosity that may reach a niche market, but its biggest drawback is the expense of Pinot Noir grapes required to produce it, making it a rather expensive white wine. Some would criticize it as a bastardization of Pinot Noir.
Mel Knox, a thirty-year veteran of the oak barrel trade and a long time broker for Tonnellerie Francois Frères and Tonnellierie Taransaud, spoke about barrel selection for Pinot Noir. For many years, he has sourced fruit from Anderson Valley for his own Pinot Noir label, Ici-la Bas, produced with Jim Clendenen of Au Bon Climat. He presented a Pinot Noir from Molnar aged in Hungarian tight grain, high toast oak. Four different wines were compared with oak of different seasoning air dry periods: (1) 12 months, (2) 18 months, (3) 24 months, and (4) 30 months. The conclusions were that more nuance and better integration of oak occurred as the interval of seasoning increased. Also, less toast, less vanilla and better phenolics were observed with more seasoning. In summary, Pinot Noir seems most amendable to more lengthy seasoned oak.
I presented a talk on Pinot Noir Suitcase Clone "828" and revealed the intriguing story behind this mislabeled clone. This story was published previously in the PinotFile at www.princeofpinot.com/article/1268/.
The afternoon session began with a perspective tasting of diverse Pinot Noirs from the Anderson Valley. Three wines were presented but this really turned out to be more a demonstration of differences in winemaking style than in Anderson Valley diversity. (1) 2010 Baxter Valenti Vineyard Mendocino Ridge Pinot Noir: This vineyard overlaps the Mendocino Ridge and Anderson Valley AVAs at 1200 to 1600 feet elevation about 4.5 miles from the Pacific Ocean. 30% whole cluster. Aged 22 months in100% neutral oak barrels. A rather austere wine featuring delicate red fruit flavors and lively acidity. (2) 2010 Knez Cerise Vineyard Anderson Valley Pinot Noir: This vineyard sits at 550 to 1150 feet elevation and has three different soil profiles. Made with 50% whole cluster, native yeast, 33% new French oak, unfined and unfiltered. Tasteful core of sweet fruit and noticeable length and intensity on the finish. A terrific wine. (3) 2010 Goldeneye Gowen Creek Vineyard Anderson Valley Pinot Noir: This vineyard is located on the Anderson Valley floor along Highway 128. Brix at harvest 25º. 70% Mount Eden, 30% 777. Aged 16 months in 70% new French oak barrels. Rich, sappy and very fruit forward with firm tannic structure and oak influence.
The final presentation was a Wiley Vineyard Focus Tasting Panel with Brad Wiley, owner of Wiley Vineyards. His family started the publishing company, John Wiley & Sons, and he still devotes time to that company. The iconic 25-acre Wiley Vineyard was first planted in 1972, making it one of the earliest vineyard plantings in the Anderson Valley. It is located on a ridge top above the fog line at the extreme northern end of the Anderson Valley, and is one of the most westerly vineyards in the Anderson Valley, only ten miles inland from the coast. Note location on the map below. Wiley owns a total of nearly 200 acres of conifer forest and fruit trees here.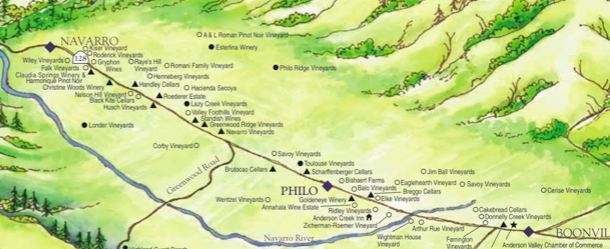 The area has a history dating to 1871 when the first homesteader planted apples, prunes, pears and oats to feed horses on the site. It was farmed until 1930 and laid fallow until 1970 when Wiley arrived and acquired the land which was then affordable. The land was ripped in 1971 and planted the following year. Wiley followed the plantings at Edmeades and Husch and preceded the vineyards at Lazy Creek and Navarro Vineyards.
The site has a very long growing season with bud break in early April or sooner and harvest October 20 or even later. The vineyard is exposed to less diurnal fluctuation than Boonville to the South and is typically eight degrees cooler. Soils are sandy loam with some clay. Yields per acre are very limited, but even in cool years, the fruit achieves ripeness.
Planting began with the Stony Hill clone of Chardonnay but the grapes would not ripen (he sold them to Schramsberg for sparkling wine) and the vines were afflicted with leaf roll within five years. Productivity was very low. Riesling was added in 1976 and all vines were on their own roots until Pinot Noir (Pommard 5 from Erath in Oregon and David Bruce clone) was added in 1982. In 1997, Dijon clones and 538, a Colmar clone brought to the United States originally by Gloria Ferrer, were planted. More Pinot Noir was added in 2000 bringing the total to 20 acres. There are also 2 acres of Pinot Gris.
Wiley has sold grapes to Breggo, Drew, Harrington, Phillips Hill, Schramsberg, and Woodenhead. The Anderson Valley Wiley Vineyard should not be confused with the 123-acre Wiley Vineyard in the Arroyo Seco region of Monterey.
A 2012 Witching Stick Wiley Vineyard Pinot Noir was presented by Witching Stick winemaker Van Williamson. The 2012 vintage was unusual in that yields were an unprecedented 3.5 tons per acre. The fruit picked for this bottling was quite ripe in character and the resulting wine was inky in color, featuring blue and black fruits including boysenberry, and the wine was a tad hot on the finish. The usual fruit profile from this vineyard is red fruits, roses, velvets and spice.
Trade Tasting of Anderson Valley Pinot Noir
Twenty-five wineries presented one wine for a tasting by the trade and press which I attended. One interesting note came out of this tasting and was first proposed to me by sommelier Chris Sawyer. He has noted the herb pennyroyal, which grows wild in the Anderson Valley, in the aromatic profile of some Anderson Valley Pinot Noirs, particular those from Black Kite Vineyard. James MacPhail has found notes of pennyroyal in his Toulouse Vineyard Anderson Valley Pinot Noir. Pennyroyal (Mentha pulegium), also called squaw mint, mosquito plant and pudding grass, is a flowering herb that has a strong aroma similar to spearmint. Pennyroyal oil is toxic to both humans and animals, but the dried herb is used for medicinal purposes. The Greeks and Romans used pennyroyal to flavor their drinks, particularly wine.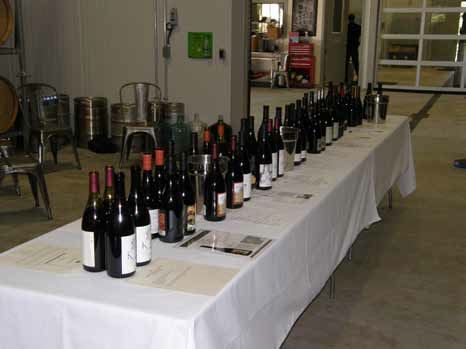 Many of the wines offered were from the 2010 vintage, featuring one of the coldest summers on record in the past forty years. The result was slow ripening and extended hang time. Grapes brought in before the October rains were often fully mature and balanced. 2011 was one of the coldest and wettest vintages in memory. Wet winter and spring weather disrupted bud break, bloom and fruit set. The cool summer growing season culminated in a prolonged and occasionally wet harvest.
2011 Angel Camp Anderson Valley Pinot Noir
13.4% alc., 250 cases, $52. Released June 1, 2013. Angel Camp is a 12-acre vineyard located in the Deep End of the Anderson Valley nestled between the Navarro River and Highway 128. Planted in 2006 to 9 different clones. 5 clones in this wine: 777, David Bruce, Martini, Pommard and Swan. Winemaker Jon Keyes. 100% de-stemmed, 5-day cold soak, native yeast fermentation, natural malolactic fermentation, aged in 40% new French oak barrels. Unfined and unfiltered. · Moderate light reddish-purple color and slight haze (unfiltered) in the glass. Aromas of oak, sandalwood and baking spices. Vivid cherry and red plum flavors with a heavy tug of oak, and a refreshing finish with a good cut of acidity. A little flat and should benefit from another 6-12 months in bottle. Good.
2011 Balo Vineyards Estate Anderson Valley Pinot Noir
13.1% alc., pH 3.52, TA 0.57, 211 cases, $40. Released May 1, 2013. Vinified by winemaker Jason Drew. Clones are 777, 828, 115, Pommard and Martini. Aged 15 months in 30% new French oak. · Light reddish-purple color in the glass. Delicate aromas and flavors of red fruits and herbs with a note of Asian 5-spice. Nicely integrated oak and soft on the palate. Highly approachable. Good (+).
2011 Cakebread Cellars Anderson Valley Pinot Noir
14.4% alc., pH 3.67, TA 0.58, $49.50. Released October 1, 2012. Winemaker Julianne Laks. Each clone fermented separately. Post-fermentation maceration for several weeks. Aged 11 months in 37% new French oak barrels. · Moderate reddish-purple color in the glass. This wine is true to the Cakebread Pinot Noir style exhibiting prominent oak on the nose and palate. Middleweight flavors of black raspberries and black cherries clothed in modest tannins and toasty oak, finishing with some length. The fruit is quite alluring, but I just can!t get beyond the oak. Worth revisiting in a year. Decent.
Note: In 2001, Cakebread developed what is now a 46-acre Pinot Noir vineyard in Anderson Valley known today as Apple Barn. It is planted to six clones of Pinot Noir. In 2011, Cakebread acquired Annahala Vineyard, just a half-mile west of Apple Barn. Annahala contains 60 acres and 8 clones of Pinot Noir. Soon, Cakebread will be offering three Anderson Valley Pinot Noirs, one from each of the Anderson Valley vineyards and a blend of fruit from the two.
2010 Claudia Springs Klindt Vineyard Anderson Valley Pinot Noir
13.9% alc., pH 3.70, TA 0.61, 220 cases, $32. Released May 2012. Pommard 4 and 5, 113, 115, 777 and 667. 10% whole cluster. Native yeast fermentation and natural malolactic fermentation. Aged 7 months in French oak barrels after blending. · Medium reddish-purple color in the glass. A very appealing wine with bright aromas of cherries, strawberries, rose petals, spice and sandalwood. Mid weight flavors of cherries, baking spices and savory herbs, finishing long and generous. Very well crafted and beautifully balanced. Very good (+).
Note: Sadly, Claudia Springs Winery, founded in 1989 by Bob and Claudia Klindt, has ceased operations and the Klindt Vineyard has been sold. The Klindts plan to move to Lake County, but Bob will continue to do some consulting winemaking. I would buy any of these very good value priced Claudia Springs wines while you can.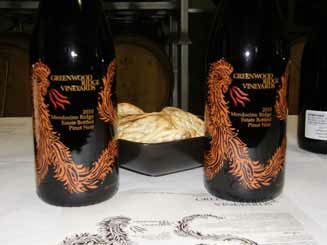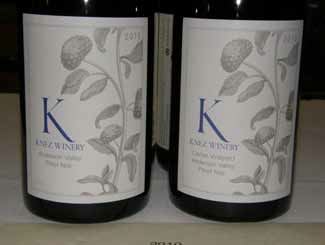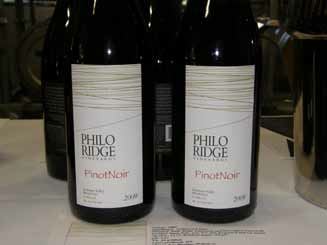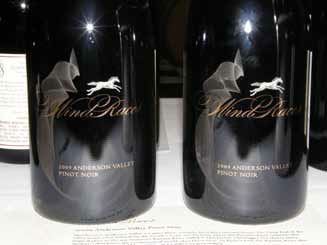 Lodging is always a challenge in the Anderson Valley but there are some new appealing possibilities. I have already mentioned the Madrones. In nearby Yorkville Highlands, there is the Ravenridge, two fully appointed rustic cottages, one of which comfortably accommodates four adults and the other one couple. Visit www.ravenridgecottages.com. Stony Bottom Gardens came highly recommended to me by friends. The beautifully landscaped property of 5! acres of English-style gardens is within walking distance of the town of Boonville. Three deluxe accommodations are offered: the Suite, the Cottage and the Annex. Ginger and Walt Valen are your hosts. 707-895-9424.