Kosta Browne Proud of New Digs
Kosta Browne has a sparkling new state-of-the-art winery in the Barlow complex in downtown Sebastopol. Construction was largely completed in the fall of 2012 allowing the 2011 wines to be bottled there, but 2012 is the first vintage produced entirely within the facility. Kosta Browne becomes the first bonded winery within the city limits of Sebastopol.
The former Barlow Apple Factory (the Barlow family started the first commercial applesauce business in the United States before going out of business in 2004) has been reinvented to showcase both production and retail for artisan producers and is the first of its kind in the country. It will allow an environment where a concentrated number of artists, craftspeople, food and wine artisans and consumers can connect and socialize. The 220,000-square-foot Barlow complex will have parks, gardens, an event center, bocce ball courts, children's play areas and the Sebastopol farmer's market.
The new project is very tastefully designed with buildings constructed with corrugated metal to duplicate in a modern fashion the look of the historic apple processing plant. The remaining corrugated-metal structures on the property were sandblasted to remove old paint. The exterior of Kosta Browne winery is shown below.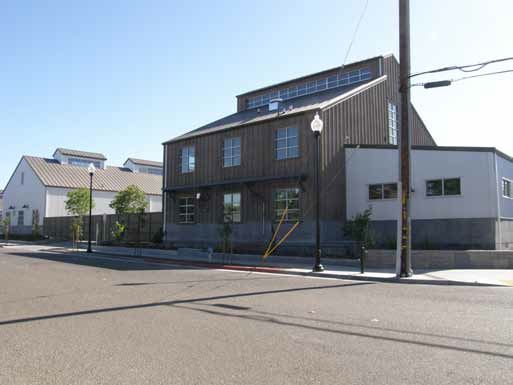 Michael Browne said, "If you had asked Dan Kosta, Chris Costello and me if this day would ever be a reality when we started this brand in 1997, I would have said you are dreaming." The family of co-founder Chris Costello has had a presence in the Sebastopol area since the 1880s. Dan Kosta grew up in Sonoma County and was immediately drawn to the impact this project had on changing the Sebastopol downtown landscape.
I recently met with Tony Lombardi, Kosta Browne's Public Relations Director, and we took a tour of the new 45,000-square foot winery. There were still workers evident putting on the finishing touches, but the facility is essential complete. Beyond the wine production area are rooms for hosting small dinner events that include a professional kitchen, and a large central inner court complete with a fireplace for larger festivities. These features are especially appealing since Kosta Browne's previous winery was in a warehouse and never had an appropriate area to receive customers and hold events. In addition, Kosta Browne now has a large room to display their collection of large format bottles which are never sold, and only donated to various charities. A custom programmable sound system controlled by iPhone is evident throughout the facility adding to the ambiance.
Kosta Brown produced about 14,000 cases of wine last year, including Pinot Noir and Chardonnay, and plans to increase production about 20 percent during the next five years. The wines are sold exclusively through a mailing list, which now reportedly has 15,000 names on the waiting list. Wines are offered twice a year (spring and fall) and there is a 2-3 year wait for a spring allocation of appellation wines and a 5-6 year wait for a fall allocation of single vineyard designate wines. Grapes are sourced from the Russian River Valley, Sonoma Coast and Santa Lucia Highlands appellations. All appellation wines are $58 and single vineyard designates $78.
The new winery does not have a public tasting room and is open only to mailing list members by appointment. Michael does get a gleam in his eye about an unfinished room in the complex which could be a tasting room at some point in the future, but he is more interested in converting it into a "man cave" complete with trophy animal heads and a bar where friends of the winery can hang out.
Photos of the winery production area and courtyard entrance follow. As you can see, there is plenty of room.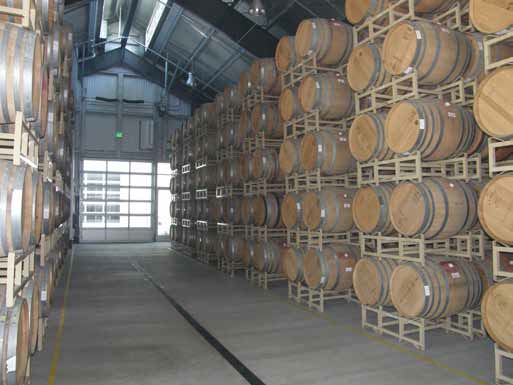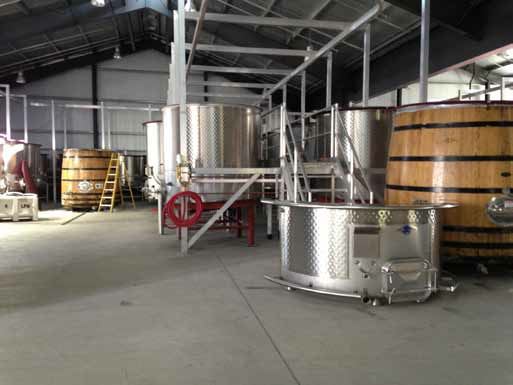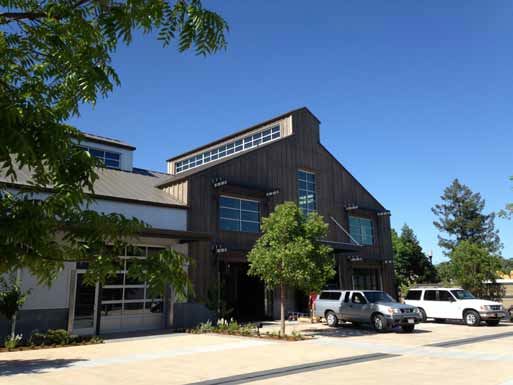 I recently tasted through the 2011 vintage of Kosta Browne wines and the reviews follow. All vineyarddesignate Pinot Noirs receive a 5-day cold soak, 9-11 day fermentation time in 1 and 5-ton open tops and 5-ton wooden open top tanks, 1-2 punch downs per day, with a small amount of whole cluster wine added in.
As Kenny Powers would say, "Kosta Browne wines kicked ass in 2011." The wines are very approachable now with marvelous fruit flavors, yet slightly more modest extraction in this vintage, with reserved tannins and good tension. The vintage allowed for terroir to really express itself in the wines. Significant oak never really comes to mind in these wines. My only nit would be that a sense of heat comes out on the finish of some of the wines as they war in the glass.
I asked Michael Browne his thoughts on the 2011 vintage wines. He said the following. "The vintage started a bit rocky with the cold weather and set. Crops were way down from average due to the weather. The growing season was unusually cool although not that dramatic. The vines did not need a great amount of work because of the slow growing season although we were concerned with microbial issues. Without the usual warmth during the maturation season, we had to wait quite a bit longer than usual. What developed was the the grapes ripened well while the sugars were holding so that precise and delicate flavors developed with a good amount of energy, aromatics and flavors. The wines are very elegant, precise and focused. They are more delicate than what we usually produce but they are a detailed imprint from Mother Nature."
Kosta Browne will be participating in the 9th Annual Pinot Family Reunion, June 23, at the Vintner's Inn Event Center and John Ash & Co. Restaurant in Santa Rosa. The event will benefit the Sutter Bay Women's Breast Care Center. For information, visit www.vintnersinn.com. Kosta Browne will also be pouring at Pinot Days San Francisco, June 30, at Fort Mason. For details of this event, visit www.pinotdays.com.