Summer Wine Reading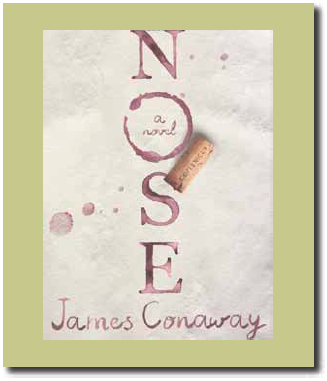 There are many new releases about wine that beckon you to hunker down with a good bottle of Pinot Noir and read about your wine passion.
Nose: A Novel James Conaway, Thomas Dunne Books, 336 pp, hardcover. Although this novel centers around the evil weed, Cabernet Sauvignon, and that other wine region east of Sonoma County, it is a wellreviewed mystery that is fast paced and written by someone who knows wine (Conaway also wrote Napa: The Story of an American Eden).
Gracianna Trini Amador, Greenleaf Book Group Press, 277 pp, softcover (July 2013 release). Novelist and founding partner with his wife and children of Gracianna Winery in the Russian River Valley, Trini Amador, writes a novel inspired by true events about his great-grandmother, Gracianna Lasaga, and her journey to American set against the backdrop of Nazi occupied France. This is the story behind the Gracianna label, the French Basque woman whose legacy is kept alive through Gracianna wine.
Into Wine: An Invitation to Pleasure Olivier Magny, Gourmand Horizons, 220 pp, softcover. Magny is the founder of France's top wine school. This is a book of learning and inspiration, humorous and engaging, teaching the reader about wine and many things that you never knew were connected.
The Road to Burgundy: The Unlikely Story of an American Making Wine and A New Life in France Ray Walker, Gotham, 320 pp, hardcover (July 2013 Release). I can say I knew Ray Walker before he quite his job and moved to Burgundy to start a winery despite having little money, very little command of the French language, and virtually no winemaking experience. This is a glorious tail of someone determined to find their true path in life.
Still more reads: The New Wine Country Cookbook: Recipes from California's Central Coast; Inventing Wine: A New History of One of the World's Most Ancient Pleasures; Summer in Napa: A St. Helena Vineyard Novel; Must. Have. Wine. A Toast to Motherhood; Monty Waldin's Best Biodynamic Wines; Taste Buds and Molecules: The Art and Science of Food, Wine and Flavor; Questions of Taste; The Wine Forger's Handbook; and American Wine: The Ultimate Companion to the Wines and Wineries of the United States; Divine vintage: Following the Wine Trail from Genesis to the Modern Age; Celebrity Vineyards: From Napa to Tuscany in Search of Great Wine; The Juice: Vinous Veritas; The Barefoot Spirit: How Harship, Hustle, and Heart Built America's #1 Wine Brand.