Wild Horse Valley
Wild Horse Valley is Napa Valley's smallest sub-appellation at 3,300 acres. Only six miles due east of downtown Napa, this mountainous region rises to 1,500 ft in some parts. The area is exposed to chilly winds from San Pablo Bay and is cooler than Carneros to the west and south and is the chilliest AVA in Napa Valley. Leslie Carneros, winemaker for Arista, has called it the "Siberia of Napa Valley."
A limited amount of grape farming has been carried out here since the 1800s but the rough terrain limits the amount of plantable land. The rocky, volcanic soils and maritime climate make it ideal for growing Pinot Noir and Chardonnay. Durinal temperature swings can often reach 40°F. The growing season is extended often into November and the region is among the last picked in the Napa Valley.
There are three main vineyards in Wild Horse Valley (no wineries): Wild Horse Vineyard, Birkmyer Vineyard, now named Nicols Vineyard (20 acres), and Heron Lake Vineyard (14 acres). The fruit has been highly prized and sourced by multiple wineries including Harrington, Elyse, Newton, Arista, Purple Wine Co., and Marguerite Ryan (see below). The Pinot Noir fruit is said to be intensely flavored with attractive floral aromas.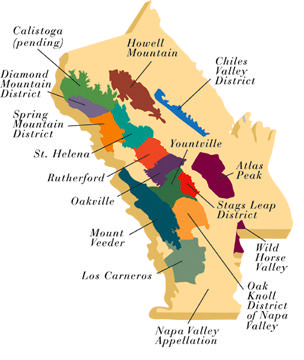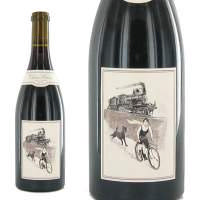 2005 Heron Lake Winery Miss Olivia Brion Wild Horse Valley Pinot Noir
13.8% alc., 400 cases, $40. David Mahaffey planted Heron Lake Vineyard in 1980 at 1,400 ft. A boutique grower and producer of Pinot Noir and Chardonnay, along with vineyard manager John Newmeyer, he has made about 600 cases a year since 1985. His current 14-acre vineyard (downsized from the original 24 acres after unsuitable sites were pulled out) is planted to Dijon and Pommard clones. The label says this wine is a homage to Olivia Brion, suffragette and descendent of a great French wine family. In 1905 she won a huge wager by outrunning a locomotive. Later in life she ignited a furor by publishing passionate letters from her many paramours including Warren Harding and Paul Gauguin. · Very attractive violets, strawberries and cherries on the nose. Black raspberry flavors and a woody and rustic bent, leading to a dry finish with lively acidity. Good without being special.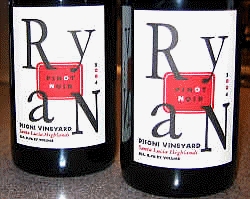 2004 Marguerite Ryan Cellars Birkmyer Vineyard Wild Horse Valley
14.9% alc., 52 cases, $40. Marguerite ("Peggy") Ryan is one of many illustrious winemakers trained by Warren Winierski at Stag's Leap Wine Cellars. She is a law school graduate who moved to California, enrolled in enology classes and began her career at Stag's Leap as a lab technician. She started her own label in 1996 releasing 70 cases of Pinot Noir and has subsequently sourced grapes from several prestigious vineyards like Pisoni and Garys' in Santa Lucia Highlands. · Dark purple in color, this beauty starts off with gorgeous black cherry fruit and floral scents. Prodigious black cherry and black raspberry fruit nicely spiced. Mouth-coating, almost syrupy texture. A tiny bit of heat peaks out on the finish. This is an opulent wine that is fat on the palate and demands contemplation. Drink now.
2004 Marguerite Ryan Cellars Peay Vineyard Sonoma Coast Pinot Noir
14.9% alcohol, 71 cases, · Dark fruits and a forest floor earthiness dominate the aromas and are echoed in the flavors. The high alcohol creates a rich mouth feel and the heat is only slightly noticeable. This Pinot is light on its feet with gossamer tannins and will provide good drinking in the near term.
Heron Lake Winery address is 4626 Green Valley Rd, Napa. The phone is 415-710-3632. There is some retail distribution.
Marguerite Ryan Cellars address is 1344 Oak St., Napa. The phone is 707-254-7957. Distributed through limited retail channels.