Hanzell: Still Quality, Character and Reverence After 50 Years
"Into every bottle of wine made by a vintner of the old school went a little bit of himself. Old time wine drinkers believed that the quality of a man's wine depended on his own quality and character. To gain lasting fame as a winegrower, a vintner had to be a poet, a philosopher and an honorable man as well as a master craftsman."
The quote above came to me in a packet recently from Hanzell and although there was no attribution, it was clear that this was a reference to the long time Winemaker, now Winemaker Emeritus at Hanzell, Bob Sessions. Sessions was born in Southern California and was first introduced to the world of fine wine while a student studying English literature at University of California at Berkeley. A summer motor scooter trip with a close friend through France opened his eyes to the profession of winemaking, fine wine, and fine dining. Seven years after graduating from Cal, Sessions took a position as manager and winemaker at Mayacamas Vineyards located at the top of Mount Veeder. It was during his time at Mayacamas that Sessions first met a co-worker, Bradford (Brad) Webb, who became the founding winemaker at Hanzell Vineyards. Sessions is credited with producing renown Cabernet Sauvignons at Mayacamas Vineyards from 1968 to 1971.
In early 1972, Sessions left Mayacamas Vineyards to become the production manager at Souverain Cellars in Rutherford (now the site of Rutherford Hill Winery). It was at Souverain that he gained a preference for small, family operated wineries. While assisting Warren Winiarski with the opening of Stag's Leap Wine Cellars, Sessions was approached by Brad Webb to interview for the position of winemaker and general manager of Hanzell Vineyards. He welcomed the opportunity and assumed the role of Winemaker and General Manager of Hanzell Vineyards in 1973.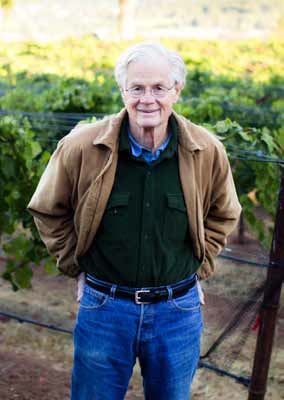 Sessions was the winemaker at Hanzell Vineyards for nearly 30 years. "Such long continuity is one of the things that make us different from other wineries," he says. "We inherited a standard of ingrained quality and commitment to maintain not just the special taste and smell of the wines, but the breadth, depth and length of the overall quality." Current proprietor, Alexander de Brye, has worked closely with Sessions since acquiring the winery in 1975 to maintain the standards that were established decades ago by the winery's founder, Ambassador Zellerbach. Zellerbach, who planted the first vines at Hanzell in 1953 (old Wente clone Chardonnay and Martin Ray Pinot Noir), had the foresight to commit to Chardonnay and Pinot Noir at a time in California when very few wineries were producing wines from these two varieties.
In 2002, Sessions retired and assumed the role of Winemaker Emeritus, passing on his knowledge and experience to the winemakers that have followed, including current Winemaker Michael McNeill, only the fifth winemaker in the estate's history.
Sessions maintained the "Hanzell house style" developed by Brad Webb, and never succumbed to the oaky, buttery style of California Chardonnay, or the highly extracted, ripe and fruit driven style of California Pinot Noir, both of which became so popular over the last twenty years. The "Hanzell way" emphasis restraint, nuance, food compatibility, and above all, age ability. The wines speak of the unique terroir of the Hanzell hillside estate, blessed with a concentration of Red Hill volcanic soil rarely founded in Sonoma County, and cooling maritime winds from the Petaluma gap. At Hanzell Vineyards, the emphasis is on the vineyard and not the winemaker who is but a shepherd of the Hanzell tradition. The current winemaker, Michael McNeill, told me, "I don't want my fingerprints on the wines."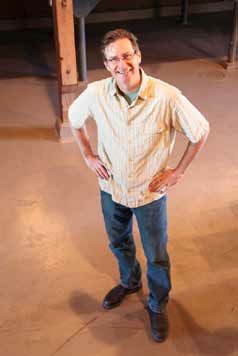 Sessions had a steadfast commitment to St. George rootstock and this has kept the estate safe from phylloxera. His belief in rigorous pruning vine by vine kept the quality of fruit at a high level on the estate. His ability to create wines that could be cellared for decades is rare. The most notable milestones for Bob Sessions are listed below.
1973: He becomes only the third winemaker in Hanzell Vineyards' history.
1976: Sessions plants five acres of the de Brye Vineyard to Cabernet Sauvignon, Merlot, Cabernet Franc, Petite Verdot and Malbec. The remaining eight acres are planted to Old Wente Chardonnay clone on St. George rootstock and Mt. Eden clone Pinot Noir on St. George rootstock.
1983: He installs drip irrigation in every vineyard, recognizing that drought was inevitable. Visionary in his field, the drip system did not need to be used until 1996.
1974: Sessions begins experimenting with whole cluster fermentations for Pinot Noir. Abandoned for a time in the 1990s, McNeill has recently put it back in use after reflecting on the age ability of the older Pinot Noirs.
1993: Sessions grafts over the five acres of Bordeaux varieties in the de Brye Vineyard to Chardonnay and Pinot Noir.
1997: An additional eleven acres of vineyard was chosen, designed and installed by 2002 on the 200-acre estate.
1999: Sessions research led him to design a special 4.5-acre plot on the estate with eleven different rootstocks and clone combinations of Pinot Noir. Proprietor Alexander de Brye named the newly planted Pinot Noir block in Sessions' honor.
2002: Sessions is named Winemaker Emeritus in January. A new winery development breaks ground. Sessions and Hanzell President Jean Arnold are married on October 19.
2004: Completed winery has eighteen custom made one-ton fermentation tanks and 500 linear feet of cave. The new "tankitos" replicate the quality and style of the original 1950s tanks designed by Ambassador Zellerbach.
2005: After 28 years, Sessions hands off his winemaking duties to Michael Terrien.
2008: Sessions oversees the planting of five acres of Chardonnay in the Zellerbach Vineyard that is named in honor of the original founder. McNeill joins the winery as winemaker.
2013: 2010 Hanzell Pinot Noir, Sessions Vineyard is released, celebrating Sessions' 40th year with the estate, the first in a series of estate vineyard selections.
The 200-acre Hanzell Vineyards property in Sonoma Valley includes 46 planted acres divided into six vineyards, and is home to the Ambassador's 1953 Vineyard, the oldest continuously producing Chardonnay and Pinot Noir vines in North America (pictured below overlooking the town of Sonoma).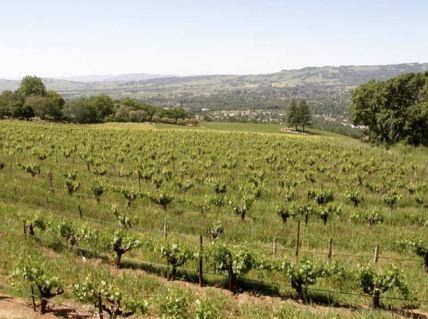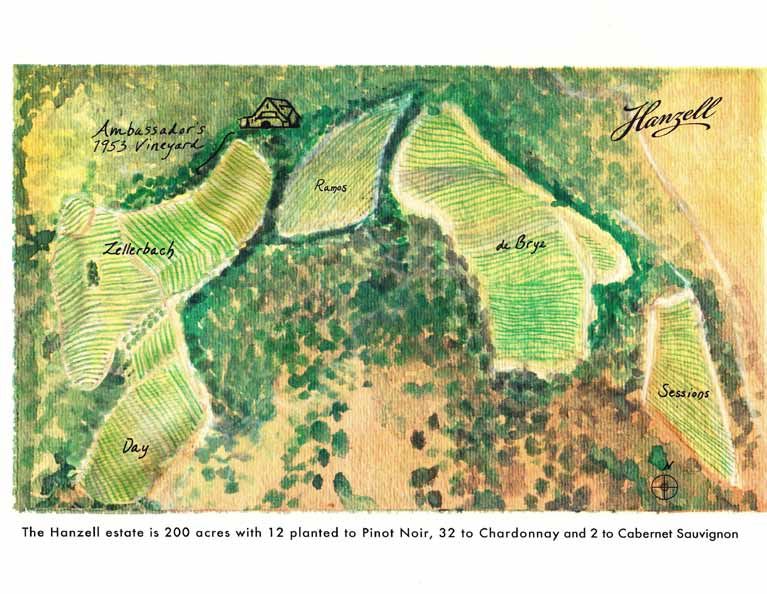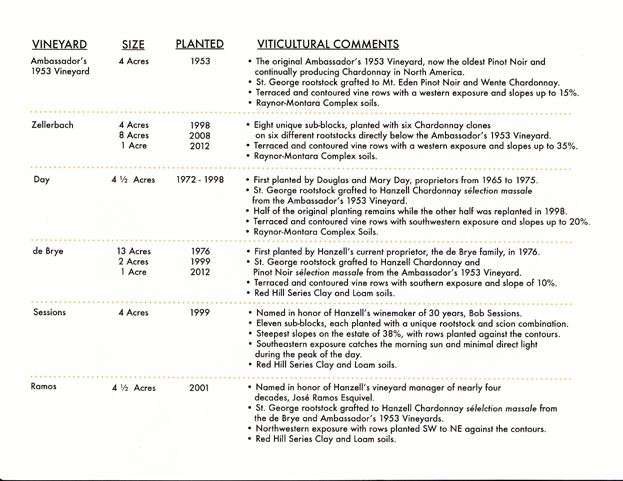 Hanzell Vineyards producing 6,000 cases annually, three-quarters of which is Chardonnay and one-quarter of which is Pinot Noir. All wines have been estate grown and produced since 1960. As dictated by tradition and the house style, the Hanzell wines have always been aged in Sirugue barrels, 50% new in the case of Pinot Noir and about 33% new for Chardonnay. The Sirugue barrels produced pure fruit expressions with smoky vanillin and fresh-baked bread aromas, and highlight tropical and lemon components. For Pinot Noir, the Sirugue barrels add finesse and subtle aromatics of exotic spices and roasted herbs. Beginning with the 2011 vintage, Hanzell is now working with seven different cooperages but is not planning to chance the overall style of the oak program.
Hanzell Vineyards Chardonnay winemaking goes on as follows. The grapes are hand harvested in the cool of the morning. They are promptly brought to the winery and sorted again. Tradition dictates limited skin contact, carefully controlled inoculated fermentations, and a moderate use of new French oak. The 2010 estate Chardonnay was 30% barrel fermented, spending 12 months in 30% new French oak barrels and 6 months in bottle before release. Hanzell Vineyards "Sebella" Chardonnay is 100% stainless steel fermented and finished and aged 6 months in one to four-year-old French oak barrels.
Hanzell Vineyards Pinot Noir winemaking goes on as follows. The grapes are 100% de-stemmed, cold soaked for 5 to 7 days in one-ton fermenters, inoculated to start fermentation, punched down by hand, and kept in contact with the skins for two weeks following fermentation. Clone and rootstock combinations as well as vineyard blocks are vinified separately until blending decisions are made shortly before bottling. Total élévage in the 2010 vintage was 18 months in 50% new French oak barrels.
The 2010 Hanzell Sessions Vineyard Pinot Noir was introduced in March 2013, celebrating Winemaker Emeritus Bob Sessions. Only 99 cases of this new single vineyard selection were produced. President Jean Arnold Sessions remarked, "Proprietor Alexander de Brye felt the last block of Pinot Noir planted at the estate should bear Bob's name and we are thrilled to mark Bob's 40th year with the winery with this special release."
The four and one half-acre Sessions Vineyard, planted in 1999, is considered the pinnacle and most difficult of vineyard plantings that Sessions created in his career. The numerous rocks, the drainage and the extreme slope were all tremendous challenges in planting this vineyard. Composed of Red Hill Series clay and loam soils, the vineyard rows are planted vertically against the contours of the 38-degree slope. Eleven sub-blocks feature unique Pinot Noir rootstock and scion combinations (seven clones and four different rootstocks) and the southeastern exposure catches the morning sunlight yet shields the vines from direct light during the peak of the day.
Sessions Vineyard photos follow (top to bottom: view of Sessions Vineyard from the top, Sessions Vineyard Pinot Noir, and Sessions Vineyard Cluster).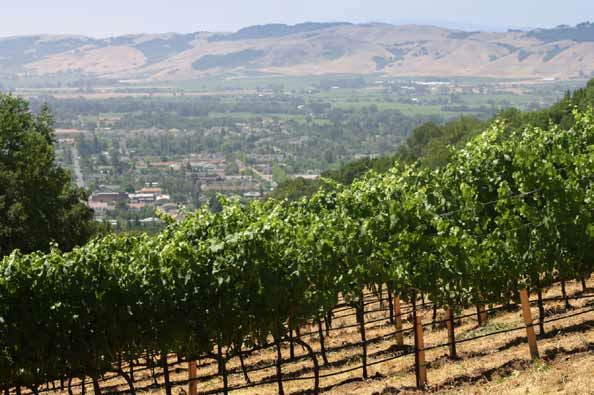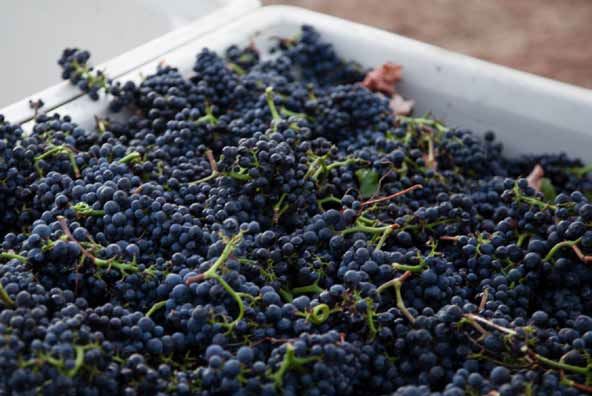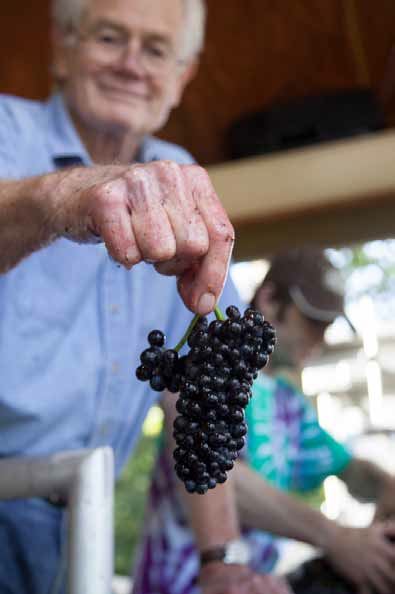 Hanzell wines are available for purchase by guests visiting the new Hanzell Vineyard's website at www.hanzell.com. The website includes one of the most in-depth tasting note archives of Hanzell wines publicly available, allowing a search of vintages dating back to 1967. The Collector Program guarantees an allocation of Hanzell Vineyards Pinot Noir and Chardonnay and Ambassador's Circle Exclusive and Private Collector levels provide access to the Ambassador's 1953 Vineyard releases, the Hanzell wine library annual offering and the holiday magnum offering. Two additional Estate Single Vineyard wines will be released this fall: 2011 Hanzell Chardonnay, de Brye Vineyard, and 2011 Hanzell Chardonnay, Ambassador's 1953 Vineyard. In 2014, single vineyard wines from Ramos Vineyard and Day Vineyard will be introduced.
Visitors are received by appointment only (707-996-3860 or email maildesk@hanzell.com). Two levels of visits are offered, both of which include a guided vineyard tour and seated tastings.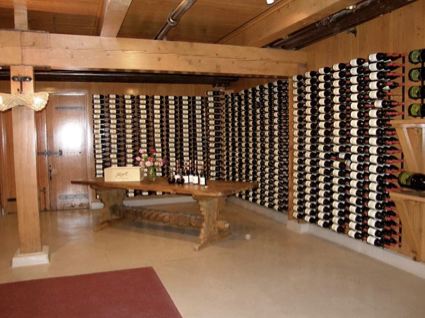 Decanting Hanzell wines is highly recommended. Stand the wines upright for some time before opening to allow any possible sediment to settle. At the winery, the wines are always decanted a minimum of one to two hours before service. Both of the 2010 Pinot Noirs reviewed here were significantly better a day after opening a bottle.
I have included the reviews of the latest releases from Hanzell, all of which were the finest young wines I have ever tasted from this winery. They are intriguingly complex wines with hide and seek nuances, and I highly recommend drinking them when you have the leisure time to spend to fully enjoy their charms. These are truly unique connoisseur's wines. Michael McNeill told me that he is very fond of the 2010 vintage wines. He noted, "The lighter yields gave us very nice concentration. While the 2010s perhaps do not show quite the power as the 2009 vintage, the 2010s have a lovely purity and clarity that I find attractive."
I also reviewed some older vintages of Chardonnay and Pinot Noir from my cellar. I prefer the Hanzell Pinot Noirs from cooler vintages such as 2010. The site is relatively warm and in some vintages, such as 2005 and 2006, the fruit profile is a bit too ripe, the wines lack some verve, and the alcohol is too high for my taste. That said, the wines always clearly and honestly reflect the vintage and terroir and for that they are to be praised.
"Hanzell Clone"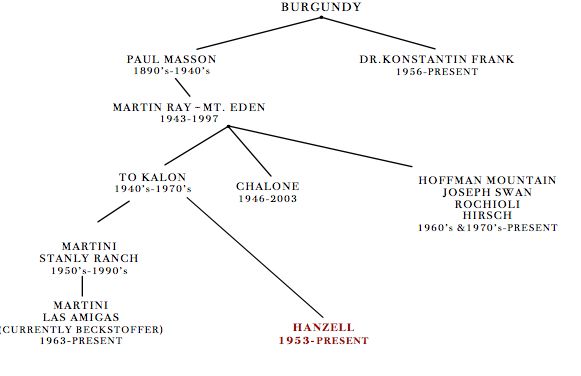 Paul Masson imported cuttings from Burgundy in the late 1800s that are the known forebears to the Mt. Eden selection of Martin Ray. In the 1940s, Martin Stelling!s To Kalon Vineyard received budwood from Martin Ray!s vineyard. U.C. Davis Professor A.J. Winkler selected the vines from which To Kalon Vineyard manager Ivan Schoch cut the budwood. Ivan Schoch was Hanzell!s vineyard manager when Ambassador Zellerbach planted Hanzell Vineyards in 1953 and it was Schoch who introduced the To Kalon Vineyard cuttings to Hanzell Vineyards.
The "Hanzell clone" has a high incidence of millerendage. These are berries for which pollination failed and the grapes grew no seeds. The seedless grape is naturally restricted in growth and the grape can be the size of peas. The wines made from small grapes have complex flavor and abundant tannin for greater aging potential. Source: Hanzell Vineyards website - www.hanzell.com.