Ten Year Vertical of Freeman Akiko's Cuvée Sonoma Coast Pinot Noir
The history of Freeman Vineyard & Winery had its origins in a happenstance meeting between Ken and Akiko. After college, Ken was a crew member aboard a yacht sailing to the Caribbean, but Hurricane Gloria forced the crew ashore in Larchmont, New York, close to Ken's hometown. Ken decided to join a party in town thrown by a good friend where he met Akiko. She had only recently arrived from Japan, and as Japanese tradition would dictate, she was dressed formally in a Chanel dress, a striking contrast to the other revelers clothed in jeans and tee shirts. Ken was smitten and after introductory formalities, the two eagerly shared their passion for fine wine, especially Pinot Noir. She had grown up in Japan around wine as her father was a wine enthusiast who often shared special bottles with his family. The date of their meeting, September 28, 1985, is engraved on the keystone at the Freeman winery's entrance.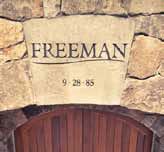 The Freemans launched their winery in 2001 after acquiring a small Russian River Valley winemaking facility and property in Sebastopol on a redwood-covered hillside. Beforehand, they had explored more than 300 vineyards looking to establish an estate program of their own and enlist grower partners. They preferred cool climate wines, and in particular, wines crafted in an eloquent style that were quite approachable upon release, but had enough structure to allow extended development over the long term. The Freemans winemaking goal can be summarized in two words: balance and refinement.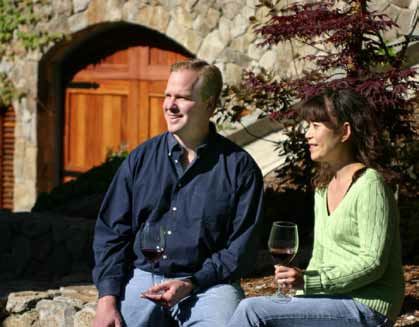 The Freemans enlisted the winemaking expertise of veteran Ed Kurtzman who made the Freeman wines through several initial vintages, working closely with Akiko as a mentor, and eventually becoming a consultant to Akiko as she has gradually assumed the winemaking duties. Ed worked in wine retail and wholesaling before enrolling in the enology program at California State University at Fresno. After graduation, he honed his winemaking skills during stints at Bernardus, Chalone, Fort Ross and Testarossa, before settling in with current winemaking jobs with August West, Roar, Sandler Wine, Mansfield-Dunne, Freeman, and assorted other consulting positions. As one of California's most accomplished Pinot Noir winemakers, Ed proved to be an invaluable adviser to Akiko and Freeman winery in developing the visionary style of Freeman wines. Akiko is currently aided by assistant winemaker Mitchell Masotti, a graduate of California State University at Fresno.
Freeman produces just under 5,000 cases of Pinot Noir, Rosé, and Chardonnay. Grapes are sourced from multiple noted vineyards in the Russian River Valley and Sonoma Coast appellations. The offerings include a Pinot Noir Rosé in some vintages, appellation-designated Pinot Noirs from the Russian River Valley and Sonoma Coast, a vineyard-designated Pinot Noir from Keefer Ranch, a reserve Sonoma Coast bottling known as "Akiko's Cuvée," and a Chardonnay labeled "Ryo-Fu," which means "Cool Breeze" in Japanese. The 7-acre Freeman Estate Vineyard adjacent the winery will produce a vineyard-designated Pinot Noir for the first time from the 2012 vintage. This vineyard is planted to several clones: 115, 667, 777, "828," Mt. Eden, Swan, Calera and Pommard.
Ken and Akiko are very active, hosting tastings at their winery, participating in many Pinot Noir festivals and wine dinners nationwide. They travel extensively and entertain Ken's banking clients (he is a San Francisco-based investment banker) in their modern home adjacent the winery as well as abroad. Ken was Chairman of the Board of the West Sonoma Coast Vintners this past year and directed the wildly successful West of West Wine Festival held recently in Sebastopol and earlier this year in New York City.
Freeman wines are distributed throughout the United States to select retailers and fine restaurants, and several hundred cases are sent to Japan each year. The mailing list is the best way to insure acquisition of the wines. The winery is not open to the public, but tasting can be arranged by appointment (707823-6937). Visit the website at www.freemanwinery.com.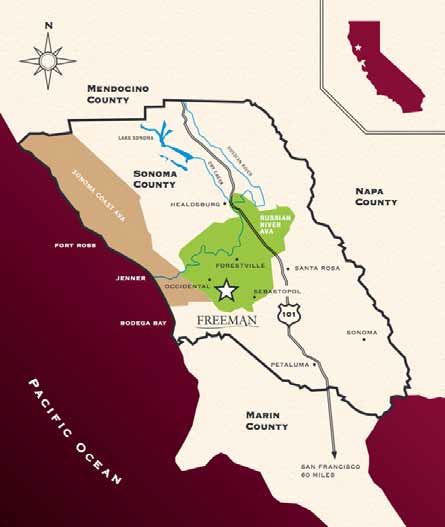 Each year since the inaugural 2002 vintage, the Freemans have released an Akiko's Cuvée. Winemaker Akiko and consulting winemaker Ed taste each barrel of Pinot Noir from a given vintage in the cellar and choose their favorites. Wines from each person's favorite barrels are then put together in a blend (or cuvée), and both blends are then tasted blind, so that no one knows who's barrel selections are in which blend. For ten years in a row, Akiko's blend has been everyone's choice. The blend of vineyard sources will vary from year to year. On August 2, I had the distinct pleasure of tasting a ten year vertical of Akiko's Cuvée Sonoma Coast Pinot Noir at the winery's cave with Ken, Ed, Akiko and Mitchell.
The wines were simply put, impressive. The earlier vintages had aged beautifully and the most recent vintages were very approachable. This last feature is the rub since many wine lovers will not be able to keep their hands off these wines upon release and therefore not experience the nuances that develop over time in the bottle. The style was consistent, yet the wines reflected vintage differences. Each wine displayed an appealing elegance, a moderate and balanced tannic structure, and crisp fruit expression. Finesse was featured over fruit heaviness, especially evident in the more recent vintages. I found that the most striking aromatic vibrancy and purity began to appear with the 2005 vintage wine. My tasting notes follow. When it comes to older Pinot Noir, there is no absolute rating, only a snapshot in time, but the wines were scored to reflect some current judgment.
The wines are vinified using a 5-day cold soak, fermentation in open-top bins, punched down by hand one to three times per day, with free run sent directly to barrel and press wine settled and barreled separately.