Weir Vineyard: Getting to Know Winegrower Bill Weir and the Pinot Noirs from His Very Special Vineyard
This article is the first in a series of in-depth profiles of distinguished Pinot Noir vineyards in California and Oregon. The vineyards are chosen for their record of producing consistently high quality Pinot Noir over multiple vintages, in some cases by several winemakers. At this time, we lack a classification of vineyards in North America and there is no established nomenclature to signify levels of quality such as found in Burgundy.
Bill Weir spent his formative years in Chicago living with his mother after his father died when Bill was very young. His mother moved the family to Mill Valley in Northern California when Bill was 16. After a stint in the marines, he attended junior colleges looking for a career and eventually went to University of California at Berkeley to study architecture and mechanical engineering, both fields that would come in handy in the establishment of his vineyard in years to come. He eventually changed his major to business administration and was encouraged to enter law school. After graduating from Hastings Law School, he successfully practiced law in San Francisco for 40 years.
During his years of law practice, Bill made wine in his garage with friends, an activity that led to some marital discord since he had cases of wine scattered all over the house. His wife, Suki, told him, "Your wine is mediocre at best, so stop it." Bill, who was looking for a long term exit strategy from the practice of law, offered her a compromise. In 1987, he had acquired a 160-acre property in the Yorkville Highlands appellation near Anderson Valley, formerly part of a 5,000-acre sheep ranch. He asked Suki if he could grow grapes there if he agreed to stop making wine. She was receptive, based on two conditions: He had to attend formal viticulture school and he had to look at winegrowing as a business.
Beginning in 1989, Bill attended night and weekend classes at Santa Rosa Junior College under the tutelage of Rich Thomas. He also traveled to Burgundy where he sought out advice and insight. In 1991, he had a consultant look at the property and examine the soils. The consultant told him that Syrah, Zinfandel, Pinot Noir and Chardonnay were feasible options. Because of his visit to Burgundy and his personal preference, he decided to plant Pinot Noir. This was a daring decision, since there was no significant precedent for growing Pinot Noir in the Yorkville Highlands.
Yorkville Highlands AVA
The Yorkville Highlands AVA, approved in 1998, is located in the southwestern corner of Mendocino County, between Sonoma County!s Alexander Valley to the South and Mendocino County!s Anderson Valley to the North. The region is 25 miles long, roughly in the shape of rectangle and bisected by Highway 128 which runs the length of the AVA. The region!s terrain is hilly and forested, with elevations ranging from 1,078 to 2,442 feet above sea level.
The distinguishing features of the Yorkville Highlands AVA are rocky soils with a high gravel content and the climate, which is cooler than Alexander Valley but warmer than Anderson Valley, and significantly cooler at night than the surrounding areas. Temperatures range from 50º to 77º with an average of 63.5º during the growing season. Total growing degree-days to ripen grapes is 1603.3, making it a Region I in the UCD heat summation classification (source: www.everyvine.com).
Of the 44,104 acres, only 0.1% is planted to grapevines. Bordeaux and Rhone varieties make up the vast majority of plantings, and Pinot Noir is usually designated under the tiny "other" category, amounting to only 49 acres compared to the neighboring Anderson Valley!s 1,128 acres (2008 figures from Glenn McGourty).
The Yorkville Highlands Growers and Vintners Association, www.yorkvillehighlands.org, lists ten wineries in the appellation. Of these wineries, only Judson Hale Winery grows Pinot Noir. Baldassari is a newer, family owned winery in the AVA producing Pinot Noir. Wattle Creek Winery, located in Cloverdale, also grows and produces Pinot Noir from the Yorkville Highlands.
A map of the region follows. Weir Vineyard can be located on this map by following Highway 128 from the AVA!s northernmost border south about 5 miles. Two closely adjacent vineyards in green are noted on the eastern side of Highway 128. These are the two halves of the Weir Vineyard.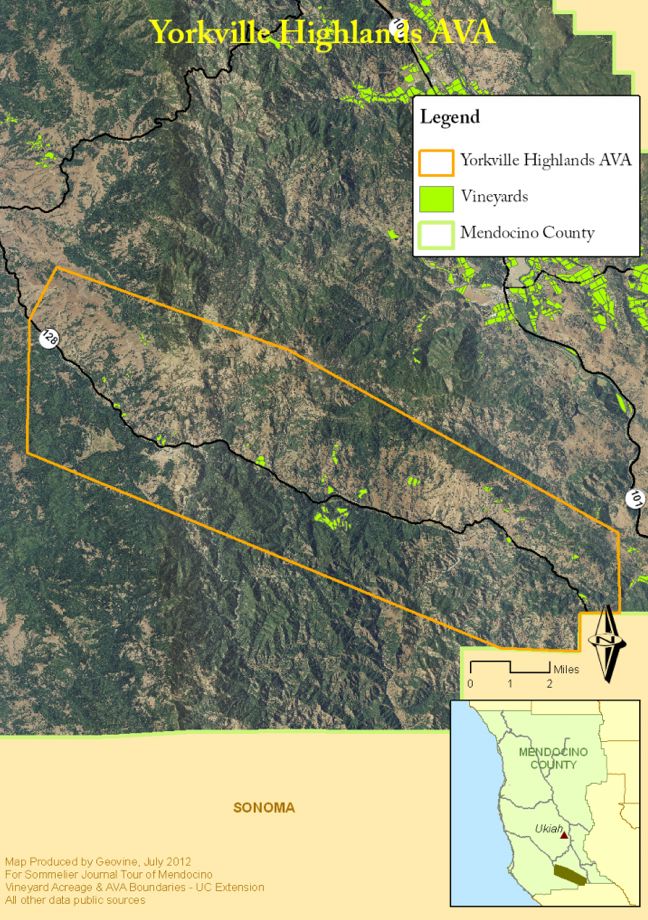 The Weir Vineyard property is located about 7 miles south of Boonville in the Anderson Valley near the headwaters of the Navarro River at 900 to 1000 feet elevation (Anderson Valley in comparison is about 400 feet elevation in Boonville). There is a melange of soils which fall into the Yorkville Series that are mountainous, deep, well drained, and composed of schist, brittle sandstone, and other sedimentary and metamorphic rocks including quartz. Some percentage of loamy clay keeps the soil united.
The climate is characterized by dramatic diurnal shifts in temperature of 40º to 50º. Bill considers the diurnal bounce to be the key to the success of his vineyard, since he thinks the nighttime cooling intensifies polyphenol compounds (flavors), preserves acidity, and produces smaller berries during the growing season. (The value of high diurnal temperature variation is a controversial subject among viticulturists).
Respected viticulturist Steve Williams was recruited to determine the vineyard!s initial 7.5-acre layout and plant the vineyard. Bill says Steve "gulped" when Bill told him he wanted to plant PInot Noir. In 1990, tree removal began, vines were bench grafted at a nursery in Fresno in 1991, and the vines went in the dirt in June 1992. Wädenswil clone and a rumored DRC selection from Mount Eden were initially planted on 5C rootstock using a VSP trellis system with 8! x 5! spacing. Bill declined to use AXR rootstock because it was not phylloxera resistant. 5C is adaptable to a wide range of soil types, but is not suitable for very dry soils. Bill says the water status of the vines must be carefully monitored, because if the vines become thirsty, they can shut down and not revitalize. Fortunately for Bill, the property has subterranean pockets of water which are sufficient for the 5C rootstock when supplemented by drip irrigation. Bill prefers to limit irrigation, however, believing that pre-veraison water deprivation leads to enhanced grape flavors.
Initially, Bill came up to the vineyard on weekends from San Francisco and stayed in a mobile home on the property. He dug a well to supply the vineyard, but within three weeks all of his water was gone. He was forced to pipe in water from a neighboring sheep rancher and the following winter he dug additional wells (he now has five working wells), and established a spring with 10,000 gallon tanks for water storage. His sheep rancher friend, Guido, looked after the property and at one time had 100 head of sheep grazing on Bill's land. The sheep provided a pastoral presence and kept the weeds and grasses down, but when Guido passed away two years ago, Bill let the sheep go.
Bill recounts his winegrowing experience, saying, "To grow fine, distinctive Pinot Noir grapes, you need an unending body of knowledge. You need chemistry and biology, even engineering and mechanics as well as the basics of meteorology and just plain farming. The extent of what you don't know limits your results."
The initial planting is referred to as the East vineyard ( a 7.5-acre West vineyard was planted later). The south-facing East vineyard is on a hillside and somewhat protected from the wind but cold air rolls down to the bottom area of the vineyard, and Bill found it necessary to protect the vines from frost. In 1995 he installed a large fan, one of the first in the region. The East vineyard is pictured below (the giant fan is visible in the distance).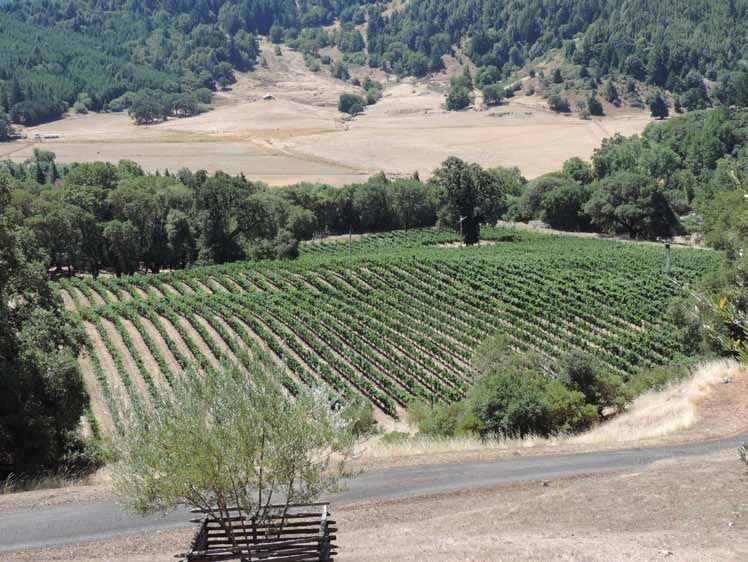 Bill and his family lived in the property!s mobile trailer on the weekends for eight years before his wife and kids put their feet down. They insisted on a shower and inside bathroom, so Bill built a small house in 1997 to maintain family harmony. He has since designed and added a second house, a subterranean wine cellar and a deck for entertaining.
The first grapes that were harvested from the East vineyard in 1993 were sent to Gabrielli Winery in Redwood Valley where they were extremely well received. Since the quantity was small, the grapes were mixed with other Pinot Noir grapes. The resulting wine won a Gold Medal at the Mendocino County Fair. The following two vintages, 1994 and 1995 were bottled as a Weir Vineyard-designate by Gabrielli Winery.
Now the history gets entwined and highly interesting. In the mid-1990s, Bill had become fond of Williams Selyem Pinot Noir, signed on the mailing list to receive the wines, and made an appointment to see Burt Williams. He took a bottle of 1994 Gabrielli Weir Vineyard Pinot Noir, hoping that Burt might purchase Weir Vineyard grapes. Burt, never one to waste words, tasted the wine and said, "Keep me apprised." The following year Bill returned with the 1995 Gabrielli Weir Vineyard Pinot Noir and after tasting the wine, Burt said, "Interesting."
Meanwhile, Bill sold some grapes to Keith Rutz at Rutz Winery in the Russian River Valley. Rutz!s winemaker was Dan Moore, also the winemaker at Lynmar at the time. When Moore left, Keith hired Burt!s son, Fred. Fred Williams blended the 1995 vintage at Rutz, made the 1996 vintage and half of the 1997 vintage before departing and starting his own label, Seven Lions. Fred loved the fruit from Weir Vineyard.
When Fred left Rutz, Burt came to Bill and said, "OK, I!m ready for your fruit." A handshake deal was cut at the end of 1997 and the first Williams Selyem Weir Vineyard Pinot Noir debuted in the 1998 vintage. In the spring of 1998, Burt came to Bill and told him the winery was for sale. Bill wanted the grapes to follow Burt, and Burt said he would be consulting for another couple years, but with the sale, a written contract was required. Burt left Williams Selyem after a year, but the grapes have been sourced by Williams Selyem ever since.
Bob really beams when he talks about Burt Williams and speaks endlessly about Burt!s achievements. He considers him an icon of California Pinot Noir, setting the gold standard for the varietal in 1983 to 1985.
The second 7.5-acre West vineyard was planted in 2000. 50% of the vineyard is the same DRC selection planted in the East vineyard, 25% is Pommard 4, and 25% is a Rochioli Riverblock selection. One small patch of the West vineyard is planted to Nebbiolo. This is Bill!s "pet project" that he planted five years ago and has been struggling with it. He says he is excited about it, and 2013, the fifth leaf, will be a telling year. Photo below shows Bill in the West vineyard.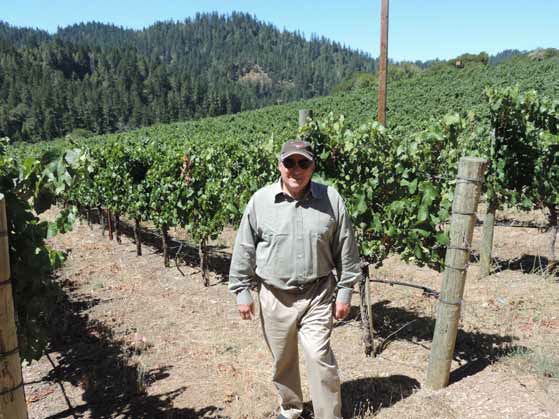 Bill has supplied grapes to a number of noteworthy Pinot Noir producers including Williams Selyem (about 50% of the vineyard!s production), Baxter, Bink Wines, Bluxome Street Winery, Drew Family Cellars, Furthermore, SPELL Wines, Talisman, and Toulouse. He has bottled his own Pinot Noir as well, both as a "Family and Friends" label and as "Lizzy!s Cuvée," which is donated to raise money to fight cancer (in memory of Bill!s sister-in-law who died from cancer).
Bill, himself is a remarkable cancer survivor. In 2006, while being evaluated for kidney stones, he was found to have pancreatic cancer. He was diagnosed with the most aggressive adenocarcinoma type of pancreatic cancer which has a survival rate of less than 5%. Bill was told he had 6 months to live, but was offered a new type of chemotherapy developed by Genentech that required infusions of a drug every two weeks for 48 weeks. He underwent the treatment and despite being in his words, "cooked," he survived the side effects. He soon felt better, his tumor began to shrink, and within three years had disappeared completely. Bill jokingly remarked, "God must not have been done with him, giving him more time to come up with some great Nebbiolo!"
Bill retired in 2007 amid the cancer scare and now spends nearly half his time at Weir Vineyard. When I visited, he was cleaning out dead prey from the vineyard!s owl houses and looking forward to some family members visiting that evening. As we toured the large property and walked the vineyard together, it was clear that Bill was proud of his accomplishments. I felt honored to tell his remarkable story.
On his deck overlooking the vineyard, we tasted five Weir Vineyard Pinot Noirs, all of which were special. My tasting notes of these wines follow along with reviews of several more Weir Vineyard Pinot Noirs that I tasted after my visit to Weir Vineyard, some of which Bill kindly supplied. Like so many wine lovers, he relishes the chance to share.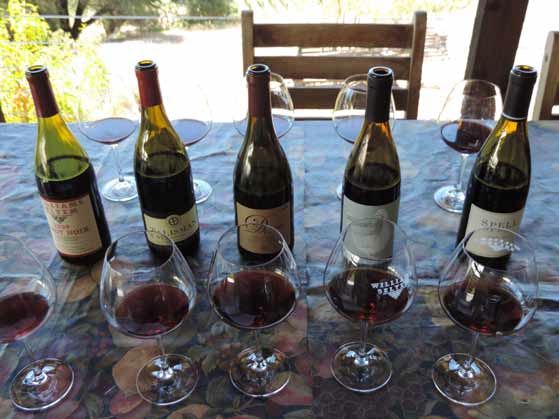 Remington Norman (Grand Cru, 2010) has said, "In addition to its physical and situational components, terroir has a human dimension....Sit over a glass of great Burgundy and discussion rapidly comes around to how far the hand of man, as much as that of plant, site and climate, is reflected in the wine. "Great terroir only represents potential, for man is necessary to bring it to complete fruition." Weir Vineyard is a perfect example of this. Bill has had considerable influence on his site, soil, and how his vines perform and represents an integral part of the Weir Vineyard terroir
Weir Vineyard Pinot Noir displays a number of enticing features including remarkable fruit purity and tension, mid palate richness, bright and mineral-driven acidity, and enough structural bones for age ability. A floral note tends to show up on the nose, and many wines have a savory component. All wines tend to improve over time in the glass with aeration. The most typical and distinguishing feature of every bottle that I have tasted can be summarized by a six-letter word: FINISH. The Weir Vineyard Pinot Noirs offer a finish of heightened intensity and uncommonly generous length which is the hallmark of great wine. It is often said that the feature that most distinguishes a Grand Cru Burgundy is the length of finish. Bill has said, "The deep personal involvement with growing these grapes has tremendously enriched our enjoyment of our lives. We think this will come through in the wine." This is definitely true.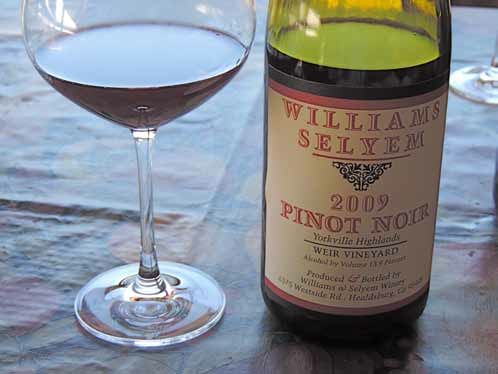 2010 Weir Vineyard Yorkville Highlands Nebbiolo. Vinfied by Ryan McAlister. Unlabeled. Medium reddish-purple color in the glass. Shy aromas of brandy-soaked cherries, briar and rose petals. Tasty array of mid weight red cherry fruit with some Pinot character and a long finish offering cherry skin and dried herb flavors. The fruit is elevated by fresh acidity but is somewhat buried in muscular tannins. Needs a good steak or ossobuco to tame the tannins. NR.