On the Pinot Trail at De La Montanya & Cuvaison
I was in Sonoma County in early August and visited both De La Montanya Estate Vineyards & Winery in the Russian River Valley and Cuvaison Estate Wines in Napa Carneros. Here is a report on my experience and the wines I tasted.
De La Montanya Estate Vineyards & Winery
It has been a couple of years since I last dropped in to see Dennis De La Montanya, the seventh generation in a long line of farmers, purveyors of wine, and some suspicious endeavors including wine smuggling. Dennis founded De La Montanya Estate Vineyards & Winery in 1995 with the planting of the Home Ranch in the Russian River Valley, and in 2003, the winery and tasting room were opened. Dennis now farms 270 acres of vineyards in Sonoma and Lake counties. The small, but tasteful barn-inspired tasting room and winery is located three miles from Healdsburg just off Westside Road adjacent the estate Home Ranch Vineyard (take Felta Road off Westside Road to Foreman Lane).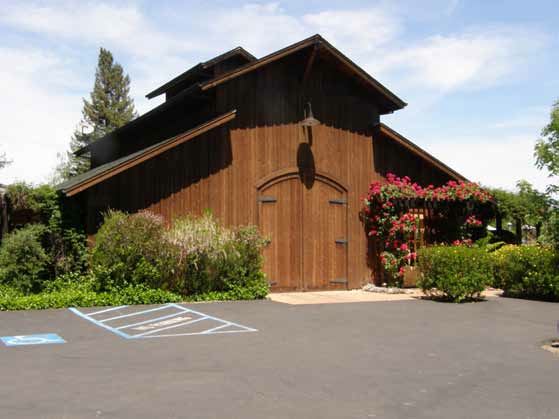 Dennis is a good guy to hang out with. He has a dry wit and an unpretentious way, never taking himself or his wines too seriously, but his wines are produced with the utmost attention. He is unique among Westside Road wineries in that he offers a multitude of varietals (current 18 different wines), both red and white, as well as a number of special bottlings produced in conjunction with rock bands, and various customers who pose for his "Pin-Up" series of wines (these are only sold at the winery since the TTB frowns on the attractive ladies in pinup poses on the labels). Pinot Noir sources include Christine!s Vineyard, Flying Rooster Ranch Vineyard and Willow Vineyard in the Sonoma Coast, and De La Montanya Home Ranch & Tina!s Vineyard, Calandrelli Vineyard and Ridgeway Vineyard all in the Russian River Valley.
All Pinot Noirs are 100% de-stemmed and mostly whole berry fermented. Five day cold soak is the norm followed by inoculated fermentation in small open top bins. The wines are pressed and go to barrel just before the wines are completely dry.
Total production is about 4,000 cases annually, primarily sold through the tasting room and wine club (members receive a 20% discount). The 2010 vintage wines are nearly sold out. The tasting room is open weekends without appointment and weekdays by appointment. Visit www.dlmwine.com.
The winemaker since 2006 has been Tami Collins (Dennis! spouse Tina!s younger sister) who works closely with Dennis who steers the ship. Dennis and Tami are pictured below during my visit.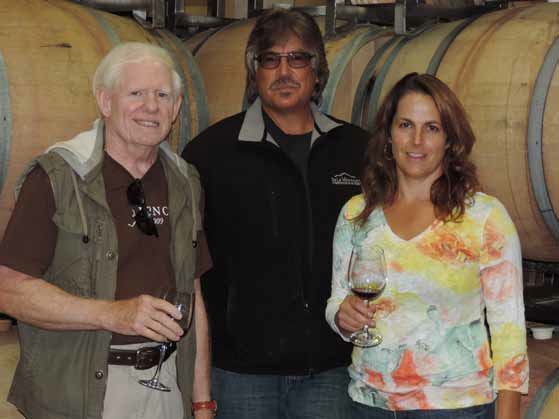 Cuvaison Estate Wines
Cuvaison has a storied history dating to 1969 when two Silicon Valley engineers founded the winery with the establishment of a 27-acre vineyard at the winery!s Calistoga location. The Schmidheiny Family of Switzerland later acquired Cuvaison Estate Wines along with 400 acres of undeveloped land in the Carneros appellation. Eventually vineyards were developed in Carneros and production was moved to a new Carneros winery built specifically for Chardonnay and Pinot Noir in 2004. All Cuvaison wines have been 100% estate since then. Cuvaison celebrated forty years of winemaking in 2009 with the construction of new tasting rooms in Calistoga and Carneros and a new barrel room in Carneros.
Cuvaison is pronounced "Koo-veh-ZOHN," and is a French term for the period when grape juice is kept in contact with the skins during fermentation and maceration.
Steve Rogstad joined Cuvaison as the winemaker in 2002 and he has been a regular on the Pinot Noir festival circuit. A graduate of the University of California at Davis, he has had winemaking stints at Saintsbury, Spring Mountain Vineyards, Clos Pegase and Rombauer and worked with custom clients including Viader, Neyers and Dominus. His efforts have led to Cuvaison being named Wine & Spirits 2012 Winery of the Year.
The 392-acre Carneros Estate with 250 planted acres receives fog and maritime wind from the nearby San Pablo Bay, creating ideal growing conditions for Pinot Noir and Chardonnay. The shallow clay soils are planted to 57 acres of Pinot Noir, 176 acres of Chardonnay and small amounts of Merlot, Syrah and Sauvignon Blanc (see map of the Carneros Estate Vineyard below). Irrigation is usually needed during the growing season due to the shallow soils and is supplied primarily by reservoirs filled with rain water. Pinot Noir clones are varied and include Dijon 115, 667, 777, "828," and 459, several heritage selections such as Calera, Swan, Abreu, and Mariafeld.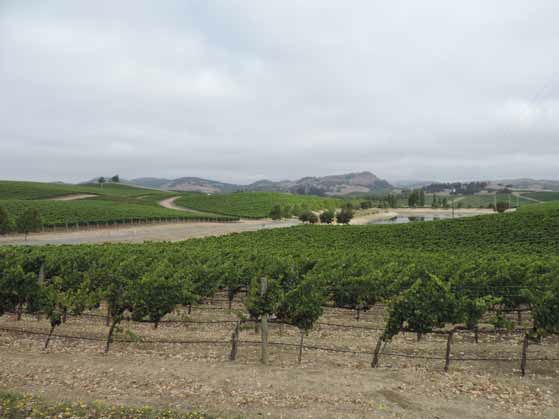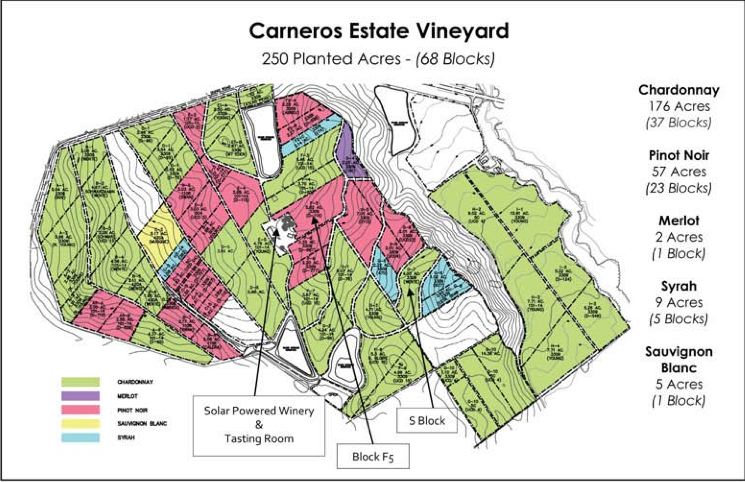 The winery is well-known for Chardonnay and this is its largest production wine by far, but the Pinot Noirs are not to be missed. Current releases include a Vin Gris of Pinot Noir, a 2011 Estate Pinot Noir, and the 2011 Spire Pinot Noir. Spire is a block Pinot Noir produced from a site (Block F5) that is consistently unique each year and always a special wine.
After a cold soak, the Pinot Noir is fermented in open top tanks using both native and proprietary yeasts. Whole cluster inclusion is vintage dependent. The Pinot Noir is aged in a modest percentage of new French oak barrels. In 2011, total Pinot Noir production was about 4,500 cases, but the winery can easily manage 6,000 to 7,000 cases in a generous vintage like 2012.
Chardonnay is whole cluster pressed, barrel fermented, undergoes partial malolactic fermentation, and is aged in a low percentage of new French oak barrels. Chardonnay production is 30,000 to 40,000 cases.
2012 Cuvaison Carneros Vin Gris of Pinot Noir
14.1% alc., $19. The generous yields of 2012 allowed production of this saignée fermented in a stainless steel tank. · Moderate pink coral color and clear in the glass. Aromas and flavors of fresh strawberries and melon in a crisp, clean and refreshing style of rosé. An ideal aperitif or accompaniment to summer barbecue fare. Score: 87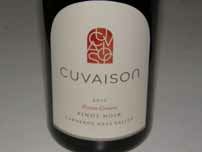 2011 Cuvaison Estate Carneros Pinot Noir
13.5% alc., $38. 100% estate grown blend from twenty distinct blocks in the Cuvaison Estate Vineyard. Average age of vines is 14 years. Each block is vinified separately using open top fermenters, basket pressed and aged 11 months in 33% new French oak barrels. · Medium reddish-purple color in the glass. Aromas of dark red cherries and berries with hints of smoky oak and spice. Very smooth and polished on the palate with an array of flavors including raspberry and plum with accents of anise, grilled mushroom and oak. Bright acidity and a hi-tone finish. Score: 89
2011 Cuvaison Spire Carneros Pinot Noir
14.0% alc., 550 cases, $48. Sourced from a block close to the tasting room planted to clone 115. · Moderate reddish-purple color in the glass. The aromatics offer welcoming scents of black raspberry jam, spice and rose petals. Soft and silky on the palate, with a delicious mélange of wild berry and black cherry flavors with beautifully integrated oak. This wine is clearly special, offering impeccable balance and a finish that really sings. Score: 92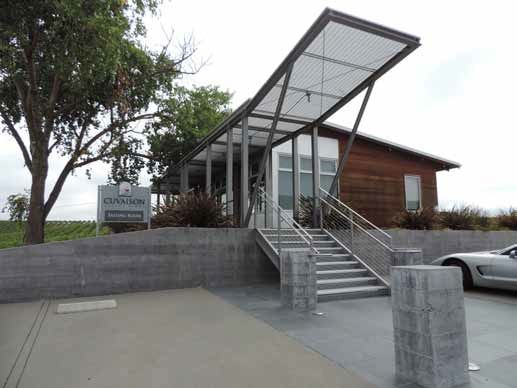 Cuvaison wines are sold on the website and through the two tasting rooms. Significant discounts are offered to wine club members. Both Calistoga (4550 Silverado Trail) and Carneros (1221 Duhig Road) tasting rooms are open daily. Marketing of Cuvaison wines was handled by Terlato for the last fifteen years, but about a year ago, Cuvaison assumed their own direct marketing to reach out to more consumers directly. In addition, the packaging has been updated. The inviting Carneros tasting room is pictured below.