Checking in Down Under
Australia
Decanter, which is more attuned to Australian wines than the American press is, recently reviewed 81 Pinot Noirs from Victoria, Tasmania and the Yarra Valley (August 2013). The experts lavished praise on the wines. Alessandro Marchesan said, "The Pinots are more complex than those from New Zealand: they come from older vines. Australian Pinot is the best in the New World. We have to help them get out there." The last comment refers to the fact that very little top notch Australian Pinot Noir is exported to the United States and other countries. Andrew Jefford noted, "2010 is an absolutely jaw dropping, gob smacking vintage. Almost like the Chambolle-Musigny vintage for the Mornington Peninsula."
One wine in particular has garnered rave reviews. The 2010 Eldridge Estate Red Hill Victoria Mornington Peninsula Australia Pinot Noir is from proprietors David and Wendy Lloyd's 8-acre vineyard planted to some of the oldest (1984) vines in the district. The vineyard is located 90 miles south of Melbourne in one of the coolest subregions in the Mornington Peninsula, and has the a similar climate and latitude and longitude to Burgundy, France. The vines are planted in red clay volcanic loam and are trained to the Scott Henry system of canopy management. The Lloyds have farmed the vineyard since 1995 which is planted primarily to 8 clones of Pinot Noir and 6 clones of Chardonnay. In the 2013 James Halliday Wine Companion, Eldridge Estate was listed as a Five Star Winery.
Decanter awarded the 2010 Eldridge Estate Pinot Noir 95+ points. Burgundy importer, Greg Koslosky, called it, "The best Pinot Noir we've ever tasted from the Southern Hemisphere." Unfortunately, only 30 cases were imported to the United States (H. Mercer Imports Inc., Studio City, CA), but you might still snag a bottle.
The first three photos below were taken on a trip to Australia a few years ago when I visited Eldridge Estate. I am pleased that the Lloyds are receiving high praise for their wine as they are hard working, dedicated vintners who are also good friends of mine as well as fellow tennis enthusiasts (they just returned from both the French Open and Wimbledon, and spent considerable time in their beloved Burgundy as well).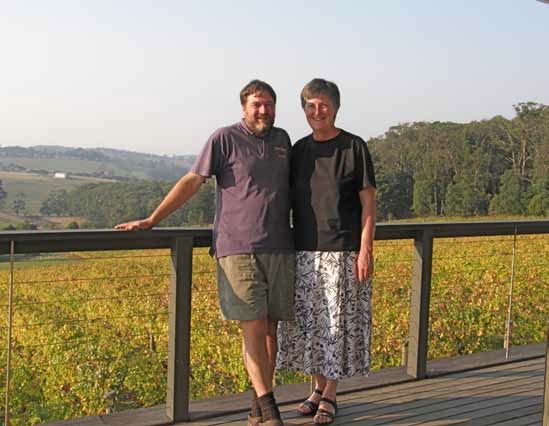 The day I visited, David was ready to harvest Chardonnay so the photos are a collector!s item, showing the Prince of Pinot googling over ripe Chardonnay clusters.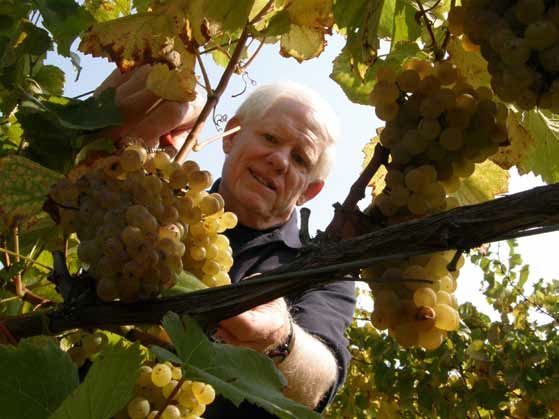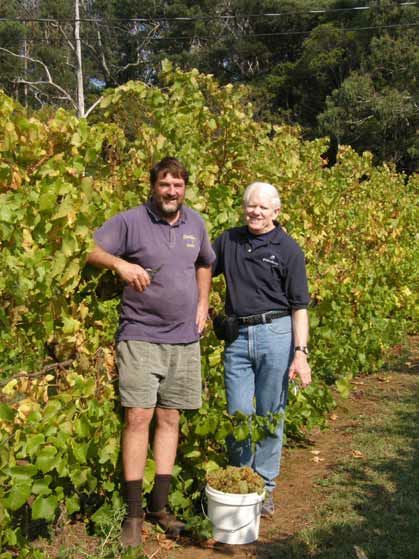 The last photo was taken by David from a helicopter (the ride a present for his 60th birthday) and shows the beautiful Eldridge Estate property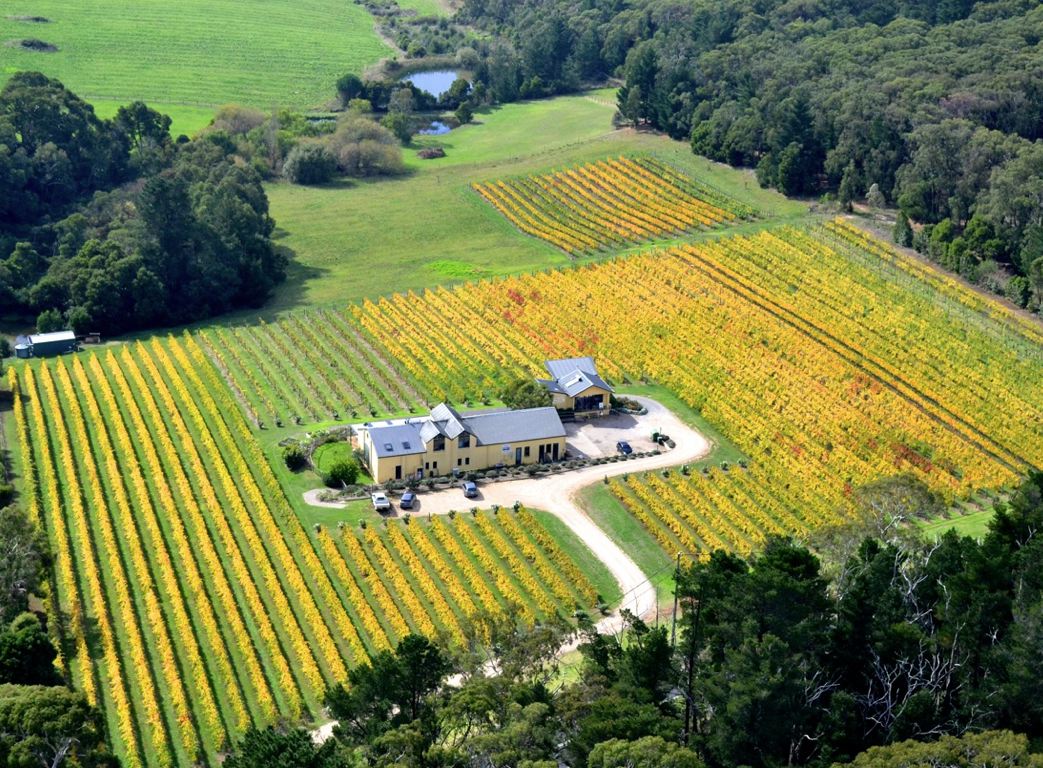 The second Australian Pinot Noir reviewed here is from the same region. Like Eldridge Estate, Mooroodoc Estate is a small, family run winery that has gained a reputation for excellence and is a James Halliday Wine Companion Five Star Winery. The proprietors, Richard and Jill McIntyre, established the Estate in 1981, and farm (either own or manage) four established vineyards planted primarily to Pinot Noir and Chardonnay. The Moorooduc team now includes daughter Kate (MW 2010) and viticulturist Hugh Robinson. The estate is also home to several dogs, two cats, chooks (chickens), ducks and a peacock.
Richard McIntyre was an honored guest at the 2013 International Pinot Noir Celebration in McMinnville, Oregon, as the winemaker for 10 Minutes by Tractor. (McIntyre crafts wine for others and his own Mooroodoc Estate).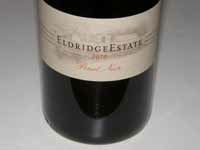 2010 Eldridge Estate Red Hill Victoria Mornington Peninsula Australia Pinot Noir
13.5%, 120 cases, $49.99. Importer H. Mercer Imports, Studio City, CA. Indigenous yeast fermentation, aged in mostly older French oak barrels. · Moderately light reddish-purple color in the glass. Pleasing aromas of red cherries, tea, rose petals and a hint of smoky oak taking on more fruit intensity over time in the glass. Middleweight flavors of red and black cherry backed by well-proportioned dry tannins with nicely integrated oak in the background. Some spice and mineral nuances add interest. Very silky and caressing on the palate with a juicy, bright finish. Score: 91
2010 Moorooduc Estate Victoria Mornington Peninsula Australia Pinot Noir
14.0% alc., 900 cases, $31.99, screwcap. Importer H, Mercer Imports, Studio City, CA. A majority of fruit is from the McIntyre Vineyard. Grapes are de-stemmed and fermented in open top stainless steel vats with a pre- and post-fermentation maceration. Aged in 30% new French oak barrels for 12 to 14 months. · Medium reddish-purple color in the glass. Black cherries and black raspberries are featured on the nose and palate in an intense, concentrated style. A hint of spice and a handle of oak accent the juicy fruit. The tannins are well-behaved, the acidity is balanced, and the wine sails along at the finish with plenty of fruit intensity. Score: 89
New Zealand
There is a much better chance you will find premium New Zealand Pinot Noir in the United States as the small country is exporting well over a million cases of Pinot Noir a year. Unfortunately, much of the exported New Zealand Pinot Noir is very ordinary. Showpiece New Zealand Pinot Noirs are harder to find, but often appear regularly in the stock of stateside fine wine retailers, where the competition from California and Oregon is formidable. Many consumers do not experience enough of a distinct difference to make them preferable to North American Pinot Noir.
I try to taste New Zealand Pinot Noir periodically out of curiosity, and over the years have acquired a fondness for the Pinot Noir from Craggy Range and Escarpment from the North Island, and Felton Road, Rippon, Burn Cottage, Pyramid Valley and Dry River from the South Island. Here are a few New Zealand Pinot Noirs I tasted recently.

2010 Rippon Emma's Block Lake Wanaka Central Otago Pinot Noir
14.0% alc., $75. Imported by Station Imports, Colorado Springs, CO. Sourced from mature vines in a unique parcel within Rippon's vineyard. The parcel is eastward facing on the lakefront with clay reefs running through schist gravels. The block is named after the great-great-great-grandmother of the current generation of the Mills family who own the winery. Aged 17 months in French oak barrels. Unfined and unfiltered. · Dark reddish-purple color in the glass. Penetrating aromas of deep, dark cherries and black raspberries with hints of peat, loam and oak. Richly endowed core of earthy, dark berry fruits underlain with bright acid tension and a substantial tannic backbone, finishing with uncommon length. More savory and earthy than the Tinker's Field bottling. Very juicy, with well-managed oak. Softer in the mouth with more appeal the following day from a previously opened and re-corked bottle. Decant if you must drink now, but more bottle aging is preferable. Score: 94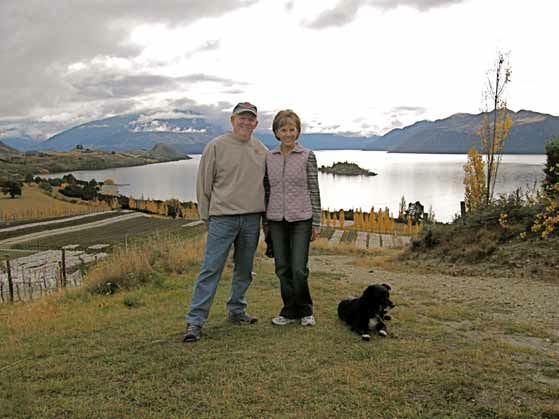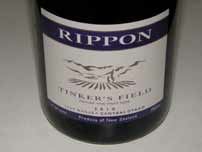 2010 Rippon Tinker's Field Lake Wanaka Central Otago Pinot Noir
14.0% alc., $90. Imported by Station Imports, Colorado Springs, CO. Sourced from mature vines in a unique parcel within Rippon located on a north facing slope of schist gravels. The oldest vines on the property, the block is named after Rippon's founder, Rolfe Mills, who was known as "Tink" by his friends. Aged 17 months in French oak barrels. Unfined and unfiltered. · Very dark reddish-purple color in the glass. Slowly emerging aromas of warm dark berries with a loamy, briar and oak presence. Lovely, spicy, tenacious palate featuring an array of dark berries and stone fruits sporting an impressive depth and richness of flavor. Moderate, dry, ripe tannins provide structure for the long haul. Amazingly concentrated, peacock tail finish that sends you looking for superlatives. Decant or age several years in the cellar. Score: 96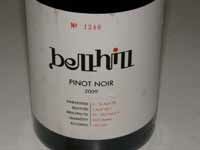 2009 Bell Hill Canterbury Pinot Noir
14.0% alc., 194 cases, $115, screwcap. Imported by Terrell Wines, San Francisco, CA. Established by Marcel Giesen and Sherwyn Veldhuizen in 1997. Situated at a 1920s lime quarry in North Canterbury. 5.6-acre vineyard planted on limestone derived soils on a north facing hillside. 9,090-11,363 vines per hectare. · Moderately dark reddish-purple color in the glass. Aromas of dark red cherries and berries, Asian 5-spice, sandalwood and tobacco-laced oak. Medium bodied core of tasty dark red, oaklaced, cherry and berry fruit lifted by bright acidity, finishing with good richness and a refreshing tang. Mineral-driven acidity is the best feature of this wine. Score: 90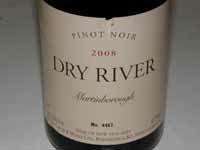 2008 Dry River Martinborough Pinot Noir
12.5% alc., $95. Imported by RO Imports LLC, Napa, CA. · Moderately dark reddish-purple color in the glass. The aromas need time to arrive, eventually showing red berries, spice and vanilla. Delicate in this vintage, with flavors of dark red cherries and berries that are long on the palate. Light on its feet and very supple, the tannins are nicely managed and the wine finishes with some appealing raspberry character. A little better later in the day and much better the next day from a previously opened and recorked bottle. Score: 92