Pinot Briefs —Newsletter 9.29
Louis Jadot Acquires Oregon Vineyard Wine Spectator (August 21, 2013) reported that Maison Louis Jadot bought the 32-acre Resonance Vineyard in the Yamhill-Carlton sub-appellation of the Willamette Valley for an undisclosed price. Beginning with the 2013 vintage, Jacques Lardiére, who retired as Jadot's director of winemaking in 2012, will produce about 2,700 cases of an Oregon Pinot Noir at Trisaetum Winery. Resonance Vineyard has provided fruit to Lemelson, Sineann and Big Table Farm from its 19 acres of ownrooted Pinot Noir planted between 1981 and 2006. A Resonance Vineyard Pinot Noir has also been produced by the previous owners. Maison Louis Jadot is owned by the American Kopf family, which also owns the Kobrand import firm. This is the first venture outside of Burgundy for Maison Louis Jadot.
Jackson Family Wines Buys Oregon Winery Jackson Family Wines recently acquired 300 acres of vineyard acreage in Oregon and has now bought Soléna Estate, a 15,000-case winery facility in the Yamhill-Carlton sub-appellation of the Willamette Valley owned by Laurent Montalieu and Danielle Andrus Montalieu. The Montalieus will retain their brand and move production to a different facility.
Donum Estate Taking Great Strides Donum Estate consists of a 147-acre property spun off from the Buena Vista ranch more than a decade ago. Donum has recently contracted the 20-acre Angel Camp Vineyard in Anderson Valley and in 2012 acquired the Nugent Vineyard in the Russian River Valley. In July 2012, the winery assumed control of a 40-acre property adjacent the Carneros estate and will begin planting that parcel to vineyards. Much the new plantings will be the so-called Roederer clone which originated in the Hermann J. Weiner nursery in New York's Finger Lake region, and is also named the Donum clone (a masalle selection). Replanting of 14 acres of the Donum Estate has also been undertaken, using Pommard, Calera, Wädenswil and Dijon 667 clones of Pinot Noir and Wente clone of Chardonnay.
Two Wine apps Are Handy With the iOs app Drync, snap a photo of the label to see the price, ratings and tasting notes. The wine can ordered within seconds using a secure e-commerce platform and easy-to-use checkout function in the "Wine Cart." Drync identifies 1.7 million wines using image recognition technology that works on bottle labels as well as labels pictured in magazines, and on signs and computer screens. Information can be shared with friends on Facebook, Twitter and email. I downloaded the Drync app and found a few drawbacks. The image recognition database does not contain all wines, so not every label is identifiable, and occasional the scanner identifies a wine incorrectly. The rating system (from 1 to 5 hearts) is based on users' rather than critics ratings, and since the app is new, there aren't many labels in the database. A second app, Delectable (first developed in 2011 with the newest version 3.0 now available) claims to be the No. 1 choice of wine drinkers, with users now approaching 1 million. Its database includes more than 2 million bottles. Delectable lets users snap a picture of a wine label with their iPhone, record their impressions, and but a wine through the app if it is available for purchase. The rating system is based on four types of faces with sad to happy expressions. Delectable claims its image recognition technology is nearly 100 percent accurate, and as I worked with it, I found this to be true. Personalized recommendations are offered on what to drink next based on what you have drunk in the past. Ordering is easy, and shipping is available to all 50 states. The main drawback is that identifying a label is not immediate and can take up to several hours, so it is not possible to order wine quickly. Because this app is well established, there are multiple ratings from several users for a number of wines and ratings of multiple vintages of the same wine are displayed. Both apps are free and downloadable through iTunes.
World of Pinot Noir Donates $4,000 to Michael Bonaccorsi Foundation A significant donation was made to the Michael Bonaccorsi Foundations's scholarship program at a recent Pinot Noir focused gathering at the Bacara Resort & Spa, the new location for the 2014 World of Pinot Noir. Michael Bonaccorsi was a respected sommelier and winemaker in Santa Barbara County but passed away suddenly in 2004. His legacy remains in the Michael Bonaccorsi Foundation, which awards scholarships to those striving to follow in his footsteps. The scholarships are made available through the Allan Hancock College Enology and Viticulture program. Visit www.hancockcollege.edu for information. The 14th World of Pinot Noir will be held February 29-March 1, 2014. More than 200 wineries specializing in Pinot Noir from throughout the world will be participating in two full days of seminars, tastings, dinners and special events. More than 2,000 guests attend the weekend events each year. For details on the World of Pinot Noir, visit www.wopn.com. The photograph below shows left to right: WOPN Board Members Leslie Renaud (Foley Wines), Karen Steinwachs (Seagrape Wine Co.) and Norm Yost (Flying Goat Cellars), Allan Hancock representatives Jeffr Cotter, Alfredo Koch and Dr. Paul Murphy, and Jenne Lee Bonaccorsi of Bonaccorsi Wine Co..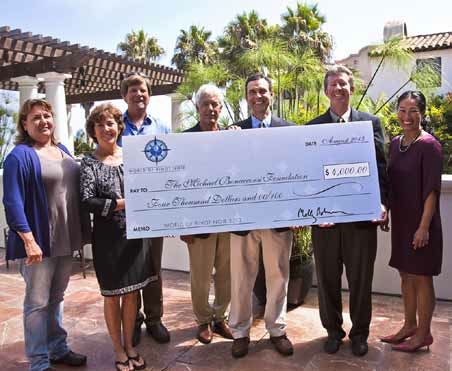 Pinot in the City Oregon's Willamette Valley Wineries Association takes it on the road to Los Angeles on September 11, 2013. Over 69 Oregon wineries will be pouring Pinot Noir, Chardonnay, Pinot Gris, Riesling and more. The venue is The Ebell from 3:00 to 6:00. Tickets include all wine tasting, Pinot-friendly appetizers and a logo glass. Visit www.willamettewines.com/event/pinot-in-the-city/ for tickets ($75) and to see a list of participating wineries. The trade tasting will be held from 12:00 to 4:00.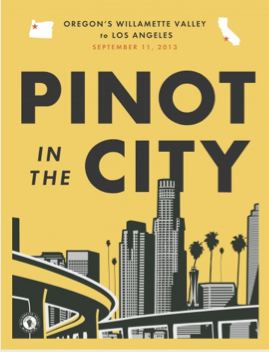 Sip For The Sea Benefit This food and wine event benefits the New York Aquarium by providing funds to repair damage caused by Hurricane Sandy. The date is September 12, 2013, from 6:00 to 9:00 at the Central Park Zoo in New York City. The Hess Collection, which works with the Monterey Bay Aquarium and the Seafood Watch program to promote sustainable seafood, has joined with the Wildlife Conservation Society and several other sponsors to offer wines from the entire Hess portfolio, paired with offerings from some of New York's finest restaurants. Pull a cork for a penguin. For tickets, visit www.wcs.org/sipforthesea/.
Alfresco Dining at The Madrones in Anderson Valley The Madrones' Mediterranean compound in Anderson Valley now offers alfresco meals at the property's newest addition, the Stone & Embers Restaurant. A wood-burning stove is at the heart of chef and owner Patrick Meany's menu offerings. Meany was most recently the Chef de Cuisine at Heritage House in Mendocino and has worked at Bouchon Las Vegas and Gary Danko in San Francisco. Guests can stay overnight in one of The Madrones' lovely Estate Guest Quarters. Stone & Embers is open daily (except Wednesday and Thursday) from 12:00 to 8:30. Stone & Embers is located at 9000 Hwy 128 in Philo (adjacent Goldeneye tasting room). Visit www.stoneandembers.com for more information.
Clos Saron Fall Open House For something different, consider visiting the Clos Saron Fall Open House in the Sierra Foothills. This producer of Pinot Noir and various other red and white varietals of interest, is tiny but has taken on a cult following. The event on Saturday, October 19, 2013, will include a barrel tasting of the 2013 vintage, a preview of the 2011 Pinot Noirs, a picnic lunch in the vineyard, a tasting of several other wines spanning 13 harvests and a candle light gourmet dinner in the cellar. For further information, call the winery at 530-692-1080, email the winery at info@clossaron.com, or visit the winery's website at www.clossaron.com.
Experience Oregon Wine Harvest at SE Collective On September 26 to October 18, Portland's urban winery, SE Wine Collective. Hands-on wine production experiences, punching down grapes, weekly happy hours, and more are offered at the 5,000-square-foot SE Wine Collective, located within minutes of downtown Portland at 2425 SE 35th Place. Vincent Wine Company, Helioterra Wines and Division Winemaking Company have been resident wineries for a year and newer resident wineries include Bow & Arrow Wines, Willful Wines and Fullerton Wines. Visit www.sewinecollective for more details.
Head's Up: KITÁ Wines I recently attended the Wine & Fire event in the Sta. Rita Hills, and although there were a number of wineries that stood out for me, I should give a head's up to KITÁ Wines. I won't be writing about the event for some time, so wanted to make you aware of this new producer. I thought their 2011 Pinot Noir was the best I tasted at the event. The brand is a collaboration between two accomplished vintners, general manager and head winemaker Tara Gomez and assistant winemaker Tymari LoRe. Several varietals are offered, but the 2011 Pinot Noir from Hilliard Bruce Vineyard in the Sta. Rita Hills was a stunning wine. I also tasted several single clone barrel samples from the 2012 vintage and these were equally impressive. Check out the full story at www.kitawines.com. Photo below shows Tara recently pouring wine for the California State Legislature.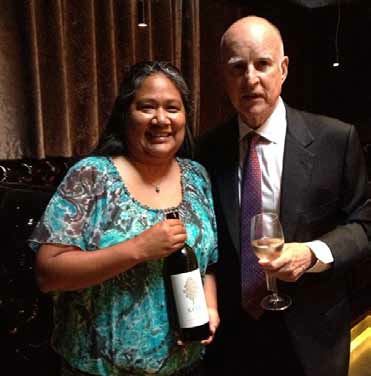 New Zealand Wines Marketed With More Antioxidant Balancing Act Wines, a new label from New Zealand, is offering a lineup of wines that contain 40 times more of the potentially health-promoting antioxidant, resveratrol (equivalent to consuming the resveratrol content in 40 glasses of normal wine). Recent research has found that the resveratrol is absorbed 250 times more effectively when consumed in wine as opposed to a supplement form, according to www.foodmag.com.au. The Balancing Act wines incorporate a technology developed by Australian antioxidant proponent, Dr. Phillip Norrie. The resveratrol load in the wine is said not to effect color, aroma or flavor. The wines have been introduced into the New Zealand market by Southern Wine NZ Ltd.
Consensus Paper on Moderate Alcohol Consumption and Health A consensus paper written by 36 prominent Italian scientists ("Moderate alcohol use and health: a consensus document," Nutrition, Metabolism & Cardiovascular Disease, 23:487-504, 2013) concluded, "Moderation in drinking and development of an associated lifestyle culture should be fostered." However, the authors also emphasized that the choice to consume alcohol should be based on individual considerations, taking into account the influence of health and diet, the risk of abuse, the effect on behavior, and other factors that may vary with age and lifestyle. The paper was reviewed by The International Scientific Forum on Alcohol Research. Good data was presented to support the following: "In healthy adults and the elderly, spontaneous consumption of alcoholic beverages within 30 g ethanol/d for men and 15 g/d for women is acceptable. There is no evidence to suggest complete abstention from alcohol drinking by moderate users." Second, " Patients with increased risk for specific diseases, for example women with a family history of breast cancer, or subjects with a family history of early cardiovascular disease or current cardiovascular disease, should discuss their drinking habits with their physician." There was no data to support the paper's statement that "No abstainer should be advised to drink for health reasons," and the Forum pointed out that the information presented in the paper tended to support the opposite conclusion. the take-away message is this: "Low levels of alcohol intake, that is, 1-2 drinks per day for women and 2-4 drinks per day for men, are inversely associated with total mortality in both men and women."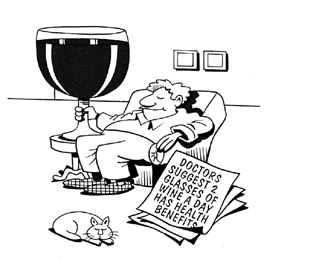 Sip! Mendocino Wine Tasting & Wine Shop Bernadette Byrne runs a popular tasting room and retail store for Mendocino wines. Many of the Pinot Noirs she carries are very small production including Masut, Judson Hale, Black Kite, Bink, Frati Horn, Witching Stick, Foursight, Baxter, and more. A special wine club is available called Pinot Please! Members receive quarterly selections of two different small production Mendocino County Pinot Noirs, typically two bottles of each, with a 20% discount. Members also receive exclusive invitations to PINOT-centric Sip! Trip excursions to Pinot Noir vineyard and winery experiences. Apparently Bernadette knows everyone in Mendocino County so is a good resource for finding wine produced in the region. She has been able to find me Pinot Noir that was not available anywhere else. Sip! Mendocino is located in Hopland at 13420 S. Hwy 101. Visit the website at www.SIPmendocino.com (if you don't see a wine you want, call her at 707-744-8375).