Robert Stemmler: The "Unwilling Prince of Pinot"
"Preserve to the utmost the natural character of the grapes; be first-rate but not flamboyant; never compromise with anything."
Robert Stemmler

Robert Stemmler grew up in the Baden-Württenberg wine region near Stuttgart, Germany during the rule of Adolf Hitler. He graduated from Bad Kreuznach Wine College and worked as a winemaker in various wine regions of Germany and acquired a reputation in Germany for uncompromising commitment to excellence, "Everything is given to the wine, the stars of the show."
Stemmler was brought to Northern California in 1961 by brothers Robert and Peter Mondavi of Charles Krug Winery in Napa Valley to solve the problem of secondary fermentations in bottled wines. He was the winemaker at Charles Krug for seven years at a time when the Mondavi brothers began to take over their father's winery. He consulted for several notable wineries including Inglenook, St. Clement and Raymond, and was hired at Simi in 1970 to reactivate the old Simi Winery in Healdsburg.
In 1977, Stemmler opened his own eponymous winery in the Dry Creek Valley of Sonoma County in partnership with Trumbull Webb Kelly who was a former educator that managed the tasting room and retail sales. The tasting room at 3805 Lambert Bridge Road in Healdsburg first opened in 1985. I can remember visiting the original tasting room and Robert Stemmler was one of the first Pinot Noirs I cut my teeth on.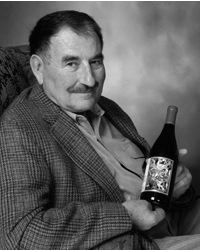 Stemmler produced a variety of wines including Chardonnay, Sauvignon Blanc, Late Harvest Sauvignon Blanc, Cabernet Sauvignon and Pinot Noir and by 1986 production had reached 12,000 cases, including 3,000 to 5,000 cases of Pinot Noir. Some wine was produced under a second label, Bel Conte, and Stemmler was also a consultant for several small wineries.
His distinctive label was designed from a slide taken by Stemmler at the Cluny Museum in Paris of a tapestry of a famous Flemish artist of the late 15th century, Les Vendanges, a depiction of the grape harvest woven in Flanders. The artwork was also displayed on a tapestry in the Robert Stemmler tasting room. (Look to the end of this article for photos of the Stemmler label through the years)
Stemmler made his first Pinot Noir under his own label in 1982. He considered cool-climate, hillside or mountain vineyards ideal for growing Pinot Noir and preferred old vines for their consistency. Initially, he sourced Pinot Noir from Jim Forchini's low-yielding vineyard in the Russian River Valley. As fate would have it, Forchini was unable to sell four acres of Pinot Noir after the buyer reneged on a promise to buy the grapes, and he was searching for a buyer.
Stemmler had no plans to produce Pinot Noir at the time, but he saw the quality of the fruit and couldn't resist it. According to Harvey Steinman (Wine Spectator), "What struck Stemmler was the high acidity the grapes were showing despite full maturity and they also tasted good." Steinman quoted Stemmler as saying, "That's what was missing from so many California Pinot Noirs. Flavor. They had flowery, sometimes fruity flavor, but they didn't have that berryness, that velvety lingering flavor that I think makes a great Burgundy."
Stemmler was not inexperienced with Pinot Noir, having consulted at Davis Bynum in the mid-1970s and worked with Gary Farrell as well who took over the winemaking duties at Davis Bynum in 1978.
The 1982 Robert Stemmler Sonoma County Pinot Noir received numerous gold medals, receiving more awards than any other wine during 1984 competitions, and captured the sweepstakes award at the West Coast Wine Competition. A journalist, seizing upon the fact that Stemmler seemingly made the Pinot Noir with some reluctance, dubbed him the "Unwilling Prince of Pinot."
The 1983 vintage of the wine had even better natural acidity and was a Wine Spectator "Spectator Selection." In the ensuing years, many accolades followed with Wine Spectator awarding the wines scores in the 90s. Prominent wine writer Robert Finigan rated the 1984 Pinot Noir first on a list of outstanding California Pinot Noirs. The 1984 Robert Stemmler Sonoma County Pinot Noir was sourced from three areas in Sonoma County and won seven major awards, including a Gold Medal at the Sonoma County Harvest Fair. David Pursglove, writing in the June 1987 issue of Wine Industry News, said, "The 1984 Robert Stemmler Pinot Noir is among the best Pinot Noirs yet tasted from California. It is almost Burgundian....and better than a lot of reds from Burgundy. 92 points."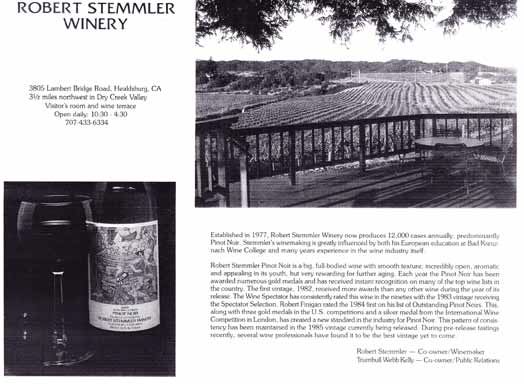 The 1985 Robert Stemmler Sonoma County Pinot Noir (12.5% alc., 3,000 cases, $18) scored 15.9/20 and third place in the California Grapevine (Oct/Nov 1987), and 19/20 in The Finigan Wine Letter. The California Visitor's Review raved about the wine, exclaiming, "It is glorious and one of the dozen best Pinot Noirs I can recall tasting in 25 years of comparing wines."
The 1987 Robert Stemmler Sonoma County Pinot Noir came from six different Sonoma County vineyards, each dry-farmed, over ten years old, and offering low yields. The sources reflected Stemmler's insistence on quality vineyards. Stemmler sourced Pinot Noir from the Bohan Vineyard in the Sonoma Coast before there was a Sonoma Coast AVA, and received grapes from the Rochioli Vineyard in the Russian River Valley as well.
In a matter of a few years, and preceding the attention brought to California Pinot Noir by the Williams Selyem 1985 Rochioli Vineyard Russian River Valley Pinot Noir, Stemmler had set a new standard in the industry for Pinot Noir.
Stemmler's Pinot Noir winemaking was innovative. He preferred limited (5 day) skin contact, fermented the grapes warm at 88ºF with some whole berries, and usually employed natural yeasts. Seeds were filtered before fermentation to reduce tannins and astringency. The wines were racked and blended in January, and aged 12 to 15 months in a combination of French and air-dried American oak barrels (Stemmler became a proponent of air-dried American oak barrels over time), and were bottled without fining or filtering. The wines saw no sulfur until bottling and even then, a very small amount. The resulting wines had moderate alcohol levels and exemplary balance between acidity and tannin.
In an April 1989 winery press release, Stemmler summarized the character of his Pinot Noir. "My Pinot Noir has a rainbow of flavors. When it is young, it has flavors of cherries, red berries, and a smell of rose petals. As it develops, it takes on an earthiness, like mushrooms, and the rose petal aroma becomes softer, more like dried roses, with warmth and richness of fine kid gloves."
Andre Tchelistcheff was said to describe Stemmler's Pinot Noir as having, "The sensual aroma of a woman's leather glove with a hint of her perfume and personal scent." (Ann Arbor News 6/24/87, Eleanor and Ray Heald) There are many variations of this famous quote over time purportedly attributed to Tchelistcheff in a number of circumstances.
Anne Moller-Racke, who founded The Donum Estate, arrived from Germany in 1981 to work at Buena Vista Winery in Carneros and became friends with Stemmler. Buena Vista Winery took a sizable equity position in Robert Stemmler Winery and Stemmler promoted the label nationwide. Finally, in 1989, Stemmler retired to Palm Springs, California, after winemaking for 35 years, and the Racke family bought his label. Stemmler wines were initially a wine club and tasting room brand within Buena Vista, but with the sale of Buena Vista and the founding of The Donum Estate, Robert Stemmler became Donum's sister brand, sharing estate-grown fruit and a commitment to quality established by Stemmler. The Robert Stemmler Winery facility in Dry Creek Valley was sold to Pezzi King in 1996.
Beginning in 2008, the Robert Stemmler label was shortened to simply, "Stemmler." The Stemmler estate-grown wines are produced by the same winemaking staff as for The Donum Estate wines, and Moller-Racke is the viticulturist in charge of all vineyard management. Both Stemmler and Donum Estate wineries are owned by Winside, Inc. Current releases include a 2011 Estate Grown Carneros Pinot Noir ($44), a 2011 Nugent Vineyard Russian River Valley Pinot Noir ($44), a 2011 Estate Grown Carneros Chardonnay ($24) and a 2012 Estate Grown Sonoma Coast Vin Gris ($20). The website is www.robertstemmlerwinery.com. Wines are sold at a significant discount to wine club members.
2011 Stemmler Nugent Vineyard Russian River Valley Pinot Noir
14.3% alc., $44. · Moderate reddishpurple color in the glass. Highly aromatic, featuring scents of confected red cherry, red licorice, watermelon and sandalwood. Soft on the palate and flavorful offering middleweight core of Bing cherries framed by mild tannin and judicious use of oak. Finishes with some length and generosity. Score: 89