Sancerre: Pinot Too
"It is Sancerre's reds that are providing the excitement.
Unfortunately this is somewhat of a French secret."
Jim Budd, Decanter
Sancerre is known worldwide for Sauvignon Blanc, and deservedly so, for the Loire Valley region offers a pleasing, refreshing style that is almost universally enjoyed. However, as Lettie Teague pointed out in her article on Sancerre ("Wine's Tom Hanks: Why Everyone Loves Sancerre," The Wall Street Journal, April 26, 2013), the soils (both pebbly limestone and siliceous clay) are similar to the soils of Champagne and Burgundy, so it is not surprising that Pinot Noir performs admirably in Sancerre as well.
Jim Budd ("Sancerre's Red Dawn," Decanter, September 2009) notes that when the first French AOCs were created in 1936, the Sancerre appellation was for whites only. It wasn't until 1959, that AOC accreditation was awarded to reds and rosés produced from Pinot Noir. Sancerre Pinot Noir was traditionally light and dilute, and the grape was often sold to Champagne houses. The modern era of Sancerre Pinot Noir did not began until the 1990s when a number of talented Sancerre vignerons began turning to more attentive viticulture of Pinot Noir and vinifying more serious, robust Pinot Noir wines.
Evidence of the existence of vines in Sancerre was recorded by Gregory of Tours in 582 in his Historiae Francorum. In the 12th century, cultivation of the vine was given added impetus through the combined efforts of the Augustine monks at St-Satur and the ruling counts of Sancerre. Sancerre was famous for its wines produced from Pinot Noir and exported from the region along the River Loire. The wine of Sancerre was, in the opinion of Duke Jean de Berry, the finest wine to be found in the entire kingdom. In more modern times, the original vineyards, which were predominantly planted to Pinot Noir, were destroyed by phylloxera at the end of the last century and Sauvignon Blanc was then widely planted.
Sancerre red is something of a rarity outside France. Budd reminds that only 22% of the acreage in Sancerre is planted to Pinot Noir, production only accounts for 11% of Sancerre wine, and less than 3% of Sancerre Pinot Noir is exported. I found that many large retailers in the United States carry only a few examples so it was a challenge to find a representative group to sample. Prices are generally quite modest, with many exemplary wines priced under $30. The top red from Alphonse Mellot, Génération XIX, is at the high end at about $90.
The vineyards of Sancerre are planted throughout the communes of Bannay, Bué, Crézancy, Menetou-Ratel, Méénetréol, Montigny, St-Satur, Ste-Gemme, Sancerre, Sury-en-vaux, Thauvenay, Veaugues, Verdigny and Vinon.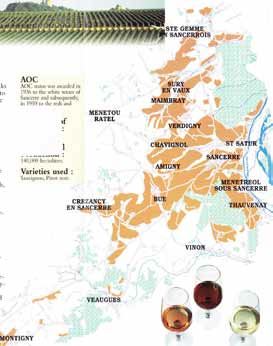 After tasting the following ten wines, I should point out that these wines will not offer the fruit intensity that Americans have come to expect from California and Oregon Pinot Noir. They do offer interesting drinking in a different style and flavor profile, but among the vast number of outstanding North American Pinot Noirs in the same price range, the Sancerre Pinot Noirs will be challenged to find an American audience. My best advice is that if you are curious, stick to a notable importer such as the Kermit Lynch Wine Merchant selections.