Lutea Wine Cellars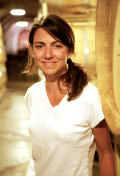 Lutea's owner and winemaker is Suzanne Hagins, a South Carolina native who developed her interest in wine working in the Charleston restaurant scene for many years. She subsequently went to Burgundy to work harvest under Pascal Marchand at Domaine Comte Armand, returning to the states to study at several wineries including De Loach, David Bruce and Littorai. She continues to have quite a following in South Carolina and her wines are eagerly snapped up by many wine lovers and restaurants there. Her small lots of Pinot Noir quickly sell out every year.

Lutea is the name of the American lotus, a flower native to the southeast United States. The lotus seed is a very long-lived seed which in nature can lie dormant for hundreds of years and still blossom. Suzanne notes that it is a perfect symbol of potential and very suited as a name for wine.
Suzanne insists on sourcing grapes from organic and or biodynamically farmed vineyards in Northern California. Her winemaking begins in the vineyard at harvest where the grape clusters are carefully harvested using scissors (rather than knives which are often utilized by picking crews) to protect the delicate clusters. After de-stemming, there is a 3-5 day cold soak and fermentation proceeds over two weeks. Minimal sulfur is used - the wines always have less than 100ppm, the maximum total sulfur which is allowed for organically grown designated wines. I found that she has a nice woman's touch with Pinot Noir and I especially welcomed the sensible alcohol levels.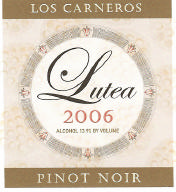 2006 Lutea Sonoma County Pinot Noir
13.5% alc., 150 cases, $23. aged in 1-3 year old French oak barrels. · Pleasant perfume of black cherry, herbs, oak and smoke. Middleweighted bright cherry flavors with a refreshing and clean finish. A simple, straight-forward Pinot Noir that offers good casual drinking.
2005 Lutea Los Carneros Pinot Noir
13.8% alc., 150 cases, $35. Aged 10 months in 15% new oak. · Earthy, plumy, woodsy and floral on the nose with earthy dark fruits and some animale on the palate. Light on its feet and soft and seamless in texture.
2005 Lutea Russian River Valley Pinot Noir
13.9% alc., 150 cases, $35. Coopered in 20% new oak for 10 months. · This is the most structured and serious wine in the lineup that needs some coaxing to open up. Initially there are aromas of forest floor, mushrooms, oak and a little good funk. With air more sweet cherry notes emerge. Cherry-driven flavors dance on a silky texture and the finish is lively with good acidity. This wine shows great Russian River Valley typicality and should age nicely.
Lutea Wine Cellars address is 446 Orchard St, Santa Rosa. The wines are sold on the website at www.luteawinecellars.com and through limited retail distribution. The phone is 707-592-0568. Suzanne will soon be releasing her first vineyard designate Pinot Noir from Bybee Vineyard in Sebastopol. She is also the winemaker for B Vineyards & Habitat (Bybee Pinot Noir).