Recently Tasted Chilean Pinot Noir
Chile is well known for its inexpensive red wine imports to the United States including blended reds and single varietal wines of Carmenère, Cabernet Sauvignon, Merlot, Syrah, Sauvignon Blanc, Riesling and Chardonnay. Less well known is the small cadre of Pinot Noir producers located in the Bio Bio, Casablanca, Calchagua, Leyda and San Antonio Valleys focusing on small production, quality-driven Pinot Noir. Chile followed the historical progression of California in that early plantings of Pinot Noir were located in the wrong places such as the Casablanca Valley floor which is quite warm. Vintners eventually discovered the best cool climate sites near the Pacific Ocean, similar to California's Sonoma Coast.
A number of producers have recruited consulting winemakers from the United States and France. Some well-known Chilean Pinot Noir producers include Cono Sur, Kingston Family Vineyards, Matetic Vineyards, Veramonte and Veranda Winery.
Chilean wine regions are organized by valleys as shown in the map below.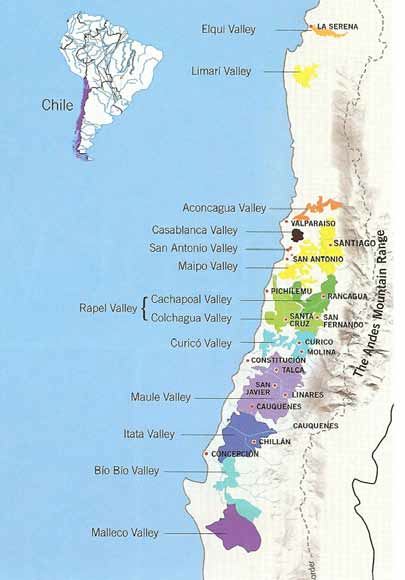 Damon Levy of Vine Connections, a leading importer of Argentine and Chilean wine, recently sent me four Chilean wines that are part of the new breed of cool-climate Pinot Noir from true coastal vineyards in Chile. I found two of the wines very enjoyable. All the wines showed a significant oak imprint which may or may not be to your taste. The wines are reasonably priced. Visit www.vineconnections.com for more information and availability. The map below shows the location in Chile of the wines reviewed.