Winemaker Ken Brown: Veteran Still On His Game
It seems that in our eagerness to discover the latest new cult producer of Pinot Noir, we often overlook the veterans whose reputation has been firmly established through years of accomplished winemaking. I am talking about icons such as Ken Brown, a pioneering original in Santa Barbara County who continues to craft some of California's most captivating wines.
Byron Kent "Ken" Brown is a third generation California native who was born in Sacramento. Winemaking was not on his radar as he grew up and attended college, opting instead for a career in the burgeoning computer industry at IBM as well as working for his father who was a real estate developer. It was a visit to a Napa Valley winery that drew his attention to wine and he began making wine at home.
In 1974, he enrolled in the California State University at Fresno's viticulture and enology program. His interest in viticulture was noteworthy since most winemakers of the time spent little time in vineyards. This unique but now widely embraced adjunct to winemaking was to prove invaluable in his later success. Ken always considered himself a winegrower, that is, an equal combination of viticulturist and winemaker.
After graduation, Ken became the founding winemaker at Zaca Mesa Winery in Los Olivos in 1977 where he designed and equipped the new winery. The original Zaca Mesa property was bought in 1972 by a group of friends who started planting a vineyard in 1973. It was at Zaca Mesa that Ken planted the first Syrah in Santa Barbara County in 1978.
In 1984, realizing the potential of Santa Barbara County and in particular the Santa Maria Valley to produce fine Pinot Noir and Chardonnay, Ken left Zaca Mesa and along with partners, founded Byron Winery in the Santa Maria Valley on the site of the original Nielson Vineyard. This vineyard was Santa Barbara's first commercial vineyard established in 1974 by pioneer Uriel Nielson. The first Byron Pinot Noir was released in 1984 from purchased grapes (Tepusquet Vineyard 1973 plantings and Sierra Madre 1974 plantings).
The success of Byron prompted the Robert Mondavi Corporation to invest heavily in the Santa Maria Valley eventually acquiring 600 acres of Santa Maria Valley land that included 175 acres of vineyards. Mondavi bought Tepusquet Vineyard in 1988, the adjacent 118-acre Nielson Vineyard in 1989, and acquired Byron Winery in 1990. Ken Brown's 20,000-case Byron Winery was producing some of the best Pinot Noir and Chardonnay in the state, but he lacked the capital to grow the winery. Matt Kramer said, (New California Wine, 2004), "Byron Chardonnay has long been, and remains, one of the benchmark bottlings in Santa Maria Valley." Mondavi's buyout allowed him to stay on as winemaker and the winery's production was expanded to more than 50,000 cases. While at Byron, Ken worked with many Santa Barbara County vineyards, but mainly sourced Pinot Noir from Nielson Vineyard, Tepusquet Vineyard and Sanford & Benedict Vineyard.
In his time at Byron under Mondavi ownership, Ken directed the construction of a modern, gravity flow winery in 1996, and conducted a number of experimental vineyard programs. He eventually tired of the corporate winery milieu, and left in 2003 to start his own modest eponymous label. Ken Volk purchased the Byron winemaking facility and renamed it Kenneth Volk Vineyards. The Byron label passed through several owners including Constellation Brands, Legacy Estates Group, and Jackson Family Wines who is the current proprietor.
Ken downsized considerably, with he and his spouse Deborah producing a modest 2,000-2,500 cases of carefully handcrafted wine under the Ken Brown Wines label. He occupied a shared warehouse facility in Lompoc beginning in 2005, and then moved to Terravant Wine Center in Buellton in 2008 where Ken consults for a number of other larger labels.
Ken's accomplishments are varied and he has left his mark on many current wineries in Santa Barbara County. A partial listing of his achievements include the following:
• Ken was one of the first vintners to realize the potential of Santa Barbara County to produce world-class Pinot Noir and Chardonnay.
• Ken was the first to introduce Pinot Gris, Pinot Blanc and Syrah to Santa Barbara County.
• Ken was one of the first Santa Maria Valley vineyard owners to experiment with various vineyard spacing densities.
• Ken mentored a number of respected winemakers including Jim Clendenen of Au Bon Climat, Bob Lindquist of Qupé Wine Cellars, Chuck Carlson of Curtis Winery, Lane Tanner of the former Lane Tanner Winery, Adam Tolmach of The Ojai Vineyard, Clay Brock of Wild Horse Winery, and Mike Sinor of Sinor-LaVallee and Ancient Peaks.
• Ken was the founding winemaker at Zaca Mesa Winery and Byron Winery.
• Ken has crafted wines from some of Santa Barbara County's most prestigious vineyards including Bien Nacido, Clos Pepe, Cargassachi, Garey, La Encantada, Nielson, Radian, Rancho La Vina, Rio Vista, Rita's Crown, Sanford & Benedict, and Sierra Madre. Ken knows the lay of Santa Barbara County vineyard land.
Varietals offered by Ken Brown Wines include Pinot Noir, Syrah, Chardonnay, and Sauvignon Blanc. Since Ken has many long time associations with growers, he has access to desirable select blocks within vineyards. He buys fruit by acreage contracts so his name is attached to certain rows of vines. His sensibly priced wines are offered through retail channels and the website at www.kenbrownwines.com. Wine tasting is available Friday-Sunday from 11:00 to 4:00 or by appointment at the Terravant Wine Center tasting room located at 70 Industrial Way in Buellton (805-688-4482).
Despite Ken's status as a winemaker emeritus, he regularly attends events to pour his wines and patiently points out vineyard source details that he considers highly relevant to understanding his wines. He is modest, unpretentious, informative and beyond reproach as a professional. There is no need to seek out the latest Pinot Noir rave offering overpriced and over hyped wines, for we are blessed to have an easily accessible veteran who is still on his game.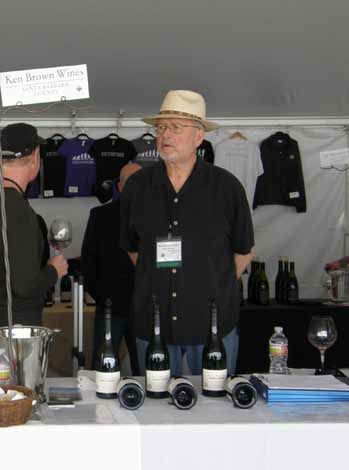 Acknowledgements go to the following reference sources used in this article: North American Pinot Noir (John Haeger, 2004), Salud! The Rise of Santa Barbara's Wine Industry, (Victor W. Geraci, 2004), and www.winefactor.com.