Littorai: Balance & Harmony is Theme
It was 1997 and my love affair with Pinot Noir had just been rocked by the news that Williams Selyem was being sold. To borrow from the words to the song, "American Pie":
A long long time ago
I can still remember how
That Pinot used to make me smile
And I knew if Burt had the chance
That he could make those people dance
And maybe they'd be happy for a while
But 1997 made me shiver
With every Pinot I'd deliver
I couldn't take one more step
But something touched me deep inside
The day the Pinot died
It was a good friend, Master Sommelier René Chazottes, who saved my passion. I was lamenting to René about my loss when he related this endorsement to me in his understated way, "There is this winemaker named Ted Lemon who was trained in Burgundy, is very talented, and makes good wine. You might check out his wines."
I headed straight for a local restaurant that had Ted's Littorai wines on the wine list and ordered the 1992 Thieriot Sonoma Coast Pinot Noir. The wine was an epiphany, a revelation, love at first sip. The wine had the elegance, purity and balance that I had come to enjoy in a Williams Selyem wine, but the wine had its own character, a beautiful marriage of classic Old World Burgundy and New World flair. Littorai Pinot Noir quickly became the yardstick that I used to judge all other North American Pinot Noirs against. Although I have sought balance and harmony elsewhere and found it in a number of wines, I have always returned to Littorai as the standard.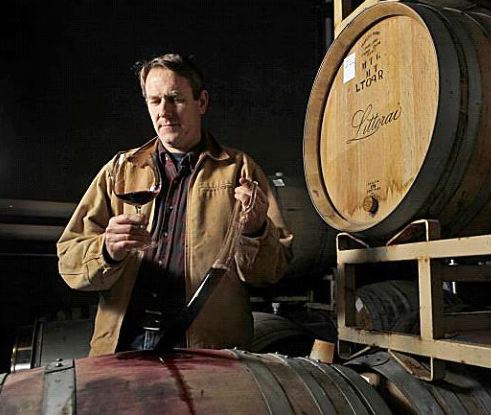 Ted's story has been elucidated in detail in past issues of the PinotFile, but I will briefly note the high points here. In the mid 1980s, he returned to the United States from his winemaking tour at Domaine Guy Roulot in Meursault (Ted remains the only American ever to be the winemaker and vineyard manager at a major domaine in Burgundy's history), and was hired by a French family to be the founding winemaker and vineyard manager for Chateau Woltner on Howell Mountain. The winery's Chardonnays soon became a favorite among American wine connoisseurs.
Once Ted's winemaking and vineyardist skills were assured, he founded Littorai Wines in 1993. Ted believed the finest Pinot Noir and Chardonnay were grown along the true littoral (Latin for coastal) zone of the continent. He was convinced that the geology and mesoclimates of the extreme portion of the continent north of San Francisco were diverse enough to create a series of unique terroirs and his conviction has since been confirmed.
Ted was one of the first winegrowers who believed world class wine production could be achieved in California using low yields, proper clones, vertical trellising, leaf removal, and other now commonly used viticultural practices. He was the first to create "by-the-acre" contracts for wine grapes in which he personally and closely supervised all aspects of vineyard management. This type of contract is now the norm for premium Pinot Noir growers in California and Oregon.
Ted was the first to vineyard designate Savoy Vineyard, Mays Canyon Vineyard and Charles Heintz Vineyard. He had a lengthy relationship with Summa Vineyard that was absolved through vineyard ownership change in recent years, and has enjoyed long-term committed relationships with Cerise Vineyard, One Acre Vineyard (part of Savoy's Deer Meadow Ranch), Roman Vineyard, Hirsch Vineyard and B.A. Thieriot Vineyard. In addition, Littorai has developed estate vineyards including Pivot (pictured below), The Haven and The Tributary.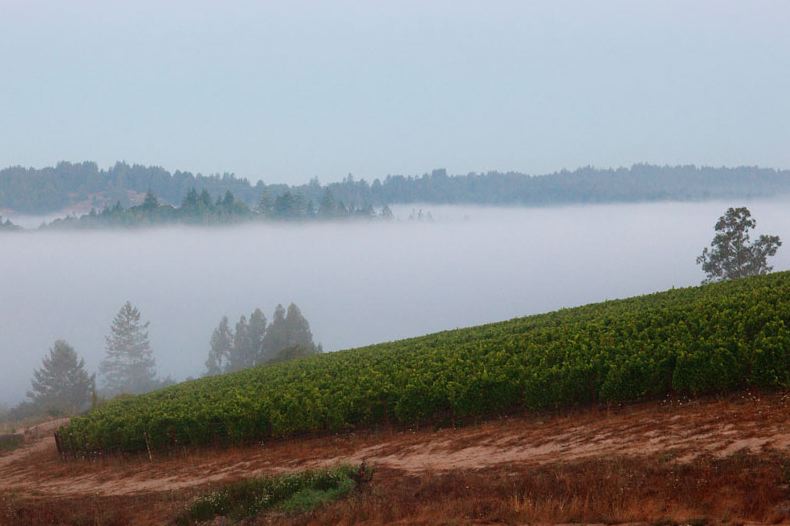 Practically all Littorai's vineyard sources are farmed organically and more than half are farmed biodynamically which Ted embraces wholeheartedly. He believes the clearest path to achieve wines of classic balance in California's dry summers is biodynamics. "We can produce vines which express the year and yet overcome its greatest challenges, all in a self sustained, self contained model."
Ted's winemaking emphasizes minimal intervention and gentle handling of the fruit and wine. The Pinot Noir wines are fermented in traditional open-top fermenters and at least some proportion of whole clusters are used. All the wines undergo native yeast fermentation and complete malolactic fermentation, as long as nature does not dictate otherwise. The goal (and what I find most appealing) is to avoid overripe flavors and high alcohol levels, and focus on finesse, balance and length. Usually one-third to one-half new French oak is used for aging the wines as an element of complexity, but one is never led to think of oak when tasting a Littorai wine. Littorai wines can age extremely well and I would suggest that if you ever find older vintages of Littorai Pinot Noir and Chardonnay in the secondary market, buy them. Ted says the 2000, 2002 and 2007 Pinot Noir vintages are drinking beautifully now
A functional, but not extravagant winery was completed on the Littorai estate in time for the 2008 vintage. The winery is a straw bale walled building constructed on two levels on the side of a hill and is where Ted and his staff receives visitors. Visitors are offered both current releases and library wines for tasting. The intimate tasting experience is available by appointment only, Monday through Saturday, for a small charge. Phone 707-823-9586 or visit the website at www.littorai.com for appointment information.
Littorai wines are available exclusively through a mailing list and fine restaurant placement throughout the United States. The wines often sell out quickly and are sold on a first-come, first-served basis. Wines can be picked up at the annual fall open house in October or shipped to your address.
If you only splurge on one ultra-premium California Pinot Noir producer each year, Littorai should be a top consideration. Ted is a life long winemaker passionately committed to his craft. He did not come into wine as a second career. His wines adhere to a personal esthetic sensibility and his impressive track record of consistent excellence with multiple vineyard sources spans twenty years.
Ted described the 2011 vintage as follows. First, the good news: "A classic terroir driven vintage with each vineyard displaying its traditional personality. This is a vintage where you can trust in the character of place. The wines possess density, structure and acidity wrapped in a dark, woodsy and earthy bouquet. The vintage will age very well so hold the 2011s for at least three to five years if you can manage it!" Now the bad news: "2011 vineyard designated Pinot Noir production is the lowest since 2005."
The winter 2011 releases included the 2012 Sonoma Coast Vin Gris of Pinot Noir, and the 2012 Sonoma Coast and Les Larmes Anderson Valley appellation Pinot Noirs. The 2011 single vineyard releases include Pinot Noir from Cerise Vineyard, Savoy Vineyard, One Acre Vineyard and Roman Vineyard in the Anderson Valley, Hirsch Vineyard, The Haven Vineyard, Pivot Vineyard, Platt Vineyard, and B.A. Thieriot Vineyard in the Sonoma Coast, and Mays Canyon Vineyard in the Russian River Valley. The following reviews are from a few of the wines that I tasted recently. Still very young, the aromas literally jumped out of the glass when tasted a day after opening. All the wines displayed spectacular elegance, freshness and transparency.
I tried a little experiment at the end of my tasting, but Ted, who is a firm proponent of terroir will cringe, so don't tell him about my experiment in terroir (or was it terror?). Wine is supposed to be fun, right? I mixed equal small parts of each of the above four wines just to see what would result. The blend exhibited satisfying black cherry, black raspberry and oak spice aromas. It was very tasty on the palate with impressive fullness and displayed the full spectrum of dark red and black fruit. The problem was that it tasted muddled, uniform, even corporate. The wine was very pleasant but not distinctive and any nuances were blurred. I clearly preferred the vineyard designated bottlings for their complexity and individuality. Don't try this experiment at home.