Hahn Estates: Consistently Top Notch
Hahn Estates debunks the misconception that large corporate wineries cannot produce outstanding Pinot Noir. The Hahn Family Wines lineup includes Pinot Noir under the Hahn Winery, Cycles Gladiator, Bin 36, Hahn SLH Estate and Lucienne labels. Total production of all Hahn Family Wines is about 400,000 cases annually from winery facilities in Soledad and Lodi (Cycles Gladiator label), making the winery one of the top thirty producers in North America.
Located on the Monterey Coast in the Santa Lucia Highlands, Hahn Estates farms about 653 acres of vineyards in the Santa Lucia Highlands, 350 acres in Arroyo Seco and 160 acres in Paso Robles. The winery did not have a single Pinot Noir vine in 2000, but now has about 620 acres of Pinot Noir with 20 clones and is a leading producer of Pinot Noir and a supplier of Pinot Noir grapes to many other premium wine producers. Hahn Estate is the largest grower of Pinot Noir in the Santa Lucia Highlands AVA.
The three vineyards in the Santa Lucia Highlands include Lone Oak Vineyard (146 acres of Pinot Noir, Chardonnay and Pinot Gris), Doctor's Vineyard (243 acres of Pinot Noir and Syrah) and Smith & Hook Vineyards (254 acres of Pinot Noir, Chardonnay, Syrah, Grenache and Malbec). In the Arroyo Seco, the two vineyards include Ste. Phillippe Vineyard (290 acres of Pinot Noir, Merlot and Grenache) and Ste. Nicholas Vineyards (171 acres of Pinot Noir and Chardonnay). Andy Mitchell is the director of viticulture for Hahn Estate and Mesa Vineyard Management directs the farming operations of the estate vineyards. Much of the grapes are mechanically harvested.
Founder Nicolaus (Nicky) Hahn is a Swiss businessperson, adventurer and philanthropist who became enamored with California wines while living in England, leading him to buy the Smith & Hook Winery in 1980. In 1991 he started the Hahn Estates brand and was one of initiators involved in creating the Santa Lucia Highlands AVA. In German, Hahn means "rooster," and the rooster is prominently displayed on the Hahn Estate label.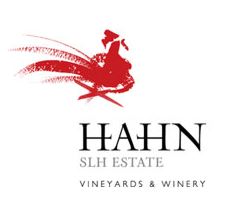 The current Director of Winemaking is Monterey native Paul Clifton who learned his winemaking under veteran Don Blackburn at both Bernardus Winery and Byington Winery. After obtaining a graduate degree focused on cool climate viticulture from Lincoln University in New Zealand, he started at Hahn Estates in late 2002, and quickly assumed the position of head winemaker. Clifton's assistant is Greg Freeman.
When it comes to excellent value-priced Pinot Noir, no winery in California does it better than Hahn Estates. Hahn also has an ultra-premium Pinot Noir label, Lucienne, offering estate vineyard designated wines first released from the 2005 vintage. The Lucienne estate winery is a separate facility: a winery within a winery. The winery takes its name from Nicky Hahn's middle name Lucien, but in the feminine form to honor the namesake of the Santa Lucia Mountain range where the vineyards are located. The 2006 and 2007 vintages were outstanding, the 2009 less so (the 2009 wines were originally reviewed in 2011 but tasted recently again with a better impression), and the 2011 wines are extraordinary.
Hahn SLH Estate Culinary Center, a wine trade education venue, is located in Soledad and shares the panoramic views of the Hahn Estate Vineyard with the Santa Lucia Highlands. The Center is a space for seminars and wine tastings as well as a professional demonstration kitchen to allow pairing of gourmet and local foods with Hahn Estates wines. The Culinary Center is nothing new to other wine regions of California, but it is the first facility of its kind in Monterey County.
Vineyard tours and tastings are offered at the winery Visitor's Center and a unique estate ATV educational adventure includes a Reserve tasting in the VIP room. The tasting room is open daily at 37700 Foothill Road in Soledad. Visit the website at www.hahnestates.com for more information. Hahn is one of the ten tasting rooms on the regional River Road Wine Trail that parallels Highway 101 at the foot of the Santa Lucia Mountains. Visit www.riverroadwinetrail.com. The wines reviewed below are SIP (Sustainability in Practice) certified.