Mueller: Over 20 Years of Excellence in the Russian River Valley
When talk turns to the established wineries of the Russian River Valley, the names Gary Farrell, Rochioli, and Williams Selyem are often trumpeted. Less well known, but no less accomplished, is Mueller Winery, founded by Robert Mueller in 1991.
Robert received a bachelor's degree in biology from the University of California at Santa Cruz and worked at Paul Masson Champagne Cellars in Saratoga as a chemist. He soon made the decision to become a winemaker and attended the University of California at Davis where he earned a masters degree in food science and enology. After graduation, he worked as a winemaker at Foppiano Winery, Charles Krug Winery, Pirelli-Minetti Winery, and in 1981, he became the Director of Winemaking for Souverain Winery. Three years later, he founded his own wine consulting business. In 1991, he launched Robert Mueller Cellars with the production of 315 cases of "LB" Russian River Valley Chardonnay. The first "Emily's Cuvée Russian River Valley Pinot Noir was produced from the 1994 vintage and became the winery's flagship bottling. Initially the winery was located in Healdsburg, ten years later it was relocated to Windsor, and in 2013 returned to Healdsburg.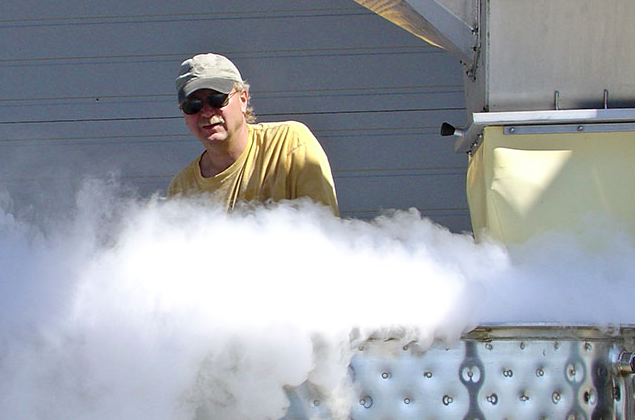 A new tasting room opened June 1, 2013, across from the Raven Performing Arts Center in Healdsburg at 118 North Street. It is open Thursday through Monday. The Mueller Starr Road winery facility in Windsor was sold in May 2013, and production was moved for the 2013 harvest to a new modern winery, Punchdown Cellars, a custom crush facility in Santa Rosa. Production is about 4,000 cases annually. The winery is largely a two person operation with Robert handling the cellar and production duties, while his spouse Lori manages sales, accounting and compliance work. Mueller wines are available in the tasting room, on the website at www.muellerwine.com, and throughout the United States through retail channels.
Mueller is best known for Pinot Noir, but produces several other varietals based on grapes sourced from the Russian River Valley. The Pinot Noirs are lush, extravagantly fruity wines exhibiting the bright cherry and cola flavors and moderately high alcohols that are the hallmarks of warmer Middle Reach Russian River Valley vineyard sites. The wines are comparable in style to J. Rochioli, Merry Edwards and Kosta Browne Russian River Valley Pinot Noir. Grapes are typically picked at or above 25º Brix at harvest, 100% de-stemmed, fermented in 2-ton custom fermenting tanks using both indigenous and inoculated yeasts, and aged in 30% to 40% new French oak barrels.
Mueller's Pinot Noir vineyard sources are Vino Farms located east of Eastside Road (see map below). Vino Farms is one of California's largest wine grape growers along with Bronco and Gallo.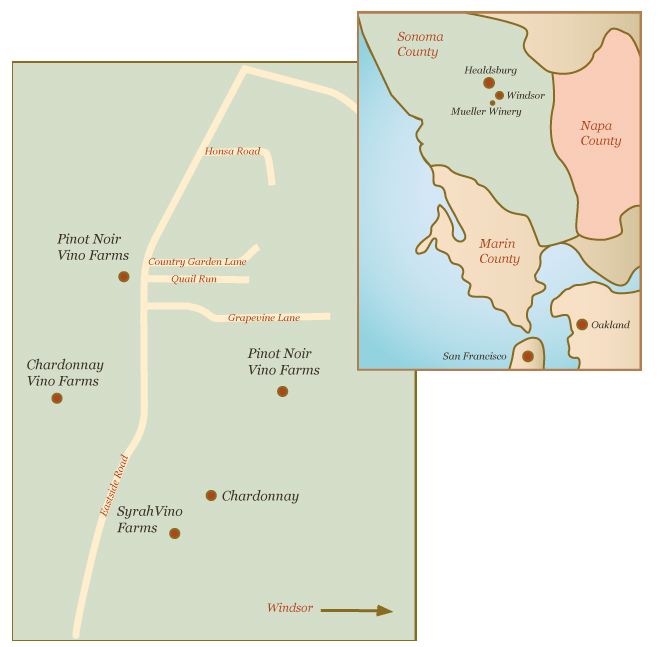 The 2011 "Harvest of Long Faces" produced solid wines from Mueller.