Pinot Briefs —Newsletter 9.33
Entrepreneur Bill Price & Winemaker Gavin Chanin Introduce LUTUM Bill Price, owner of Classic Wines and Price Family Vineyards, along with Santa Barbara County winemaker Gavin Chanin, have launched a new Pinot Noir and Chardonnay label. LUTUM is Latin for "dirt" or "soil" and references the partner's mission to make wines that reflect the great vineyards of California. The first wines will be released on November 12 through a mailing list offering and will feature small lots of 2011 Durell Vineyard Sonoma Coast Pinot Noir ($60) and 2011 La Rinconada Vineyard Sta. Rita Hills Pinot Noir ($50). Chardonnay will be added to the lineup beginning with the 2012 vintage, as well as additional vineyard sources including Bien Nacido, Gap's Crown and Sanford & Benedict vineyards. Price, who owns part of the Durell Vineyard, the Gap's Crown Vineyard and ownership interests in Three Sticks, Kistler, Kosta Browne and Gary Farrell wineries, was so impressed with Chanin's winemaking talent and philosophical focus at such a young age (Chanin is 27-years-old), Price asked him to partner in a winery. Chanin was previously an assistant winemaker at Qupé and Au Bon Climat and has his own label, Chanin Wine Co. The wines are crafted at LUTUM's new winery in Lompoc. For more information or to join the mailing list, visit www.lutumwines.com.
Luisa Ponzi Celebrates 20th Vintage Second generation winemaker Luisa Ponzi celebrated her 20 years at the helm of Ponzi Vineyards with harvest 2013. The family winery, Ponzi Vineyards, was established in 1970 in Beaverton. After receiving a Bachelor of Science degree, Luisa moved to France in the early 1990s and received certification in viticulture and enology from the CFPPA in Beaune, France. She was the first American woman to complete the studies in Beaune. She was mentored by and worked with Christophe Roumier of Domaine Georges Roumier in Chambolle Musigny. Over the past 20 years, Luisa has mentored many budding winemakers including Andrew Rich, Josh Bergstöm, Greg McClellan, Thomas Houseman and Remy Drabkin. Beyond Oregon, Matt Dicey of New Zealand's Mt. Difficulty and Thomas Bachelder of Bachelder Wines in Canada have worked with Luisa at Ponzi. One of Luisa's greatest passions is Chardonnay. She has dedicated two decades to the study of Oregon Chardonnay. The Ponzi Reserve Chardonnay bottling has been presented at several noted White House dinners through the years. In 2012, Ponzi Vineyards unveiled the addition of two single vineyard Chardonnays to the portfolio: Avellana and Aurora. In 2008, Luisa and Dick Ponzi designed and built a modern, 30,000-square-foot winemaking facility. In June 2013, a modern new tasting room and offices opened at the same property as the winery, effectively moving the entire business operation from the original estate in Beaverton to Sherwood. View a video celebrating Luisa's 20th vintage: http://ponziwines.com/blog/celebrating-luisas-20th-vintage/?utm_campaign=Luisa%27s %2020th%20Vintage&utm_medium=email&utm_source=newsletter&utm_content=Video%20about%20Luisa %27s%2020th%20Vintage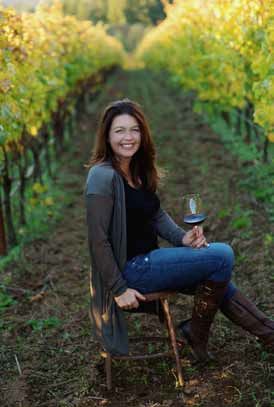 French Wine Society 2014 Wine Immersion Study Trips to France. These unique trips offer an intensive, professional-level educational program on the ground in the wine region coupled with certification through the French Wine Society's industry-endorsed Masters-Level program. The French Wine Society is a United States based nonprofit organization dedicated to French wine education. The trips are led by internationally experts in regions to be visited such as Andrew Jefford for Bordeaux, Kelly McAuliffe for the Rhone Valley and Elizabeth Gabay MW for Provence. The trips include high caliber wine tastings at some of the best estates in each region. They are nearly all inclusive with prices ranging from US $3,495 to US $3,895 per person, double occupancy, with each trip limited to 18 guests. Before each trip, participants get access to a Masters-Level Online Study program developed by the French Wine Society and after the trip, participants can validate their proficiency by passing the Masters-Level exam. For more information, contact jcamus@frenchwinesociety.org, call 1-202-640-5466, or visit the French Wine Society website at www.frenchwinesociety.org.
California Pinot Noir Quality Has Skyrocketed An article in The Drinks Business (www.thedrinksbusiness.com, November 6, 2013) reported the findings of Karen MacNeil at last month's California Wine Summit. She stated, "The quality of California Pinot Noir has skyrocketed faster than any other variety." A total of 126 wines from 17 appellations in California were sampled double-blinded by five tasters including Karen MacNeil, and the highest scoring wines were from the Sta. Rita Hills, followed by Sonoma Coast, Russian River Valley and Santa Lucia Highlands. Laetitia, located in the Arroyo Grande Valley in San Luis Obispo County. had the most top scoring wines in the tasting.
International Corkscrew Auction ICC Auctions conducts collector corkscrew auctions online at www.collectorcorkscrews.com. The sales are ongoing and include over 900 antique and collectible corkscrews selling from $100 to $5,000. The first U.S. patented corkscrew (1860) sold in a recent auction for $8,000.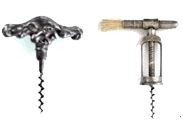 Pinot Envy A new murder mystery from Edward Finstein (aka "the Wine Doctor"). Investigator Woody Robins, amidst the backdrop of the Napa Valley and San Francisco, tries to retrieve a stolen, priceless, large bottle of red Burgundy that once belong to the French emperor, Napoleon Bonaparte. A second book also titled Pinot Envy, written by SW Parra, consists of illustrations of humorous wine related observations with more than 100 clever and comical comments inspired by a wine joke book idea from Sommelier Pablo Sommelier. Both books are available at www.amazon.com.
Wine and Teeth An Australian study recently published in Oral Health and Dental Management found that one occasion of drinking wine could affect tooth enamel by lowering the pH of saliva, although the effect is probably limited in the general drinking population. Wine tasters that swirl and hold wine in their mouth before spitting have a greater risk of dental enamel damage. The authors of the study recommended that tasters swig some water or milk after tasting and not brush which can aid enamel erosion. Carbonated soft drinks are probably more problematic than wine.
Orange Coast Magazine Wine Dudes Blog Check out my blog posts at www.orangecoast.com. The posts are not confined to Pinot Noir (surprise) and offer a humorous slant to wine. My most recent post on November 5 is a satirical slant aimed at the government warnings on wine consumption. Must-Have Wine of the Week offerings include a number of varietals as well as Pinot Noir.