Pinot Briefs —Newsletter 6.53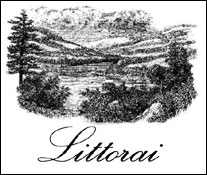 Littorai Last week I checked in on the new winery being built on Ted Lemon's estate in the Sebastopol Hills. Ted Lemon's commitment to sustainable farming has been brought to the construction of his new winery. Phase one is a straw bale building (9,000 case permit) built on two levels on the side of a hill and phase two will be 5,000 sq ft of underground caves. The facility is designed for solar power and to maximize energy efficiency. Winery water will be reclaimed through an innovative constructed wetlands treatment system and the water will be re-used for vineyard and farm irrigation. Expected date of completion of the building is August, 2008, after which tours will be available by appointment and wine order pick up will be offered as an option at the winery. Beginning with the 2008 vintage, 90% of Littorai's vineyard sources will be farmed using only organically certified materials, 54% will be farmed biodynamically, and 39% will be estate production.
Climate Change & Wine Conference Attended by 350 people from 36 countries, this conference concluded last week in Barcelona, Spain. As reported in the Los Angeles Times (February 20, 2008), there is general consensus in the international wine industry that climate changes are occurring (an average temperature increase of 2 to 3.5 degrees Fahrenheit is predicted by 2100). It is projected that California's Central Valley may eventually not be a viable wine grape growing region, with most of the prime growing areas clustered in California's northern and southern coastal zones. Burgundy vintages will be more reliably ripe and Germany and England are expected to have a notable increase in plantings of Pinot Noir and Chardonnay. Denmark, Belgium and parts of Central Europe will become new wine growing regions. Down under, Tasmania and New Zealand should be well suited to the warming climate. I recently wrote about global warming effects on viticulture, implying that the problem was largely "human caused." One of my readers, Jay Caplan, a scientist, pointed out that although warming will change the type of grape varietals grown in many regions, the causation of global warming is considered by many in the scientific community to be a sun caused event due to the evolving nature of the sun spot cycle. The sun is actually heating up (burning more brightly than at any time during the past 1,000 years) resulting in warming of all of the planets in the solar system. 10,000 scientists have signed a petition concerning the lack of human causation of global warming. Reducing carbon emissions may actually be harmful, leading to higher costs with no beneficial results. Caplan points out that, "Carbon dioxide is an aerial fertilizer for plants, and higher levels make for more food and fiber production, reducing famine and allowing a higher population on the planet, a second gift from the buried carbon deposits in addition to energy."
Lost Tasting Notes Recovered I had misplaced my tasting notes on Roco and Privé Pinot Noirs for the recent Oregon issue (Volume 6, Issue 52). I came across them recently and here they are.
2005 ROCO Willamette Valley Pinot Noir
14.5% alc., $40, screw cap. A blend of several Willamette Valley Vineyards, including the winemaker's own Wit's End Vineyard. The thunderbird image on the label is derived from a petroglyph discovered in the Columbia River Gorge. On the label: "We believe the wine speaks for itself. Wine is a revelator." · Fairly light in color. Lovely red cherry and allspice aromas. Very soft and elegant redder fruits with a raspberry kiss on the lingering finish. A very feminine and sexy Pinot Noir that is perfectly crafted and in one word, superb.
2005 Privée Le Nord Willamette Valley Pinot Noir
13.4% alc.. 20 year-old vines, Pommard clones, on a moderately slopping southwest facing hillside. True artisan winegrowing. · Typical Pommard core of intense black cherries. Pomegranate, cardamom spice and oak add interest. Plenty of forest floor, earthy overtones making this more terroir- than fruit-driven as in previous vintages. Impeccably balanced and a treat to drink.
2005 ROCO Private Stash Number Three Willamette Valley Pinot Noir
14.5% alc., 100 cases, $70, screw cap. Third vintage, all from estate grown fruit at Wit's End Vineyard. · The aromatics are stunning with perfectly spiced cherry fruit. Similar to the wine above but a little deeper and earthier and more ramped-up fruit flavors. The tannins are gossamer, the acidity is perfectly integrated, and the texture is mouth coating and silky. In two words, more superb.
Turnkey Pinot Noir Wineries for Sale (1) 3,250 sq ft winery/warehouse/tasting room, 5,000 case bonded winery, 2,500 sq ft storage building, crush pad, 26 acres of premium Sonoma Coast Pinot Noir planted in 1999, 30+ total acres, 4.17 tons per acre yield in 2007, guest house at 3066 Adobe Road, Petaluma, CA (Flying Rooster Ranch). Owner Dennis De La Montanya may assist and advise buyer after purchase. $4,395,000. WineryX Real Estate - 707-968-9100 (Katie Somple). (2) The Rutz Cellars. 5,000 sq ft cave winery on 4.25 acres in Sebastopol, 10,000 case winery permit, private setting with views overlooking vineyards, valley and mountains. $2,450,000. Pacific Union Real Estate - 707- 529-6225 (Jeff Bounsall).
Pinot Noir Summit The 6th Annual Pinot Noir Summit will be held on March 2, 2008 at Fr. Mason in San Francisco from 12:00-7:30. 267 wines were entered in the competition and the final 40 will be available for blind tasting by the public. The public's scores will be compared to the wine panel scores (the panel included myself) in an award ceremony. After an unveiling of the wines, attendees will be able to meet and talk with the winemakers for the 40 winery finalists. Seminars on Pinot Noir will also be offered. I am moderating a panel titled "Discovering New Pinot Noir Producers." Participating wineries include RN Estate, Three Sticks Winery, Kutch Wines, and B Vineyards & Habitat. Register online at www.affairsofthevine.com. Cost is $135 pp, but bring a friend, use my password- "insider", and receive two tickets for $170.
Burgundy Bad Boys According to decanter.com (January 24, 2008), the French have banned an advertising campaign from Burgundy because of its implication that wine drinking increases sexual attraction (duh, isn't that common knowledge?). The Evin Law of 1991 in France says that ads must only inform and cannot use words like 'seduce' or anything that suggests wine can be sexually seductive. The Burgundian wine trade body (BIVB) had released an ad showing the curvaceous outline of a beautiful woman in an evening dress of flowing wine. Those French need to lighten up!
Treviso Objects to Paris Hilton Ads While you are "in the mood," here is another report regarding offending ads that portray wine as sexy. Rich Prosecco, which comes in cans, has raised the ire of the wine growers association of Treviso, the northern Italian city in the Veneto region where Prosecco originates. Hilton is pictured in various high-heeled stages of undress in ads for Rich Prosecco. A spokesperson in Traviso said, "Paris Hilton is sensationalism. It's not good. It's not adequate for Prosecco." (from reuters.com, January 11, 2008).
Biodynamic Wineries Jack Everitt (Fork & Bottle, Santa Rosa, California) has compiled an accurate list of biodynamic wineries in the world. See the list at www.forkandbottle.com/wine/biodynamic_producers.htm.

Able Grape
Doug Cook, a former search engineer at Inktomi and Yahoo, has developed a wine search engine - Able Grape. The site,
www.ablegrape.com
is currently a beta test version consisting of over 10 million pages. It was developed as an up-to-date online source for wine, enology and viticulture information. Its advantage is that it provides a short path to the most useful information and was designed by a wine geek (Cook is currently studying in the Masters of Wine program).