2013 California Value Priced Pinot Noir First Team All-Americans
All wines were priced at or below $35 or less and received ratings of Outstanding or above.
2012 Alouette Sonoma County Pinot Noir
13.8% alc., $24.99, screw cap. Vinified by fifth generation Belle Glos Wines winemaker Joseph Wagner whose family founded Caymus Vineyards. Alouette is the French name for lark, a songbird that is a familiar sight in vineyards along the coast of California. The lark has been romanticized over time and serves as the muse for this wine. 2012 was an exceptional vintage in California and the high quality of the fruit from the coastal regions of Sonoma County show through in this wine. Aged in 60% new French oak barrels for 9 months. · Aromas of red grapes, spice, violets, toast and oak vanillin lead to deeply flavored notes of cherries, strawberries and sarsaparilla with welcome accents of spice and oak. Very soft and silky in the mouth with balanced tannins that make for easy drinking. Similar to the Meiomi bottling by the same producer, but more charm and restraint.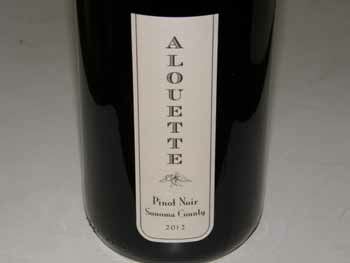 2011 Bailiwick Sonoma Coast Pinot Noir
14.6% alc., 700 cases, pH 3.68, TA 0.58, $28. Sourced from four highly regarded vineyards (RLR, Moore Ranch, Dutton-Lorenzo, and Hurst). Clones 113, 114, 115, 667, 777 and Pommard. 100% de-stemmed, several week post-fermentation maceration, aged 17 months in 37% new French oak barrels. Moderately light reddish-purple color in the glass. Aromas of fresh Bing cherries, baking spices and sandalwood spring from the glass. Delicious mid weight black cherry core that is thoroughly satisfying. Impressive structure and power for this vintage, yet displaying welcoming finesse. The finish is noticeably powerful and lingering.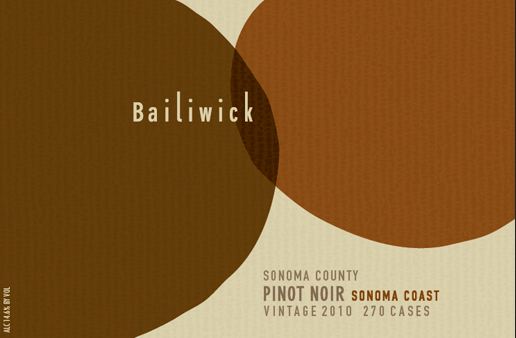 2011 Bravium Signal Ridge Vineyard Mendocino Ridge Pinot Noir
14.3% alc., pH 3.47, TA 0.61, 288 cases, $34. The vineyard is on a steep mountainside three ridges in from the Pacific Ocean at 2,642 feet elevation. Relatively shallow and rocky soils. Wide variety of clones and selections including Pommard and Swan. Yields 0.65 tons per acre. 16% whole cluster, 7-day cold soak. Native fermentation in one-ton fermenters. Aged 11 months in 33% new 4-year air-dried Francois Frères oak barrels. Unfined and unfiltered. Moderately light reddish-purple color in the glass. Aromas of cherries, deep red rose petals and pine needle. Tasty with good intensity, featuring flavors of black cherries black raspberries and pomegranates with a hint of tea. Impeccable balance with mild tannins and juicy acidity, finishing with impressive intensity. Blossomed beautifully the following day from a previously opened and re-corked bottle, displaying a dreamy, velvety mouth feel and seductive flavors.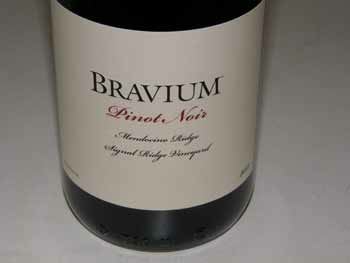 2011 Briceland Vineyards Ronda's Vineyard Humboldt County Pinot Noir
13.4% alc., 50 cases, $29. Formerly Le Chien Blanc Vineyard. Located at 1600 feet elevation northwest of Briceland Vineyards. Slowed ripening in this vintage so more acid and less tannin than typical for this site. Aged 18 months in oak barrels. Unfined and unfiltered. Medium reddish-purple color in the glass. The nose is intoxicating with fresh aromas of racy raspberry, red cherry, spice and sandalwood. Refreshingly crisp on the palate with charming flavors of fresh red raspberries and cherries caressed by supple tannins and framed by mouthwatering acidity. Not a fruit bomb by any means, but plenty of flavor without weight and great pinotosity.

2011 Byron Nielson Vineyard Santa Maria Valley Pinot Noir
14.5% alc., $36. From Santa Barbara's first commercial vineyard. Clones 114, 667 and Pommard. Small yields. Moderately dark reddish-purple color in the glass. The aromatics are captivating with a complex array of black raspberry, blackberry, spice and floral aromas which hold up well over time in the glass. The dark red and black berry fruits are perfectly ripe and bright. There is a complimentary accent of spice and oak with an earthy undertow. This wine offers impressive clarity and tension and is very easy to drink now. I liked the wine increasingly over time.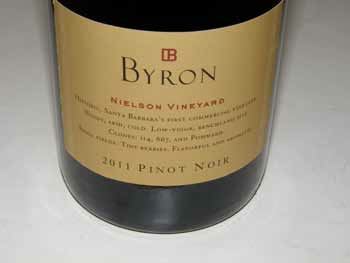 2012 CrossBarn By Paul Hobbs Anderson Valley Pinot Noir
14.1% alc., $35, screw cap. From select vineyards in the Anderson Valley. 16-day total maceration, fermented using native and select yeasts, aged 10 months in 14% new oak barrels. Unfined and unfiltered. Moderately dark reddish-purple color in the glass. Reserved but pleasant aromas of red and black berry mash with a hint of spice and dried rose petals. Hits the mid palate with vigor, offering deliciously rich black cherry, blackberry and plum flavors accented with Christmas spice including clove. Highly approachable and comforting with supple tannins, bright acidity, and a glorious finish of uncommon intensity and length. By this one by the case for your holiday parties.

2011 Easkoot Foggy Bottom Sonoma Coast Pinot Noir
14.3% alc., 250 cases, $28. Sourced from Keller Estate (El Coro Vineyard) in the Petaluma Gap. Clones 667, "828," and La Tache. Aged in seasoned oak. Moderately light reddish-purple color in the glass. Fresh uplifting aromas of strawberries, red cherries and sandalwood. Light and elegant, yet flavorful and satisfying, with the vivid taste of red cherry, baking spice, and brewed tea. Beautifully integrated tannins and acidity, offering a relaxed drinking experience. I was taken by the finesse in this wine. An entry level wine that sparkles. Very good, even outstanding at this price point.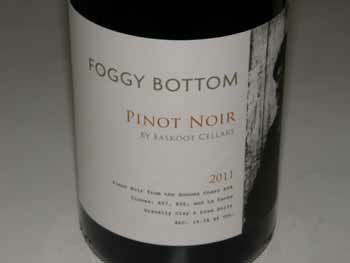 2011 J. Lohr Falcon's Perch Monterey County Pinot Noir
13.63% alc., pH 3.79, TA 0.54, 19,800 cases, $17. From select vineyards in the Arroyo Seco region. Dijon clones are the backbone. 76% Pinot Noir and 24% Valdiguié (winemaker Steve Peck says Valdiguié goes beautifully with Pinot Noir). After a 3-day cold soak, fermented in 6-ton and 12-ton lots in open-top punch down tanks. Light pump overs with daily punch downs for 5 to 10 days. 100% MLF. Matured in stainless steel with 10% aged in neutral French oak barrels. Medium reddish-purple color in the glass. Lovely nose with aromas of dark berries, rose petals, and exotic spices that retain interest over time. Delicious and entirely seductive, with flavors of dark cherry and berry with complimentary notes of spice, anise and oak. Soft in the mouth, with mild tannins, commendable balance, and very respectable finishing intensity. The addition of Valdiguié gives this wine a unique flavor profile that is quite interesting. A superlative value priced wine that is widely available in the retail marketplace.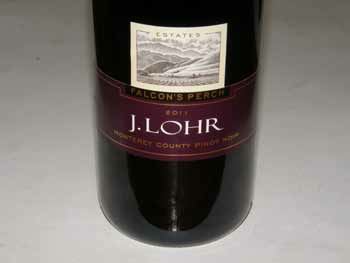 2012 Ken Brown Santa Barbara County Pinot Noir
14.2% alc., 656 cases, pH 3.71, TA 0.56, $35. Magnums available. Sourced from Rio Vista Vineyard, Garey Vineyard, Nielson Vineyard, Sierra Madre Vineyard and Buena Terra Vineyard. 53% from Santa Maria Valley and 47% from Sta. Rita Hills. Moderately light reddish-purple color in the glass. Pleasing aromas of black cherries, ripe berries and echoes of oak. Very tasty black cherry core with hints of red hard candy and spice and an earthy undertone. A very approachable mid weight offering with mild tannins and a silky mouth feel. Almost weightless. You won't find a better AVA blend in the marketplace.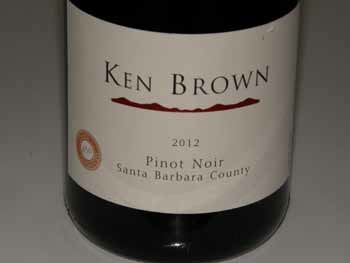 2012 La Crema Sonoma Coast Pinot Noir
13.5% alc., pH 3.74, TA 0.56, $25 (but discounted to $19.99 in many retailers). Sourced from select vineyard sites in proximity to the Pacific Ocean. Clones 667, 777, 115, Pommard, 2A, Martini, Flowers, Calera, "828," and 23. 100% de-stemmed, 3 to 4-day cold soak, fermented in small, open-top tanks, minimal post-fermentation maceration, aged in 26% new (98% French) oak barrels for 6 months. Racked only once for blending just before bottling. Moderately light reddish-purple color in the glass. Enticing aromas soar from the glass including cherries, berries, purple grapes and earthy flora. Very tasty juice with excellent depth and length offering an arsenal of flavors including dark red strawberries and cherries, cola and gregarious spice with a dusting of oak enhancing the experience. Nicely crafted, with supple tannins and a long, caressing finish. As good or better than many Pinot Noirs in the marketplace costing twice as much.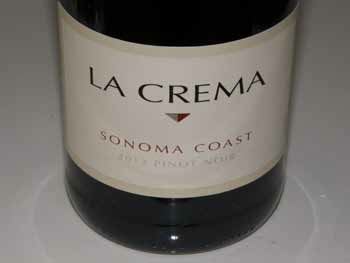 2011 Talbott Logan Sleepy Hollow Vineyard Santa Lucia Highlands Pinot Noir
14.3% alc., pH 3.71, TA 0.65, $25 (discounted to less than $20 by some retailers). 100% estate grown. A combination of fruit from mature vines and young Pommard and Dijon clone vines. Moderate reddish-purple color in the glass. Lively aromas of fresh black cherries, blueberries and black raspberries with a hint of oak spice. Very smooth on entry and flavorful, offering mid weight tastes that echo the aromas with accents of oak vanillin, black tea and spice. Admirable finesse, with a rousing finish that is quite generous.