First Encounters of Noteworthy Pinot Noir Producers in 2013
California
Alouette Vinified by fifth generation Belle Glos Wines winemaker Joseph Wagner whose family founded Caymus Vineyards. Alouette is the French name for lark, a songbird that is a familiar sight in vineyards along the coast of California. A single, reasonably priced but excellent Sonoma County Pinot Noir is offered through retail distribution.
Arnot-Roberts A boutique winery founded in 2001 by childhood friends Duncan Arnot Meyers and Nathan Lee Roberts. Nathan is a second generation cooper and builds all the French oak barrels for the winery. Total production is 2,000 cases of thirteen distinct wines allocated through a mailing list.
Banshee Founded in 2009 by three friends, this winery focuses on Pinot Noir from West Sonoma County. Ross Cobb (Cobb Wines, Hirsch Vineyards) and Katy Wilson (LaRue) are consulting winemakers.
Birichino A Santa Cruz-based winery founded in 2008 by winemakers Alex Krause and John Locke. The name is Italian for naughty or mischievous. Their flagship wines are a Malvasia and Grenache but a very good, inexpensive, non-oaked Pinot Noir was released from the 2011 vintage from vineyards in the southern Santa Cruz Mountains.
Bravium Proprietor and winemaker Derek Rohiffs produces vineyard-designated and appellation-designated Pinot Noir and Chardonnay at a winery located on Treasure Island in the middle of San Francisco Bay. Quantities of Mendocino Ridge, Napa Carneros and Sonoma Carneros wines are very small and sold to mailing list members with select restaurant and retail placement. A portion of the profits from the sale of Bravium wines support Sip & Give. A rising star in the Pinot Noir kingdom.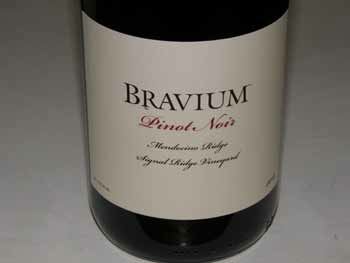 Bluxome Street Winery An urban winery on Bluxome Street in San Francisco's SOMA district established in 2010. Pinot Noir is offered from sourced grapes (such as Weir Vineyard) and the winery's own organically farmed Balinard Vineyard in the Russian River Valley. The winemaker is veteran Webster Marquez (Anthill Farms, C. Donatiello). The winery's tasting room is open Tuesday through Sunday. The winery's event space is used for special celebrations.
CIRQ. Kosta Browne's winemaker Michael Browne has launched his own personal label with the 2011 vintage. Two Pinot Noirs will be offered from two unique estate vineyards in west Sonoma County: Treehouse and Bootlegger's. Highly allocated, mailing list only. See feature in Issue 34.
Coterie Cellars An urban winery located south of downtown San Jose, California owned by a husband-and-wife team of Kyle and Shala Loudon. Pinot Noir is produced from prestigious vineyards in the Russian River Valley and Santa Lucia Highlands. The wines are sold through a mailing list and the winery's online store.
Cutruzzola Vineyards Dr. Francis Cutruzzola owns a small vineyard seven miles east of the town of Cambria on California's Central Coast. Less than 100 cases of Gloria Estate Pinot Noir are produced under the guidance of winemaker Stephen Dooley of Stephen Ross Wine Cellars.
Deux Punx A partnership between Dan Schaaf and Aaron Olson who are the two "punx" behind this label. A Pinot Noir from Elk Prairie Vineyard in Humboldt County is offered through the winery's website store.
Domaine de la Côte Winemaker Sashi Moorman, sommelier Rajat Parr, and their business partners bought Evening Land Vineyards' 40 acres of vineyards in the Sta. Rita Hills. The Pinot Noir is crafted with whole cluster fermentation and ambient yeast. The four vineyards are four miles from the ocean and planted in a soil known as diatomaceous earth that is unique to a small section of the Sta. Rita Hills.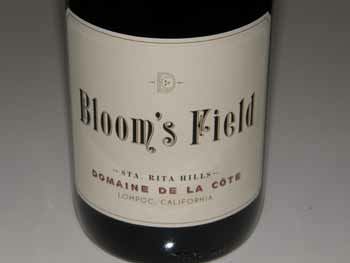 Easkoot Cellars Emily Weissman and Stephan Schindler of online retailer Winemonger produced Pinot Noir from Corda Vineyard in Marin County and Keller Estate in the Sonoma Coast in 2011. Suacci Vineyard was added as a vineyard source in 2012. The name of the label is that of Alfred Derby Easkoot, Marin County's first land surveyor. The winemaker is Matt Duffy of Vinify.
Hilliard Bruce Vineyards A beautiful 21-acre estate vineyard that was planted in 2004 to Pinot Noir and Chardonnay in the Sta. Rita Hills. Newer plantings are ongoing. The vineyard is meticulously farmed by owner John Hilliard and noted viticulturist Jeff Newton. The first estate Pinot Noir was offered in the 2008 vintage. A LEED certified winery will be completed in time for the 2014 harvest. The owners are managing the winemaking with the assistance of consultants that have included Paul Lato (Paul Lato Wines) and Peter Work (Ampelos).
LaMontagne Winery Vintner Kimberly Smith was mentored by Clos Pepe's Wes Hagen and launched her own label with the 2011 vintage. Limited production vineyard-designated Pinot Noirs from Santa Barbara County sources. A tasting room is open in the Lompoc Wine Ghetto.
Mansfield-Dunne A small winegrower in the Santa Lucia Highlands that started a new label with the 2011 vintage. The single Pinot Noir comes entirely from the family owned estate Peterson Vineyard. The winemaker is veteran Ed Kurtzman (Sandler Wines, ROAR, Freeman Vineyards & Winery). A second vineyard is under development in the Santa Lucia Highlands.
Onward Wines Winemaker Faith Armstrong-Foster sources grapes from Cerise Vineyard in Anderson Valley and Hawkeye Ranch in Redwood Valley for her vineyard-designated Pinot Noirs. Faith is a graduate of University of California at Davis and her spouse, Sean Foster, is the Senior Winemaker at Merryvale Vineyards. The wines are sold through a mailing list.
Ousterhaus Wine & Vineyard A boutique winery in the Alexander Valley offering two Pinot Noir Rosés from the 2012 vintage. Grapes are sourced from two vineyards in the Russian River Valley. The winemaker is Micah Wirth (Joseph Jewell).
Pence Ranch Pinot Noir from the estate Pence Ranch Vineyard located just outside the far eastern portion of the Sta. Rita Hills AVA so the wines are labeled Santa Barbara County. About 40 acres are planted on the 200- acre property primarily to heritage and Dijon clones of Pinot Noir. The winemaker is veteran Jeff Fink, formerly of Tantara. Four Pinot Noirs were released from the estate vineyard in 2010 and were stellar. The wines are offered through a mailing list.
Reuling Vineyard Jim and Jackie Reuling own a 14.4-acre Pinot Noir vineyard in Forestville in the Sonoma Coast AVA. The vineyard was planted in 2003 in conjunction with Peter Michael Winery and were the source of Peter Michael's La Caprice Pinot Noir in 2007 and 2008. Subsequently the grapes were sourced by Aubert. The first Reuling Vineyard Pinot Noir, vinified by winemaker and vineyard manager Matt Taylor, was released from the 2011 vintage. A Reuling Vineyard Chardonnay is planned for the 2014 vintage. The wines are sold through a mailing list.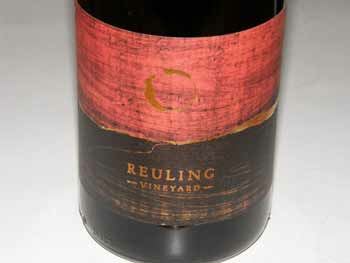 Rocking K Vineyard A single vineyard Pinot Noir produced from a small Sonoma Carneros vineyard planted in 1997 to Pommard clone. Bobby and Char Kiel bought the vineyard estate in 2010. The first vintage in 2010 was crafted by Scott Rich (Talisman) and the subsequent vintages by Michael Peters (Kasuari Wines).
Scratch A project of Wrath and Kori winemaker Sabrine Rodems producing small lots of Riesling, Grenache and Pinot Noir from the Arroyo Seco and Santa Lucia Highlands AVAs. Sabrine launched her label in 2011. A Pinot Noir is offered from Kirk Williams Ranch in the Santa Lucia Highlands and sold through a mailing list.
Skywalker Vineyards A small production winery located at George Lucas's Skywalker Ranch in Marin County. 2007 was the first vintage of Skywalker Vineyards Pinot Noir. The winemaker is Scott McLeod, the former Director of Winemaking for Francis and Eleanor Coppola. The Skywalker Marin County Estate Pinot Noir, Rosé and Chardonnay are sold through a mailing list.
Soliste Cellars See "Winery of the Year."
Ten Acre Winery Scott and Lynn Adams, who have grown wine grapes for almost twenty years, established Ten Acre to produce Pinot Noir and Chardonnay from vineyards in the cooler reaches of the Russian River Valley and the Sonoma Coast. Ten Acre's vineyard program is guided by renowned vineyard manager Charlie Chenoweth. The winemaker is Michael Zardo who has been the assistant winemaker at Pisoni Vineyards & Winery. The wines are available for tasting at Bella Vineyards & Wine Caves in Healdsburg and are sold primarily through a mailing list.
The Gardener Husband and wife team Chris Condos and Suzanne Hagins produce a line of varietals from organic grapes including a Carneros Pinot Noir. Chris launched Vinum Cellars in 1997 and has been the consulting winemaker for Kathryn Kennedy Winery since 1998. Together with Suzanne, they started the Horse & Plow label in 2008. Suzanne has worked at De Loach, David Bruce and Goldeneye wineries and had a small Pinot Noir label, Lutea, before starting The Gardener label along side Horse & Plow. The Gardener label offers a Carneros Pinot Noir and Russian River Valley Chardonnay that are outstanding, yet reasonably priced.
Tin Barn Vineyards Tin Barn is a specialist in single vineyard wines from Sonoma County. The name of the winery derives from Tin Barn Road that winds along the remote Sonoma Coast to the source of the debut wine, and the fact that the winery is housed in a "tin barn" warehouse in rural Sonoma. The winemaker and co-owner is Michael Lancaster, a graduate of the University of California at Davis enology program. He acquired winemaking experience at Quail Ridge Cellars and Gloria Ferrer Champagne Cellars before forming a partnership with friends and launching Tin Barn Vineyards in 2000 in a collective known as Eighth Street Wineries in Sonoma.
Vino Vargas A collection of wines crafted by a team of artisans that includes the Rio Ruso Russian River Valley Pinot Noir vinified by winemaker Pedro Vargas, a University of California at Davis graduate.
Oregon
Coattails Winery Jared and Mikey Etzel, the two sons of Beaux Freres winemaker and co-owner Mike Etzel, produce small lots of Pinot Noir. The first vintage was 2007. Both Jared and Mikey completed the Oregon State University Enology and Viticulture Program. The wines are sold through a mailing list and the winery's online store.
Denison Cellars Winemaker Tim Wilson was educated at California State University Fresno and learned his craft at Chateau Ste. Michelle, Edna Valley Vineyard, Benton-Lane Winery and Dobbes Family Estate. In 2009 he launched his own label focusing on Pinot Noir from small, sustainably-farmed vineyards. Tasting is available in Carlton at Republic of Jam and in McMinnville at Biggio Hamina Cellars.
Mouton Noir Founded by sommelier André Hueston Mack in 2007, the wines were initially created for some of New York's best restaurants. The wines offer clever, appropriately irreverent names and cheeky matching slogans. One of the winery's bylines is "Kick-Ass Garage Wines from Oregogne." 20,000 cases are produced of several varietals as well as a line of wine-themed swag.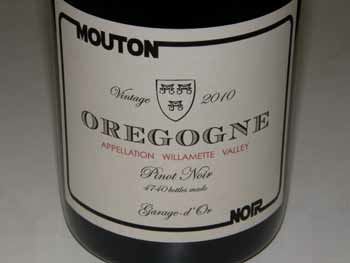 Thomas Gerrie 100% whole cluster Pinot Noir crafted by Thomas Gerrie, the son of Cristom Vineyards owner Paul Gerrie, who is the current assistant winemaker at Cristom Vineyards. Very small production Pinot Noir in 2009 and 2010 priced at $25 and gobbled up by those clued-in.
Wahle Vineyards & Cellars Mark Wahle, M.D., produces Pinot Noir from two estate vineyards: the home estate vineyard in the Yamhill-Carlton District first planted in 1974 and one of Oregon's oldest vineyards, and Holmes Hill Vineyard in the Eola-Amity Hills. While still practicing emergency medicine in Portland, he manages to produce 1000+ cases of estate Pinot Noir.
Walnut City WineWorks A unique custom crush facility established in 1999 that not only assists clients in producing wine, but also plants, manages and farms vineyard sites. The brands include Walnut City WineWorks, Bernard Machado, Carlton Hill, Z'IVO, Genius Loci, Lundeen and Robinson Reserve.