2014 Pinot Noir Shootout and Summit
I am not usually a big fan of large wine competition tastings, preferring to take my time in evaluating a wine. However, the Pinot Noir Shootout, conducted by Barbara Drady of Affairs of the Vine, is unique in that fewer wines are tasted at one sitting, never more than 32 wines a day, allowing more time to devote to fully judging each wine in the competition.
Recently, I attended the Finals of the 12th Annual Pinot Noir Shootout held at Fort Mason in San Francisco. I am serving as Competition Chairman for this event. Before the Shootout, fifty judges, composed of winemakers, wine writers, wine educators, wine consultants, sommeliers and serious wine hobbyists tasted upward of 416 Pinot Noirs from all over the globe in a series of preliminary tastings that lasted three months with each wine being tasted a minimum of twice. The top 96 wines (23% of those submitted) were brought to the Pinot Noir Shootout Final. The 30 judges at the Shootout Final were divided into three teams with each team tasting, analyzing, and scoring 32 wines.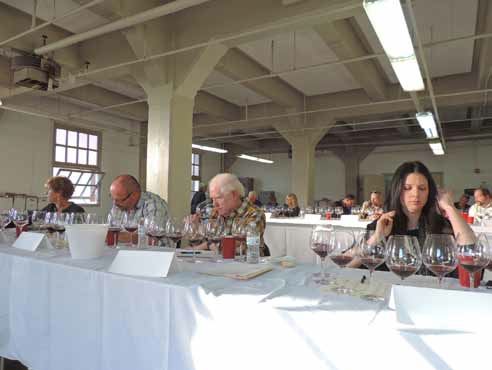 Another distinctive feature of this competition is the copious and detailed tasting notes that each judge is ask to submit and used to augment the numerical scores (a 100-point scoring system is used) in choosing the best wines. In addition, gender differences are recorded and posted separately in the results on the Affairs of the Vine website.
The judging procedure includes the following:
(1) All wines are tasted blind.
(2) All wines are tasted without regard to producer, vintage, appellation or region, or price.
(3) All wines are tasted by at least two tasting panels before the finals.
(4) Wines rated 90 are above are chosen for the Pinot Noir Summit consumer tasting event (usually 30 to 40 wines).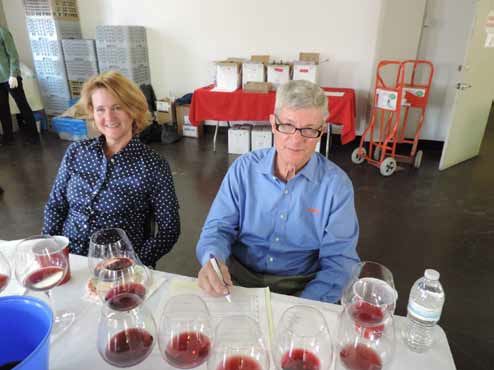 I personally like participating in this competition since a number of the Pinot Noir wines submitted to the Shootout are wines that I have reviewed for the PinotFile. By tasting them blind, I can verify (or not verify) my unblinded judging acumen.
Of the 32 Pinot Noir wines I tasted in four flights of eight, the following ten wines stood out:
2011 Gallegos Boekenoogen Vineyard Santa Lucia Highlands Pinot Noir 89 cases, $38 90
2011 Windsor Oaks Vineyards Reserve Russian River Valley Pinot Noir 175 cases, $35 89
2011 TR Elliott Burgonet Russian River Valley Pinot Noir 160 cases, $46 90
2012 Spoto Wines Russian River Valley Pinot Noir 100 cases, $50 90
2011 Schug Carneros Pinot Noir 5,245 cases, $30 91
2011 En Garde Reserve Russian River Valley Pinot Noir 100 cases, $58 92
2011 MacMurray Ranch Santa Lucia Highlands Pinot Noir 468 cases, $35 89
2011 RN Estate Fiddlestix Vineyard Sta. Rita Hills Pinot Noir 195 cases, $49 91
2011 Comanche Cellars CharEva Vineyard Arroyo Seco Pinot Noir 50 cases, $30 **My favorite - 94
2012 Galante Vineyards Estate Almond Flat Pinot Noir 250 cases, $30 90
The Pinot Noir Shootout is followed by the Pinot Noir Summit, to be held this year on March 9, 2014, at the Golden Gate Club in The Presidio in San Francisco. At the Summit, the judges' conclusions are put to the test by the attending consumers who also judge the winners of the Shootout blind. This is the only wine competition in which attendees pit their palates against an expert judging panel.
The Summit also includes a Smoked Salmon and Sparkling Wine (Pinot Noir-based Blanc de Noirs and Rosés) Brunch, Pinot Noir Workshops, and a Grand Awards Tasting after which the blind-tasted wines are revealed and the attendees can meet with winemakers. At the concluding Awards Ceremony, medals are giving to the judges and consumers favorites and hors d'oeuvres are served.
Tickets will go on sale by January 22 when the website, www.pinotnoirsummit.com, goes live. Early bird discounts are available for three levels of tickets.
Barbara Drady has compiled a comprehensive list of the aromatic and flavor elements of Pinot Noir for judges which proves to be a handy reference list to improve tasting acumen and use of descriptors. I have revised her list, expanded it, and I include it here. At home I often refer to the Oregon Wine Press "Making Scents of Wine" Aroma Chart which is not specific to Pinot Noir. It is available as a 12" x 18" poster printed on heavyweight matte paper ($12 plus shipping) at www.newsregister.com.
Red Fruits: cherry, cherry, tart cherry, dried cherry, cherry skin, cherry syrup, cherry liquor, cherry pie, candied cherry, raspberry, raspberry jam, cranberry, rhubarb, strawberry, wild strawberry, strawberry jam, chocolate-covered strawberries, red currant, pomegranate, tomato, green tomato, roasted tomato
Dark Fruits: blackberry, blackberry jam, blueberry, boysenberry, ollaliberry, huckleberry, black currant, creme-de- cassis, elderberry, plum, roasted plum, black cherry, raisin, prune, fig, date
White Fruits (Pinot Noir Blanc): apricot, grapefruit, tangerine, orange rind, orange peel, grapefruit peel, melon, lime, bergamot
Processed Fruits: burnt fruit, cooked fruit, stewed fruit, kirsch, licorice, black or green olive, green beans Spices: mint, clove, nutmeg, cinnamon, bay leaf, cardamom, Asian 5-spice, Moroccan spices, Herbes de Provence, black and white pepper, sage, allspice, savory, wintergreen, brown spice, menthol, cumin, ginger, vanilla bean, thyme, potpourri
Veggies: cabbage, truffle, mushroom, soy sauce, beet root, fennel, bell pepper, green herbs (cilantro, rosemary, basil, oregano, thyme)
Floral: dried flowers, rose petals, hibiscus, violet, geranium, lavender, acacia, orange blossom, honeysuckle
Animale: kid and saddle leather, grilled meat, smoked meet, game, bacon, sauvage
Plant: wet leaves, brush, leaf, forest floor, loam, peat, barnyard, stem, sassafras, grass, hay, tobacco, pipe tobacco, cigar box, eucalyptus, spearmint and peppermint, bramble
Earth: earth, crushed rock/rock dust, charcoal, dustiness, humus, damp earth, truffle
Wood: sandalwood, redwood, pine pitch, pine needles, resin, cedar, tree bark, tar, smoke, creosote, woodsy, old box, cigar box
Drink: Coca-Cola, Pepsi-Cola, Dr. Pepper, root beer, Kahlua, black tea, green tea, rosehips tea, orange pekoe tea
Chemical: quinine, pharmaceutical, vitamin
Age: rural odors of vegetation, leaf mold, mushrooms, farmyard, well-hung game, leather
Oak-Derived: Earthy - ash, mushroom, shoe box, musty, leather; Herbaceous - weedy, dill, mown hay, menthol, grass, tobacco; Woody - cedar, sawdust, pencil shavings, pencil lead, sap, green, pine, tar, resin, toast, char, smoky oak; Spice - clove, cinnamon, coconut, licorice, anise, vanilla; Sweet - brown sugar, bourbon cotton candy, chocolate, maple syrup, butterscotch, hot fudge, caramel, molasses, honey, toffee, soy; Creamy - vanilla, cream soda, marshmallow, lactic, butter; Yeasty - popcorn, baked bread, bread stick, cookie dough; Nutty - hazelnut, marzipan, walnut, almond, peanut butter, coconut; Roasted - graham cracker, toasted bread, coffee, espresso, mocha, cereal; Smoky - barbecue, grilled meats, bacon, sweet smoke, burnt sugar