Anam Cara Wines are Quintessential Oregon in 2011
Like so many Oregonian vintners before them, Nick and Sheila Nicholas and their family arrived in the Williamette Valley from California. In 2001, they bought a rundown walnut, filbert and plum orchard in the Chehalem Mountains on the outskirts of Newberg, and established Nicholas Vineyard and Anam Cara Cellars.
The 33-acre Nicholas Estate Vineyard is situated on a southeast-facing slope at an elevation of 350 to 650 feet, benefiting from cool, drying winds through the 99W Highway corridor that keeps mildew and frost pressure at a minimum. Soils are primarily Loess wind-blown ice age sediment with some outcroppings of Jory volcanic soil.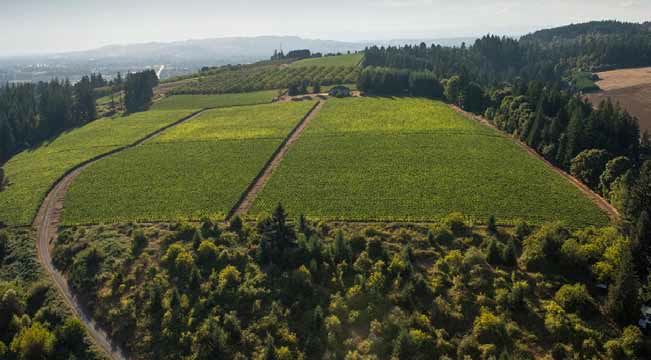 The original 27 acres planted in 2001 include 5 5-acre blocks of Pommard, 114, 115, 667 and 777 on varying rootstocks, and 1 acre each of Riesling and Gewürztraminer. An additional 6 acres was planted in 2-acre blocks to Riesling, Chardonnay and Wädenswil clone Pinot Noir in 2008. The vineyard is certified both L.I.V.E. (Low Input Viticulture and Enology) and Salmon Safe and the wines qualify for OCSW status.

The cool 2011 vintage brought Oregon back to its roots. The Anam Cara wines show the lower alcohol, bright acidity and consuming elegance that made Pinot Noir from Oregon famous. Anam Cara held back the wines before release and this was beneficial as they are more open and mature. 2011 is a vintage where the wines need time to evolve and take on weight, similar to Oregon's 2007 vintage. I call the Anam Cara Pinot Noirs "quintessential Oregon" because they honestly reflect the Oregon style of Pinot Noir that I find so charming.
Sheila's comments on the 2011 vintage and wines are as follows. "The 2011 vintage was a difficult year to ripen tomatoes, let alone our wine grapes. Fortunately, our vineyard is situated in a wind tunnel which keeps the fruit dry and disease at bay, allowing us extra hang time for flavor development. We pulled leaves early to expose the grapes and we were lucky that the bird problem of 2010 was virtually non existent in 2011. For the first time, we started harvest in the first week of November, wrapping up with the Riesling pick just before Thanksgiving. We would have held out longer, but there comes a point when the grapes are simply not going to progress. We picked at around 21º to 23º Brix. The resulting wines are low in alcohol and high in acidity with pure Pinot Noir flavor profiles. As with previous Pinot Noirs from our vineyard, we still see that entrancing dusty rose character which is solely terroir. As always, our wines remain true to the vineyard and are a testament to Nick's attention to the vines throughout the growing season, especially in 2011.
The winemaker is Michael Collier who oversees the boutique winemaking at 12th & Maple Wine Co. in Dundee. Nick and Sheila significantly contribute as well. As I noted, the wines took a while to come around, much like the wines from the 2007 vintage, and that is why they have only recently been released.
The Anam Cara tasting room is located at 306 N. Main Street in Newberg and is open daily from March to December Thursday to Sunday (other times by appointment). Tours of the vineyard in Sherwood are by appointment only.