george Pinot: Insiders Know
George Levkoff is a character. He can often be sighted roaming the streets of Healdsburg in shorts regardless of the outside temperature. As a matter of fact, over the last ten years, I have never seen him in a pair of long pants. He prefers lower case for his wine name and for his website. He shuns traditional vintage labeling, designating each vintage with Roman numerals instead of numbers. Until the 2012 vintage, he hand labeled and numbered every bottle, but finally decided to finally forego the numbering. Tech sheets? Forget about it.
George's Pinot Noir is an insider, even cult wine. I have sampled every Pinot Noir George has produced going back to the first releases in 2003, and written favorably about the wines multiple times in the PinotFile. Yet, when I travel and am asked about my favorite producers of Pinot Noir, and I mention "George Wine Company," I usually get a blank stare. Yet, George quickly sells out of his limited production wines and they are a sommelier favorite in the most highly regarded restaurants in Las Vegas and New York (a phenomenal list is on the winery's website). When I show up with a bottle of George Pinot at a dinner (such as I did on Christmas Eve), the George is always the favorite of the group.
George had his wine epiphany when a friend shared a bottle of 1991 and 1992 Williams Selyem Rochioli Vineyard Pinot Noir at a dinner. Four years later, he left his job as a bond trader and headed to the Russian River Valley to learn winemaking at Williams Selyem. He interned at Williams Selyem from 1999 to 2002 and worked at Brogan Cellars. He launched his own label with the 2003 vintage, releasing 150 cases of Pinot Noir from Hirsch Vineyard. His wines are more akin to the pre-1997 Williams Selyem bottlings crafted by Burt Williams. Like Williams Selyem, only Francois Frères oak barrels are used. The wines are unfined and unfiltered.
George owns no vineyards and leases space to make wine at Moshin Winery on Westside Road. He is a oneman production show, performing every step of winemaking from sorting to bottling, marketing to delivering. He markets the wines to restaurants himself, traveling frequently when the demand arises. The wines are released once a year in September, and are allocated to an eager mailing list on a first come-first served basis at www.georgewine.com.
In 2012, there was also a Hansen Vineyard Russian River Valley Pinot Noir ($60), and a Sonoma Coma bottling ($50), a declassified blend of all four vineyard sources.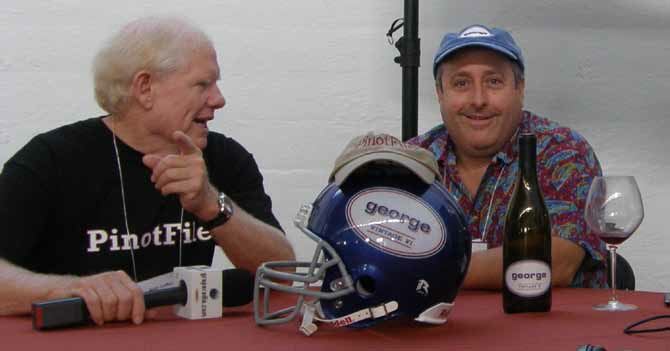 2012 George Vintage X Lera's Vineyard Russian River Valley Pinot Noir
13.0% alc., 165 cases, $60. Pommard and Dijon clones. · Moderately light reddish purple color in the glass. Very aromatic with hi tone scents of black cherry, Moroccan spices, tobacco-laden oak and a hint of barnyard. Impressive fullness on the mid palate with layers of black cherry, black raspberry, tar and tobacco flavors. Nicely composed with balanced tannins and a spicy, black cherry finish that entices. Score: 91
2012 George Vintage X Ceremonial Vineyard Russian River Valley Pinot Noir
13.9% alc., 165 cases, $60. Vineyard owned and farmed by the Martinelli family. Dijon clones. · Medium reddish-purple color in the glass. Aromas of fresh squeezed black cherry juice and cherry-soaked oak. On entry there is a burst of cherry flavor complimented by spice and cola, with the beguiling fruit carrying its weight through the generous finish. Great balance, fruit purity and fortitude. Score: 92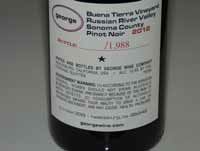 2012 George Vintage X Buena Tierra Vineyard Russian River Valley Pinot Noir
13.9% alc., 165 cases, $60. Inaugural release from this vineyard which is adjacent the Russian River and across the river from Rochioli Vineyard. Dijon clones. Moderately light reddish-purple color in the glass. Lovely perfume of fresh · Moderately light reddish-purple color in the glass. Lovely perfume of fresh Bing cherries, dark rose petals and spice. Lush and plush on the palate, filling the mouth with overreaching sappy fruit bling, featuring flavors of dark cherries, black raspberries, cola and baking spices. Beautifully composed with balanced tannins. This wine really grabs your attention and holds on. Score: 94