Waxwing Wine Cellars: Urban Winemaker Doubles as Stay-At-Home Dad
Scott Sisemore is both a winemaker and stay-at-home father working out of leased spice at Domenico Wines in San Carlos, California. He has an impressive winemaking background following his graduation from Oregon State University with a degree in microbiology. From 1993 to 2000, he worked at a custom crush facility in Mendocino County and was involved with the Mark West label. He spent time making wine abroad in both India and Chile. After stints at Rosenblum and Ravenswood, he returned to school and obtained an MS degree in viticulture and enology from University of California at Davis. He then became the assistant winemaker at Pellegrini Family Vineyards in the Russian River Valley where I met him originally. Scott left Pellegrini in 2006 to stay at home with his newborn son. His spouse has a well-paying job for a biotechnology company with good benefits so it made sense for Scott to take over the daily household duties.
To keep his professional drive alive, he founded Waxwing Wine Cellars to create very small lot, handcrafted, cool climate Pinot Noir and Syrah. The name Waxwing, is derived from the waxwing migratory bird named for beads of shiny red material on the tips of the secondary wing feathers ("sealing wax"), the function of which is open to speculation. The bird has a propensity for overeating (they have been known to be so gluttonous as to be unable to fly) and constant chatter.
The inaugural Waxwing wine, the 2007 Toboni Vineyard Russian River Valley Pinot Noir was released in early 2009. Since then, Scott has acquired other fruit sources from the Sonoma Coast and Santa Cruz Mountains appellations.
Photo below shows Scott sampling Swan selection at Spring Hill Vineyard on September 2, 2013.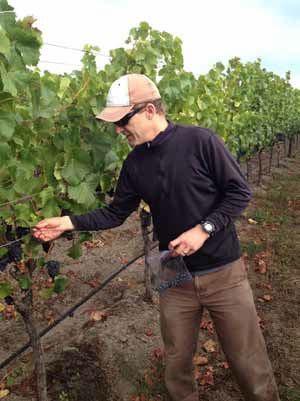 Scott told me that his winery has landed a number of distribution deals and new restaurant placements (Michael Mina, RN74 and Bourbon Steak) in 2013. Since his two sons are in school full time now, he is able to concentrate more on winemaking. He is renting his own production space on the San Francisco peninsula and acquiring his own winemaking equipment, both of which will give him more control.
Two vineyard designated Pinot Noirs are offered from the 2012 vintage. He has been sourcing grapes from Spring Hill Vineyard in the Petaluma Gap for four vintages and released his first Lester Family Vineyard Pinot Noir from the Santa Cruz Mountains in 2012.
Waxwing wines are available from the website and through the winery's mailing list and wine club. There is limited retail distribution in California. Tasting is by appointment: 415-902-3468.
2012 Waxwing Spring Hill Vineyard Sonoma Coast Pinot Noir
13.1% alc., 191 cases, $39. Released late 2013. A cool and windy site in the western reaches of Petaluma. 20 acres planted to Swan and Calera selections, Pommard, 115, 667 and 777 clones planted from 2001 to 2003 (Swan, Pommard and 115 in this wine). Owned and farmed by Chris and Karen London. 100% de-stemmed. 5-day cold soak in open-top fermenters. Aged in once-used French oak barrels for 11 months with light filtration. · Moderately light reddish purple color in the glass. Aromas of plum, elderberry, dried cherry and bark lead to a middleweight core of darker stone fruit flavors accented with an earthy, smoky, tarry riff. Nicely balanced with mild dry tannins and easy drink ability, picking up interest and flavor nuance over time in the glass. I have had several wines I have had from this site, and this wine is highly reflective of this vineyard's terroir. Score: 91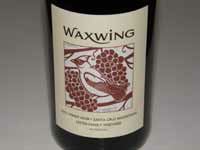 2012 Waxwing Lester Family Vineyard Santa Cruz Mountains Pinot Noir
13.0% alc., 57 cases, $39. Released late 2013. Vines planted in 1998 on a sandy loam hillside bordered by redwoods in Corralitos. Farmed by Prudy Foxx. Dijon, Wädenswil, Mariafeld and Mt. Eden clones (this wine contains 667 and 115). 80% de-stemmed, 20% foot stomped whole cluster. 5-day cold soak followed by native fermentations. Age in once-used French oak barrels for 11 months and bottled with a light filtration. · Moderately light reddish-purple hue in the glass. The nose is captivating with a bright, exotically spiced raspberry aroma. Delicious and polished, with discreetly concentrated flavors of deep red cherry, raspberry, and spice arriving in waves on the palate and leaving with aplomb. The tannins are very supple and the whole package is appealingly elegant. Still delightful two days later from a previously opened and recorked bottle indicating age ability. Clearly, the fruit was picked at the ideal time. Score: 94