Tessier Winery: A Woman's Touch with Pinot Noir
Kristie Tacey was initially on a career path in biotechnology and in 2000 worked on the Human Genome Project. While living in the San Francisco Bay area, she developed at interest in wine and winemaking. After working as an assistant winemaker at the former Lost Canyon Winery in Oakland and later as part of the winemaking team at JC Cellars, she started her own label in 2009. She now is a Certified Specialist in Wine (CSW) and is an accomplished winemaker exhibiting a touch with Pinot Noir.
The name, Tessier, is the original French version of Kristie's last name, Tacey. The Tessier label depicts a photograph through a microscope of yeasts budding which is a clever depiction since yeasts are the work horses in winemaking. The winery's tag line is "Science as Art."
I was impressed by both the 2010 and 2011 Russian River Valley Pinot Noirs, and the 2012 offerings march in step. In 2012, Kristie added a Santa Cruz Mountains bottling. She also crafts a Russian River Valley Viognier from Saralee's Vineyard and a Rosé of Grenache from Fenaughty Vineyard in the El Dorado area. A Morelli Lane Pinot Noir from the Russian River Valley was added in 2013.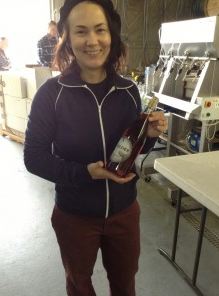 Tessier wines are available through the winery's website at www.tessierwinery.com, with limited retail and restaurant distribution in the San Francisco Bay area. Tasting is by appointment. Kristie often pours the wines at Cuvée Wine Cellars in San Carlos (visit the website for dates).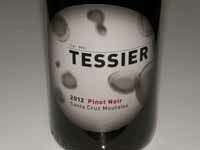 2012 Tessier Santa Cruz Mountains Pinot Noir
14.2% alc., 60 cases, $37. Winemaker's note: she also picked the grapes which led to several bee stings and a deeper appreciation for those who pick grapes on a regular basis! Pommard 4 and Dijon 115 clones. Aged in 50% new French oak barrels. · Medium reddish purple color in the glass. Very appealing nose with bright aromas of black cherry sprinkled with herbs and flowers, pomegranate, and almond. Soft in the mouth with the tasty essence of fresh black cherries, accented with notes of pomegranate juice, raspberry and smoky oak. The tannins are firm but balanced, the wine is fresh and generous, and the graceful finish has impressive length. The typical bright Santa Cruz Mountains acidity contributes verve to the wine. Needs a little more time for the oak to integrate, but hard to turn down now. Score: 91

2012 Tessier Saralee's Vineyard Russian River Valley Pinot Noir
14.1% alc., 150 cases, $37. Last vintage due to sale of the vineyard. Aged in 38% new French oak barrels. · Moderately light garnet color in the glass. Intense aromas of black cherry pie glaze, baking spices and sandalwood. The nose continued to pump out aromas over an hour sampling period. Juicy and crisp on the palate with bright Bing cherry flavor augmented with riffs of spice and cola. Comforting finesse and persistence without weight. A gorgeous wine that displays all the best features of Russian River Valley fruit without the overbearing fruit concentration that detracts from many bottlings from this area. Score: 94